Marvel's Thor: Ragnarok Movie Review | by The Epiphany Duplet
Recommended Audience: Fans of Chris Hemsworth, Tom Hiddleston, Cate Blanchett, Idris Elba, Jeff Goldblum, Tessa Thompson, Karl Urban, Mark Ruffalo, Anthony Hopkins, Taika Waititi and Marvel/Thor movie fans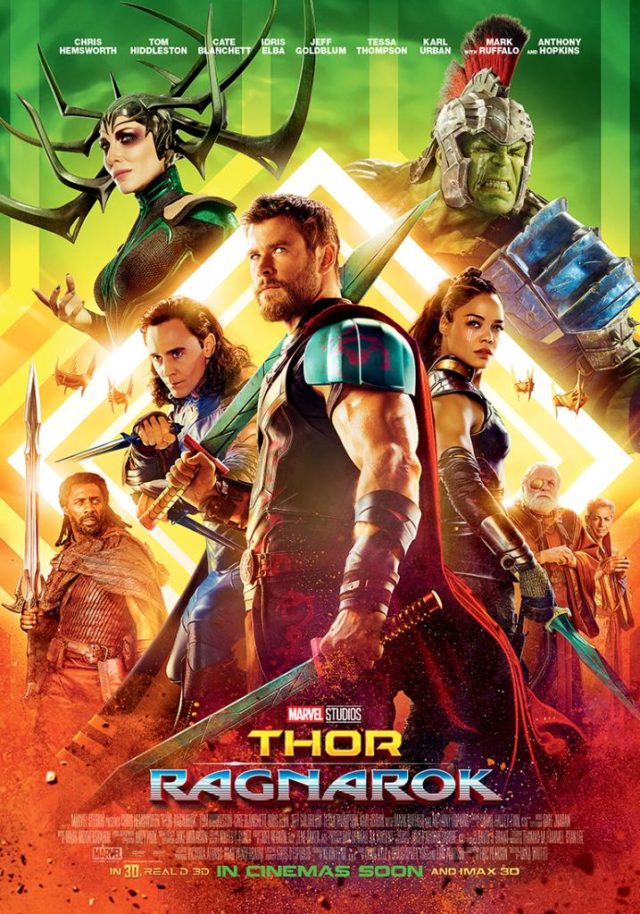 Marvel's Thor: Ragnarok Movie Synopsis
In Marvel Studios' "Thor: Ragnarok", Thor is imprisoned on the other side of the universe without his mighty hammer and finds himself in a race against time to get back to Asgard to stop Ragnarok- the destruction of his homeworld and the end of Asgardian civilization- the hands of an all-powerful new threat, the ruthless Hela. But first he must survive a deadly gladiatorial contest that pits him against his former ally and fellow Avenger- the Incredible Hulk!
Marvel's Thor: Ragnarok Viewer Rating: 4.5/5 ****
Marvel's Thor: Ragnarok Movie Review:
Tiffany Yong: Confession, Thor was my least favourite Marvel hero in the Avengers. Both Peps and I didn't watch the previous 2 films and only caught snippets of them on TV + fast forwarding to that 1 second cameo of Steve Rogers. My reason was pretty silly. Yes, it was because of his long hair. So thanks Spoilers S. L. for for cutting them off. So being a #TeamCap, and this being my first Thor film, I didn't think it will surpass Doctor Strange nor Captain America: Civil War, but dang, I'm amazed by Marvel, they've managed to surpass every film and better it each time!

Peps Goh: This was a thoroughly enjoyable movie. One might not usually peg the Asgardian God Of Thunder as a comedian (Hey, remember Kevin from Ghostbuster 2016?), but Ragnorok had as many laughs per minute to beat Guardians Of The Galaxy (Seriously, I don't find GotG good or funny at all) or even Deadpool (Yes, Deadpool is good but sad to say, Ryan Reynolds is like Iron Man, hidden behind the mask most of the time – he could be anyone), all the while maintaining relevant to the characters and plot.
If you're a Marvel Cinematic Universe fanatic, you know that Thor (Chris Hemsworth) and the Hulk (Mark Ruffalo) have been out doing their own things since "Avengers: Age of Ultron" (2015), and didn't appear in "Captain America: Civil War (2016)". Though in "Doctor Strange (2016)", the God of Thunder appeared in the end credits.
Peps Goh: Apart from the heavily humor loaded writing that MCU seems to lean heavier and heavier towards with every film, Thor: Ragnorok also stands out from the rest with it's vibrant color palette. In contrast to the usual washed-out cinematic dull shades that were the predecessors, they weren't afraid to go all out with a 90s arcade reminiscent saturation, making it much more visually pleasant and memorable than they ever were.
Tiffany Yong: There's always two sides to a coin. The thing about Marvel, I love how they are not afraid to be tonally audacious. It doesn't try to be self-pitying, the characters are charming, unpredictable, so much so that one will easily overlook how much damage Loki had created previously and celebrate his return. Of course, people are in for a great story or interesting character arcs might be disappointed. Potential themes that might tell a great story were unexplored. 

Tiffany Yong: I couldn't help but be reminded of Angelina Jolie's Maleficent when I see Hela (Cate Blanchett). But, she's no kind soul. So while she gave an outstanding performance with her cold sneers, the character is predictable. In fact, I felt that Skurge (Karl Urban), the Asgardian warrior who was recruited by Hela as the executioner had a better character development than the main antagonist.  
Peps Goh: However, the endearing interactions between him and the simplistic Hulk was also a notable achievement, that and their well designed action sequences. Just based on it's music scoring alone, I'd say that this is a piece that its worth the theater money.
Mark Ruffalo gave a great performance, providing the duo personality of both the Hulk and Bruce Banner. You know these characters are great friends (be it in real life or on screen) when they enjoy making fun of one another.
P.S. people who love the Hulk Smash from the Avengers will definitely love this film. 
Do You Know?
In Norse mythology, Ragnarök is translated as "The Fate of the Gods", although it is often confused with the word "Götterdämmerung". The myth tells of the eventual destruction of the universe and mankind, as well as the deaths of several key figures in Norse Mythology, such as the gods Odin, Thor, Loki, Heimdall, Freyr, Sol, and Tyr, and the monsters, a.k.a. jotun, Fenris, and Jörmungandr. A new generation of gods, the children of Odin, Thor, and Sol specifically, will take the place of the old ones, as the cycle of the world starts anew.

When Thor becomes a gladiator, he has his signature long hair cut short. In ancient Roman history, slaves who were sent to gladiator school and trained as gladiators had their hair cut short.
Thor's "He's a friend from work" line about the Hulk was suggested to Chris Hemsworth by a Make-A-Wish child who paid a visit to the set on the day the scene was filmed.
Eighty percent of the dialogue in the film was improvised, in order to create a "very loose and collaborative mood" among the cast.
Cate Blanchett accepted a role in this movie to please her children, who are Marvel comics fans. Blanchett's eldest son Dashiell John Upton suggested she take the role of Hela, saying it'd be a career boost. To prepare for the role, Cate Blanchett studied capoeira, a Brazilian martial art. Her youngest son Ignatius Martin Upton also acquired a cameo role in the film.
Before the sets created for Marvel's Doctor Strange were demolished, Waititi took advantage of them by writing and filming a scene for Ragnarok featuring Thor meeting Benedict Cumberbatch's Stephen Strange. Director Scott Derrickson felt the scene was "kind of perfect" to show Strange joining the wider MCU after his stand-alone introduction in that film, so the scene appears during the credits of Doctor Strange (2016).
This marks the first time in the Marvel Cinematic Universe that Lou Ferrigno will not voice The Hulk. Mark Ruffalo will voice Hulk instead. Ferrigno voiced Hulk in The Incredible Hulk (2008), The Avengers (2012) and Avengers: Age of Ultron (2015).
On Earth, Thor disguises his hammer Mjolnir as an umbrella. In the comics, whenever Thor took on the mortal form of Dr Donald Blake he disguised Mjolnir as a walking stick.
Taika Waititi appears in this film as the alien being Korg. Waititi is the second Marvel film Director to have a major role in his own film, after Jon Favreau (who directed the first two Iron Man films, and appeared as "Happy" Hogan in the Marvel Cinematic Universe). In addition to his credited role as the voice of Korg, director Taika Waititi also played one of the heads on the three-headed alien, called Haju. He was also the motion-capture for Surtur. American actor Clancy Brown ultimately played the voice of Surtur.
In the comics, the Grandmaster has blue skin. Taika Waititi decided against applying blue on Jeff Goldblum, because he felt Goldblum was a good enough actor to not need it, and because Goldblum had already played a blue-colored character in Earth Girls Are Easy (1988). Interestingly, Jeff Goldblum was previously considered for the role of Dr. Bruce Banner, a.k.a. Hulk in Hulk (2003).
Matt Damon, Sam Neill and Chris Hemsworth's elder brother Luke all make cameos as actors in a play recreating a scene from Thor: The Dark World (2013). They play Loki, Odin and Thor respectively. Matt Damon's uncredited cameo was added after post-production, when the team was adding post-photography in New York to fill some scenes and make things clearer. Chris recommended Matt Damon (as he's in town), and they shot it on a lark.
This explains his interruption of the "Thor: Ragnarok" interview on "Jimmy Kimmel Live!".
In the comics and Norse myth, Valkyrie was a fair-skinned, blonde, Viking warrior-woman. In this film, she is played by Afro-Panamanian actress Tessa Thompson. According to Taika Waititi, this was a not deliberate decision to diversify the film, but to choose the best person: "You're working with comic-book Vikings, so you have to look at the source material as a very loose inspiration. A character's skin tone and hair color doesn't matter. I think the story is king, and you want the best person for the job, and Tessa was the best person."
Sir Anthony Hopkins had decided against returning as Odin, but upon reading the story, he changed his mind.
Behind The Scenes and Interviews
Check out Marvel's Thor: Ragnarok Official Website and Facebook Page!
Marvel's Thor: Ragnarok is out in cinemas on 26 October 2017.
Cheers,



Tiffany Yong: Facebook | Instagram | YouTube
Peps Goh: Facebook | Instagram | YouTube
The Epiphany Duplet: #TheEpiphanyDuplet
*Disclosure:. No monetary compensation was received for the movie review.
P.S. Noticed the different coloured text? Articles written by #TheEpiphanyDuplet will be colour-coded in future to let every reader know who say what! Hope you've enjoyed reading our insights!
Epiphany: / ɪˈpɪf(ə)ni,ɛˈpɪf(ə)ni / noun / A moment of sudden and great revelation.
Duplet: / ˈdjuːplɪt / noun / 2 electrons working together, forming a bond between atoms.
|| Derived from the anagram of the duo's name, whom met through a film project acting as lovers. After which as fate would have it, couples indeed they became. And now together they bring to you staycations & travelogues, beauty and relationship tips, your one-stop-shop to all the fun things you can do with your special someone. ||
@PepsGoh: Actor || Fight Choreographer || Free Running Athlete
@Tiffanyyongwt4242: Actor || Blogger || Consultant