Jumanji: Welcome to the Jungle (2017) Movie Review | by TheEpiphanyDuplet
Recommended Audience: Fans of Jack Black, Bobby Cannavale, Karen Gillan, Kevin Hart, Dwayne Johnson, Nick Jonas, Alex Wolff, Ser'Darius Blain, Madison Iseman, Morgan Turner, Jumanji 1995 and action comedy movie fans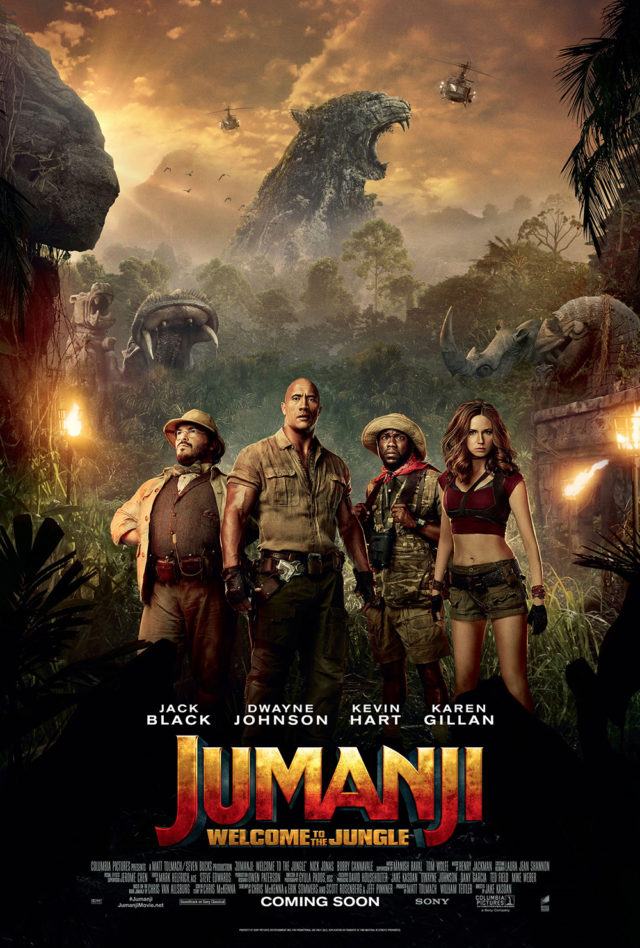 Jumanji: Welcome to the Jungle (2017) Movie Synopsis
When four high‐school kids discover an old video game console with a game they've never heard of – Jumanji – they are immediately drawn into the game's jungle setting, literally becoming the avatars they chose: gamer Spencer becomes a brawny adventurer (Dwayne Johnson); football jock Fridge loses (in his words) "the top two feet of his body" and becomes an Einstein (Kevin Hart); popular girl Bethany becomes a middle‐aged male professor (Jack Black); and wallflower Martha becomes a badass warrior (Karen Gillan).
What they discover is that you don't just play Jumanji – you must survive it. To beat the game and return to the real world, they'll have to go on the most dangerous adventure of their lives, discover what Alan Parrish left 20 years ago, and change the way they think about themselves – or they'll be stuck in the game forever…
Jumanji: Welcome to the Jungle (2017) Viewer Rating: 4.5/5 *****
Jumanji: Welcome to the Jungle (2017) Movie Review:
Peps Goh: I sat in the theater watching the trailers and commercials go by with a slight apprehension. I really liked the first Jumanji, and was more than a little skeptical about this sequel having seen it's trailer and how far it had seemingly departed from the concept of the first. I wasn't sure how to shape my expectations, am I setting myself up for a disappointment by hoping for a solid piece like the original Jumanji was? And before I had my mind made up, the theater darkened, and it began. Me on the other hand, was looking forward to it (for once) as it has Dwayne Johnson in it! The trailer kinda reminded me of his Journey 2: The Mysterious Island, so I really want to see how it will be different from that film. 

Peps Goh: I'm really surprised and impressed at how great a job the writers (Chris McKenna, Jeff Pinkner, Scott Rosenberg, and Erik Sommers, working from the original book by Chris Van Allsburg) did! They had somehow managed to make a big departure from the original, creating a great amount of fresh ideas while at the same time managing to remain faithful to the core message and theme of Jumanji. It would be so easy for a studio to make the lazy mistake of copying and pasting the outline of the previous film into the sequel, turning it into a predictable and cheap imitation hoping for the same success of it's predecessor. But instead, they took a brave leap, and went all out in creating a whole new masterpiece that is extremely relevant to the present time, but maintaining all the heart its 22 year old precursor bore.

Tiffany Yong: This new premise sees four (very relatable and relevant) teenagers – nerdy gamer Spencer (Alex Wolff), typical football jock Fridge (Ser'Darius Blain), pretty but selfie-obsessed nomophobic Bethany (Madison Iseman) and Martha (Morgan Turner), a surly outcast loner – randomly thrown together into detention where they discover the strange Jumanji video game. I love how the director managed to set the personalities of the characters so clearly within a short time that when they transformed into the avatars they picked, there wasn't any confusion. 
In fact, it was so enjoyable watching the veteran actors (or should I say comedians) channel their inner teenage spirit into the characters. In order to not spoil the story for you guys, watching the "avatar actors" adopt the personality complete opposite of them, imagine a timid but muscular Dwayne "The Rock" Johnson (explorer Dr Smolder Bravestone), a low self-esteem yet sexy ass-kicker Karen Gillan (Ruby Roundhouse), plump Jack Black as overweight male cartographer Professor Sheldon "Shelly" Oberon with a female soul and short Kevin Hart as short zoologist Franklin "Mouse" Finbar with giant past.
Tiffany Yong: It takes a lot to amuse me, for example, while slapstick films like Bad Neighbours surprised me, the sequel Bad Neighbours 2: Sorority Rising was a disappointment. I had to say, Jumanji: Welcome to the Jungle is one of the rare comedies which managed to make me laugh non-stop.
From start to end, the laughter per minute of Jumanji 2 could easily go toe to toe with the humorous Marvel's Thor: Ragnarok that just opened not so long ago (I think Jumanji win in terms of story and comedy though). The endearing chemistry of The Rock and Kevin Hart was amazing as usual, and now with Jack Black thrown into the mix, this comedy ensemble is a force to be reckoned with. I can easily say that this is the top comedy piece of this year.
Tiffany Yong: Not only does the writers made the film meaningful by getting the characters to address their insecurities and friendships, they provide very relevant gameplay – such as cutscenes, non-playable characters (NPCs) and the priceless strengths and weaknesses of game avatars, which is worth 2 x your movie ticket to watch them! If I have any bones to pick (really there's practically nothing), i would say the game villain aka evil John Hardin Van Pelt (Booby Cannavale, who's Jim Paxton from Ant-Man) was nothing more than a bug-infested bad guy, but ain't all villains in video games the same? 
Peps Goh:The writing is also really tight, without a single loose end. It is an impressive piece of outline writing, successfully paying off every set up, and with the colourful world it had meticulously set up playing to the complete advantage of the finale and conclusion. And however formula-based the story structure may be, it still manages to engage and surprise on every act.
Jumanji 2 more than lives up to the hype and exist as a solid sequel deserving of becoming a classic by itself.
I'm glad Jumanji: Welcome to the Jungle did not become one of those useless sequels that were made because the original film was popular, and managed to effectively upgrade the original classic board game to the video game age. (VR next maybe?)
Do You Know?
The film's African jungle setting was shot in Hawaii. The idea of the main characters getting sucked into the game itself rather than staying in the real world is similar to the Jumanji animated series, which itself was an altered retelling of the first Jumanji movie.
This film is set in the same city (Bratford, New Hampshire) as the first film.
Ruby Roundhouse's outfit was influenced by Lara Croft, the main protagonist of the Tomb Raider video games. As an in-joke, Martha comments on how impractical the outfit is to wear in the jungle.
The second collaboration between Dwayne Johnson and Kevin Hart. The first was Central Intelligence (2016).
Behind The Scenes and Interviews
Check out Jumanji: Welcome to the Jungle (2017) Official Website and Facebook Page!
Jumanji: Welcome to the Jungle (2017) is out in cinemas on 21 December 2017.
Cheers,



Tiffany Yong: Facebook | Instagram | YouTube
Peps Goh: Facebook | Instagram | YouTube
The Epiphany Duplet: #TheEpiphanyDuplet
*Disclosure: Invitation from Sony Pictures. No monetary compensation was received for the movie review.
P.S. Noticed the different coloured text? Articles written by #TheEpiphanyDuplet will be colour-coded in future to let every reader know who say what! Hope you've enjoyed reading our insights!
Epiphany: / ɪˈpɪf(ə)ni,ɛˈpɪf(ə)ni / noun / A moment of sudden and great revelation.
Duplet: / ˈdjuːplɪt / noun / 2 electrons working together, forming a bond between atoms.
|| Derived from the anagram of the duo's name, whom met through a film project acting as lovers. After which as fate would have it, couples indeed they became. And now together they bring to you staycations & travelogues, beauty and relationship tips, your one-stop-shop to all the fun things you can do with your special someone. ||
@PepsGoh: Actor || Fight Choreographer || Free Running Athlete
@Tiffanyyongwt4242: Actor || Blogger || Consultant