Ah Boys to Men 4 (新兵正传IV) Movie Review | by The Epiphany Duplet
Recommended Audience: Fans of Tosh Zhang, Wang Weiliang, Joshua Tan, Maxi Lim, Noah Yap, Apple Chan, Jack Neo and ABTM/comedy movie fans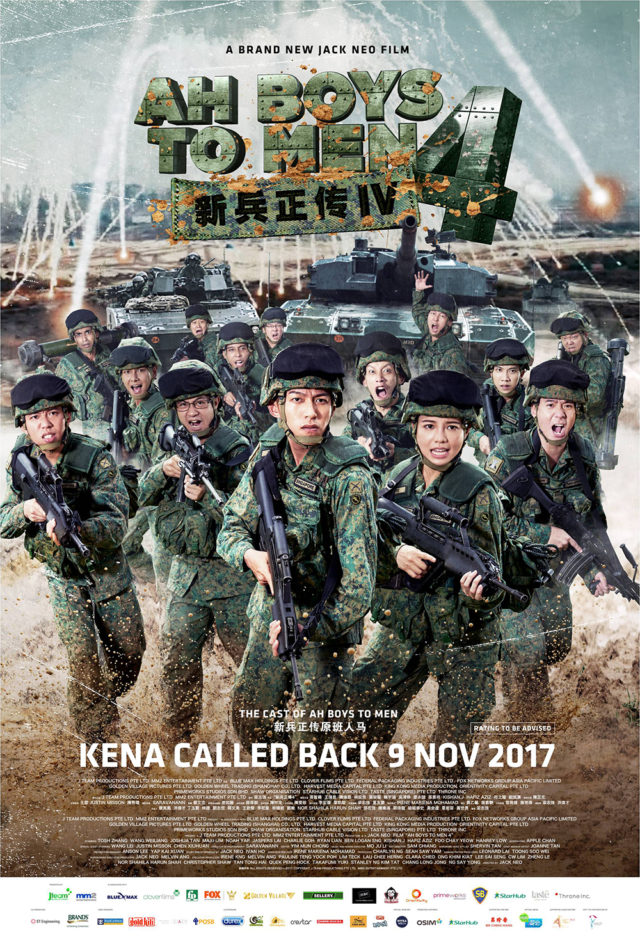 Ah Boys to Men 4 (新兵正传IV) Movie Synopsis
After leaving the military, Lobang, Wayang King, Sergeant Ong, and Ken Chow are all busy with their respective career as civilians. That's until they are called back to serve the nation again under the Singapore Armed Forces' Armoured Formation. Now they must juggle between work and their reservist duties. What hilarious situations will happen as they train together and their military roles are reversed? There'll be new enemy threats and their brotherhood will be put to the test.
Ah Boys to Men 4 (新兵正传IV) Viewer Rating: 2.5/5 ***
Ah Boys to Men 4 (新兵正传IV) Movie Review:
Tiffany Yong: The first Ah Boys to Men (ABTM) film was released in late 2012 and ever since then, the 'ah boys' had garnered an increasingly large fan base as the franchise moved into the 4th instalment this year. Looking back at Ah Boys to Men 3: Frogmen, I realised that ABTM series is a lot like the current trending films in China (Think Jet Li and Fan Bingbing's League of Gods 3D封神榜, He Jiong's Soccer Killer 仙球大战, Eddie Peng's Wu Kong 悟空传 and the upcoming The Golden Monk 降魔传 – interesting concepts, but all spoilt by bad & over the top effects). 

Peps Goh: There are a few good things about this film, for one thing, it's really difficult to integrate one product placement smoothly into a story, much less 20 different sponsorships (That's 1 product placement every 6-7 minutes in the 2h 15 min film) and still maintain some semblance of a coherent narrative. And in that, the writing has achieved something very difficult to do.
Tiffany Yong: While the first two films focused more on Ken Chow (Joshua Tan) and the soldiers' ten-week Basic Military Training, and the third Naval Diving Unit training film on Lobang King (Wang Weiliang), ABTM4 puts the attention on Tosh Zhang's platoon sergeant Alex Ong, the new female addition – Apple Chan, with the reprising 'Ah Boys' team now in In-Camp Training (ICT) at the Armour Unit. 
Peps Goh: Director Jack Neo has a mastery of being about to create funny singular scenes, with light-hearted humor delivered with a solid pacing. And many of them are done to an interesting choice of scene blocking, almost akin to a comedy theatrical piece with the actors staged favoring one audience direction. And with the timing and chemistry of these actors; Lobang king in particular punctuating the moments effectively. 
Honestly, I felt that Alex Ong, Lobang King and once in a while Keng Long (Ryan Lian) made the advertisement-loaded film watchable by (barely) threading up the story. Otherwise, it would feel more like combination of 20-30 hilarious Youtube skits.
Tiffany Yong: The distraction of the in-your-face product placements caused the storytelling to be choppy, and I spent more time playing spot-the advertisement game than to be touched by the poignant moments. I wished the personality conflicts between Joshua Tan's angsty Ken Chow and Maxi Lim's goody-two-shoes Aloysius Jin could be dealt better, as well as Noah Yap's IP Man whose 'joking-only-what' sexist and derogatory remarks felt so familiar, yet nothing was really done to correct the childish mindset (I don't think writing 2500 lines helps). 
All in all, it is a VERY relatable film for majority of the male population who had to serve National Service, or should I say, ICT. Just learn to ignore the ads and you will probably still enjoy it. 
Do You Know?
Hong Kong-born, Singapore-bred actress Apple Chan is the first female "Ah Boy" in this fourth instalment as Zhang Xinyi – a lieutenant in the Armour unit. The Singapore PR who moved here when she was four is currently signed on to Hong Kong's TVB channel. The inclusion of female lead was after Jack Neo visited military bases for research and noticed the number of female soldiers. "I saw women instructors and female tank platoon commanders. They are in combat units, doing the same things that the men do, and going through the same training, without special treatment. This surprised me," he says.
Joshua Tan gained 20kg to a solid 88kg for his role as Ken Chow for ABTM4. He volunteered to do a weight gain when Maxi Lim lost 17kg and did not want to gain his weight for the role again. Joshua wanted to get out of his typecast of being "the mummy's boy, the standard boyfriend or the good-looking guy".
The film shoot took over three months including production of the ABTM 5. The combined budget for both films is S$5 million. In this film, there were large-scale action scenes featuring a number of vehicles, including the Leopard 2 SG battle tank, and the Bionix 40/50 and Bionix 2MT armoured fighting vehicles.
Behind The Scenes and Interviews
Check out Ah Boys to Men 4 (新兵正传IV) Facebook Page!
Ah Boys to Men 4 (新兵正传IV) is out in cinemas on 9 November 2017.
Cheers,



Tiffany Yong: Facebook | Instagram | YouTube
Peps Goh: Facebook | Instagram | YouTube
The Epiphany Duplet: #TheEpiphanyDuplet
*Disclosure: Invitation from Clover Films. No monetary compensation was received for the movie review.
P.S. Noticed the different coloured text? Articles written by #TheEpiphanyDuplet will be colour-coded in future to let every reader know who say what! Hope you've enjoyed reading our insights!
Epiphany: / ɪˈpɪf(ə)ni,ɛˈpɪf(ə)ni / noun / A moment of sudden and great revelation.
Duplet: / ˈdjuːplɪt / noun / 2 electrons working together, forming a bond between atoms.
|| Derived from the anagram of the duo's name, whom met through a film project acting as lovers. After which as fate would have it, couples indeed they became. And now together they bring to you staycations & travelogues, beauty and relationship tips, your one-stop-shop to all the fun things you can do with your special someone. ||
@PepsGoh: Actor || Fight Choreographer || Free Running Athlete
@Tiffanyyongwt4242: Actor || Blogger || Consultant