77 Heartbreaks (原谅他77次) Movie Review | by tiffanyyong.com
Recommended Audience: Fans of Charlene Choi 蔡卓妍, Pakho Chau 周柏豪, Michelle Wai 卫诗雅, Gillian Chung 锺欣潼, Anthony Wong 黄秋生, Kara Wai 惠英红, Lawrence Cheng 郑丹瑞, Yumiko Cheng 郑希怡, Candy Lo 卢巧音, J.Arie, Herman Yau 邱礼涛 and romance movie fans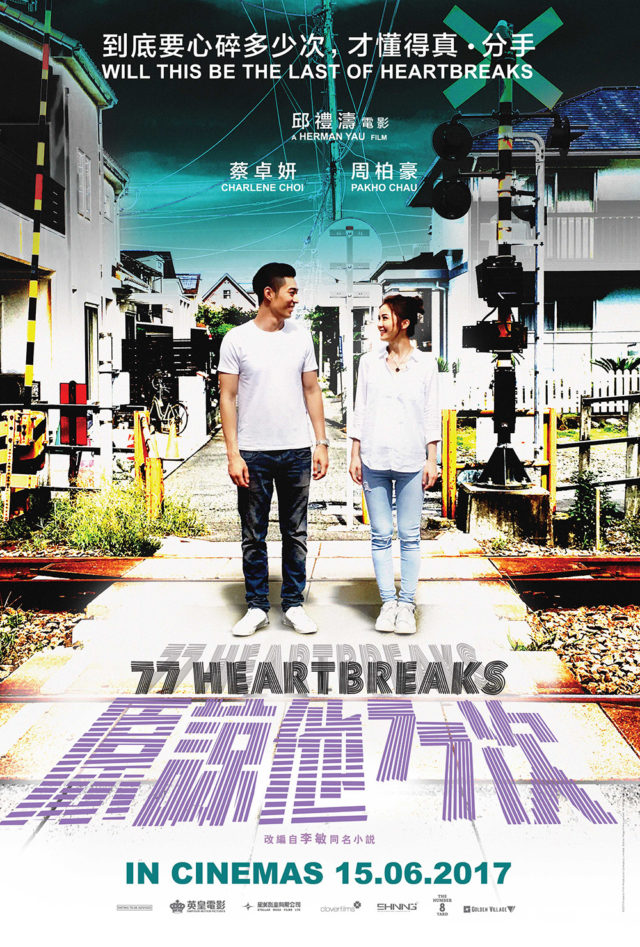 77 Heartbreaks (原谅他77次) Movie Synopsis
When Eva ends her ten-year relationship with Adam, he's shocked by the seeming suddenness of the break-up till reading her private journal reveals it was the culmination of 77 heartbreaks. He is determined to win her back, but faces the hurdles of a drunken affair and the secret contained in the journal's missing last page.
77 Heartbreaks (原谅他77次) Viewer Rating: 3/5 ***
77 Heartbreaks (原谅他77次) Movie Review:
Tiffany Yong: 77 Heartbreaks caught my attention with the trailer. A guy who failed to appreciate what his girlfriend had done for him until she's gone, what better movie to watch together with my boyfriend (right?) and use that opportunity to "openly hint" to him that he had also committed the same insensitive mistake! Well, if you are hoping to do the same (as me), I can tell you that this film will definitely open up many many many topics for discussion and debate as there are many relevant moments,

Peps Goh: For me, it was an overall enthralling watch, filled with emotional ups and downs wrought by the genuine performance from Charlene Choi as Eva and Pakho Chau as Adam. But upon taking a step back and trying to make sense of the overall message, that's when the writing failed to fully convince me.
There are core beliefs being shared that conflicts with mine, and perhaps that's when the disconnect happened. For instance, the act of recording unhappiness (which the whole film revolved around) under the pretence of forgiveness was one of the things that flagged red to me. While the journal translates "77 Times I Forgive Him -原谅他77次", Eva clearly holds a grudge for the mistakes, so lets all get off our high horses for a moment shall we.
Tiffany Yong: While most film plots will give the male lead a group of "pro-single", "anti-marriage", "pro-clubbing" friends, I was surprised to see that the movie actually gave Adam a group of friends who actually praised Eva. 
Peps Goh: I find Adam, the male protagonist is not a likeable character at all. On first look, he seems to be a suave type, exuding confidence and casual nonchalance. And whilst it's great to have a flawed personality to create audience rapport, I'm sorry to say that, if not for most, at least for me. I fail to relate to him on any level. He proceeds to rapid deteriorate into the most detestable of characters in a way that may be argued as "realistic", but instead, feels more gratuitous and over done.
Tiffany Yong: Charlene Choi is slightly more subtle and convincing here. However, both of us had to put the blame on the plot once more, as we felt that the film tried to question modern-day relationships by using the wrong method. Writing a journal, ending a relationship without a proper closure, doing a passive-agressive move by trying to get the boyfriend-or-ex to read the journal so that he knows his mistakes… this is definitely NOT something we should be doing in a relationship (as adults). 
Tiffany Yong: While most people might find the ending a little abrupt, I find it on point. It didn't try to give audience or couples a false illusion that all long term relationships will be happily-ever-after.  I like how it kept the ending open to discussion, allowing the audience to decide what they would do or should do if they were in one another's shoes.
Peps Goh: That being said, the film however is still well-done (overarchingly-speaking), and there are powerful moments that really touched and invoked nostalgic, if not unpleasant, memories for me. So I must admit that it did succeed as a narrative piece despite my grievances.
Do You Know?
"77 Heartbreaks" was adapted from the novel of the same name written by Erica Lee (李敏), who is also the screenwriter for this film, as well as Nessun Dorma and SARA. Charlene Choi was also the co-written for this film as she added a lot of her personal experiences in the film.
The number 77 times was derived from the bible.
(Matthew 18:21/22) Then Peter came up and said to him, "Lord, how often will my brother sin against me, and I forgive him? As many as seven times?" Jesus said to him, "I do not say to you seven times, but seventy-seven times."
When Erica Lee wrote this novel, she felt that man is no saint, and it was difficult to forgive one for 70 x 7 times. However, to end a relationship after just 7 times of forgiveness, it would seem pretty frivolous. Hence the number 77 was created.
Behind The Scenes and Interviews
Check out 77 Heartbreaks (原谅他77次)'s Facebook Page!
77 Heartbreaks (原谅他77次) is out in cinemas on 15 June 2017.
Cheers,



Tiffany Yong: Facebook | Instagram | YouTube
Peps Goh: Facebook | Instagram | YouTube
The Epiphany Duplet: #TheEpiphanyDuplet
*Disclosure: Invitation from Clover Films Singapore. No monetary compensation was received for the movie review.
P.S. Noticed the different coloured text? Articles written by #TheEpiphanyDuplet will be colour-coded in future to let every reader know who say what! Hope you've enjoyed reading our insights!
Epiphany: / ɪˈpɪf(ə)ni,ɛˈpɪf(ə)ni / noun / A moment of sudden and great revelation.
Duplet: / ˈdjuːplɪt / noun / 2 electrons working together, forming a bond between atoms.
|| Derived from the anagram of the duo's name, whom met through a film project acting as lovers. After which as fate would have it, couples indeed they became. And now together they bring to you staycations & travelogues, beauty and relationship tips, your one-stop-shop to all the fun things you can do with your special someone. ||
@PepsGoh: Actor || Fight Choreographer || Free Running Athlete
@Tiffanyyongwt4242: Actor || Blogger || Consultant