SARA (雏妓) Movie Review | by tiffanyyong.com
Recommended Audience: Fans of Charlene Choi 蔡卓妍, Simon Yam 任达华, 凌梓維, 柳俊江 movie fans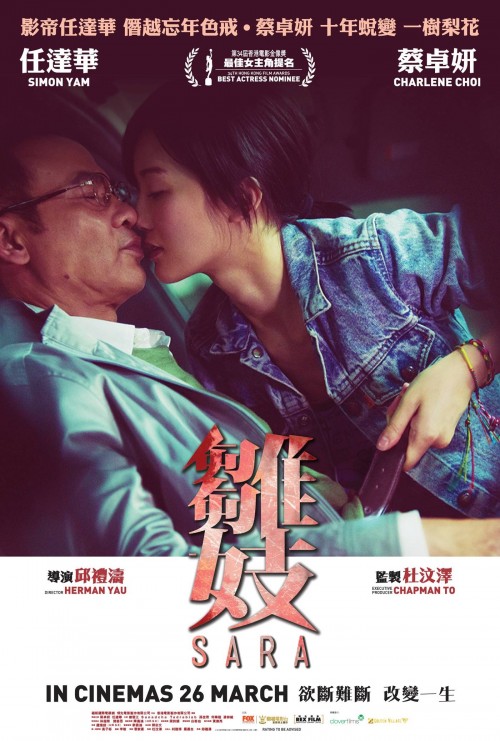 SARA (雏妓) Movie Synopsis
Journalist Sara has just spent four months completing an in-depth investigation piece. Her editor-in-chief, afraid of offending powerful politicians and business moguls, refuses to run it. Her boyfriend, who works for the same magazine, chooses not to warn her and even sides with the editor-in-chief. In just one moment, she is turned off by her work, her love relationship and even about life.
At this low point in her life, Sara exiles herself to Chiang Mai, Thailand. One evening, while at a bar, she meets child prostitute Dok-my. During her time getting to know Dok-my and through the process of rescuing her, the journalist becomes haunted by the memories of her own past.
杂志记者何玉玲(蔡卓妍饰)花了4个月时间完成一篇关于官商丑闻报道,遭老总以杂志社利益为由抽稿,意兴阑珊的她决定到泰国散心。在清迈一间酒吧,玉玲遇上雏妓Dok-My,千方百计要救Dok-My出火海。
原来Dok-My令玉玲忆起自己过去十多年的成长经历:曾被继父性侵犯、离家出走,继而遇上比她年长30年的甘浩贤(任达华饰)──玉玲愿意被包养以换取学费及栖身之所,与甘浩贤展开长达8年的不道德交易,但在这买与卖之间,二人关系实际上千丝万缕,感情如父女又如情人般扑朔迷离……
SARA (雏妓) Viewer Rating: 4/5 ****
SARA (雏妓) Movie Review:
Most people might be watching this film because of its R ratings or even because of the news that Charlene Choi had sex scenes in this film. If you hoping for another 50 Shades, you might be disappointed. Or else, I was pleasantly surprised by the topic the film touched on and how the issue was addressed.
The film featured three different types of women and how they dealt with life. While Sara's mum tried to escape from reality and pretend all was well when Sara was raped by the stepfather; she used sex to fight for what she want. Meanwhile, in Thailand, Dok-My (Sunadcha Tadrabiab), the underaged sex worker used sex to trade for the survival of her family…
I find it interesting how the film used chronological flashback to bring out Sara's childhood story (Although it's a bit confusing at times), as well as her gradual realisation that she could have been a child sex worker, just like Dok-My. The film is also a reflection of today's society, how many of us have been "selling" ourselves in exchange or to achieve a certain goal? It might not be sex, but what about our pride, ego or even our integrity?
The relationship between Sara (Charlene Choi) and Gan Hao Xian (Simon Yam) was really interesting. It started off as a way to "secure" his promise, then it became a transaction and then it evolved into a relationship. I was impressed how Simon Yam (who's pretty experienced in romance and sexual scenes) was able to pull off the role of a straight laced education minister, as well as his inexperience care for Sara. The role of Sara is definitely something very un-Charlene, to be spouting vulgarities when she's angry and making the advances on guys, I like how she portrayed the character in different stages of her life.
The two roles which I thought was pretty undeveloped (and it was a pity) were Patrick, the guy who had a crush on Sara in university as well as Raymond, Sara's boyfriend in the news room. If the scriptwriter had given them more screen time or even merge them together as one, it might have been more interesting. There was a particular scene where the guy brought Sara back home when she was drunk and saw her writings on the wall. What happened? There were actually quite a few questions I had in my mind that I hope it would be answered!
This is definitely a film I will recommend for everyone to watch as it has such a debatable topic! I believe each time you watch it (that is if you watch more than once), you will discover something new and different!
Do You Know?
The character SARA was inspired by a conversation by the female lead Zhang Yu Ling from the film "From the Queen to the Chief Executive" (等候董建華發落). That one minute scene was a conversation between social worker Yu Ling (same pronunciation as Sara's Chinese Name) and her mum whom she told how she lived for the past 10 years: She was kept as a mistress, and the guy supported her financially for her studies and then she left him.
It's Charlene Choi's first time acting such a bold role with two sex scenes. She was so nervous that she requested the producer Chapman To 杜汶泽 to be on set daily. However, after the first day of filming, she was so comfortable with the director that she told him not to turn up anymore as his appearance on set will affect her filming.
Both Simon Yam and Charlene Choi won the Best Actor/ Actress Award from their roles in "SARA" at the Macau International Movie Festival.
SARA is director Herman Yau's third film to touch on the topic of sex workers. The previous two films were "Whispers and Moans" (性工作者十日谈) in 2007 and "True Women For Sale" (性工作者2我不卖身.我卖子宫) in 2008.
Another name for this film was Que Sera Sera (¿Qué será, será), which means "what will be, will be." in Spanish. This is something you say when you are stuck in a hopelessly unchangeable situation, but have come to accept, or even embrace the unchangeability of it all. This is similar to the phrase "it is what it is", an apt title for the situation of underaged prostitution in Thailand (in the film).
Behind The Scenes and Interviews
Check out SARA (雏妓) Facebook Page!
SARA (雏妓) is out in cinemas on 26th March 2015. Special Sneaks out on 20th-22nd March 2015.
xoxo



Facebook | Instagram | Twitter | YouTube
*Disclosure: Invitation by Clover Films Singapore. No monetary compensation was received for the movie review.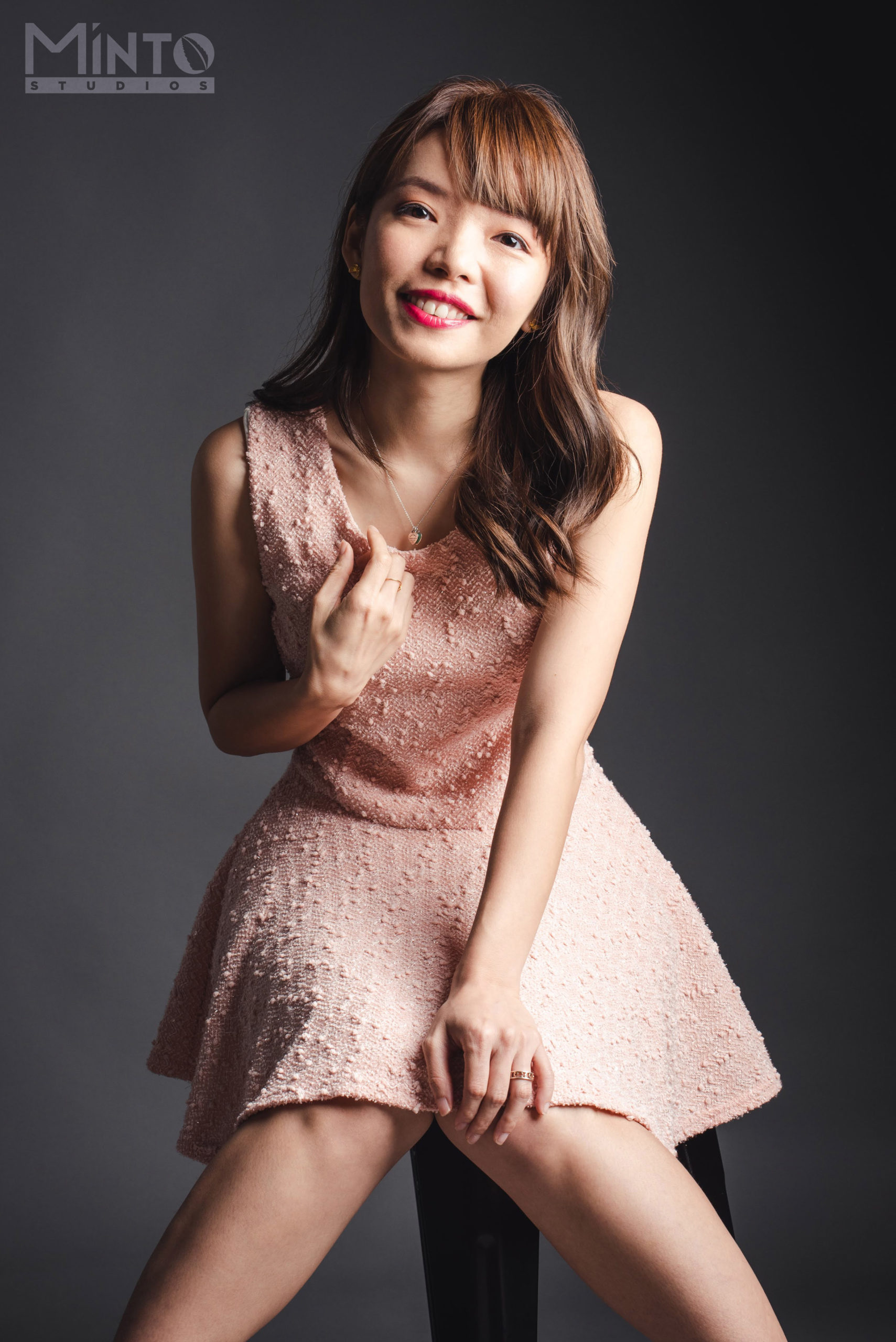 1/2 of #TheEpiphanyDuplet, Tiffany Yong juggles her ABCs – Acting, Blogging and Coaching/Consulting as she is fuelled by passion and drive to succeed.
It is not easy to make a living in Singapore just purely based on Acting, so with Blogging to help her with her online presence, and Coaching kids drama, private tutoring and freelance social media consulting to finance her life, she is currently leading the life most people hope to have: Living the Dream!