This Is Not What I Expected (喜欢你) Movie Review | by tiffanyyong.com
Recommended Audience: Fans of Takeshi Kaneshiro 金城武, Zhou Dongyu 周冬雨, Ming Xi 奚夢瑤, Tony Yang 杨祐宁, Lin Chi-Ling 林志玲, Sun Yizhou 孙艺洲, Derek Hui 许宏宇 and romantic comedy fans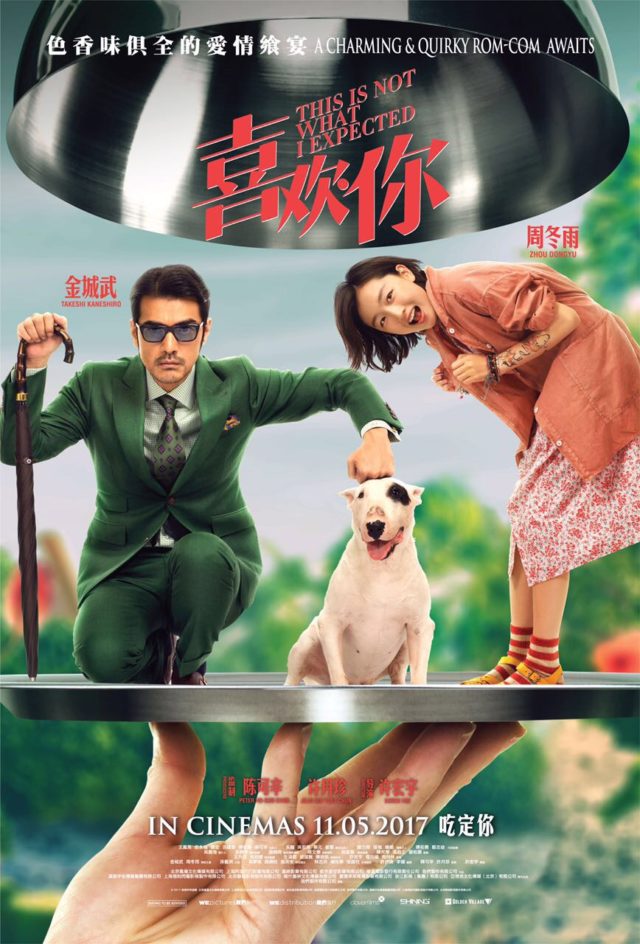 This Is Not What I Expected (喜欢你) Movie Synopsis
Callous and eccentric Lu Jin (Takeshi Kaneshiro), President of an international hotel group, is every bit the man one loves to hate. Gu Shengnan (Zhou Dongyu), sous chef of Rosebud Hotel, is no more a social darling than him – confused, careless and unkempt, she is hardly what most men consider an object of desire.
Lu Jin checks into a hotel to conduct acquisition research. He is dissatisfied with everything he sees, but a last-minute dish whipped by Gu Shengnan blows his mind. He starts ordering dishes from her and she starts cooking for him. The two don't meet in person but they share a mutual appreciation for each other. Yet in reality, they're arch-rivals whose every encounter is a catastrophe, until their identities are revealed by accident… In the tug-of-war between contempt and fondness, which side will win?
This Is Not What I Expected (喜欢你) Viewer Rating: 4/5 ****
This Is Not What I Expected (喜欢你) Movie Review:
Tiffany Yong: The movie explores the age-old question of: "Do opposites attract?" as well as the saying, "The Way to a Man's Heart is Through His Stomach" by having two completely different individuals brought together over the same appreciation for gourmet and food.
To be honest, the movie has captured their culinary dishes so well that it beats Foodies: The Culinary Jetset Documentary heads-down. The cinematography and editing turn the food dishes into human emotion and passion, and there were moments you could feel the characters having (food) orgasm without having to taste the food yourself. 

Tiffany Yong: Although the characters were very much of an extremist and unrealistic, (I mean who do crazy stuff like scratching cars in public carparks!), I still find them pretty lovable and fun to watch. The filming style for the two characters also brought out their personality. Free-spirited Gu Shengnan (Zhou Dongyu) had more hand-held scenes while Takeshi Kaneshiro's Lu Jin get more tracking and stable shots to represent how he is a person who keeps moving forward.
Peps Goh: Sure the chemistry and romance between them may not be the most sentimental, romantic, nor convincing come to think of it. But despite that, the candid abandon in the performance of Zhou Dongyu is endlessly charismatic that it's hard not to feel endeared to their unconventional courtship.
Tiffany Yong: Takeshi Kaneshiro managed to have another interesting character after See You Tomorrow (摆渡人). I was very much amused by his obsessive–compulsive disorder (OCD), something Peps Goh has too. There were several moments where our eyes will meet with a knowing glance, especially when it comes to the cooking of instant noodles and Lu Jin's precision whatever he does.
Of course, the film is not without flaws. The surprise appearance of Lin Chi-Ling had an abrupt exit. Xu Zhaodi (Ming Xi) and Sun Yizhou performed their roles well, and the lack of scenes made me feel that the film had put their characters to waste.
Peps Goh: This is a fun watch filled to the brim with light-hearted humor that easily makes it into one of my favorites of this kind of genre. But the plot is so far departed from the regular rom-com that it feels almost like a breath of fresh air.
Tiffany Yong: For me, it boils down to one last question, do you really think 2 person with such extreme habits, lifestyles and upbringing can stay together for good?
Do You Know?
"This is Not What I Expected" is adapted from well known female author (藍白色)'s novel
"Finally I Get You" (終於等到你).
This is the second time producers Peter Chan (陈可辛) and Jojo Hui (许月珍) worked with Zhou Dongyu(周冬雨) after Soul Mate (七月与安生). It is also the directorial debut for Derek Hui (许宏宇), a videographer whom Peter Ho had worked with for more than twelve years. He was also the editor of Soul Mate.
The rental for the scenes in the hotel was more than $200K a day, and the team had to arrange the shoots in a way where they fully utilise the full 24 hours. For this, Peter Hot had to negotiate with Takeshi Kaneshiro to forgo his requirement of restricting filming to 12 hours a day.
The dog is called "boss" because his real name is Pete, which is the same as producer Peter Chan (陈可辛). The producer was aware of it and will shun whenever there's the dog around as he is afraid of dogs.
Behind The Scenes and Interviews
Check out This Is Not What I Expected (喜欢你) Facebook Page!
This Is Not What I Expected (喜欢你) is out in cinemas on 11 May 2017.
Cheers,



Tiffany Yong: Facebook | Instagram | YouTube
Peps Goh: Facebook | Instagram | YouTube
The Epiphany Duplet: #TheEpiphanyDuplet
*Disclosure: Invitation from Clover Films. No monetary compensation was received for the movie review.
P.S. Noticed the different coloured text? Articles written by #TheEpiphanyDuplet will be colour-coded in future to let every reader know who say what! Hope you've enjoyed reading our insights!
Epiphany: / ɪˈpɪf(ə)ni,ɛˈpɪf(ə)ni / noun / A moment of sudden and great revelation.
Duplet: / ˈdjuːplɪt / noun / 2 electrons working together, forming a bond between atoms.
|| Derived from the anagram of the duo's name, whom met through a film project acting as lovers. After which as fate would have it, couples indeed they became. And now together they bring to you staycations & travelogues, beauty and relationship tips, your one-stop-shop to all the fun things you can do with your special someone. ||
@PepsGoh: Actor || Fight Choreographer || Free Running Athlete
@Tiffanyyongwt4242: Actor || Blogger || Consultant