Alien: Covenant Movie Review | by tiffanyyong.com
Recommended Audience: Fans of Michael Fassbender, Katherine Waterston, Billy Crudup, Danny McBride, Demián Bichir, Carmen Ejogo, Amy Seimetz, Jussie Smollet, Callie Hernandez, Nathaniel Dean, Alexander England, Benjamin Rigby, Ridley Scott and Sci-fi movie fans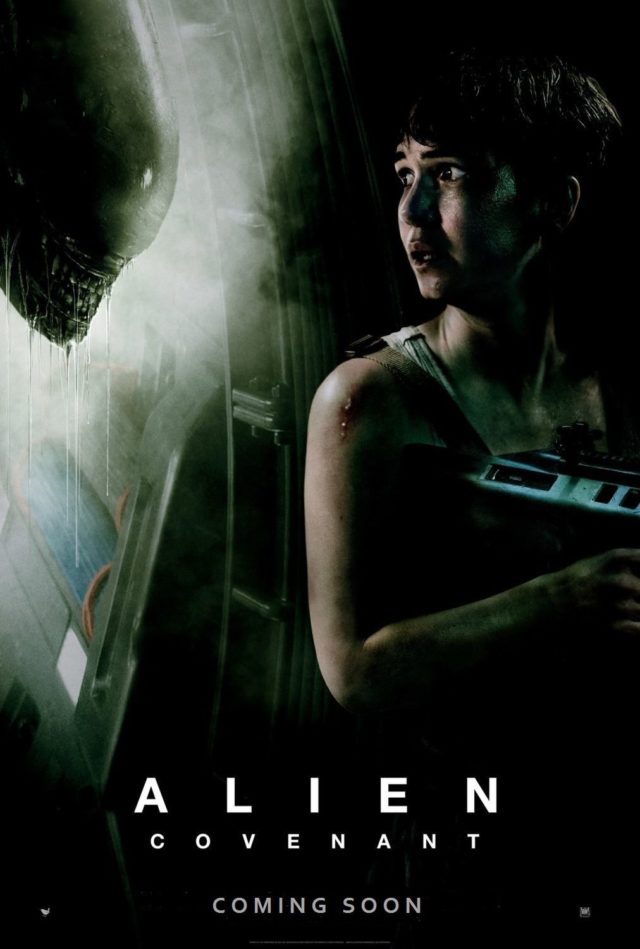 Alien: Covenant Movie Synopsis
Ridley Scott returns to the universe he created, with ALIEN: COVENANT, a new chapter in his groundbreaking ALIEN franchise. The crew of the colony ship Covenant, bound for a remote planet on the far side of the galaxy, discovers what they think is an uncharted paradise, but is actually a dark, dangerous world. When they uncover a threat beyond their imagination, they must attempt a harrowing escape.
Alien: Covenant Viewer Rating: 3.5/5 ***
Alien: Covenant Movie Review:
Tiffany Yong: I was "encouraged" to watched Prometheus prior to the invitation by 20th Century Fox to catch Alien: Covenant, and I was glad that it helped provide some insights and relevance to the characters. I weren't too impressed with Michael Fassbender "robotic" performance in the 2012 movie, perhaps due to the subconscious comparison with the other Michael, Michael Sheen as Arthur, the android bartender in Passengers Movie (2016). 
This time, he fared way better, taking up duo Android roles. 

Peps Goh: While Prometheus was more of a horror thriller, Covenant felt like an action thriller piece, and I don't mind that one bit. I'm not much a fan of gore, so it's great that this sequel didn't overkill on that aspect, and instead busied itself with more fast-paced OTT action that was both front and back loaded. The pacing dropped in the middle part to accommodate Michael Fassbender's acting and some exposition, but overall it was paced well enough that my attention didn't waver too much.
Tiffany Yong: Like most horror films, shit happens when the characters do stupid things. There were several moments when you felt that the characters are doing the stupidest things, and behaving in a way where you somehow know shouldn't be the way given their position and expertise. In Prometheus, it was how Millburn and Fifield tried to touch an unknown snake-like creature in an unknown planet. Here, it was how Faris tried to quarantine Karine and infected Ledward inside the med-bay and shoots a Neomorph with big guns within an Engineer ship, resulting in a explosion.
Erm, I thought space explorers should be equipped with basic knowledge on to-dos and nots?

Peps Goh: Die-hard fans of the Aliens series will find it nostalgic as the classic moments were recreated, eg. shower scene, face-hugger moments; a tip of the hat to originals one would assume, and it is definitely a walk down the zenomorph-mory lane for old fans.
Spoiler alert The short hand-to-hand combat between Androids: David[Michael Fassbender] and Walter[Michael Slowbender] (haha) was a nice cherry on top too.
Prometheus left the audience with more questions than answers. Yet while Alien: Covenant picked up almost right where Prometheus left off, it somehow managed not answer many of them at all. Despite that, it succeeded at being an exciting watch nonetheless, and I did very much enjoy the ride.
Do You Know?
The title for the movie was changed from Alien: Paradise Lost to Alien: Covenant. It is the sequel to the 2012 film Prometheus, the second instalment in the Alien prequel series, the sixth instalment overall in the Alien film series, and the third instalment to be directed by Ridley Scott.
At one stage, Katherine Waterston's character Daniels says "I got you, you son of a bitch." Ellen Ripley uses these words at the end of the original Alien film (1979).
The androids names, David and Walter, are a tribute to producers David Giler and Walter Hill. In the movie, they broke the alphabetic pattern for their artificials: 1. Ash 2. Bishop 3. Bishop 4. Call 5. David 6. Walter

Katherine Waterston, the Fantastic Beasts female lead initially wanted to try donning an Ezra Miller haircut for the Aliens movie. She loved that haircut and requested the hair and makeup department if she could try on his wig. She liked the idea of doing something that was just a bit odd-looking, or mildly futuristic.
Behind The Scenes and Interviews
Check out Alien: Covenant Official Website and Facebook Page!
Alien: Covenant is out in cinemas on 10 May 2017.
Cheers,
Cheers,



Tiffany Yong: Facebook | Instagram | YouTube
Peps Goh: Facebook | Instagram | YouTube
The Epiphany Duplet: #TheEpiphanyDuplet
*Disclosure: Invitation from Twentieth Century Fox Singapore. No monetary compensation was received for the movie review.
P.S. Noticed the different coloured text? Articles written by #TheEpiphanyDuplet will be colour-coded in future to let every reader know who say what! Hope you've enjoyed reading our insights!
Epiphany: / ɪˈpɪf(ə)ni,ɛˈpɪf(ə)ni / noun / A moment of sudden and great revelation.
Duplet: / ˈdjuːplɪt / noun / 2 electrons working together, forming a bond between atoms.
|| Derived from the anagram of the duo's name, whom met through a film project acting as lovers. After which as fate would have it, couples indeed they became. And now together they bring to you staycations & travelogues, beauty and relationship tips, your one-stop-shop to all the fun things you can do with your special someone. ||
@PepsGoh: Actor || Fight Choreographer || Free Running Athlete
@Tiffanyyongwt4242: Actor || Blogger || Consultant