Lucky Boy (天公仔) Movie Review | by tiffanyyong.com
Recommended Audience: Fans of Wang Weiliang 王伟良, Venus Wong 王敏奕, Jeremy Chan 田铭耀, Terence Then 邓国强, Chew Chor Meng 周初明, Chen Xiuhuan 陈秀环, Priscilla Lim 林茜茜, Melody Low, Boris Boo 巫培双 and comedy movie fans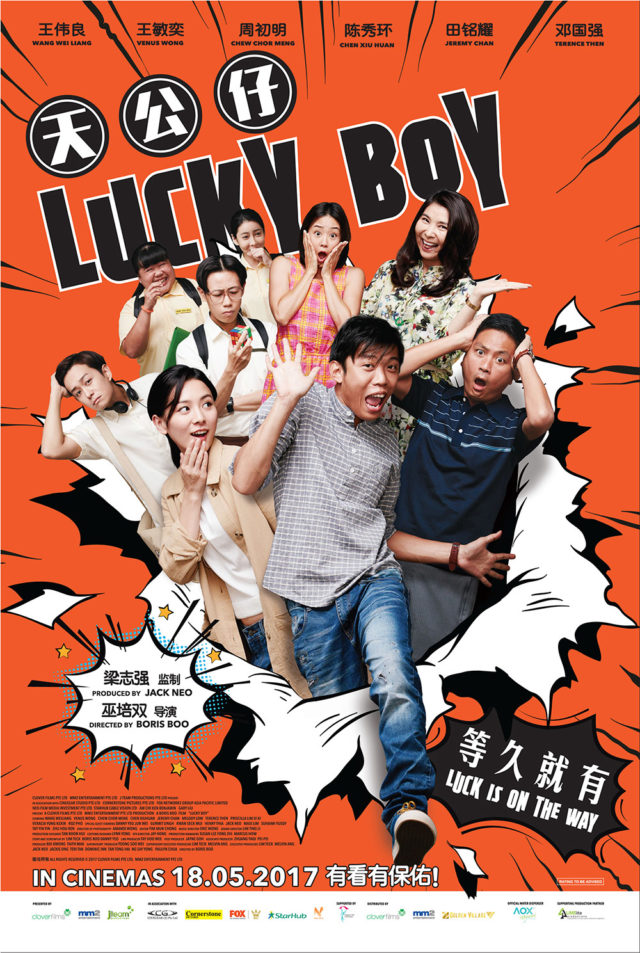 Lucky Boy (天公仔) Movie Synopsis
LUCKY BOY chronicles several decades of the lives of Lin Yu (Wang Weiliang), his family, friends and Qingqing (Venus Wong) – the girl whom he falls in love with in primary school and continues pinning for throughout his tumultuous and eventful life. Lin Yu is always one step behind others and surrounded by misfortune… Will Lin Yu, the destined "unlucky" boy, be able to change his fate?
Lucky Boy (天公仔) Viewer Rating: 3/5 ***
Lucky Boy (天公仔) Movie Review:
Tiffany Yong: If you always miss success just by a bit, or always getting into trouble in whatever you do, will you think of yourself as an "unlucky boy"? I thought it was part and parcel of life, having hits and misses, but was surprised when Peps told me that Lin Yu is a character many people will be able to relate to. 

Peps Goh: The humor beats definitely got the audience laughing, and that makes it a success in it's genre as far as anyone is concerned. Lucky Boy is a piece that flows through an authentically Singaporean timeline, and speckled along the main narrative are 'landmark' local newspaper happenings eg. our local football victory, SARS outbreak, the infamous Mas Selamat case etc. Making it a nostalgia-invoking journey watching these characters grow through the scenes, while at the same time being reminded of our very own walk into adulthood. 
In that aspect, Lucky Boy may grow to become a local 'classic'. What I mean by that, is that it is thoroughly a "Singapore story", and a big screen representation of the local culture and cinematic flavor.
Tiffany Yong: If Singapore needs to have our own S.H.E girl band, we should probably consider these three musketeers. Da Jie (Jeremy Chan) and Ray (Terence Then) were priceless, bringing out the nerdy, happy-go-(un)lucky nature of Lin Yu fully. I love their comedic beats, and their attempts to help Lin Yu created many humorous moments, making it both nostalgic and exasperating. This is something missing in most of the local films shown previously.

Tiffany Yong: If I have to commend on a supporting actor's performance, it will definitely be Roz Pho's portrayal as Mei Ling, Lin Yu's elder sister. Her performance was memorable and touching (at least for me), and I thought it was a pity not to see more of her. 
Peps Goh: Sad to say, the sentimental moments fail to really touch me (and me), at least not in any surmountable way. And personally, I feel that the problem isn't with the script nor the casts' performance, but instead the editing style. It feels almost as if the film is afraid of losing the attention of the audience, and hence, constantly rushes from act to act. (totally agree!)
Peps Goh: This is fine for most of the movie, but when it comes to the sentimental moments, the scene cuts away even before the droplet is halfway out of my tear duct. I think those are the moments where it takes a certain amount of confidence and courage for any film to dare to slow down, hold a shot still, and just let the casts perform, and let that raw human aspect reach out and touch the audience.
If I have to draw and analogy, the fast paced cutting and sharp humor beats is almost akin to a youtube skit. It is in essence, a feature length comedy skit. I don't mean that in a bad way, it all depends on if that was what they were aiming for, and what the audiences' expectations were.
Tiffany Yong: In many ways, this is definitely an entertaining piece of work. I definitely enjoyed it more than Lulu The Movie. It is something lighthearted, maybe even relatable for some, and you can even have some fun playing talent-spotting with the many iconic local actors as cameos in the film.
Do You Know?
Venus Wong also starred in the 2015 local movie, King of Mahjong as well as in 2017 Mediacorp's Toggle original series, K.O, also directed by Boris Boo.
The two local actors were known for being "Lobang King" (king of good deals). Chew Chor Meng for his role as Ah Bee in Don't Worry Be Happy (敢敢做个开心人) and its spin-off, Lobang King. Wang Weiliang is best known for his role as Lobang in the Ah Boys to Men (新兵正传) franchise, took up the lead role for the first time.
The concept of the film was created by Lim Teck of Clover Films. He told Boris Boo how he wanted to make a film about an unlucky person". Boris was "always very fascinated with the state of mind of human being", that a person "will blame any failure on luck" when he thinks he is unlucky, and if "something happened on this guy, and makes him think that there is a change in his luck, then out of a sudden, he will think he has the world under his feet", and "not only he becomes confident, but also takes failures on his stride and will brush them off easily".
Ex-Mediacorp Artist, Chen Xiuhuan returned to screen, playing Chew's wife. Chew and Chen had previously starred together in dramas such as The Witty Advisor and Heavenly Beings.
Behind The Scenes and Interviews
Check out Lucky Boy (天公仔) Facebook Page!
Lucky Boy (天公仔) is out in cinemas on 18 May 2017.
Cheers,



Tiffany Yong: Facebook | Instagram | YouTube
Peps Goh: Facebook | Instagram | YouTube
The Epiphany Duplet: #TheEpiphanyDuplet
*Disclosure: Invitation from Clover Films. No monetary compensation was received for the movie review.
P.S. Noticed the different coloured text? Articles written by #TheEpiphanyDuplet will be colour-coded in future to let every reader know who say what! Hope you've enjoyed reading our insights!
Epiphany: / ɪˈpɪf(ə)ni,ɛˈpɪf(ə)ni / noun / A moment of sudden and great revelation.
Duplet: / ˈdjuːplɪt / noun / 2 electrons working together, forming a bond between atoms.
|| Derived from the anagram of the duo's name, whom met through a film project acting as lovers. After which as fate would have it, couples indeed they became. And now together they bring to you staycations & travelogues, beauty and relationship tips, your one-stop-shop to all the fun things you can do with your special someone. ||
@PepsGoh: Actor || Fight Choreographer || Free Running Athlete
@Tiffanyyongwt4242: Actor || Blogger || Consultant