Relax and Enjoy at Empire Hotel & Country Club
This is our final stop in Brunei, also the second last day. I must say, the person who planned the itinerary is smart to put this as our final stop. Empire Hotel & Country Club is JAW-DROPPING. For those who watched 《公主小妹》Romantic Princess before, and remembered how amazing the "palace" is, that was my exact feeling. Just that I was still dripping with sea water, carrying a pair of muddy rubber shoes, dragging my pink luggage and a few plastic bags of wet clothes. TOTALLY UNGLAM!

The first thing that caught our attention was this nice car outside when we alighted. My mind was thinking, WOW, red carpet to welcome us? It's a little too overwhelming! But yes, I was imagining too much! Haha, it just happened that our President Dr. Tony Tan was also in Brunei and checked in on the same day as us.
We were served with a delicious drink (DIE DIE MUST TRY!) and wet towels while the staff does the check-in for us. The sunset was majestic and I couldn't wait to get to my room and change out of my wet clothes. It's really embarrassing looking so dishevelled in a "palace". Tom, our guide told us we have about 1.5 hours to change, and he really want us to catch the beautiful sunset. I told him confidently, Nah, 30-45minutes will do.
P.S. I took a really long time working on this post, simply because there were too many photos and I just feel that making a collage doesn't do justice to any spot. Thus, I decided to rearrange the order of my actual experience and make it a little tour via my blog entry so that it wouldn't appear too confusing for my readers. Most photos will be in the form of slideshow so that my blog entry won't be longer than Hermonie Granger's homework essays. ❤
First Stop
We were brought up to our rooms by one of the staff (Yes, we have individual rooms!) and they are located just next to each other. Rui Long (our OMY friend) got into her room first while we were getting our luggage. It was at this point of time when I suddenly heard her shout, OH MY GOD! Me, being me, was trying to be rather calm and cool about this whole grand hotel thingy, because it might be just the exterior that's grand and the rooms might just be any other 5 stars hotel.
So, yes I was quite impressed with how the big the whole room looked and start "working" by taking out my phone and snapping photos before I open my luggage and mess up the room. So SNAP SNAP.. Not bad… SNAP SNAP… @@! When I finally reach the… WASHROOM. My jaw dropped (literally) and I finally understood why Rui Long shouted. The bathroom was gorgeous! I can spend the WHOLE DAY inside! All 6 of us started sharing on our twitter and instagram and I finally understand why Tom said that we were going to take ages in the room.
[fsg_gallery id="9″]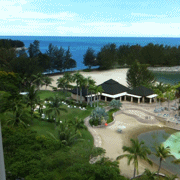 This place is really a place I will want to come with my loved one, in future.
Next: Food @ The Atrium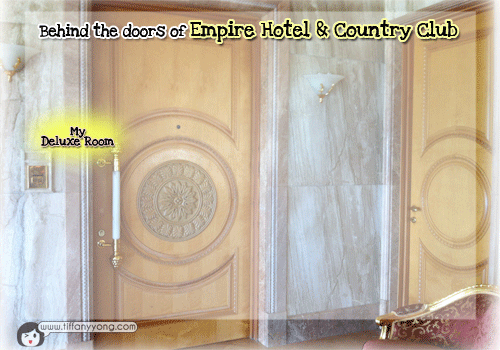 Food is one of the important thing at a hotel as it's the first thing we have after a great night sleep. Located at level 3 in the Main Atrium building with spectacular views of the ocean, amidst grandiose marble columns. Daily theme buffets are served and a selection of international and local fare is featured in the menu.
Breakfast Buffet
[fsg_gallery id="10″]
They have pretty good range of food here. I like how they kept it very local yet with some international options (like the croissants, cereals and eggs). I usually go for something light for breakfast, cereals and yogurt, but watching the yummy omelette Malcolm had made me got one of myself, which is rather rare! I was bloated by the end of breakfast.
Lunch Buffet
[fsg_gallery id="11″]
Lunch with the Brunei Tourism staff was at the Atrium too, and we were encouraged to try the Coconut and Mango Bomb mocktail, something the staff highly recommend over there. It is rich and thick, something I will suggest you share it with a friend if you are planning to eat more of the yummy-looking buffet.
Besides The Atrium, there are a few other locations where you can dine too. There is
the Bunker Bistro (Upscale clubhouse dining)
the Lobby Lounge (high tea; light meals)
the Pantai Restaurant (Fresh seafood; Al fresco dining; great seaview )
the Pool Deck (fresh fruit juices; all day snacks)
the Li Gong (Cantonese and regional Chinese cuisine; Dim sum weekends; set in a separate pavilion)
the Spaghettini (Authentic Italian dishes; Freshly baked pizzas)
Something More…'Zesty'
If there is anything else you have to try, it is the Zest cafe located at Empire Arcade, level 5, which serves pastries, cakes, sandwiches and savoury treats, confectionery and chocolates, all crafted fresh daily from the quality ingredients.
You will think that it is some expensive (and 'atas' aka high-class) cafe, you are wrong! I was really surprised by the cost of the delectable goodies. They were only about $2.50 to $4 each which is really affordable for a 5 star hotel standard. The Chocolate éclair is something you have to try!
Hotel Inspection Tour: Facilities in the Hotel
So here's a little virtual tour around the Empire Hotel & Country Club to give you a glimpse before your actual visit!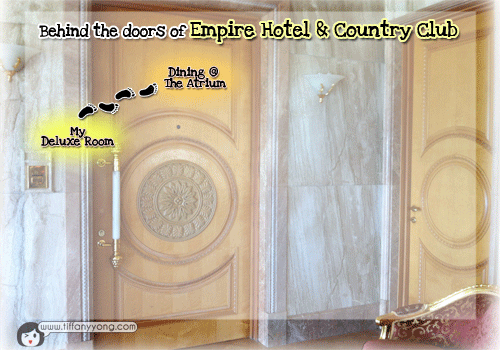 So off we go on a Buggy ride!
[fsg_gallery id="12″]
So here's a summary of the Empire Country Club facilities: Tennis; Squash; Bowling; Gymnasium; Badminton; Multi-purpose Court; Snookers & Billards; Indoor Spa Pool; Driving Range; Golf (Golf lessons); Spa; Cinema
As Brunei is a Muslim country, the hotel also has a gymnasium specially for the ladies and there are also a range of classes (Yoga, Zumba, Aerobics etc) for the members to take part.
Besides that, there are also watersports available: Banana boat, catamaran, flying fish, laser funboat, laser pico, parasailing, snorkelling, ocean kayak, jet skiing, water skiing, wake boarding, wind surfing.
Kids corner at Bowling Alley
It's really sweet that they have this little kids corner for the children at the Bowling Alley, so adults can have their fun without having the children throwing temper tantrum.
You can see that Empire Hotel & Country Club is really a place where you relax and have fun using all the different facilities.
Hotel Inspection Tour: The Villas
If you are wondering what are the other types of rooms available, here's one suitable for families or big group celebrations or gatherings.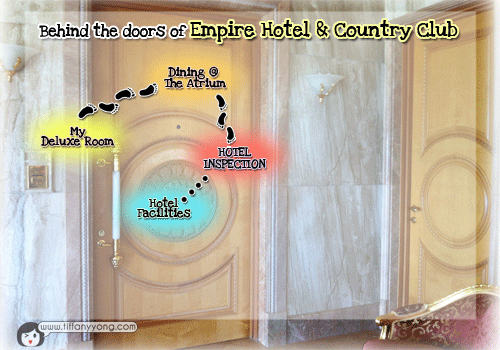 [fsg_gallery id="13″]
Private getaways, family holidays, sixteen villas set in beautiful gardens. Twelve 2-bedroom Garden Villas. Three 3-bedroom Ocean Villas, sharing a swimming pool and private beach. The Royal Villa provides guests with a pool of their own and concealed outdoor area for their exclusive use. Step into the realm of celebrated living and experience a privileged world with your own personal butler and private pool. Overlooking the 8th fairway, the 3-bedroom Royal Villa brings exclusive travel accommodation to new heights with elegant furnishings and impeccable service truly fit for royalty and an elite level of privacy available only to the very few.
Room Size:
2 Bedroom Villas – 198 square metres
3 Bedroom Villas – 245 square metres
Singapore's bungalow chalets really pales in comparison when I saw the villas here. But again, the Singapore population is more than 10 times that of Brunei, while Brunei's land is 8 times bigger than Singapore. But being one of these beautiful villas will make you think of the American pool-side parties where everyone just go crazy and have fun!
Hotel Inspection Tour: The Executive Suite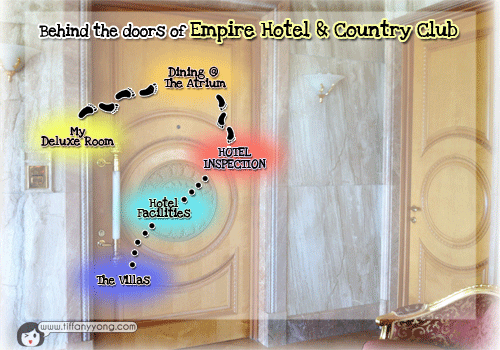 After a quick travel outdoors, we are now back to the hotel, visiting the different rooms.
[fsg_gallery id="14″]
Italian tailored bed linens using the finest cotton together with the most luxurious down feather pillows and duvets provide a perfect night's sleep every night at the Empire. Complete with exquisite furnishing and hand-tufted wool carpeting, every Deluxe room is designed to ensure absolute comfort. A haven for traveling executives and holidaymakers alike. The E-Club Lounge, an exclusive retreat on the 6th floor, offers, complimentary breakfast, afternoon tea, evening mocktails and international hors d'oeuvres all served with spectacular views. Deluxe rooms from level 4 to 6 are Sea View. Guests staying in Deluxe Room and above, will have complimentary Mini bar as part of their E-Club benefits.
Room Size: 60 square metres
Located in another wing of the hotel, this suite has an extra living room (compared to mine), an extra little pantry-like place and different scenic view. After getting the big surprise from my own room, I was impressed but not wowed by the room. So I shall quickly move on to the next place.
Hotel Inspection Tour: The Ambassador Suite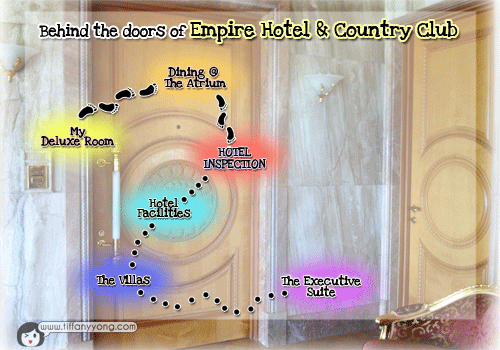 If you are wondering what kind of room did our President Dr Tony Tan have when he's here for the official visit and conference, here it is (minus his luggage :P)
[fsg_gallery id="15″]
With access to all E-Club facilities, these suites boast private jacuzzis and bespoke Asprey bath amenities. Adding to the sense of luxury living are the Italian silk covered walls that further enhance enjoyment of the Bang & Olufsen surround sound systems.
Room Size: Ambassador – 288 square metres
These rooms were ACTUALLY occupied by Dr Tony Tan and his entourage, but it just happened that we got lucky and this room was vacant just before we reached. This room is already BIGGER than our usual 5-room HDB flat, with a walk-in wardrobe (Karen actually gasped softly when she saw it) and real jacuzzi (I wonder if our President actually had the time to use it).
Ok, now… Get ready your hand to support your jaw.
Hotel Inspection Tour: The Empress Suite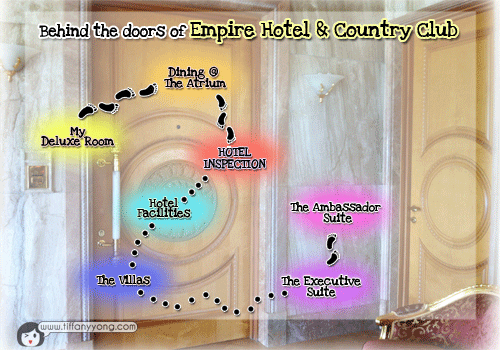 OMG is an understatement when we saw the door opened us to the Empress Suite.
[fsg_gallery id="16″]
With access to all E-Club facilities, these suites boast private jacuzzis and bespoke Asprey bath amenities. Adding to the sense of luxury living are the Italian silk covered walls that further enhance enjoyment of the Bang & Olufsen surround sound systems.
Room Size: Empress – 345 square metres
I felt like walking through some magical door that transported me to another room, not a hotel AT ALL. There is a little toilet just beside the entrance, followed by a little mini stairs that lead you to a grand living room you see in the photo. It is really a mansion fit for royalty. One interesting difference about the beds of this Empress Suite from the rest is… there's a large mirror on the ceiling, above the bed. For what purpose? Let's just know it in our minds… and leave it there. teehee…
The Emperor Suite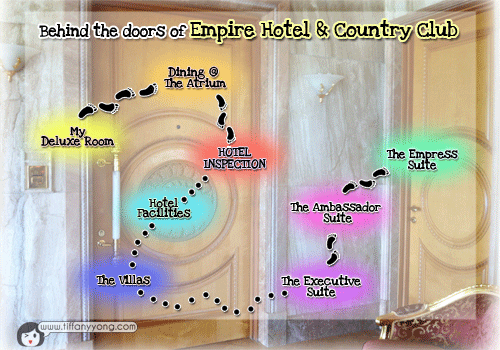 What can be bigger than Empress? Emperor LAH! Located JUST 10 steps away from the Empress Suite…. Too bad, the (legendary) Emperor Suite was occupied by a special VVVVVIP. So here's some photos of the suite from the Empire Hotel website.
[fsg_gallery id="17″]
Voted "The World's Leading Presidential Suite" by the World Travel Awards 2003 & 2004, the suite's private elevator provides guests with access to privacy and security unrivaled anywhere else. Equipped with a private swimming pool, steam room and sauna, guests could almost be forgiven for not leaving the suite for the duration of their stay. The private movie theatre and grand piano round up a beautiful private night in.
Room Size: Emperor – 666 square metres
NO, the photos are correctly placed. Yes, there IS a private swimming pool IN the Suite itself. And YES, it is DOUBLE the size of the Empress Suite. INSANE? haha… IMPRESSED? No…. I'm felt like screaming like a crazy woman when I saw the photos. Will Leonardo DiCaprio even get to stay in this suite IF he EVER comes to Brunei? I wonder…
Do You Know That…
The Empire Hotel & Country Club is set in a total area of 180 hectares
The kids club has a shallow pool with a fun slide and its own stretch of beach to play sandcastles
A team of 200 architects and interior designers, engineers and draftsmen were involved in the design of the property
All the bathrooms are clad in 20mm thick marble slabs
The hotel Atrium soars into the sky to a height of 53.22m from Level 1 to the roof
All the light fittings were specially chosen to create the right kind of light and many of the chandeliers were made to order with delicate Swarovski crystals
The amazing collection of art around the hotel includes a limited edition crystal and gold camel from Baccarat
There are nine swimming pools and it takes 12,285,000 litres to fill up the pools
The walls of the suites are covered in foam padded fabric panels
The roads and buggy paths throughout the hotel and country club cover 22km
The dinner service is all custom designed and manufactured by Asprey of London
Only the best marble from Italy was used in the hotel's construction
The carpets are all hand tufted and made from the finest New Zealand wool
The mosaic marble floors of the lobby were all painstakingly put together, manually
Many of the gold fittings are a 21K gold-plated finish
The furniture, mostly from France and Italy, is elegant in design plus the furnishing and fabrics are sumptuous to the touch
Where's The Empire Hotel & Country Club
Jerudong BG3122, Negara Brunei Darussalam
Tel: +673 241 8888
http://www.theempirehotel.com/
Check out the Empire Hotel & Country Club Brunei Facebook for any promotions!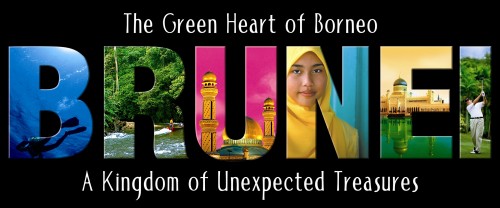 Check out latest promotion from Royal Brunei Airlines Singapore Facebook Page here or visit their website to book your tickets!
This trip is made possible with omy.sg, Royal Brunei Airlines, Brunei Tourism Board and Sunshine Borneo Tours!
Pre Trip Brunei | Royal Brunei Flight Experience | Ulu Ulu Resort: Digital Detox Made FUN | Luxury Stay at Empire Hotel & Country Club | Upcoming… Surprise…
xoxo




Disclaimer: Please be rest assured that even though the services were sponsored, it does not have any bearing on the content of this post. Opinions stated are genuine and honest. Also note that all sources, information, content, links are valid to change at any time.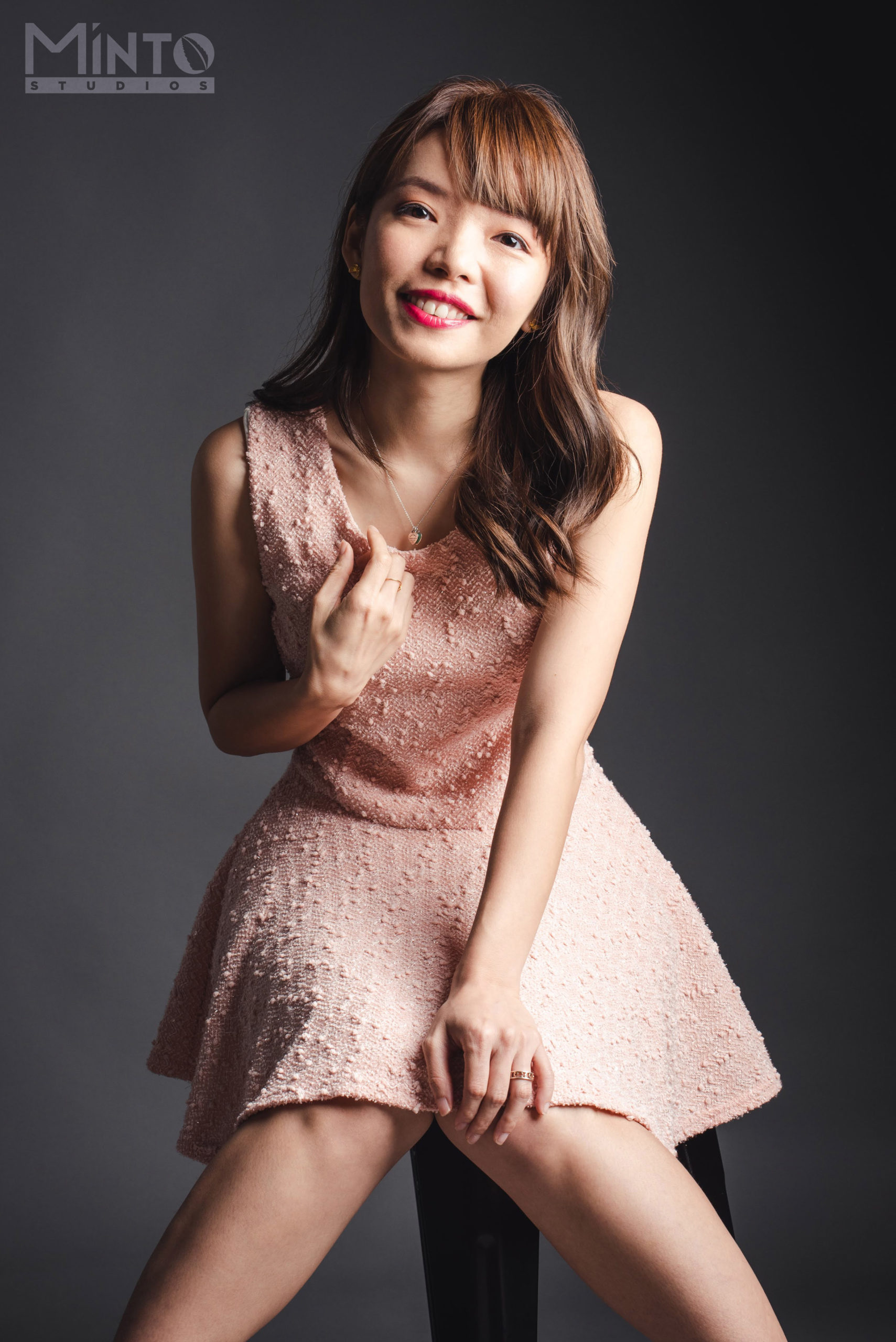 1/2 of #TheEpiphanyDuplet, Tiffany Yong juggles her ABCs – Acting, Blogging and Coaching/Consulting as she is fuelled by passion and drive to succeed.
It is not easy to make a living in Singapore just purely based on Acting, so with Blogging to help her with her online presence, and Coaching kids drama, private tutoring and freelance social media consulting to finance her life, she is currently leading the life most people hope to have: Living the Dream!