Marvel Studios' Avengers: Infinity War Movie Review | by tiffanyyong.com
Recommended Audience: Fans of Robert Downey Jr., Chris Evans, Karen Gillan , Tom Hiddleston, Scarlett Johansson, Chris Pratt, Mark Ruffalo, Benedict Wong, Benedict Cumberbatch, Don Cheadle, Tom Holland, Chadwick Boseman, Josh Brolin, Elizabeth Olsen, Anthony Mackie, Anthony Russo, Joe Russo and Marvel comic movie fans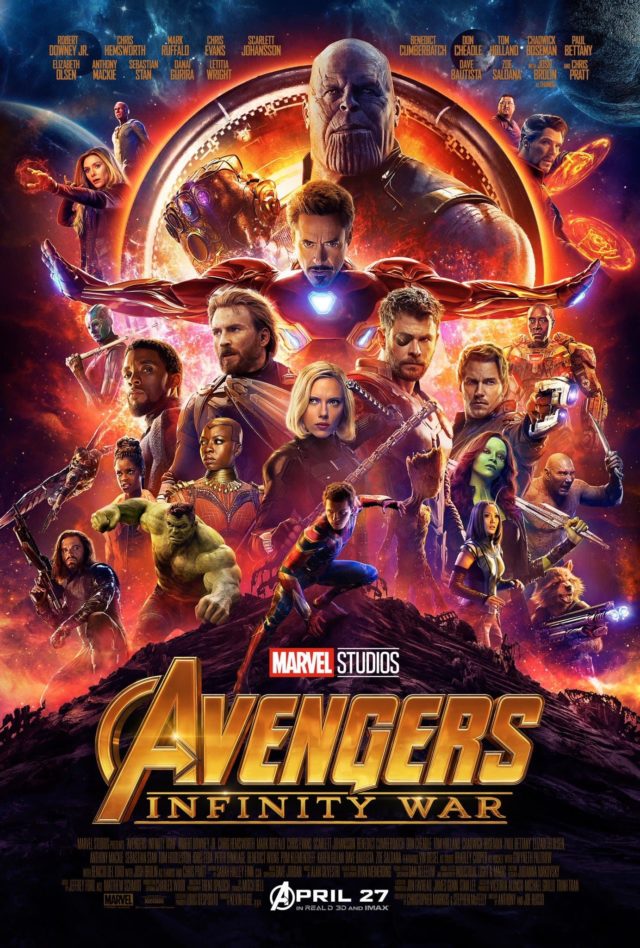 Marvel Studios' Avengers: Infinity War (复仇者联盟3:无限战争) Movie Synopsis
As the Avengers and their allies have continued to protect the world from threats too large for any one hero to handle, a new danger has emerged from the cosmic shadows: Thanos. A despot of intergalactic infamy, his goal is to collect all six Infinity Stones, artefacts of unimaginable power, and use them to inflict his twisted will on all of reality. Everything the Avengers have fought for has led up to this moment – the fate of Earth and existence itself has never been more uncertain.
Marvel Studios' Avengers: Infinity War (复仇者联盟3:无限战争) Viewer Rating: 4/5 ****
Marvel Studios' Avengers: Infinity War (复仇者联盟3:无限战争) Movie Review:
Tiffany Yong: I decided to release this review late (this is backdated!) to avoid the wrath of the Marvel fans. Everything the Avengers had fought for, up to this moment, had extended beyond the film to the real world as fans start blocking and removing friends who share and post spoilers. So to prevent my website being disintegrated by the hardcore fans, I garner the power of #TheEpiphanyDuplet and asked Peps Goh for his review (the ass who had watched the film twice WITHOUT me) to share his two cents worth on Infinity War. 

Peps Goh: It was probably really tough writing a coherent script and still give each characters their moments, to flaunt their abilities and to establish a character arc. And with that in consideration, i think they did a pretty good job with the Infinity War.
It was an enjoyable watch, especially so for anyone who had been keeping up with the franchise and hence have developed a liking for some of these characters. It's was particularly enjoyable for me to see Spiderman finally in the fray. FINALLY.
For me, it was that VERY moment when Captain America walks out from the shadow. I just had that fuzzy "All's gonna be fine now" feeling in me! throws confetti 
Peps Goh: Another notable interaction to me was the pairing of Iron Man with Doctor Strange. Technology and magic. Two egotistical man-child that have both undergone their own trails of fire and come out on the other side wiser, stronger and more mature. But put them together and you see a sliver of that ego wiggle back out. I could watch an entire 24 episode season of just the 2 of them bickering in the middle of action scenes.
Tiffany Yong: Well, to be honest, I am NOT a fan of Guardians of the Galaxy. While Groot is pretty cute, I didn't finish the first film, nor did I watch their sequel. So I'm pretty glad that one doesn't need to watch the two space-instalments to be able to enjoy Infinity War. Just like what Peps mentioned above about the two Sherlocks, I mean Iron Man and Doctor Strange, it was fun watching the Chris-es banter like kids. Both of them might rule the space, but when the half-alien-half-human Chris aka Star Lord meets the mythological god Chris aka Thor, you start seeing how different the two characters speak and the hilarious chemistry between them/
Peps Goh: I glad they did what they did with Thanos, making him more than just a megalomaniac tyrant seeking for ultimate power. He had a goal that had an understandable logic of it's own, although completely sociopathic. And he approached it with an impassionate persistence regardless of any and all obstacles, both external and internal. It was really admirable if not alienating. After all, a hero is only as good as their villains, isn't it, and this villain is great. Peps give this film a 3.5/5 but I like it enough to up it a little more! 😛 Hope we didn't spoil anything for anyone! By the way, if you are a fan, you SHOULD have already catch this film, no excuses!
Do You Know?
Tom Holland was not allowed to read the script for this film since he revealed too many secrets for Spider-Man: Homecoming (2017).
Steve Rogers (Chris Evans) had a new look for this film. At the end of Captain America: Civil War (2016), Steve Rogers quit as Captain America, he assumed the identity of "Nomad." Rogers' costume in this film captured basic elements of the Nomad character, in that it is primarily blue and features yellow, disk-like objects attached at the collar. He grew scraggly with a beard, and he would eventually shave the beard and create a new identity as "The Captain." He and Chris Hemsworth ad-libbed the dialogue between Captain America and Thor in which they compared their facial hair, reasoning that they have known each other long enough to have that kind of friendly banter.
Loki says "we have a Hulk" to Thanos. This is exactly what Tony said to Loki in 'The Avengers.'
For the first time in Marvel Cinematic Universe history, Bruce Banner actually communicates directly with the Hulk.
Robert Downey Jr. had a separate deal from his Marvel Cinematic Universe co-stars when he signed on to reprise his role as Tony Stark/Iron Man in subsequent Avengers films, after The Avengers (2012). However, his appearances in Captain America: Civil War (2016) and Spider-Man: Homecoming (2017) were not tied to this deal. These negotiations occurred separately, after he completed his contract to do the Iron Man (2008) trilogy.
Robert Downey, Jr.'s other recurring role is Sherlock Holmes. In his previous outings as Iron Man, he worked with two Dr. Watsons: Sir Ben Kingsley and Martin Freeman. In this film, he finally works with fellow Sherlock actor, Benedict Cumberbatch.
Josh Brolin and Peter Dinklage have appeared in both the Marvel Cinematic Universe (controlled by Disney) and the X-Men Universe (controlled by Fox). Brolin plays Thanos in the MCU and will appear as Cable in 'Deadpool 2' for Fox. Dinklage appeared as Trask in 'X-Men: Days of Future Past' and appears as Eitri in this film.
Behind The Scenes and Interviews
Check out Marvel Studios' Avengers: Infinity War (复仇者联盟3:无限战争) Official Website and Facebook Page!
Marvel Studios' Avengers: Infinity War (复仇者联盟3:无限战争) is out in cinemas on 25 April 2018.
Cheers,



Tiffany Yong: Facebook | Instagram | YouTube
Peps Goh: Facebook | Instagram | YouTube
The Epiphany Duplet: #TheEpiphanyDuplet
*Disclosure: No monetary compensation was received for the movie review.
Epiphany: / ɪˈpɪf(ə)ni,ɛˈpɪf(ə)ni / noun / A moment of sudden and great revelation.
Duplet: / ˈdjuːplɪt / noun / 2 electrons working together, forming a bond between atoms.
|| Derived from the anagram of the duo's name, whom met through a film project acting as lovers. After which as fate would have it, couples indeed they became. And now together they bring to you staycations & travelogues, beauty and relationship tips, your one-stop-shop to all the fun things you can do with your special someone. ||
@PepsGoh: Actor || Fight Choreographer || Free Running Athlete
@Tiffanyyongwt4242: Actor || Blogger || Consultant