Because I Love You (사랑하기 때문에) Movie Review | by tiffanyyong.com
Recommended Audience: Fans of Cha Tae-Hyun 차태현, Kim Yoo-Jung 김유정, Seo Hyun-Jin 서현진, Lim Ju-Hwan 임주환, Sung Dong-il 성동일, Bae Seong-woo 배성우 and romantic Korean movie fans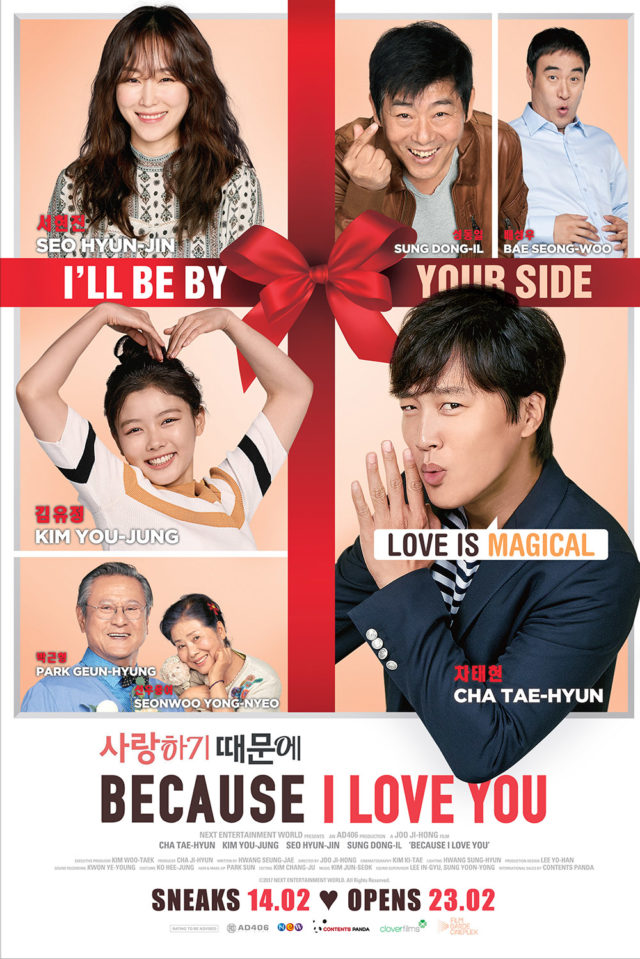 Because I Love You (사랑하기 때문에) Movie Synopsis
While on his way to propose to his girlfriend, songwriter Lee-hyung (CHA Tae-hyun) gets into a car accident and wakes up in a high school girl's body. Subsequently, he experiences the lives of a divorcee detective, perpetually single high school teacher, and a granny. Quirky high school student nicknamed Scully (Kim Yoo-jung) figures out the mystery surrounding Lee-hyung's body snatching and decides to help him get back to his own body. Can Lee-hyung go back to living out his own life and propose to his lover?
Because I Love You (사랑하기 때문에) Viewer Rating: 4.5/5 ****
Because I Love You (사랑하기 때문에) Movie Review:
Identity changing ain't exactly a fresh concept in films, but I was surprised by the story was presented in an interesting way through the cinematography and storyline. "Because I Love You" is a mixture of  "The Beauty Inside" and the Korean version of "4Love", where different types of love through different age-groups were presented, except that this film nicely string the concept into a holistic story.

Most of us know Cha Tae-hyun from My Sassy Girl, and when My New Sassy Girl came out last year, most people were disappointed. I used to think that he has that same character in all his films, and felt that he has already reached a plateau. Here, he carefully use the familiar nonchalant character the audience are familiar with and upped the game by putting this personality and behaviour into several other actors.

So in this film, we follow Lee-hyung (Cha Tae-hyun) into the bodies of people in their teens, 30s, 50s and 70s, experiencing the different types of love that we face at various points in our lives as a single entity. With 4 different stories + 1 over-arching story that belonged to Lee-hyung, it was difficult to favour any one single story as each has it's own unique selling point. When he was in the body of the teenage, he successfully put the audience into the shoes of the teenage girl and allow everyone to feel what the girl is going through (No spoilers!)
When Lee-hyung became the unattractive obese teacher, things got a little unrealistic (at least for me). But it was still relatable to us as audience as it brought across the concern of our insecurities and imperfections. Those of us who may feel that we aren't good enough, too short, too skinny/too fat, too unattractive. And despite all that makes us feel that we aren't good enough, there is someone who sees something beautiful in you, and love you all the same.
Similar to "Love Remembered" by Daniel Yam in 4Love (2016, Singapore), the arc on the golden age couple was one that hit the hardest. Perhaps because we all have parents and grandparents, but we have always felt their love through a veil, never really understanding that it's not so different from our own. But in this scene we get to witness first hand the painful romance of a man who reconciles loving a woman with dementia and has forgotten him.
If you are watching the film, and got lost halfway through, wondering where this film is leading you to, remember the title, "Because I Love You". One of the best Valentine's Day films that brings both laughter and tears to everyone!
Do You Know?
From a high school girl to a single 40-something teacher to a dementia-suffering granny, Cha Tae-hyun played a wide range of characters in BECAUSE I LOVE YOU. It also meant 4 actors had to play him as well. He worked with them to show them his mannerism and how to talked. This project was difficult because he had to synchronize with several different actors, since they played each other. Transforming into a high school girl was mortifying as he had to wear the female uniform and "It felt strange to see them act like me on the monitor."
Aside from the hot weather, it was difficult to arrange all the actors' schedule and get them together on the set. In one particular scene, the team barely scheduled everyone for the scene, got shooting permit from the city and convinced the locals and finally prepared everything for the shoot. But on the day of the shoot rain pour down, forcing them to cancel. They went back to square one and began preparing again and were able to lock it down towards the end of the principal shoot. "When I saw everyone captured on a single shot, it felt cathartic," said director JOO.
Bae Seong-woo acted in 8 films in 2016, which include Veteran, Beauty Inside and Inside Men. Together with Bae Seong-woo, they are the two busiest actors in Korean cinema right now. They work regardless of the genre and refuse to be type-casted.
Veteran actor Sung Dong-il has starred in over 70 films and TV dramas since his debut in 1992. However, having acted for 25 years, he never had a kiss scene until now in this film. His previous kiss scene was with a dog in HEARTY PAWS. He was so stressed about this film that he felt more comfortable kissing a dog.
Movie is produced by AD406. The production company's president is Cha Ji-Hyun, older brother of actor Cha Tae-Hyun. This film is the second time the brothers have worked together. They previously worked together in movie "The Grand Heist."
Behind The Scenes and Interviews
Because I Love You (사랑하기 때문에) is out on 23 February 2017 only at Filmgarde @ Bugis+.
xoxo



Facebook | Instagram | Twitter | YouTube
*Disclosure: Invitation from Clover Films. No monetary compensation was received for the movie review.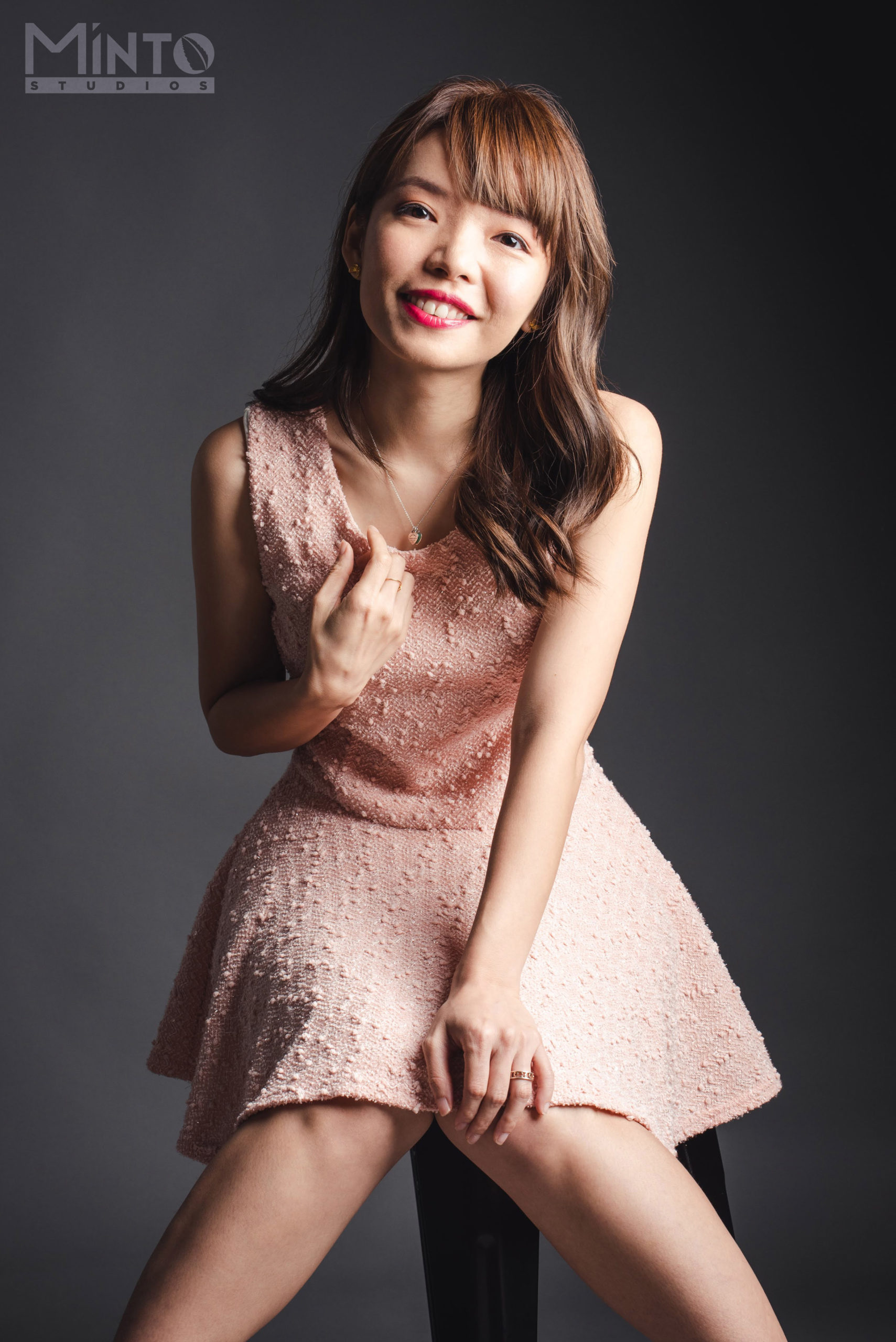 1/2 of #TheEpiphanyDuplet, Tiffany Yong juggles her ABCs – Acting, Blogging and Coaching/Consulting as she is fuelled by passion and drive to succeed.
It is not easy to make a living in Singapore just purely based on Acting, so with Blogging to help her with her online presence, and Coaching kids drama, private tutoring and freelance social media consulting to finance her life, she is currently leading the life most people hope to have: Living the Dream!