4Love (爱在小红点) Movie Review | by tiffanyyong.com
Recommended Audience: Fans of Maxi Lim 林俊良, Cheryl Wee 黃馨慧, Jonathan Cheok 石伟正, Terence Then 邓国强, Silver Ang 子惠, Oon Shu An 温淑安, Louis Wu 伍洛毅, Shane Pow 包勋评, Hayley Woo 胡佳嬑, Joshua Tan 陈伟恩, Daniel Yam 任锦添, Gilbert Chan 陈启全, M.Raihan Halim 拉伊汉哈利姆, Sam Loh 罗胜 and romantic comedy movie fans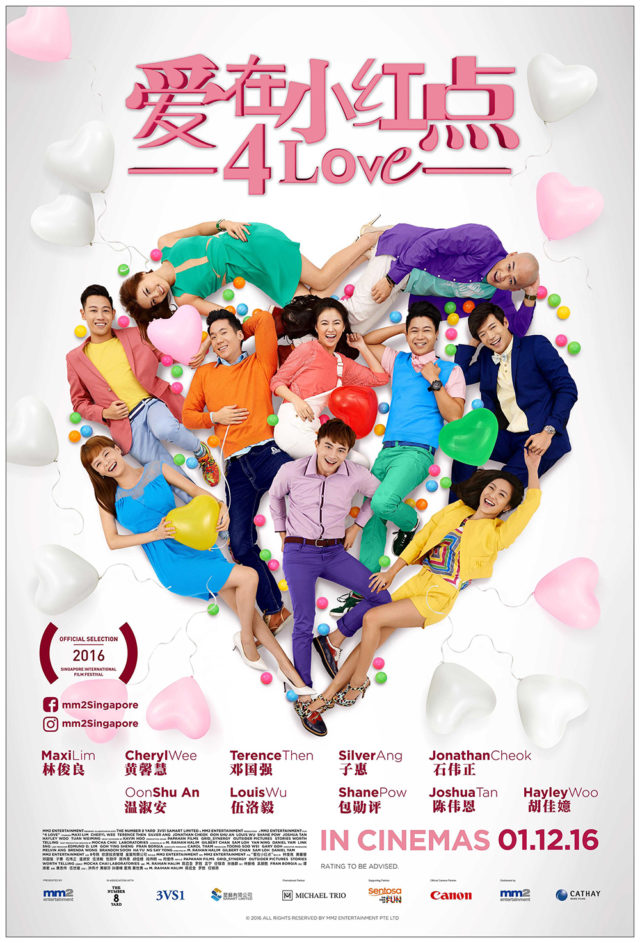 4Love (爱在小红点) Movie Synopsis
This is a romance anthology featuring four love stories in one movie, set in present time Singapore. It tells the journey of love in different phases: falling in love while courting, excitement with proposing marriage, having an extra marital affair after years of being together, and finally, facing old age when love is ripe and most mature.
A book forms the catalyst for an intimate connection between two young adults (Maxi Lim and Cheryl Wee). Weng (Terence Then) prepares a surprise proposal to his longtime girlfriend (Silver Ang). Unhappy wife Ye Lin (Oon Shu An) faces the consequences of her infidelity to husband Jin Hao (Louis Wu). A husband and wife (Joshua Tan and Hayley Woo) facing impending divorce has a chance encounter with an elderly couple.
4Love (爱在小红点) Viewer Rating: 3.5/5 ***
4Love (爱在小红点) Movie Review:
P.S. I got to watch this preview all thanks to a personal invite from Director Boris Boo. As I was caught up with the festive articles, I hesitate to write out this review. Knowing many of the cast personally, I decided to provide my two-cents-worth, albeit a little late, and hope that this film will be aired somewhere again for those who did not manage to catch it. 
Similar to 7 Letters, 4Love is an anthology helmed by several local directors, this time revolving the theme of love. The film presents tales of love across various stages of life, diving deep into the emotions and tribulations that confront the characters.
1. Love. Destiny (3/5)

This light-hearted narrative story about two individual getting to know one another via a mutually loaned book via a second-hand bookshop reminded me of the movie Finding Mr Right 2: Book of Love (北京遇上西雅图之不二情书). While there were plenty of interesting conversation, the story was a little unrealistic when the dialogue turned from letter writing style to short messages (similar to whatsapp and SMS). I couldn't help but think, you mean you loan books just to leave a 5-word short question? Or even, do you mean you can vandalised a borrowed book without being fined?
On the other hand, the characters Nissa (Cheryl Wee) and Max (Maxi Lim) were pretty likeable, enough for me to want to know how the story continues after they finally met one another.
2. Love. Extreme (3/5)

Let's talk about the interesting stuff before moving to the "shitty" parts. It's a little weird for me to see people I know in real life acting as couples (when I know they aren't) on big screen. I enjoyed the chemistry between stingy Weng (Terence Then) and Lynn (Silver Ang), although there wasn't a lot of screen time for this on-screen couple.
However, Weng's best friend Bao (Jonathon Cheok) is a sidekick you didn't want to have (especially when you are planning a proposal). More trouble than help, the whole saga of running into a conman felt more like a conspiracy between the conman and Bao than anything else. The series of mishap felt so ridiculous and weird that it was difficult to believe the story.
Luckily, the acapella by Juz B was surprising and interesting enough to wrap up the whole story nicely.
3. Love. Temptation (3.5/5)

Couldn't help it, but I got to say, this film is very "Sam Loh". With lots of intimate scenes and also some thrill factor, you will be reminded of Director Loh's signature works like Lang Tong. While the actors' acting were pretty good, I was super distracted by Ye Lin's (Oon Shu An) blonde hair. It didn't exactly enhance the character's personality in any way. Even with the twist in the plot, it was still more plausible than the previous two.
This story also bring out a question I'm dying to know (from all you readers out there), will you forgive your partner for cheating?
4. Love. Remember (4/5)

I might have worked with Director Daniel Yam on his commercial Destined, but I'm definitely not bias in this review (cross my heart). Perhaps the story had touched my heart with the very simple but timeless "till-death-do-us-part" storyline, I absolutely adore the elderly couple's (husband Tuan Wei Ming and wife Chan Fong Lain) performance. Also kudos to finding Ryan Lian to be the young version of the couple, as there's definitely some resemblance.
As compared to the 'au naturale' performance of Ah Quan (I was bawling my eyes out at the end of the story), estranged young couple Carl (Joshua Tan) and Ellie (Hayley Woo) were slightly stiffer in performance. They were great with sweet romantic scenes but the hostile moments felt slightly choppy as the emotion range jumped as if  there might have been some missing quarrel scenes that were cut out.
This movie definitely deserve a #SupportLocalFilm shoutout. It was a pity that the film was down after just a short period of time. Perhaps mm2 Entertainment should find some other means to get it out to more audience!
Do You Know?
Director Raihan Halim, Gilbert Chan, Sam Loh and Daniel Yam were each given general guidelines on the theme and had to come up with the stories for their segments in 4 Love on their own.
Behind The Scenes and Interviews
4Love (爱在小红点) by mm2 Entertainment Singapore is out in cinemas on 1 December 2016.
xoxo



Facebook | Instagram | Twitter | YouTube
*Disclosure: No monetary compensation was received for the movie review. Special thanks to Director Boris Boo for the invitation.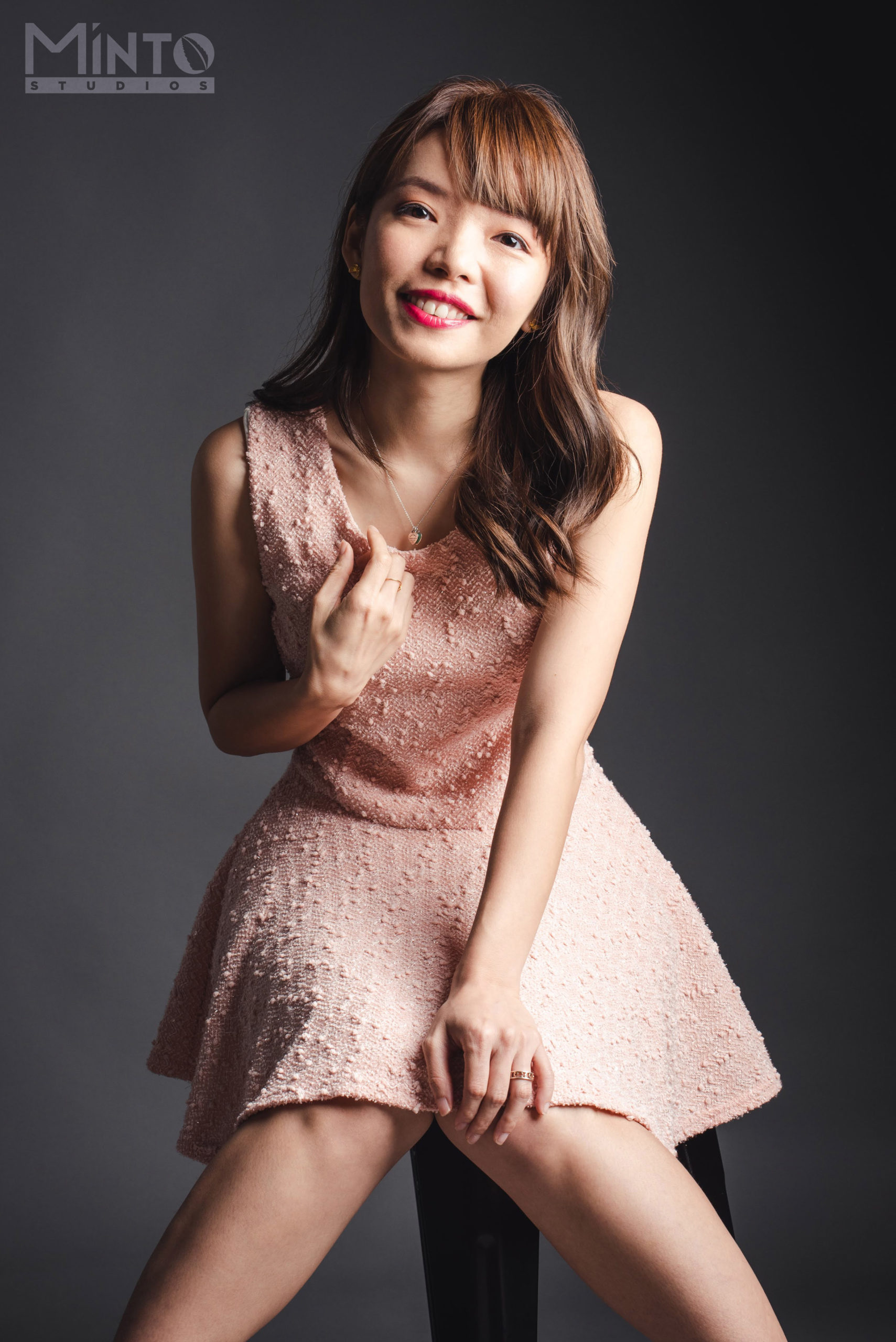 1/2 of #TheEpiphanyDuplet, Tiffany Yong juggles her ABCs – Acting, Blogging and Coaching/Consulting as she is fuelled by passion and drive to succeed.
It is not easy to make a living in Singapore just purely based on Acting, so with Blogging to help her with her online presence, and Coaching kids drama, private tutoring and freelance social media consulting to finance her life, she is currently leading the life most people hope to have: Living the Dream!