Ip Man 3 (叶问 3) Movie Review | by tiffanyyong.com
Recommended Audience: Fans of Ip Man 叶问, Bruce Lee 李小龍, Donnie Yen 甄子丹, Lynn Hung 熊黛林, Max Zhang Jin 张晋, Mike Tyson 迈克·泰森, Patrick Tam 谭耀文, Kent Cheng 郑则仕, Bryan Leung 梁家仁, Louis Cheng 张继聪, Danny Chan Kwok-kwan 陈国坤 and Action movie fans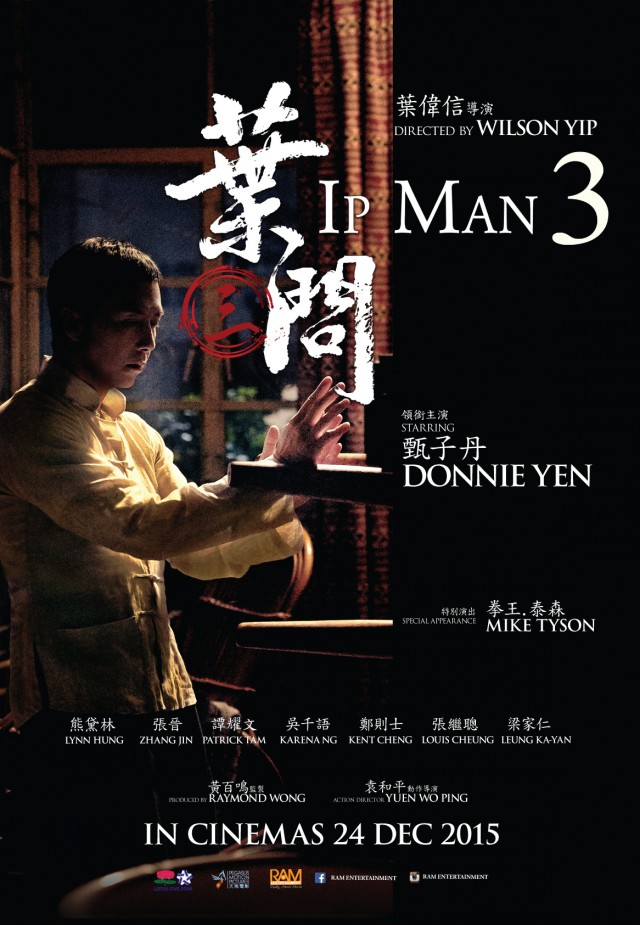 Ip Man 3 (叶问 3) Movie Synopsis
Ip Man (Donnie Yen) takes on disciple, Bruce Lee, and engage in frequent sparring sessions to hone his skill after seeing great potential. Meanwhile, a well-known property developer-cum-street fighter played by American boxer Mike Tyson, challenges Ip Man in an incredible showdown of Wing Chun kung fu versus heavyweight boxing.
Ip Man 3 (叶问 3) Viewer Rating: 4.75/5 *****
Ip Man 3 (叶问 3) Movie Review:
Stories, dramas and films revolving Ip Man had been trending ever since Donnie Yen did the first Ip Man in 2008. There were many renditions of this legendary character, and it will be convenient to say that Donnie Yen, being one of the first movers has captured the audiences' hearts and attention. But will the third time be a charm? There were so many examples of those who tried and failed terribly. I caught the movie premiere (thanks to Shaw) without catching the trailer, and I was pleasantly surprised and very impressed. By what?
Read on:
1. The legendary One Versus Ten (Level up).
In the first movie, Ip Man created a phenomenon with his 1 against 10 fight. In the second film, he fought a gang of more than twenty alongside with Huang Xiaoming. So in Ip Man 3, how can he further level up? Well, easy. This time, he does it twice, and once with his disciples and another time with his young son! A mellow husband, a loving dad, a respected master and a skilful fighter. There's no better actor to play this character than Donnie Yen.
2. Wing Chun versus Boxing.
This combination is not new, Ip Man fought a boxer – Twister (late Darren Shahlavi who passed away on 14 Jan 2015 in his sleep) in 2010. But Mike Tyson, the undisputed world heavyweight champion is fighting Ip Man bare-hands this time. Having a bigger and heavier build as compared to lean Donnie Yen, I was surprised by Mike Tyson's fast and powerful punches. While I won't advise you to expect too much about his acting, I will commend on his efforts to speak some Cantonese/ Mandarin in the film.
3. In Ip Man 3, Ip Man's wife Cheng Wing-Sing (Lynn Hung) is no longer the wallflower (or flower vase). While she had been supportive of her husband's "job", there were still moments where she would prefer him to herself. The fight scene within the 2m x 2m lift was one of my favourite scenes as it was THE moment where the wife finally appreciate her husband's skills. Wing Chun versus Muay Thai (down the stairs), a battle scene not to be undermined.
While the fight with Mike Tyson is heavily publicized, the epic + unexpected fight between Max Zhang Jin and Donnie Yen is the TRUE attention-grabber (in my opinion).
4. Wing Chun versus Wing Chun, who wins? The third instalment of Ip Man provided an additional insight of the art of Wing Chun, featuring the two traditional Wing Chun weapons, the Butterfly Swords and the Dragon Pole. This came as a surprise for people whose impression of Wing Chun stayed in the first two instalments when it was portrayed as a women's self-defense skill.
Most people might not be familiar with Zhang Jin (Zhang Tian Zhi 張天志). This wushu expert was often as Ada Choi's (蔡少芬) husband. But recent years, I recognize him as the badass whom you can't help but want him to die quickly in From Vegas to Macau Wing (赌城风云) and SPL II: A Time for Consequences (杀破狼2).
So in Ip Man 3, most people wouldn't be surprised if Zhang Jin was the antagonist again. I was wrong. Here, Zhang Tian Zhi is a character kind by nature, but full of ambition. The lack of recognition by the public and media for his martial skills forced this talented man go to extremes to get what he want. It also made this character human and real. Yes, it is so good that it was worth every mention. Watch the movie to catch Zhang Jin's spectacular performance – acting and action.
What I love most about this film was how it did not try to further dramatize Ip Man as a legend, instead, the plot went "inwards" and provide a introspective view of the life and priorities of a "boring" stay-home man.
I had a friend who once equate Donnie Yen with the stoic character, criticizing how the action role had little acting (as he has little expression). I was proud to be able to refute his statement with this film. The simple act of practising on the wooden dummy in front of his dying wife was so overwhelming that I couldn't help but touched by the love. Oh ya, the social dancing scene also showed another side of the doting husband.
The movie is not without faults. In Singapore, as this Cantonese film was dubbed to Chinese, there were several moments spoilt by the Chinese voice. One of the most obvious one would be Ip Man's wife (Lynn Hung) who had various emotional scenes, but the dubber was either overly-dramatic or under play her mood. While Singapore audience have to make do with the Chinese dubs, I will highly recommend everyone else to go for the Cantonese version.
Do You Know?
The Muay Thai fighter is Sarut Khanwilai. He is also known to be Tony Jaa's stunt double in the movie "Skin Trade". Lynn Hung, who was filming a fight scene for the first time, was extremely nervous about the elevator fight scene, because the Muay Thai master almost hit her face amid multiple punches thrown to Yen. She said that if she had been accidentally hit by the Muay Thai master, she will definitely pass out instantly.
This film is Mike Tyson's debut in an action film. Donnie Yen's wife, Cecilia Wang publicly expressed her worries that Donnie may get hurt by Tyson but it was Donnie who end up fracturing Tyson's index finger while filming one of the fight scenes. Donnie Yen praised Tyson for his professionalism, as they continued filming even after the incident. It was until he finished his shoot and went to the hospital for a check before they knew it was a fracture.
Patrick Tam (谭耀文) who acted as Mike Tyson's subordinate in the film, was very excited to work with him. "Mike Tyson is a legend, and he's my idol too. I am very happy to be able to work with him. He even asked me to take a photo together with me."
To prepare for the fight, Donnie Yen studied Mike Tyson's past matches to prepare physically and mentally for the fight scenes with him, a former world heavy weight champion boxer, with punches over 1500 foot pounds of force in the ring. Unknown to most, Mike Tyson was a fan of Donnie Yen's Ip Man film. A friend of his was the disciple of Donnie Yen's mum, and this friend introduced "Ip Man" to Tyson 6-7 years ago.
Yuen Woo-Ping is the action choreographer in this movie. He has also worked with Donnie Yen in "Once Upon a Time in China II" and "Iron Monkey". He is the man behind big Hollywood movies such as "The Matrix" Trilogy and "Kill Bill: Vol 1 and 2". Other Hong Kong movies choreographed by him consist of "Fist of Legend", "Crouching Tiger, Hidden Dragon", "Fearless and "The Grandmaster".
This is the second time Danny Chan Kwok-kwan (陈国坤) acted as Bruce Lee. He was Bruce Lee in the 2008 TV series, "The Legend of Bruce Lee" and was best known for his supporting roles as the goalkeeper in "Shaolin Soccer" and the Axe Gang leader, Brother Sum in "Kung Fu Hustle".
The role of Bruce Lee was initially decided on CGI. However, Kris Storti, the COO of Bruce Lee Enterprises (BLE), said that BLE, which is the sole owner of all worldwide rights relating to Lee, including his name, image and likeness. However, Pegasus asserted that Bruce Lee's brother Robert Lee, who worked as a consultant on Ip Man 3, owns the intellectual property rights of Lee, a claim which was denied by BLE.The lawsuit was eventually resolved.
When Zhang Jin was fighting against Donnie Yen using Wing Chun's knife, Donnie Yen's nose was accidentally hit by Zhang Jin's knife. It bled and was swollen. After resting for a night, the shoot continued.
There were several scenes which require Donnie Yen to be fighting with more than 10 people. Once, he even dislocated his hand. During filming, the script almost did not leave his hands. In order to act the role well, Donnie Yen continued training Wing Chun in a mask even when he got a cold.
Donnie Yen had initially rejected the idea of filming Ip Man 3 as he felt that it will not be easy to surpass Ip Man 2. However, he agreed to return to the role of Ip Man after some time have passed since the release of various Ip Man films by other film companies, and because of fans' anticipation. Yen stated that this will be the final Ip Man film in the trilogy.
Behind The Scenes and Interviews
Check out Ip Man 3 (叶问 3) Facebook Page!
Ip Man 3 (叶问 3) is out in cinemas on 24 December 2015.
xoxo



Facebook | Instagram | Twitter | YouTube
*Disclosure: Invitation from Shaw Organisation and Scorpio East Pictures. No monetary compensation was received for the movie review.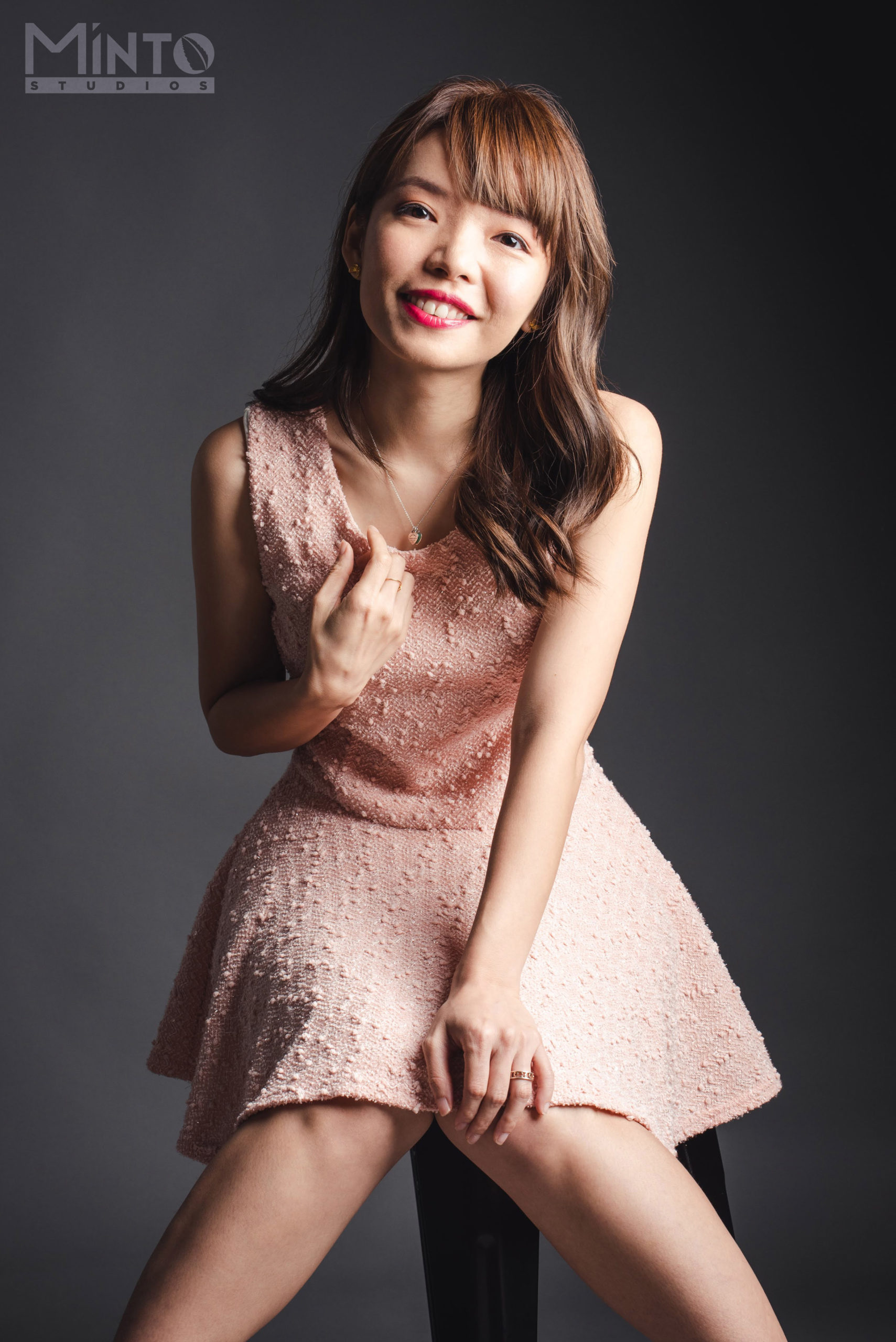 1/2 of #TheEpiphanyDuplet, Tiffany Yong juggles her ABCs – Acting, Blogging and Coaching/Consulting as she is fuelled by passion and drive to succeed.
It is not easy to make a living in Singapore just purely based on Acting, so with Blogging to help her with her online presence, and Coaching kids drama, private tutoring and freelance social media consulting to finance her life, she is currently leading the life most people hope to have: Living the Dream!