Our Times (我的少女时代) Movie Review | by tiffanyyong.com
Recommended Audience: Fans of Vivian Sung 宋芸桦, Wang Da Lu 王大陆, Jerry Yan, Joe Chen Qiao En, Andy Lau, Dino Lee 李玉玺, Dewi Chien 简廷芮, Frankie Chen 陈玉珊, and romantic comedy movie fans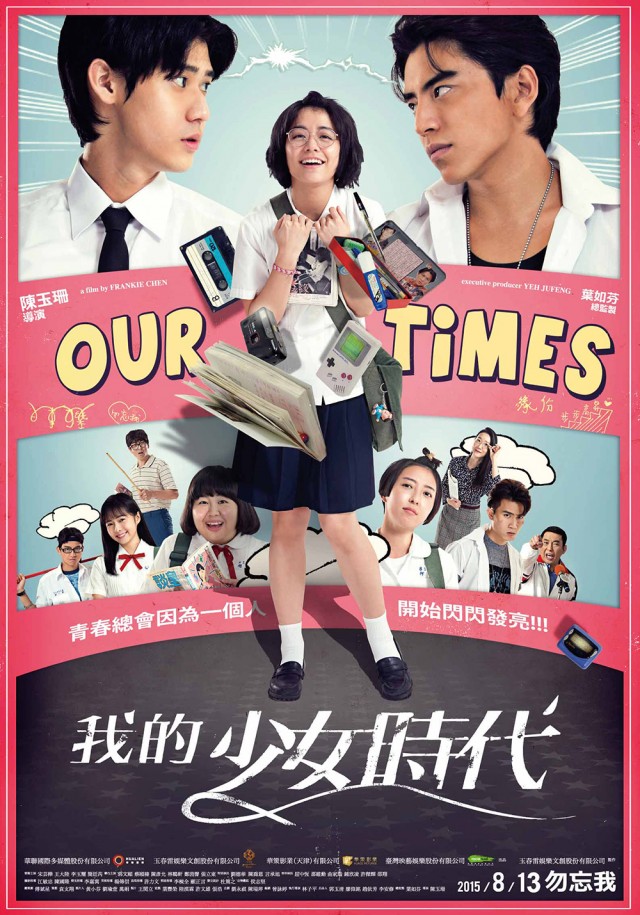 Our Times (我的少女时代) Movie Synopsis
We all had to live through and rise above the awkward years in high school, and regardless how long it may have been a distant past you wish to forget, there's always a beautiful memory somewhere waiting to be awakened. A joyful moment that truly belongs to you. An ordinary high school girl Lin Truly (Vivian Sung) pines over the most popular guy in school Ouyang Extraordinary (Dino Lee).
The school's troublemaker Hsu Taiyu (Ta Lu Wang) falls for the prettiest girl in school Tao Minmin ( Dewi Chien). Together, Truly and Taiyu, work through misadventures to help each other win their dream dates. Through this youthful rite of passage, their friendship evolves and they learn a thing or two about true love.
Our Times (我的少女时代) Viewer Rating: 4.75/5 *****
Our Times (我的少女时代) Movie Review:
If you are a fan of Mario Maurer's Crazy Little Things Called Love (aka First Love สิ่งเล็กเล็ก ที่เรียกว่า…รัก, Sing lek lek thi riak wa… rak, lit. "A Little Thing Called Love"), you will definitely find many similar scenes in the trailer. I went hysterical when I first saw the trailer in August 2015, as I've watched the Thai movie more than 10 times (Yes, I'm that crazy)… and cried over the same thing every single time. So here's 6 reasons why I simply love this film (without too many spoilers), and why it is missing 0.25 marks.
1. It's like watching the Chinese version of my favourite movie.
While some dislike how the film make many references to the Thai film, I love how the director was able to reproduce a similar film, yet uniquely Taiwanese. Yes, some say it's out-right plagiarising, but who cares? There's at least the nostalgic elements from the 1990s (think autograph books, friendship bands, and chalkboard) which makes all the early millennials reminisce about the non-smartphone era.

2. Wang Da Dong from KO One (终极一班) Anyone?
With elements similar to another drama KO One (终极一班), this movie is like bringing a F4 lookalike Dao Ming Si (道明寺) who turned into the boss of the worst KO One class in the school, always getting into fights (no super power this time) and intruding into the relationship of the Thai film. OK, this is getting a little complicated for readers who did not catch any of the dramas mentioned, but for those who watched, it will make perfect sense! So how cool is that?
3. Eye Candy Dino Lee – it's P'Shone kicked to the side 🙁
I'm glad the director was able to find someone who looks good in the classic middle parting long-fringe Jimmy Lin/ Aaron Kwok hairstyle. And I personally think he looks better in this hairstyle than the ones in his current albums! 😛 (No offense, Dino!) Also, he looks more like Mario Maurer's character P'Shone in First Love Thai Movie, with a little twist this time. Anyone find this particular picture familiar?

4. That Idol We All Went Crazy Over
It's Andy Lau in this film, and anyone who knows me will know my "imaginary husband" is Jimmy Lin. Ok, I'm just joking, unlike the characters in this movie, I didn't really regard my idol as my "husband", but I was actually thinking (back then) that I can accept guys who are 14 years older than me because Jimmy Lin is 14 years older than me! So "Our Times" is really a film I can resonate VERY well with.
5. When Studying Together is Happiness -You Are the Apple of My Eye (那些年,我們一起追的女孩)
I guess many people will be waiting for me to mention this film. Despite the fame and popularity, I wasn't really a fan of Gidden Ko's You Are The Apple Of My Eye. Maybe because I wasn't really able to relate to many of the plots as it was from a guy's point of view. Plus, I'm still a sucker for happy endings. So "Our Times" is one coming from the girl's point of view.
Know what? Back then, happiness is simple. To be able to study together (at MacDonalds) with the person you like and revising for the same examinations, you don't even need to be labelled as an item. That's just so sweet, to think about it now. Aww…

6. The One Guy Who Always Bully Me, The Friends Who Were By My Side, The Love That Got Away
Do you have that one person in your memory? Some people might have. This film also serve as a gentle reminder to all the "working zombies" who had gradually become jaded with all the workload and forgot to live their dreams. It is good to look back, and recall the past. Maybe your younger self was much braver than you now.
Don't get me wrong. I love Jerry Yan and Joe Chen's performance. They were fantastic. Being the pioneers of Taiwanese idols (F4 and Prince Turn Frog female lead)- now veterans, both Joe and Jerry were able to bring me straight into their scenerio in a blink of an eye. But why was it imperfect?
Although they were great in their character portrayal (looks-wise), the same lines said between them was touching but unable to trigger the same impact as it would be if it had been done by both Vivian Sung and Wang Dalu. Oh well, I still cried. I was just nit-picking, really.
Do You Know?
In order to bring out the actual setting and scenes from the 1990s, the props in the movie, from pens, eraser, bookmark cards, recycling bins, motor bikes, convenience stall, school hostel, book shop and railway trains were aim to achieve accuracy. The main cast even went online to bid old items to rebuild the scenes from the 1990s. Director Frankie Chen even went to buy the rights of a few 90s classic songs.
Although Vivian Sung was the female lead of the high grossing movie Café. Waiting. Love (等一个人咖啡), the director did not decide to use her because of that. It was because Vivian Sung was well prepared for the audition, and after trying for over ten times, the director requested her to cry in one of the scenes, Vivian Sung broke down and cry, hence the director's decision to use her as the female lead. Also Vivian's appearance was made ugly, and her salary doubled due to that.
Producer of many classic taiwan idol dramas, such as My MVP Valentine (MVP情人), The Prince Who Turns Into a Frog (王子变青蛙), Fated to Love You (命中注定我愛你), this is the first time Frankie Chen directs a movie.
In the film, Joe Chen (陈乔恩), Jerry Yan and Andy Lau was invited to cameo in the show. Joe Chen acted as the older version of Truly Lin (林真心).
This is the first time Andy Lau acted as himself in a movie, and as this is a Taiwanese film, he even invested in the film and made many guest appearance to conferences and fans' meeting.
Jerry Yan acted as the older version of Hsu Taiyu. Although he filmed for 2 days, half the scenes were cut away. He was supposed to have pass by older Truly Lin (Joe Chen) several times but missed seeing each other.
Dino Lee (李玉璽) who acted as Ouyang Fei Fan, the Prince Charming of Truly Lin is the son of notable Taiwan singer Li Ya Ming. He is also a rock singer under Eagles Music.
Hebe of Taiwanese Girl Band SHE supported this film by singing the theme song of the movie. The song went viral before the movie started.
Behind The Scenes and Interviews
Check out Our Times (我的少女时代) Facebook Page!
Our Times (我的少女时代) is out in cinemas on 22 October 2015.
xoxo



Facebook | Instagram | Twitter | YouTube
*Disclosure: Invitation from Koi Singapore. No monetary compensation was received for the movie review.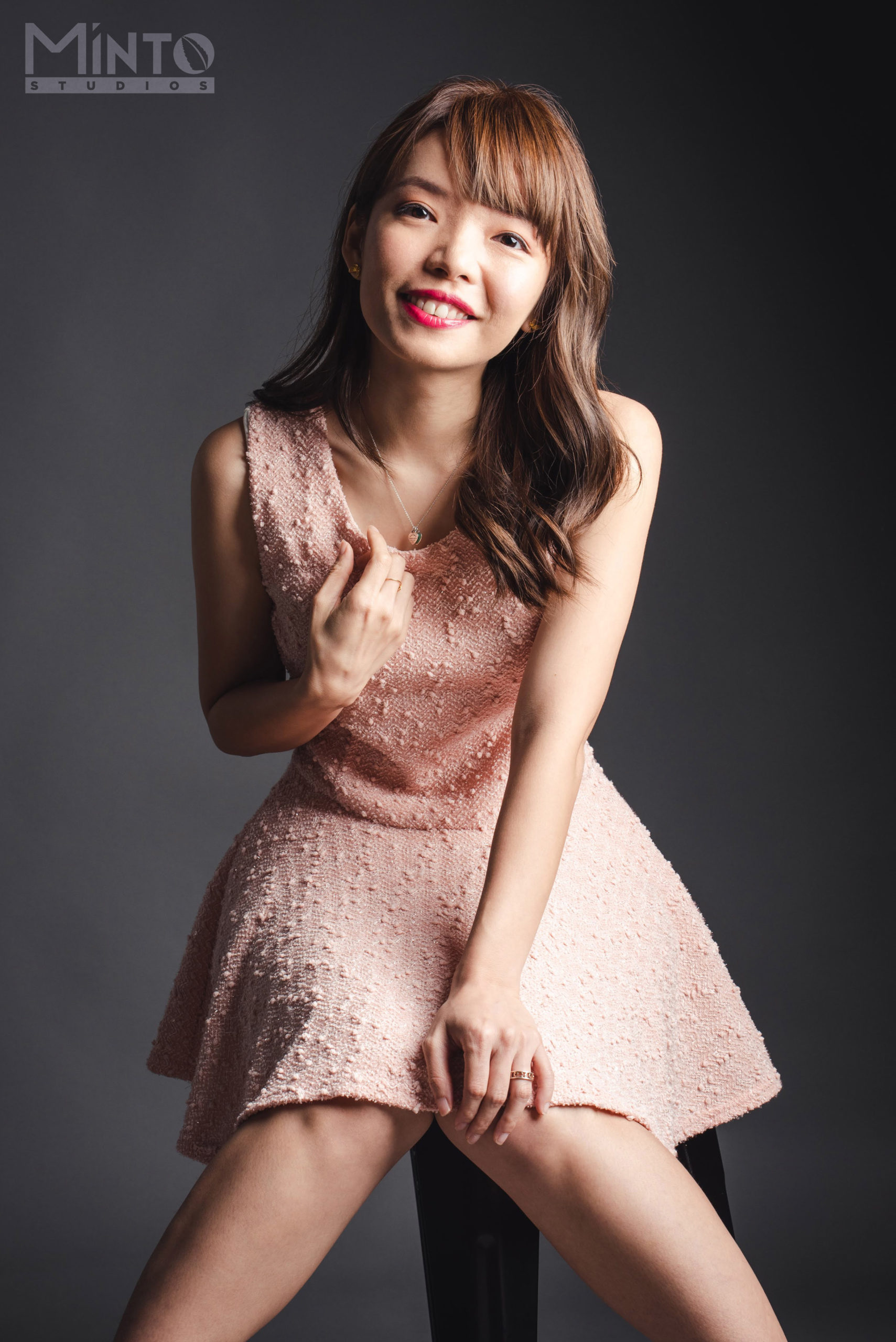 1/2 of #TheEpiphanyDuplet, Tiffany Yong juggles her ABCs – Acting, Blogging and Coaching/Consulting as she is fuelled by passion and drive to succeed.
It is not easy to make a living in Singapore just purely based on Acting, so with Blogging to help her with her online presence, and Coaching kids drama, private tutoring and freelance social media consulting to finance her life, she is currently leading the life most people hope to have: Living the Dream!