Goodbye Mr Loser 2017 (令伯特烦恼) Movie Review | by tiffanyyong.com
Recommended Audience: Fans of Ian Fang 方伟杰, Hoon Mei Sim 云镁鑫, Lim Yi Xin 林一心, Phoebe Huang 黃嘉千, Anjoe Koh 许愫恩, Lex Pun 方贾为, Adrian Teh 郑建国, 夏洛特烦恼 and romantic comedy movie fans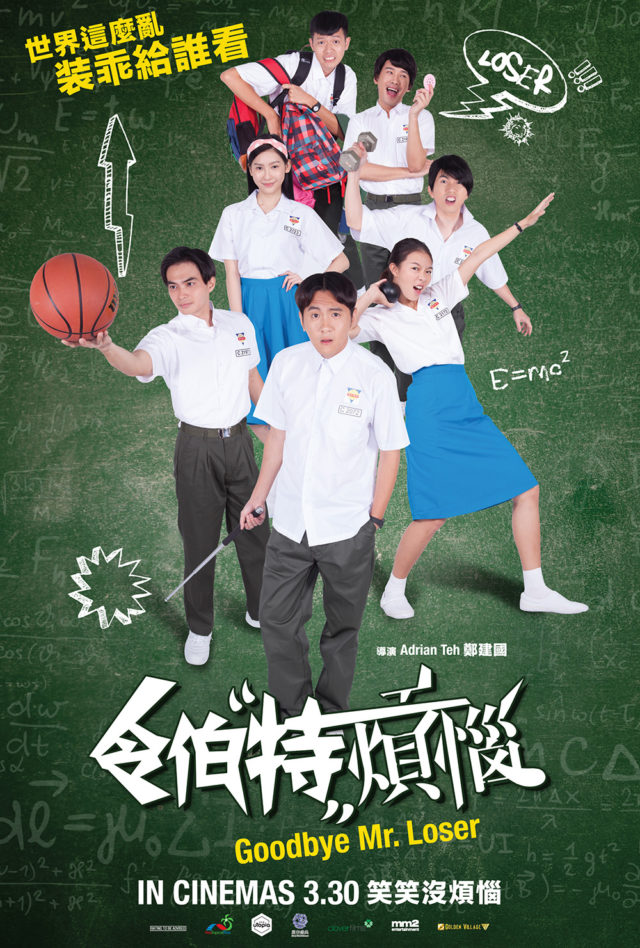 Goodbye Mr Loser (令伯特烦恼) Movie Synopsis
Yi Bai (Ian Fang), a middle-aged nobody with a lot of regrets attended the wedding of Xiao Wei, his high school crush. He got drunk and made a fool of his wife. Angry, she chased him with a knife, forcing Yi Bai to hide in the washroom. When he emerged, he found himself in another dimension – he travelled back in time to 1999!
Yi Bai is a high school student again and he can re-live his life, allowing him to fix any mistakes he made and achieve all the fame and success he missed out on the first time around. He records hit songs long before the original artists and makes lots of money, but the more successful he becomes, the more he realizes that people around him are just making use of him and his wealth. Will he find anyone who is truly genuine?
Goodbye Mr Loser (令伯特烦恼) Viewer Rating: 3/5 ***
Goodbye Mr Loser (令伯特烦恼) Movie Review:
The success of many films are actually dependent on the time, place (location) and person  (天时、地利、人和), and I had to say the main problem with "Goodbye Mr Loser" was that it was screened in Singapore a little too late. Clashing with the release of the Thai remake Suddenly Twenty which had the same time-travelling theme, and when the Chinese film Suddenly Seventeen (28岁未成年) released late last year, had done such a great job bringing out the mentality of a 17 and 28 year old despite having the same physical outlook, it was difficult not to compare.

If you are a fan of Our Times (我的少女时代), this is probably one of the closest version you can get for now if the 2015 hit was remade in Singapore or Malaysia's context. Cassette tapes, tamagochi, posters and nineties' hit songs, you can even see the Ian Fang-version of Ouyang Fei Fan (欧阳非凡) playing guitar for his fan girls. And yes, there's a Lin Zhenxin (林真心) ogling behind a tree too. Add the classic must-have rooftop scenes if you want.
I felt that the story dealt poorly on the clichéd theme of "treasure your true love", something I believed what every audience will know that the movie was aiming to tell right from the start. But to me, there were so many variables that seem to be overlooked. When Yi Bai was given a second chance to fulfil his singer dream, he wasn't grateful for that opportunity, and was as hot-tempered as ever (my heart clenched tighter each time he smashed a guitar).
It was convenient to assume that his childhood crush (Anjoe Koh) wasn't exactly the angel he imagined her to be, or that when one become famous, he will start feeling lonely or empty. It seem so absurd to me when he felt that his original wife, Ah Hua (Hoon Mei Sim) was his true love, after enjoying nearly 2 decades of fame and wealth; some people always want what they can't have.
This film delved more into personality and attitude instead. As the saying goes, "A bad attitude is like a flat tyre, if you don't change it, you'll never go anywhere" in this case, be happy. It allows audience (if one bother to look beyond the parodies and jokes) to choose whether they wish to be Yi Bai – the one who is never satisfied with what he had regardless of his financial status, or Ah Hua – the one who focuses on simple happiness, regardless on who she ends up with.
I was quite offended when the film tried to do a Huan Zhu Ge Ge with characters using a single word from the original names, but completely irrelevant music and lines. It made me feel like third-rate imitation that failed to amuse me. Unlike "Our Times" where the male characters are both equally charming in their own way, Lin Yu Kang (Lin Yi Xin) did not exactly convince me that he's a star-student or decent goody-two-shoes. Chen Xiao Wei (Anjoe Koh) is pretty, but obviously pretentious.

The hooligans made me want to just do a face-palm and sigh. The China version had a more menace-looking gangster at the very least. Besides that, after having so many other films as comparison, it was odd when I see a time travel back to nearly 17 years ago, but most character seems so… old. Aside from the school uniform and a simple hairstyle change, they still look identical. We all know make-up can do wonders, so why didn't they try to put a little more focus on that? Thank goodness Ian Fang's baby face pass off equally well as a student.
If you feel that I've been ranting, pardon me. I'm a great fan of the nineties period and coming-of-age film, hence I couldn't help but be critical of a genre that I liked so much. I had to admit, if the songs were not dubbed so unevenly, I think Ian Fang is the perfect fit for Yi Bai, at least a slightly more appropriate one that Shen Teng. His atrocious behaviour upon returning back to 1999 might be a tad over-the-top, but I agree, when you think you're in a dream, you do whatever you want! He was the most charming when he plays the lonely yet famous singer who seem to have everything, yet nothing. I thought I saw the reminiscence of the times before the time travel coming, but he still managed to touch me with his performance.
If anyone managed to pull of a comedic role seriously well, it is definitely Phoebe Huang, who acted as Yi Bai's mum. She is a natural, and breathed life to her otherwise small role. I was impressed how likeable she made her character out to be, despite her equally outrageous behaviour.

Last but not least, feisty Jin Hua aka Yi Bai's wife by Hoon Mei Sim. I didn't like her initially due to her perfect radio deejay intonation, something that made her a misfit. But after a while, I realised it was because of how similar her character was with mine back in my school days, a tomboy whom always seem to be invisible to the popular guys, and attracting only the oddballs. That odd nostalgia of the old times, and the little timely reminder of how sometimes, what you want might not be what you need… to be happy, was greatly appreciated.
Do You Know?
"Goodbye Mr Loser" (令伯特烦恼) was a Malaysian remake of a hit 2015 Chinese comedy (夏洛特烦恼), which was based on a 2013 play from Mahua FunAge, a privately owned Beijing theater company known for its wildly popular comedies.

This Malaysian remake almost got slapped with an 18-rating, on top of its 13 cuts. After appealing to the Malaysian Censorship Board (LPF), the movie eventually ended up with a P13 rating and one censored scene. The cut involved a three second-long kissing scene between Fang and Koh as it was non-consensual. However, another kissing scene between Fang and Hoon remained intact.
The team managed to find many lookalikes of celebrities from the 1990s era. These talents were sourced from different countries. A-mei (Jian Yu Hui 简语卉) is from Taiwan, Andy Lau (Andy Liu 刘伟政) is from China, Obama (Ilham Anas) is from Indonesia, Jay Chou (陈日丰 Cliff Chan Yat Fung) is from Hong Kong, and Yoo Jae Suk (Cai Wei Lian 蔡威廉) is from Kuala Lumpur.
Malaysia's Olympic medal-winning shuttlers Chan Peng Soon (陳炳順), Goh Liu Ying (吳柳瑩) cameoed as a quarrelling couple Ian Fang bumped into after he got popular while Goh V Shem (吳偉申) cameoed as Ian Fang's cousin who is a chauffeur.
The original theme song "陪你" (With You) is written by director Adrian Teh 郑建国 and sang by Christine Fan 范瑋琪 .
Behind The Scenes and Interviews
Goodbye Mr Loser (令伯特烦恼) is out in cinemas on 30 March 2017.
xoxo



Facebook | Instagram | Twitter | YouTube
*Disclosure: Invitation by Clover Films Singapore. No monetary compensation was received for the movie review.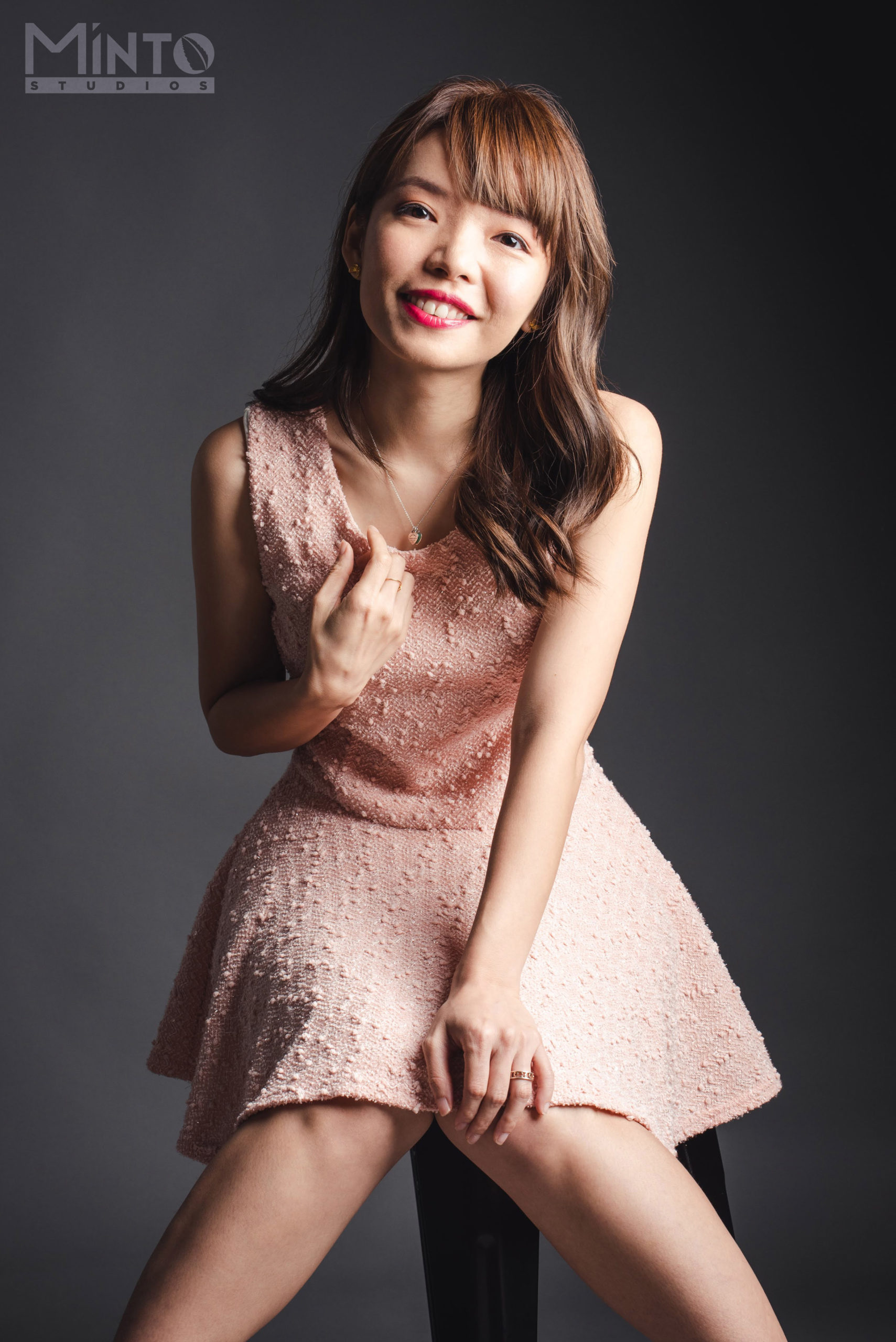 1/2 of #TheEpiphanyDuplet, Tiffany Yong juggles her ABCs – Acting, Blogging and Coaching/Consulting as she is fuelled by passion and drive to succeed.
It is not easy to make a living in Singapore just purely based on Acting, so with Blogging to help her with her online presence, and Coaching kids drama, private tutoring and freelance social media consulting to finance her life, she is currently leading the life most people hope to have: Living the Dream!