Operation Red Sea (红海行动) Movie Review | by The Epiphany Duplet
Recommended Audience: Fans of Zhang Yi 张译, Huang Jingyu 黄景瑜, Hai Qing 海清, Du Jiang 杜江, Zhang Hanyu 张涵予, Jiang Luxia 蒋璐霞, Yin Fang 尹昉, Wang Yutian 王雨甜, Guo Jiahao 郭家豪, Henry Mak 麦亨利, Dante Lam 林超贤 and action/military/tactical combat fans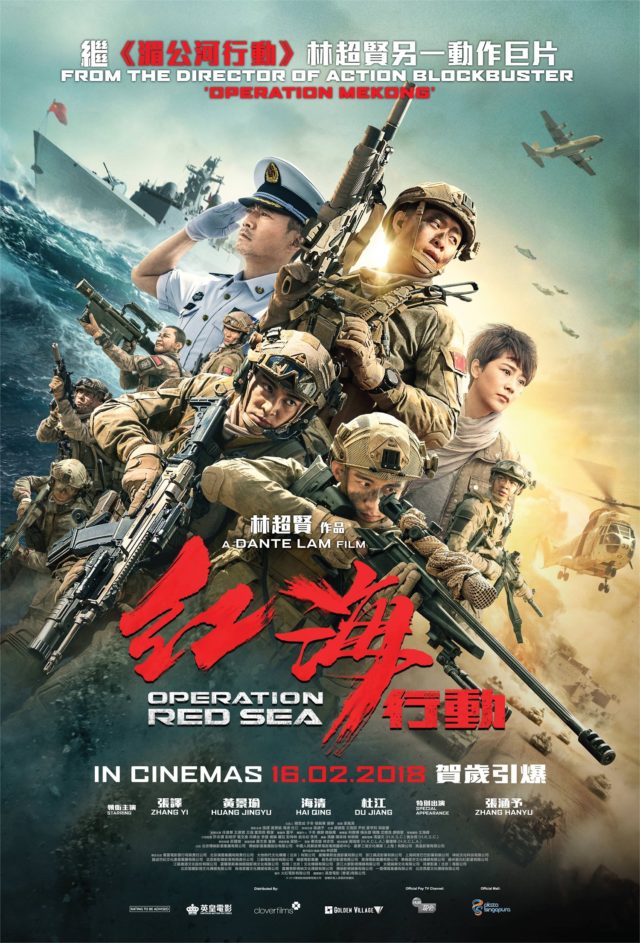 Operation Red Sea (红海行动) Synopsis
The Chinese Navy's Jiaolong ("Sea Dragon") Assault Team is famed for its skill in getting the job done. After its success in rescuing a cargo ship hijacked by pirates off the Somalia coast, the team is assigned an even more perilous mission. A coup in a North African republic has left local Chinese residents in danger, circumstances further complicated by a terrorist plot to obtain nuclear materials. The situation could prove fatal to the hostages and disastrous to the entire region, and presents Jiaolong with a challenge that threatens the very existence of the team and its members.
Operation Red Sea (红海行动) Viewer Rating: 3.75/5 ***
Operation Red Sea (红海行动) Movie Review:
Tiffany Yong: Have you ever experienced a moment where you've accidentally enter a room where there was a couple squabbling, or a fight going on and then got stuck in the room for the next 2 hours? Well, that was what I felt when I watched "Operation Red Sea". Like most action films, the movie brought the audience straight into the midst of a mission with a straight forward introduction of the ever-moving team (who look almost the same to me). 

Peps Goh: The first thing that stood out to me about Operation Red Sea, was how clear and concise their visual storytelling were, in the face of their crazy hectic fire fights. Scenes like that are really tough to shoot and edit, and too often film-makers will slip up and lose the audience in a single miscalculated screen direction change or an awkward cut.
This film however somehow managed to stay coherent in the midst of some really messy shoot outs. For instance, right off the top of my head there was a scene where the team where being pinned down by mortar bombardment. Simultaneously there was a battle between skilled snipers of both sides. While both that was going on, the bomb diffusion specialist was frantically trying to diffuse the explosives that got blown into a bus full out hostages they were rescuing. Meanwhile, a fire-fight was ongoing and a medic was trying to save some of the people torn apart by shrapnel. This film had successfully shown all of this happening in distinct and comprehensive cuts and sequencing. Kudos to the director and editor.
Speaking of shrapnel, they had really managed to translate the horrors of shrapnel in this movie. Executed better than most war films had done in recent memory. They had quality gore, not overdone and self-indulgent, but just enough to effectively translate the pain. And convey the pain they did.
I caught myself holding my breathe often in the movie, feeling the horrors of war and gunfight.
However I must say that there was a lack of character attachment. There wan't nearly enough time or development to make the audience care about many of them deeply, what with how 90% of the film involved gunshots, explosions and scream people.
This was somewhat of a disappointment, as the actors did do a pretty good job with their roles. The explosion-centric plot made it difficult for the audience to develop any feelings for the characters. 
The hastily thrown together hint of romance between Zhang Tiande (Wang Yutian) and Tongli (Jiang Luxia) felt dislodged and out of left field, and it had failed to make us feel very much.

Tiffany Yong: I'm not a tactical or military expert, so if there's any experts who happen to come across my review, help me out by telling me if the above position is an authentic position? I thought that that the impact and the sound from the gun triggering will probably hurt and deafen the soldier who's acting as the pivot. 
Peps Goh: This is definitely an entertaining watch that is executed well all around. For military/war flick enthusiasts, this is a must watch. I thought it is odd that the film is released during the Lunar New Year festive period, but as it did well in specifically being a movie that consists almost entirely of tactical combat; from opening title till end credits, it may not be a movie for those who aren't a fan of this genre.
Do You Know?
The movie "Red Sea Operation" was adapted from a 2015 event when the 19th Navy troop successfully entered Yemen (也门) to evacuate the China citizens on 29th March. The production cost RMB$500 Million, and the military equipments + technology alone cost RMB$200 Million. The film was filmed via the sea, land and air, and on actual site instead of CGI. The team went over 10 locations for filming, from Morocco, to deserts, mountains, busy streets to old town alleys. For realism, all the explosions and artillery shells made use of real gun powder.
This is the second time director Dante Lam (林超贤) worked with cinematographer Fung Yuen Man (冯远文), after Operation Mekong (湄公河行动). The movie was filmed using RED WEAPON DRAGON 6K.
When filming in Morocco, the crew amounts to more than 300 people from various countries such as Mainland China, Hong Kong, Taiwan, Korea, Malaysia, Thailand, England, Germany, France, America and Morocco. One of the scenes even had more than 1200 actors and the Morocco Forces armées royales involved.
In order to accurately represent the navy, 'Jiao Long" Sea Dragon Assault Team had to undergo more than 800 minutes of military training and 120 hours of gun/weapon training. They also have to complete a 200 min physical training daily.
Due to the long and harsh filming environment, many female actresses turned down this film. Hai Qing (海清) who acted as a reporter in the film fractured her hand shortly after she started filming and her face was bitten by bed bugs later near the end.
To prevent the actors from injuring, the director would not allow the actors to carry out dangerous moves themselves. However, despite all safety procedures, some of the actors were still injured and hurt on set.
Behind The Scenes and Interviews
Operation Red Sea (红海行动) is out in cinemas on 16 February 2018.
Cheers,



Tiffany Yong: Facebook | Instagram | YouTube
Peps Goh: Facebook | Instagram | YouTube
The Epiphany Duplet: #TheEpiphanyDuplet
*Disclosure: Invitation from Clover Films. No monetary compensation was received for the movie review.
Epiphany: / ɪˈpɪf(ə)ni,ɛˈpɪf(ə)ni / noun / A moment of sudden and great revelation.
Duplet: / ˈdjuːplɪt / noun / 2 electrons working together, forming a bond between atoms.
|| Derived from the anagram of the duo's name, whom met through a film project acting as lovers. After which as fate would have it, couples indeed they became. And now together they bring to you staycations & travelogues, beauty and relationship tips, your one-stop-shop to all the fun things you can do with your special someone. ||
@PepsGoh: Actor || Fight Choreographer || Free Running Athlete
@Tiffanyyongwt4242: Actor || Blogger || Consultant