Chasing the Dragon (追龙) Movie Review | by The Epiphany Duplet
Recommended Audience: Fans of Donnie Yen 甄子丹, Andy Lau 刘德华, Kent Cheng Jak-si 郑则仕, Ben Ng 吴毅将, Wong Jing 王晶, Jason Kwan 关智耀 and action /crime/ Hong Kong movie fans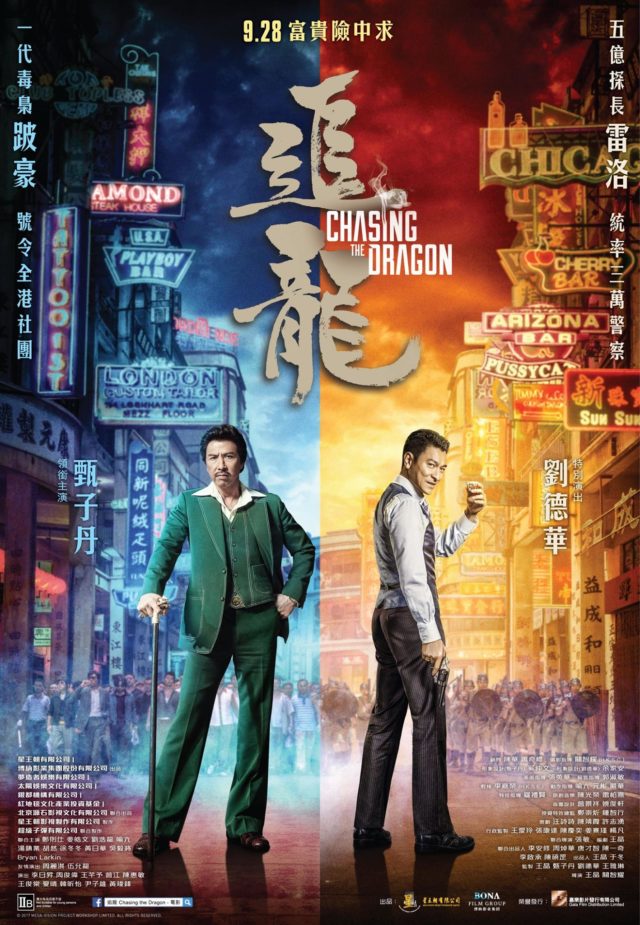 Chasing the Dragon (追龙) Movie Synopsis
In 1963, illegal immigrant Ho (Donnie Yen) snuck into Hong Kong. Equipped with guts and combat skills, he plunged into the underground world. After many adversaries, the once good-natured man is physically crippled and transforms into a monster more atrocious than the most corrupted cops and ruthless drug dealers.
Finally, Ho emerges as the most powerful Drug Lord under the control of the Chief Chinese Detective Sergeant, Lee Rock (Andy Lau). With the establishment of the Independent Commission Against Corruption (ICAC) in 1974, Rock is forced into premature retirement, but Ho still would not be stopped, as he is determined to become the sole dictator of the drug empire……
Chasing the Dragon (追龙) Viewer Rating: 4/5 ****
Chasing the Dragon (追龙) Movie Review:
Tiffany Yong: Having followed Donnie Yen's Facebook Page, I've actually been "Chasing the Dragon" for quite some time, watching snippets of the Behind The Scenes and raving articles he'd shared. I have no doubts about the charms of the two main leads, but to be honest, when I saw that it was directed by Wong Jing, a silent "oh shit~" rang in my mind and I started having doubts as the list of slapstick, half baked films (Mission Milano to From Vegas to Macau) flashed across my mind. Will this be the film that blotch of failure in a good painting (of his recent years)?

Peps Goh: Well, don't enter the cinema expecting a classic Donnie Yen beatdown. This isn't that kind of film, not really. It has it's action scenes sure. But it's main appeal isn't of that. Think of it as the 60s Hong Kong version of "The Godfather". Where in the place of shrewd classy mafia bosses, you have the brutal and wild Chinese drug cartel heads.
We were really surprised. Pleasant surprise, after some contemplation. Donnie Yen is no 'Donnie Yen' in the film. You don't see his fancy fights here even though his role as 'Ng Sek-ho' was someone who was good at fighting. And his fight with Philip Ng was so realistic (same for the chase scene within the Kowloon Walled City) that we could feel the desperation from the punches. 
Peps Goh: This is a solid old-fashioned Hong Kong triad flick, with many portions set within the Kowloon Walled City, something that had made an impression on me when I had first read about it years ago. A monolithic conglomeration of badly planned architecture, ridden with drugs, prostitution and gang activities that grew to become one of the iconic lawless territory where the authorities had rather adopt a "hands-off" approach to. It had seemed at the time to be a place where really interesting movies could have been set within.
The set was amazing, and it will definitely bring nostalgia to the older generations who were familiar with the well-known locations that range from Lockhart Road in the city's Wan Chai entertainment district to the former Kowloon Walled City.

Peps Goh: It is a succinctly paced drama with really charming characters, how ever violent and lacking of morals they were. The anarchic backdrop had seemed to justify how they had to be at that time of chaos, and almost glorified it even. The careless way in which the powerful had thoughtlessly torn the lives of the poorer people around them apart and gotten rich off of their misery was presented with such aloofness, that for a moment there we as the audience too may have gotten desensitised to it. Perhaps even in our current times, this movie is more relevant than ever.
Tiffany Yong: The film has its flaws too. I groaned in disappointment when I heard the first words played out, forgetting that Donnie Yen's accent (and efforts) had been dubbed over into Mandarin for release in Singapore. The film seem to make caricatures out of the British colonial government, especially the police superintendent Ernest Hunt (Bryan Larkin). Luckily the performance was consistent throughout, making him an increasingly annoying antagonist. The fine performances from supporting veteran actors Philip Keung (姜皓文), Kent Cheng Jak-si (郑则仕) and Ben Ng (吴毅将) also brought out the pivotal importance of loyalty, brotherhood and betrayal between gangs back then. 
Peps Goh: It is definitely a fun watch, seeing the dynamics of Donnie Yen's portrayal of Crippled Ho play off against Andy Lau's Lee Rock, an earnest passionate irreproachable man, against a corrupt unperturbed but ultimately loyal friend.
I enjoyed watching the sparks go off between them, from trust to doubts, to suspicion. 
This has potential to become either a classic, or a cult favourite.

If anything else, this is probably Wong Jing's best works in the recent years. 🙂 And to answer my initial question, Donnie Yen has already surpassed my expectations from his past few works that I'm glad to say, this adds to the list. 
Do You Know?
"Chasing the Dragon" is director Wong Jing's two-in-one reboot of the 1991 gangland dramas To Be Number One and Lee Rock. Chasing the Dragon – the title refers to the slang term for smoking heroin – it is drawn from the true stories of drug trafficker Ng Sik Ho, alias Limpy Ho, and police officer Lui Lok, alias the "500 Million Dollar Sergeant".
Donnie Yen did his own research to create a Crippled Ho different from the one played by Ray Lui (To Be Number One). Lui's Crippled Ho spoke perfect Cantonese, unlike the actual Limpy Ho, so Donnie Yen chose to follow the real man, learning to speak Teochew and Teochew-accented Cantonese. He started learning the language when he was still on the set of Rogue One in England. Besides that, he had to practise a limp and had his nose widened and lips thickened with prosthetic make-up to look Teochew. The filming resulted in an injury which requires him to operate and not do any action scenes for at least 6 months.
Wong Jing was the producer for Andy Lau's Lee Rock film in 1991 and he specially visited 'Limpy Ho's family for permission to use the character's real name, by adhering to certain conditions.
Andy Lau's classic song "Voice of a Prodigal son" (浪子心声) was used to edit a trailer for the film. As the producer, Andy Lau found the song so suitable that he proposed to sing a new version for the team to use. Lee Rock's romance scene was cut off when the filming was 1/3 into production. Andy Lau agreed to do that so that the plot is cleaner and more straight forward.
Kent Cheng reprised his Fat Kwan character from 1991's "To Be Number One".
Andy Lau reprised his 1991 Lee Rock cop character for the third time.
Veteran actor Kenneth Tsang(曾江) also acted the role of Lee Rock in both To Be Number One (跛豪 1991) and The Greed of Man (大时代 1992). This time, he had a cameo in "Chasing The Dragon" to become Lee Rock's father-in-law. The two "Lee Rock" appearing on screen together became one of the few highlights in the film.
The Kowloon Walled City was recreated with the planes flying over the town repeated from the now-defunct neighbouring Hong Kong Kai Tak Airport.
Behind The Scenes and Interviews
Chasing the Dragon (追龙) is out in cinemas on 5 October 2017.
Cheers,



Tiffany Yong: Facebook | Instagram | YouTube
Peps Goh: Facebook | Instagram | YouTube
The Epiphany Duplet: #TheEpiphanyDuplet
*Disclosure: Invitation from Shaw Organisation. No monetary compensation was received for the movie review.
P.S. Noticed the different coloured text? Articles written by #TheEpiphanyDuplet will be colour-coded in future to let every reader know who say what! Hope you've enjoyed reading our insights!
Epiphany: / ɪˈpɪf(ə)ni,ɛˈpɪf(ə)ni / noun / A moment of sudden and great revelation.
Duplet: / ˈdjuːplɪt / noun / 2 electrons working together, forming a bond between atoms.
|| Derived from the anagram of the duo's name, whom met through a film project acting as lovers. After which as fate would have it, couples indeed they became. And now together they bring to you staycations & travelogues, beauty and relationship tips, your one-stop-shop to all the fun things you can do with your special someone. ||
@PepsGoh: Actor || Fight Choreographer || Free Running Athlete
@Tiffanyyongwt4242: Actor || Blogger || Consultant