From Vegas to Macau III (赌城风云3) Movie Review | by tiffanyyong.com
Recommended Audience: Fans of Chow Yun Fat 周润发, Andy Lau 刘德华, Jacky Cheung 张学友, Carina Lau 刘嘉玲, Nick Cheung 张家辉, Shawn Yue 余文乐, Kimmy Tong 童菲, Psy, David Chiang, Angela Wong 王诗龄, Michelle Hu, Lo Hoi Pang, Yuan Qiu, Maria Cordero, Jacky Hueng 向佐, Charles Heung 向华强, Li Yuchun 李宇春, Wong Jing 王晶 and Hong Kong comedy movie fans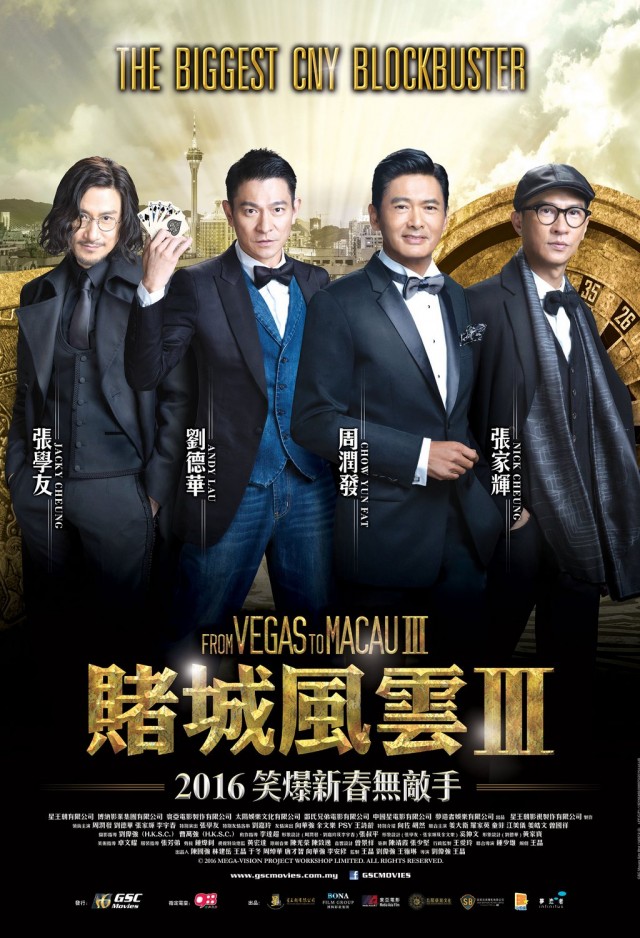 From Vegas to Macau III (赌城风云3) Movie Synopsis
At the wedding of Ken's (Chow Yun Fat) daughter, Rainbow (Kimmy Tong) and his protégé, Vincent (Shawn Yue), Michael Chan (Andy Lau), warns Mark (Nick Cheung) that someone wants to kill Ken. Suddenly, an explosion goes off at the wedding. The newlyweds go into a coma from a severe concussion. Enraged, Ken swears to get vengeance.

A mysterious tycoon, J.C. (Jacky Cheung) invites Michael and Ko Chun to his birthday party. J.C. wants to humiliate Ko at the gambling table; luckily, Ken is smart enough to crack all the tricks along with Michael, Mark and Kitty (Li Yuchun). Realising that his tricks do not work, J.C. drugs Ken unconscious.
On the other hand, Michael, Mark, and Kitty find out J.C. is in fact Molly's (Carina Lau) die-hard pursuer and is likely to be the mastermind setting Ken up. Meanwhile, J.C. has brought the unconscious Ken to his high-tech lab to "visit Molly"…
From Vegas to Macau III (赌城风云3) Viewer Rating: 3/5 ***
From Vegas to Macau III (赌城风云3) Movie Review:
I've caught From Vegas to Macau I and love Nicholas Tse in it; I've watched From Vegas to Macau II and find the plot a little disappointing, and I'm catching the third one simply because I've watched the previous 2 and this time Andy Lau has a bigger role in it!

To be truthful, despite the bad online reviews, I will still recommend fans of Andy Lau and Chow Yun Fatt to catch this movie. Definitely not for the plot, but for the nostalgic nonsense that they do (and sing and say). With the opening resembling a somewhat a marvel comic recap of the past two instalments, the films brings back the original casts as well as introduce new casts like singer Li Yu Chun.
Chow Yun Fatt is crazily charming as Ko Chun in "God of Gamblers" and ridiculously funny as Ken Shek. Don't think plot, just have fun watching them fool around with tech gadgets – real and fake ones, and it is good enough to make you laugh.
Mark (Nick Cheung) and Michael Chan (Andy Lau) are the next two reasons why you should watch this film. I love it when they made references to their real life (think marriage and kids) in their reel self. The witty conversations made me shake my head at times wondering if that was even scripted or was it taken out of the NGs where they spouted nonsense. Another classic moment was when they started referring themselves to characters from Jin Yong's novels, some of them having really acted those characters before (i.e. Andy Lau as Yang Guo etc). They were so ridiculously lame that I got to give them credit for the lameness.
Li Yu Chun was a tad stiff in her role, but I guess anyone will appear a greenhorn when acting amidst the veterans of the veterans! Well, I will definitely ignore the budding love triangle between her, Andy Lau and Nick Cheung. Because the whole vibes were definitely OFF. The up side about the film was how Singapore was mentioned to be a place Michael Chan (Andy Lau) was staying, and a lot of scenes were shot in the "Singapore". However, the house looked more like a makeshift warehouse renovated into a temporary (albeit ultra cozy) apartment.
The most disappointing part is perhaps the overuse of special effects, which include the transformer (or some game character) like robots, and several Iron Man moments for Nick Cheung. At least 15minutes (it felt like 30 minutes though) was dedicated to the silly fight between the transformers robots and Ken's R2-D2 doppelganger robot, Stupido, and Michael's femme-bot, Skinny. If only it was kept to 5 minutes and allow more screen time for the real fight scenes for the ones who had the skills (say Jacky Heung), it might get another star from me.
Do You Know?
Chow Yuen Fatt took up three roles in this film and when filming an explosion scene in the jail, he was hung up 12m high (without any double) and even had to be in struggling mode where he kicked off his slippers.
Jacky Heung (Long Shi Wu) who had a lot of fight scenes in the film is Charles Heung (Long Wu)'s son in real and reel life. It was his first time acting alongside his dad and he had to film a fight scene for four consecutive days.
It is 5th time Jacky Cheung and Andy Lau acted together; 10th time for Andy Lau and Chow Yun Fatt.
Jacky Cheung was hesitant to act in this film as his recent roles have all been the villain characters.
Korean singer, Psy plays a cameo in this film as a gambling expert.
There was a scene where Andy Lau had to fight 10 of his lookalike doubles (robot version of him) and it was said to be the Andy Lau version of Ip Man.
Behind The Scenes and Interviews
Check out From Vegas to Macau III (赌城风云3) Facebook Page!
From Vegas to Macau III (赌城风云3) is out in cinemas on 6 February 2016.
xoxo



Facebook | Instagram | Twitter | YouTube
*Disclosure: Invitation from Clover Films Singapore. No monetary compensation was received for the movie review.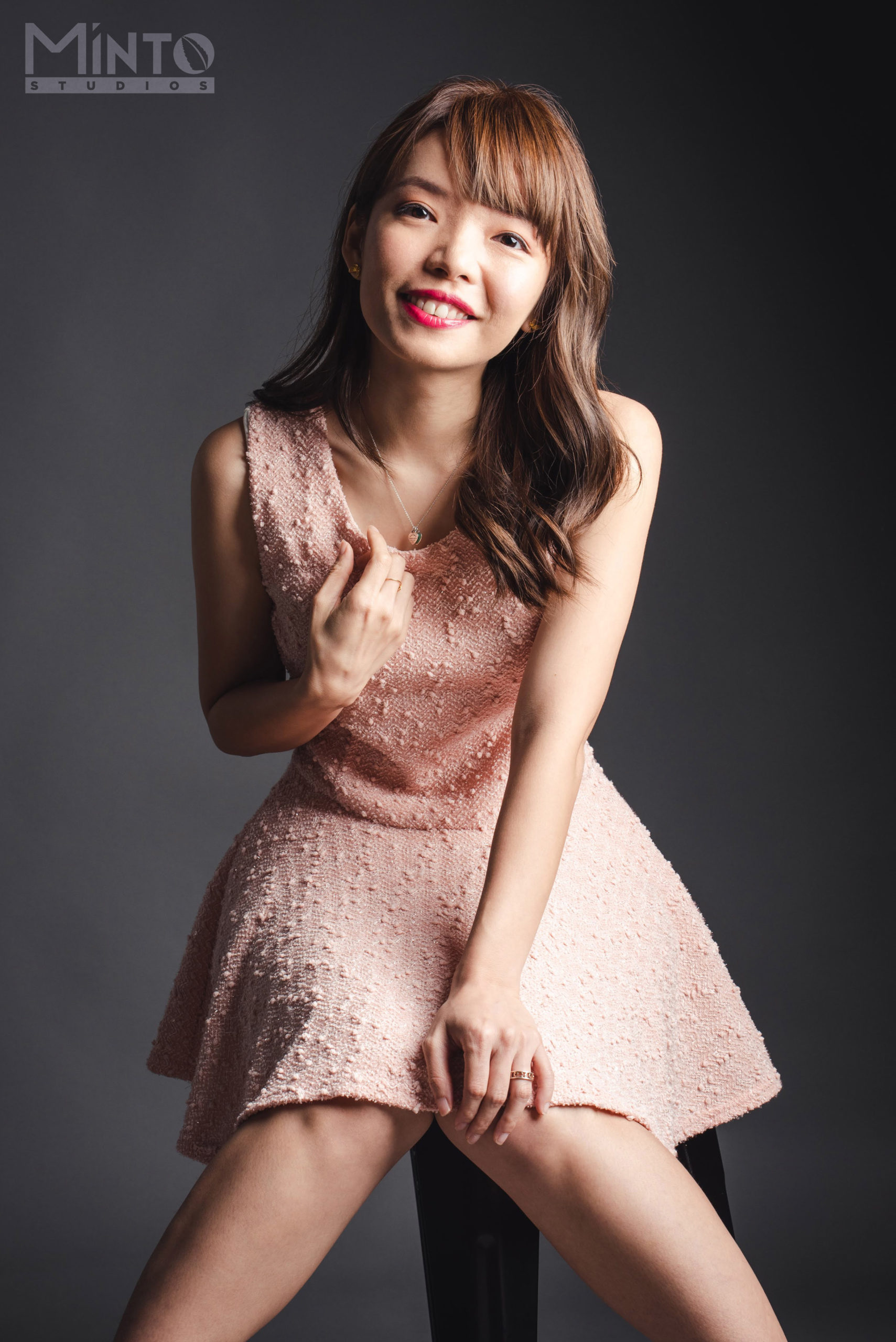 1/2 of #TheEpiphanyDuplet, Tiffany Yong juggles her ABCs – Acting, Blogging and Coaching/Consulting as she is fuelled by passion and drive to succeed.
It is not easy to make a living in Singapore just purely based on Acting, so with Blogging to help her with her online presence, and Coaching kids drama, private tutoring and freelance social media consulting to finance her life, she is currently leading the life most people hope to have: Living the Dream!