Mrs K Movie Review | by The Epiphany Duplet
Recommended Audience: Fans of Kara Wai 惠英紅, Simon Yam 任達華, Wu Bai 伍佰, Faizal Hussein, Tony Lau Wing, Siow Li Xuan, Ho Yu Hang 何宇恆 and action movie fans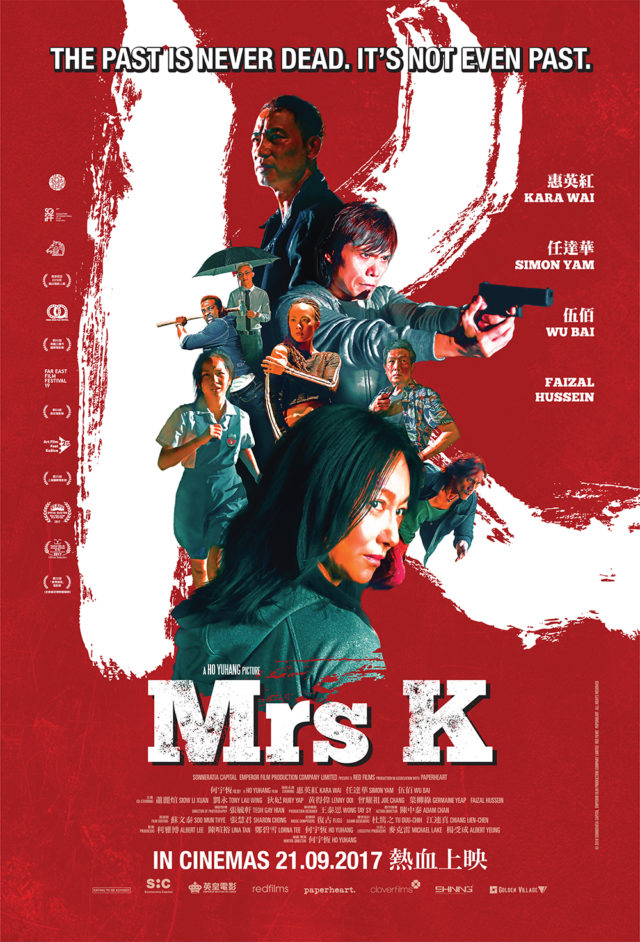 Mrs K Movie Synopsis
Mrs K is a housewife who lives in a quiet suburban neighborhood with her husband Mr K and their daughter Lil' K. One day, a stranger shows up to blackmail Mrs K. He's an ex-cop who knows about her unseemly past. But he doesn't seem to pose much threat and she punishes him, hoping that he would back off. That is only a prelude to the immanent terror. Soon, Lil' K is kidnapped. Mrs K is forced out of her sheltered life to face an old enemy.
Mrs K Viewer Rating: 2.75/5 **
Mrs K Movie Review:
Tiffany Yong: Mrs K was aired during the Singapore International Film Festival (SGIFF) last year and finally out in the cinemas to the public. I would say it is very much of a TAKEN-wannabe – where the dad mum goes all out to rescue the kidnapped daughter, except that she had a bad, violent past instead of a good one. 
It's an average suspense action flick, with fairly decently pulled off action sequences.

Peps Goh: The plot pacing was messing and lost me on more than one occasion, but with the performance of Simon Yam and Kara Wai, they've managed to hold the movie together however barely.
I was pretty surprised when I saw famous rock star Wu Bai as a gynaecologist. The stoned-face actor is a refreshing addition to the otherwise familiar team. Like what Peps mentioned, the incoherent plot seem like an attempt to bring a mysterious art-house feel to the action flick, making the audience guess what is going to happen next.
Peps Goh: However, the transitions from sequence to sequence was very clear not thought out, and the editor seemed to struggle going from one sequence to the next.
Transitions like 'fade to black' was constantly used, or irrelevant cuts which attempts to provide complexity to the character. While I appreciate the use of electronic music and smooth match-cut fight scenes, it was Mrs K's entrance with her home-baked buns and inexperience robbers that I enjoyed most, showcasing her familiarity with guns. Sadly, this talent of her was never shown again in her numerous attempts to save her asthmatic daughter.
Peps Goh: There was however some interesting ideas being explored between the ending action scenes. That was appreciated, but the lack of tempo, problems either within the fight choreography itself or caused by the intercutting between fights, lead to a slightly disappointing result on screen. 
In addition, the gulf between the proficiency of acting skills between the 2 veterans (Simon Yam & Kara Wai) as compared to the less experienced (well… everybody else) is so vast that it became rather distracting. It made me wonder if that was the reason why the many featured antagonists were never introduced properly. 

Tiffany Yong: This is not Simon Yam's first nor last badass character (I very much prefer his in The Tenants Downstairs), but it's one of the rare ones where you have to guess a lot of his motives and be a tad disappointed with his weak ending. 
Mrs K was a good strong attempt, but it leaves the audience hoping for better.
Do You Know?
Although the title of the movie is called "Mrs K", every character don't have a proper name. Even Wu Bai who acted as the main lead's husband, was labelled as "Hubby". This was a deliberate decision by the director Ho Yuhang after he watched SergioLeone's "The Man With No Name".
This will be Kara Wai's last action project. She's 55 years old when "Mrs K" was filmed. Kara Wai started off as a stunt actor and she had been avoiding action films for the many years to avoid being stereotyped as a martial arts movie star. She accepted Director Ho's invitation as she regard him as her benefactor. Director Ho's "At The End of Daybreak" (心魔) in 2009 successfully changed Kara's image from an action to a proper actor, and her role earned her a record seven awards, including Best Actress at the Hong Kong Film Awards, Hong Kong Film Critics Society Awards, Changchun Film Festival, and Vladivostok International Film Festival. Hence, she took up his offer but expressed that this would be her final action flick.
Despite having starred in many action films, Kara has never learned martial arts. She approached the moves in action scenes the way she would learn a dance move. In "Mrs K", she injured her kneecap and chest during her action scenes.
Malaysian actor Faizal Hussein was 48 when the movie was shot. He did 90% of the action scenes, including parkour moves, himself after just two sessions of rehearsing the choreography for the fight sequences. With over 40 movies under his belt, this is the first time he spoke in English in a movie.
Hong Kong directors Fruit Chan (left) and Kirk Wong Chi-keung (middle) cameoed in the film as part of the robbery gang whom escaped many years ago. Malaysian helmer Dain Iskandar Said plays a loan shark hacked to death outside his squalid office.
Behind The Scenes and Interviews
Check out Mrs K Facebook Page!
Mrs K is out in cinemas on 21 September 2017.
Cheers,



Tiffany Yong: Facebook | Instagram | YouTube
Peps Goh: Facebook | Instagram | YouTube
The Epiphany Duplet: #TheEpiphanyDuplet
*Disclosure: Invitation from Clover Films. No monetary compensation was received for the movie review.
P.S. Noticed the different coloured text? Articles written by #TheEpiphanyDuplet will be colour-coded in future to let every reader know who say what! Hope you've enjoyed reading our insights!
Epiphany: / ɪˈpɪf(ə)ni,ɛˈpɪf(ə)ni / noun / A moment of sudden and great revelation.
Duplet: / ˈdjuːplɪt / noun / 2 electrons working together, forming a bond between atoms.
|| Derived from the anagram of the duo's name, whom met through a film project acting as lovers. After which as fate would have it, couples indeed they became. And now together they bring to you staycations & travelogues, beauty and relationship tips, your one-stop-shop to all the fun things you can do with your special someone. ||
@PepsGoh: Actor || Fight Choreographer || Free Running Athlete
@Tiffanyyongwt4242: Actor || Blogger || Consultant