Let Me Eat Your Pancreas (君の膵臓をたべたい) Movie Review | by tiffanyyong.com
Recommended Audience: Fans of 浜辺 美波 Minami Hamabe, 北村匠海 Takumi Kitamura, 小栗旬 (おぐり しゅん) Shun Oguri, Keiko Kitagaw, Sho Tsukikawa, Yoru Sumino and Japanese/romance movie fans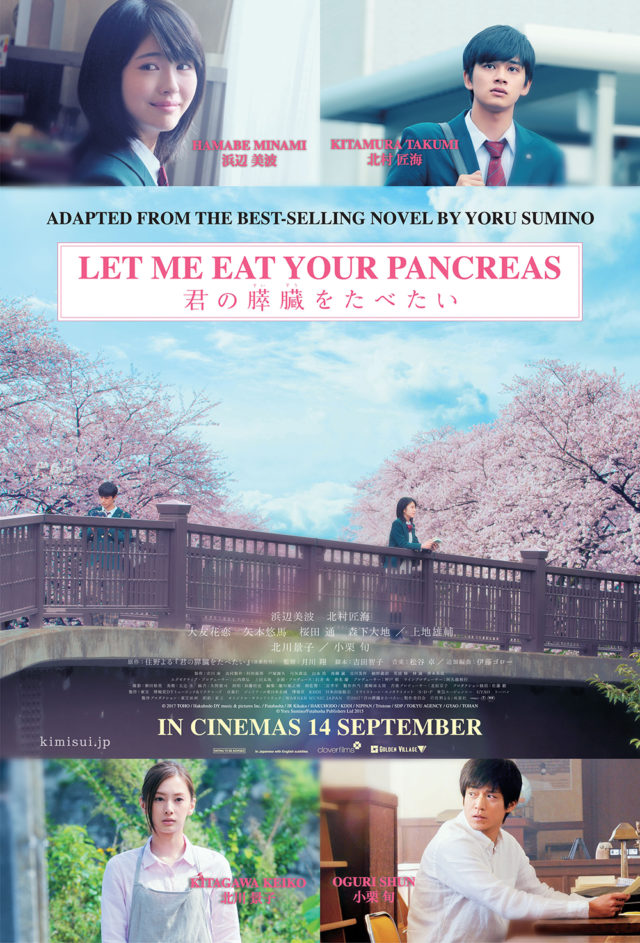 Let Me Eat Your Pancreas (君の膵臓をたべたい) Movie Synopsis
Sakura Yamauchi (Minami Hamabe) and "I" (Takumi Kitamura) were former high school classmates. Inspired by Sakura's words, "I" (Shun Oguri) has now become a teacher at the school they both attended. While talking to his students, he is reminded of the many days he spent with Sakura. Sakura, who was suffering from a disease of the pancreas, kept a diary of her struggle against her illness and how she tried to live with it.
After he discovers the diary by chance one day, "I" and Sakura gradually start to spend more time together. Sakura is determined to live out her days brilliantly, but finally, the end draws near. Twelve years after her death, her best friend Kyoko (Karen Otomo/Keiko Kitagawa), who is soon to marry, also begins to remember the time she spent with Sakura, just as "I" does. Then, because of something that happens, the two realize what Sakura really wanted to convey over the distance of those 12 years.
Let Me Eat Your Pancreas (君の膵臓をたべたい) Viewer Rating: 4/5 ****
Let Me Eat Your Pancreas (君の膵臓をたべたい) Movie Review:
Peps Goh: A beautiful piece by Sho Tsukikawa adapted from a novel by Yoru Sumino. I have never read the novel, but it felt like the film was a perfect adaptation. Instead of being limited by cinema as a medium, it had managed to make the storytelling better because of it.
With such an interesting movie name, one would have thought it's a horror comedy. But only people whom have read the novel or watched the movie would know how painful that "Let Me Eat Your Pancreas" mean.

Peps Goh: Hamabe Minani plays Sakura, the owner of the "Disease Coexistence Journal". Sakura has pancreatic cancer and has been given one year to live, and in the short time she has left decided to fall in love and in doing that forever changed the lives of those she touched in her last moments.
I recognized her from her performance in AnoHana's TV live-action adaptation, "The Flower We Saw That Day". Another story that had left me in a complete whimpering mess of tears. I must say that having seen her performance in this piece, I am now really excited to see her in the coming Ajin: Demi-human's live action movie adaptation. Probably the perfect choice of cast for the role of Sakura, what with her beautiful performance of a painfully forced smile in the face of oblivion. (Her smile really reminds me of Singapore's local actress – Jeanette Aw) I believe she'll have a shining career ahead.
Without spoiling too much, the film utilizes tastefully creative techniques to bring the audience back and forth from the present to the remembered past. The transitions feel like a beautiful visual realization of what it feels like to see an object or a place and for a moment be thrown into a visceral reminiscence, gently easing the viewers into the narrative. It's been a long time since I've seen such solid directing in a novel to film adaptation.

Tiffany Yong: Yuma Yamoto as Gamu-kun had little scenes in the film, but every appearance was impactful and signified a gradual change in "I" (Takumi Kitamura). He provided mild comic relief throughout the timeline, offering the olive branch chewing gum to the main protagonist. Besides Takumi Kitamura's excellent performance as a introvert, Yuma Yamoto's simple yet iconic actions added points to the film. 
Peps Goh: This film takes an overused and cliched old-fashion tragedy and presents it to you in a divine light and stunning framing (But we admit, it's really effective in the era where there's too much hype on action, gore and CGI). And at the right moments delivers an unexpected swing from the side, knocking tears right out from your eyes. So cleverly crafted, the injustice of the world in this story hits you in the chest, leaving but a hollowed sob and choked back cry.
Remember to bring a pack of tissue into the cinema with you!
Do You Know?
The movie portrays the present time 12 years later, which is not part of the original book, and the story unfolds along the dual time axis of present and past. In the present time segment, the story swings between "I", played by Shun Oguri, who has become a teacher, and Sakura's best friend, Kyoko, played by Keiko Kitagawa.
Behind The Scenes and Interviews
Check out Let Me Eat Your Pancreas (君の膵臓をたべたい) ManOfficial Facebook Page!
Let Me Eat Your Pancreas (君の膵臓をたべたい) is out in cinemas on 14 September 2017.
Cheers,



Tiffany Yong: Facebook | Instagram | YouTube
Peps Goh: Facebook | Instagram | YouTube
The Epiphany Duplet: #TheEpiphanyDuplet
*Disclosure: Invitation from Clover Films. No monetary compensation was received for the movie review.
P.S. Noticed the different coloured text? Articles written by #TheEpiphanyDuplet will be colour-coded in future to let every reader know who say what! Hope you've enjoyed reading our insights!
Epiphany: / ɪˈpɪf(ə)ni,ɛˈpɪf(ə)ni / noun / A moment of sudden and great revelation.
Duplet: / ˈdjuːplɪt / noun / 2 electrons working together, forming a bond between atoms.
|| Derived from the anagram of the duo's name, whom met through a film project acting as lovers. After which as fate would have it, couples indeed they became. And now together they bring to you staycations & travelogues, beauty and relationship tips, your one-stop-shop to all the fun things you can do with your special someone. ||
@PepsGoh: Actor || Fight Choreographer || Free Running Athlete
@Tiffanyyongwt4242: Actor || Blogger || Consultant