PARADOX (杀破狼·贪狼) Movie Review | by tiffanyyong.com
Recommended Audience: Fans of Louis Koo 古天樂, Gordon Lam 林家栋,Tony Jaa, Wu Yue 吴樾, Chris Collins 克里斯 柯林斯, Michelle Saram 雪兒, Hanna Chan 陈汉娜, Sammo Hung 洪金宝 and action movie fans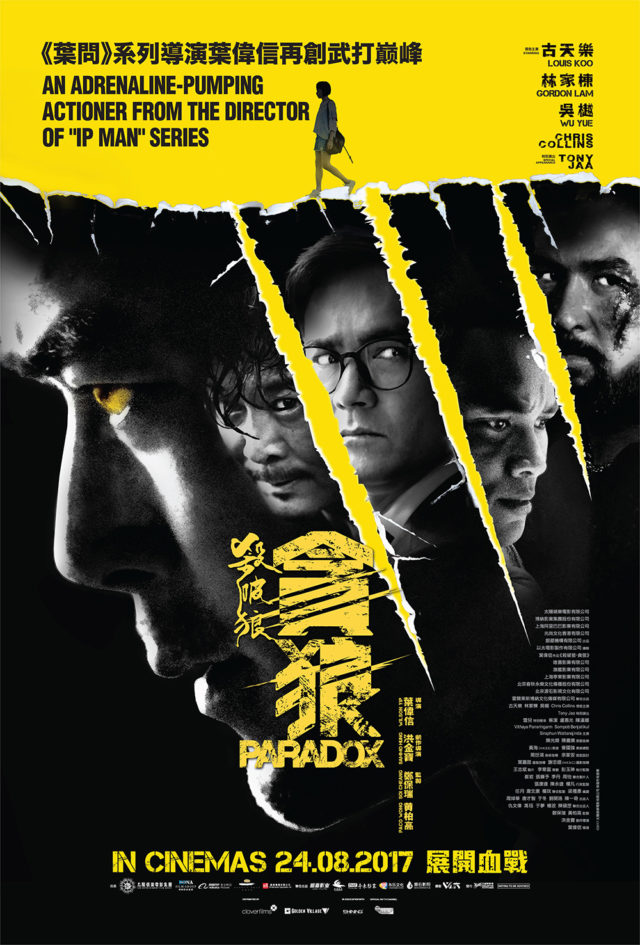 PARADOX (杀破狼·贪狼) Movie Synopsis
Hong Kong cop Lee (Louis Koo) goes on a search in Thailand for his missing daughter Chi (Hanna Chan). Thai Chinese police officer Chui Kit (Wu Yue) lets Lee join the investigation, having no idea that Lee is going to use the mass media to hunt for clues.
A short clip which accidentally filmed Chi's capture is uploaded to the police website, but subsequently deleted. Chui Kit and colleague Tak (Tony Jaa) tracks down the clip owner, but the evidence is destroyed before they can stop it. The duo begins tracking down the culprit. As they get closer to the truth, they realize that the case is more complicated than they expected, and the mastermind behind the scene is not someone they can deal with…
PARADOX (杀破狼·贪狼) Viewer Rating: 4.5/5 ****
PARADOX (杀破狼·贪狼) Movie Review:
Tiffany Yong: Following the core values of Sha Po Lang, PARADOX, the third installment of the series discusses the value of lives, the changes in the relationships between human, and how they are linked together. We often talked about how the world is small, and I loved how the director expresses the interweaving intrinsic relationships within characters in the most amazing way (To avoid spoilers, think cars at crossroads). 
This film was full of surprises! The plot was conventional, but rather unpredictable. Leading you through act 1 with an expectation of a cliched story, and then turning on it's heel and heading in the other way. 

Tiffany Yong: We all get to see familiar faces, but I was really impressed with how each actor had managed to surpass their previous works and create a deep impression in the film. In case you are wondering, Tony Jaa who starred in the previous SPL2 as a Thai prison guard, cameoed in the film, this time as a police, so they are two different characters. There were many films who throw big names in for the sake of the box office, but screenwriters actually managed to give him a brief but pivotal role in the plot. His exit managed to trigger emotions strong enough to motivate the characters to act in ways that drives the plot towards the climax.
Tiffany Yong: I am not unfamiliar with Wu Yue as a China actor. His past roles might have been good, but forgettable. If Ip Man was Donnie Yen's representation piece of work, PARADOX could easily be Wu Yue's. His character as a Thai-Chinese detective, Chui Kit, seemed like a typical heroic protagonist initially, but the little surprises that came along the way made me wish that he could have more screen-time than Louis Koo. Of course, this would not have been possible with the (successfully) detestable Sacha (Chris Collins) as the swag and inhumane organ-trafficker.
Peps Goh: The action sequences too were unexpectedly stunning, with the choreographer and his team going out of their way to be impressive. Their application of really complex wire-work, that well balances the need to remain believable while being totally "WOW", to garnish an already great fight sequences with epic moments are really applaudable.
That, combined with how this is Louis Koo's first ever heavily combative performance, makes it all the more amazing. A true testament to the choreographer Sammo Hung's sheer prowess in the line. #PlotDefinitelyBetterThanWolfWarrior2
Do You Know?
This is the third installment of the Sha Po Lang series. The production took more than 3 months, and it was filmed in Bangkok, Pattaya as well as Hong Kong.
This is Hanna Chan's acting debut, as Louis Koo's 15 year old rebellious daughter. She is also a model.
It is Louis Koo's first attempt at a proper action flick. In the previous SPL II: A Time for Consequences (2015), he was a sickly evil man, but this time, he turned into a Hong Kong police who's also a loving dad.
It is Gordon Lam's first time acting a role with 95% of the lines in Thai. His greatest challenge came when the director request to change the lines on set, as he would have to relearn and digest every line again, making it sound like a Thai.
All the veteran martial arts actors, including Tony Jaa, Wu Yue and Chris Collins were all trained by action choreographer Sammo Hung. Tony Jaa, who is known for his fast kicks, showcased his 360 degree single-leg jump kick in the film.
Singaporean actress, Michelle Saram, was invited to cameo as Louis Koo's deceased wife after Louis Koo caught a replay of 2000's "At the Threshold of an Era II" (创世纪 Ⅱ 天地有情) on TV where she acted alongside with him.
Behind The Scenes and Interviews
Check out PARADOX (杀破狼·贪狼) Facebook Page!
PARADOX (杀破狼·贪狼) is out in cinemas on 24 August 2017.
Cheers,



Tiffany Yong: Facebook | Instagram | YouTube
Peps Goh: Facebook | Instagram | YouTube
The Epiphany Duplet: #TheEpiphanyDuplet
*Disclosure: Invitation from Clover Films. No monetary compensation was received for the movie review.
P.S. Noticed the different coloured text? Articles written by #TheEpiphanyDuplet will be colour-coded in future to let every reader know who say what! Hope you've enjoyed reading our insights!
Epiphany: / ɪˈpɪf(ə)ni,ɛˈpɪf(ə)ni / noun / A moment of sudden and great revelation.
Duplet: / ˈdjuːplɪt / noun / 2 electrons working together, forming a bond between atoms.
|| Derived from the anagram of the duo's name, whom met through a film project acting as lovers. After which as fate would have it, couples indeed they became. And now together they bring to you staycations & travelogues, beauty and relationship tips, your one-stop-shop to all the fun things you can do with your special someone. ||
@PepsGoh: Actor || Fight Choreographer || Free Running Athlete
@Tiffanyyongwt4242: Actor || Blogger || Consultant