The Brink (狂兽) Movie Review | by The Epiphany Duplet
Recommended Audience: Fans of Zhang Jin 张晋, Shawn Yue 余文乐, Wu Yue 吴樾, Lam Ka Tung 林家栋, Janice Man 文咏珊, Jonathan Li 李子俊 and Action/Crime movie fans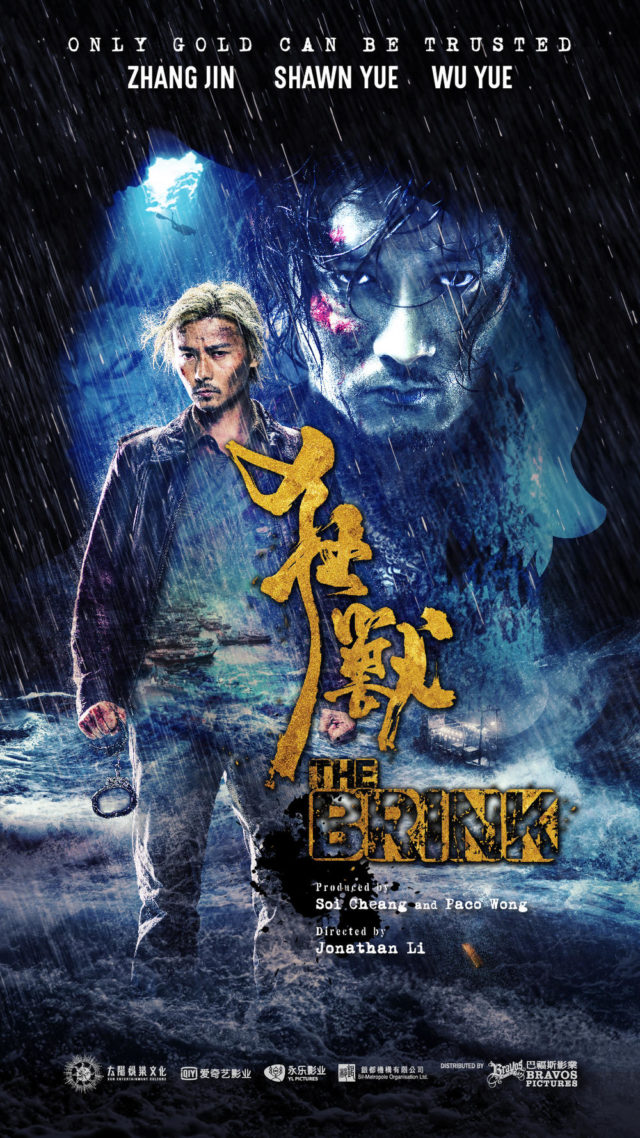 The Brink (狂兽) Movie Synopsis
Reckless police inspector Tung (Zhang Jin) is on a mission to crackdown on criminal Shing's (Shawn Yue) gold smuggling scheme, yet fails to arrest him. As Tung continues his manhunt, he discovers Shing's involvement with triad boss Blackie (Yasuaki Kurata), who hides on a casino cruise ship on the high seas.
Shing has been involved in a power struggle within the smuggling ring, and is forced to kill his adoptive father. He also loses his share of gold in the smuggle to Blackie. To get even, Shing appears on the cruise, but Tung is there to hunt him down…
The Brink (狂兽) Viewer Rating: 3.25/5 ***
The Brink (狂兽) Movie Review:
Tiffany Yong: Peps and I had a discussion few days back on what is the difference between a movie's plot and story, and I thought 'The Brink' is a perfect example of a film with a great plot but bad story. The trailer was a little too violent for my liking, but the film consist of a great cast who had some impressionable action works such as PARADOX (杀破狼 贪狼) (Wu Yue), and Helios (赤道) (Janice Man & Shawn Yue), hence I was pretty keen to see what kind of chemistry a team like this could create. 

Peps Goh: Let's start with what I like about The Brink. I think that the action choreography deserves a special mention. They had so many interesting and great ideas in the fights, and manages to pack more into each singular fight scene than certain entire movies have done before.
Their fight scenes were pretty memorable, from the stylistic and colourful opening, to the boat-to-boat-parkourish chase scene, the bomb in the market scene, the underwater fight and the finale typhoon fight scene on a boat. Each of them were so impressive that I could remember them even after watching half a dozen other films.
Peps Goh: I had been looking forward to more works by Zhang Jin ever since his phenomenal performance in Grand Master and Ip Man 3. And oh My, did he managed to deliver on both – the acting and the action. The premise of the movie is also really fresh, the story is set around the underwater smuggling of black market gold via the fishermen who usually go unnoticed. And that's the end of all that's great.
From then on, it only goes downhill. I think there's something intrinsically wrong about the writing of this film. The story follows an incredibly obsessed police inspector (Zhang Jin) who goes about his job with excessive reckless violence and brutality in pursuit of an incredibly obsessed gold-smuggling fisherman (Shawn Yue) who goes about his job with excessive reckless violence and brutality. Neither of which at any point of time, did we as audience care about. Probably because without a proper establishment of their motivations are we compelled to believe in their actions and ethics.
And the both of them aren't the only characters that don't make any sense either. The bomber girl played by Janice Man for instance, seems to be an archetype stolen and misplaced into this plot. It's a pity because these are very interesting characters performed incredibly well by the actors.
There seem to be missing scenes in the film, as there were moments where events and injuries didn't match up. One moment Tung and Shing were fighting, the next, somehow Janice Man was limping in with an injury we don't know where she got from.
Tiffany Yong: I started noticing Wu Yue's performances a little more closely after watching his touching performance in God of War (荡寇风云). He had a pretty cliche yet charming role in 'The Brink', as inspector Tung's (Zhang Jin) unfailing sidekick. He was the only one who had some sort of character development in the film, and it was also badly established. There were no logic in the snippets he appear in, one moment he's retiring due to a lottery strike, next moment it was revealed that he was actually in huge debt.
There were actually several points in the story which could have saved the film and characters by giving them some sort of character arc. One would be the young girl whom Tung acted as a guardian for, pleading him to give up on his obsession with the gold in the open sea. And there's one point in the story where Tung (Zhang Jin) could have chosen to save his superior (Gordan Lam) from drowning and given up his obsession with arresting the criminal. But the moment when the Zhang Jin character did not, both him and the plot had seemingly given up on having any possibility of having any sort of character arc entirely.
This is an action flick consisting of a fantastic cast (but sadly poor screenwriting & editing) where action-goers will definitely enjoy if you are able to overlook the plot holes.
Do You Know?
The Brink is Director Jonathan Li's directorial debut. He worked with Shawn Yue since 2005's Initial D (头文字D) and they became good friends since then.

Shawn Yue had to undergo at least 4 hours of makeup everyday because of his character outlook, and the special effects makeup caused his skin to become very sensitive. His co-actor Janice Man had to recommend him gentle makeup remover products that's suitable for him.

There were a lot of fight scenes that took place underwater and in the rain. The actors had to undergo diving lessons prior to filming. One particular scene which requires Gordan Lam, Shawn Yue and Zhang Jin to fight underwater without any breathing equipment took more than half an hour to complete. This was so because the coach in charge of the safety had to swim out of the screen and by the time he was out, the actors have less than half a breath left.
Behind The Scenes and Interviews
Check out The Brink (狂兽) Facebook Page!
The Brink (狂兽) is out in cinemas on 30 November 2017.
Cheers,



Tiffany Yong: Facebook | Instagram | YouTube
Peps Goh: Facebook | Instagram | YouTube
The Epiphany Duplet: #TheEpiphanyDuplet
*Disclosure: Invitation from Shaw Organisation. No monetary compensation was received for the movie review.
P.S. Noticed the different coloured text? Articles written by #TheEpiphanyDuplet will be colour-coded in future to let every reader know who say what! Hope you've enjoyed reading our insights!
Epiphany: / ɪˈpɪf(ə)ni,ɛˈpɪf(ə)ni / noun / A moment of sudden and great revelation.
Duplet: / ˈdjuːplɪt / noun / 2 electrons working together, forming a bond between atoms.
|| Derived from the anagram of the duo's name, whom met through a film project acting as lovers. After which as fate would have it, couples indeed they became. And now together they bring to you staycations & travelogues, beauty and relationship tips, your one-stop-shop to all the fun things you can do with your special someone. ||
@PepsGoh: Actor || Fight Choreographer || Free Running Athlete
@Tiffanyyongwt4242: Actor || Blogger || Consultant