29+1 Movie Review | by tiffanyyong.com
Recommended Audience: Fans of Chrissie Chau 周秀娜, Joyce Cheng 郑欣宜, Ben Yeung 杨尚斌, Babyjohn Choi 蔡瀚亿, Kearen Pang 彭秀慧 and 29+1 Theatre Play fans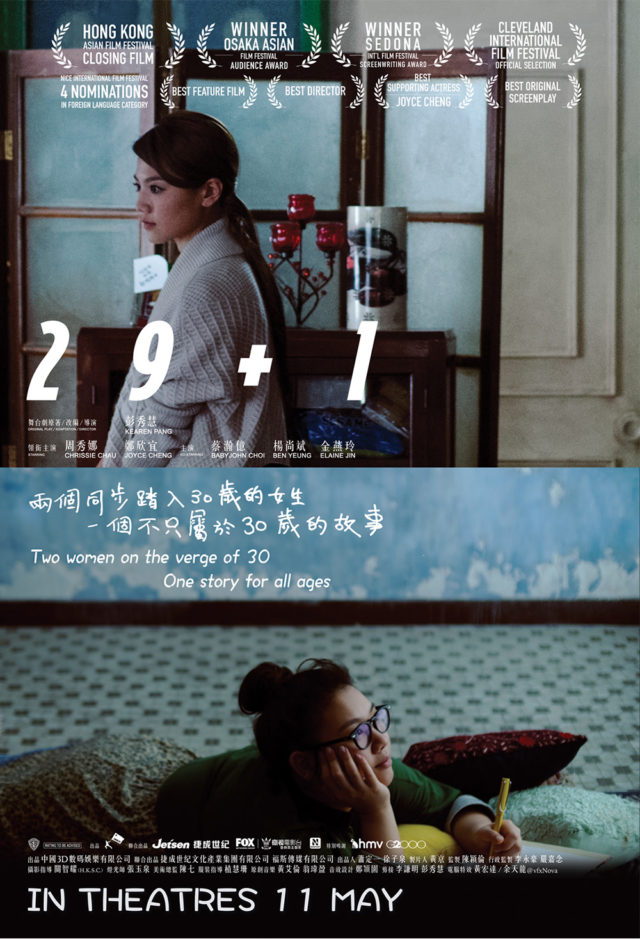 29+1 Movie Synopsis
In 2005, two women are approaching 30 years old. Christy Lam (starring Chrissie Chau) is fearful of the future as she struggles with the stress at work, her aging but annoying parents, and her seemingly stable yet stagnant relationship. On the other hand, Wong Tin-Lok (starring Joyce Cheng) has never been in love, and her job is taking her nowhere. However, she is optimistic towards life, and makes a bold decision to just pick up her bags and fulfil her childhood dream.
Christy makes a temporary move into Wong's apartment. Through Wong's diary, Christy discovers that they share the same birthday, and learns about her life. As their virtual bond grows, Wong's alternate approach to life becomes an integral part of Christy's own. Who has entered whose world?
29+1 Viewer Rating: 4.75/5 *****
29+1 Movie Review:
Tiffany: I was conflicted whether to catch this coming-of-age film (yet again) or a Thai Horror comedy when the invitation fell on the same day. Being decidophobic, I left the decision making to Peps, who chose this film (duh!). In the end, both of us left the cinema with our eyes swollen from the bawling. Honestly, I wasn't too keen to watch this movie, as it was a little too close to heart, and I was in denial that I'm actually in the exact 29+1 year old moment (very soon). 

Peps Goh: This film is something for anyone who needs help to tide over their quarter-life crisis. And also for anyone already past that, to look back in nostalgia and find deeper understanding in a time they may have felt alone in their confusion. And to remember that sometimes, the things that makes us feel the most alone, are also the same things that have the greatest potential to connect us."

Tiffany: The director is not afraid to lose the audience's attention with pauses. The pacing was varied and represents the state of mind of the characters. Most people, especially white-collared workers will be able to relate to Christy's (Chrissie Chau) routined life. The performance was flawless, relatable and very much likeable, in the case of Joyce Cheng, acting as the mysterious landlord Wong Tin-Lok. Babyjohn Choi as Wong's childhood best friend surprised us once more with his natural and heart-melting chemistry with Joyce Cheng. If his performance in Shockwave Movie was a coincidence, this time is definitely not!
Peps Goh: 29+1 is a real masterpiece in its genre. More than a sentimental tear-jerker presented in gorgeous and apt visuals, this piece tugs the heart-strings in places way too close for comfort. It both made me sit deeper into my seat wallowing in self-reflection, and also made me want to climb into the screen to have a heart-to-heart talk with the director.
A highly recommended movie for everyone!
Do You Know?
This is Kearen Pang directorial debut, turning her debut one-woman play 29+1 theatre performance (2005) into a movie. It was 12 years since she scripted, directed and starred in the play. This movie has recently been honoured with the Bill Muller Excellence in Screenwriting Award by the Sedona International Film Festival.
Both characters were played by Kearen Pang in the original theatre play, but in the movie, she used Chrissie Chau and Joyce Cheng instead.
Behind The Scenes and Interviews
Check out 29+1 Facebook Page!
29+1 is out in cinemas on 11 May 2017.
Cheers,



Tiffany Yong: Facebook | Instagram | YouTube
Peps Goh: Facebook | Instagram | YouTube
The Epiphany Duplet: #TheEpiphanyDuplet
*Disclosure: Invitation from Shaw Organisation. No monetary compensation was received for the movie review.
P.S. Noticed the different coloured text? Articles written by #TheEpiphanyDuplet will be colour-coded in future to let every reader know who say what! Hope you've enjoyed reading our insights!
Epiphany: / ɪˈpɪf(ə)ni,ɛˈpɪf(ə)ni / noun / A moment of sudden and great revelation.
Duplet: / ˈdjuːplɪt / noun / 2 electrons working together, forming a bond between atoms.
|| Derived from the anagram of the duo's name, whom met through a film project acting as lovers. After which as fate would have it, couples indeed they became. And now together they bring to you staycations & travelogues, beauty and relationship tips, your one-stop-shop to all the fun things you can do with your special someone. ||
@PepsGoh: Actor || Fight Choreographer || Free Running Athlete
@Tiffanyyongwt4242: Actor || Blogger || Consultant