Love Off The Cuff (春娇救志明) Movie Review | by tiffanyyong.com
Recommended Audience: Fans of Miriam Yeung 杨千嬅, Shawn Yue 余文乐, Jiang Mengjie 蒋梦婕, Wang Xiaochen 王晓晨, Toby Lee 李程彬, Dada Chan 陈静, Susan Shaw 邵音音, Derek Tsang 曾国祥, Pang Ho-Cheung 彭浩翔 and romantic comedy movie fans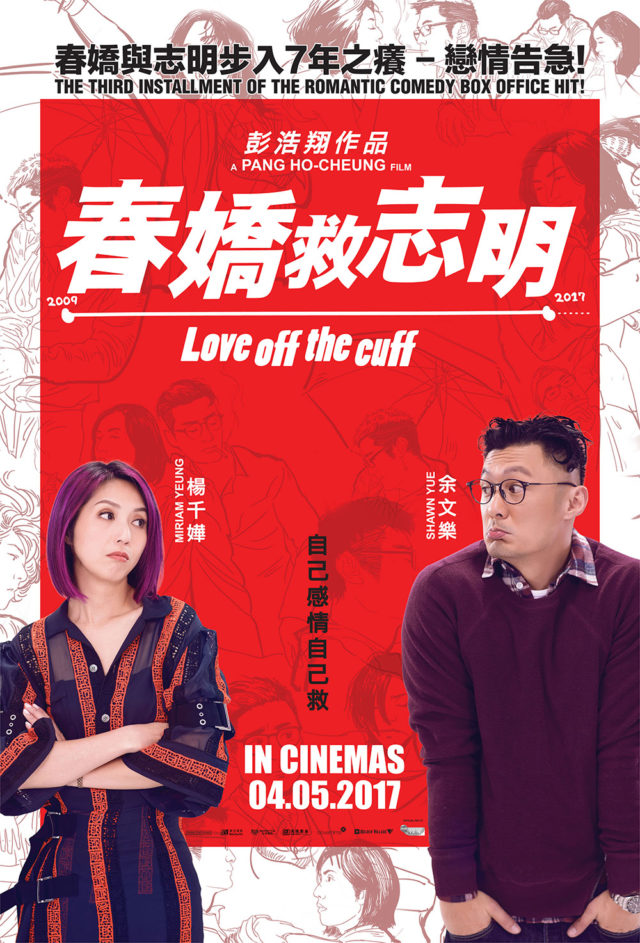 Love Off The Cuff (春娇救志明) Movie Synopsis
Shawn Yue and Miriam Yeung reprise their popular roles as Jimmy and Cherie in this third instalment of the romantic comedy Love in a Puff.
Back together since Love in the Buff, Jimmy and Cherie strive to stay together happily ever after. But the shocking news of Cherie's philandering father marrying a girl younger than herself does not make things any easier for Cherie…
Love Off The Cuff (春娇救志明) Viewer Rating: 3.75/5 ****
Love Off The Cuff (春娇救志明) Movie Review:
I vaguely recalled watching these 2 actors on a movie before, but it had never interest me as Miriam Yeung and Daniel Wu had always been one of my top all-time on-screen couple for over a decade. Thanks to Clover Films, I got a chance to catch the third instalment of the trilogy and I was surprised how easily it was, for me to relate and feel for the characters even when I haven't watched the previous 2.

Peps Goh: The visuals was one that stood out to me just a minute into the movie. This whole film seems to be shot almost entirely on a tilt shift lens, bestowing it a dreamy yet peculiarly immersive feeling. And it is surprising to me how a lens initially designed to shoot architecture can be utilised to reel these characters in and create a more relatable aesthetic, pulling them closer and sharper into focus for the audience.
That, and how they presented the HongKong cityscape in a perspective that is rarely done, and with it, the establishing shots that would otherwise be passé, over-done and pretty much lazy film making, is turned into fresh and pleasant treats to the eyes.
Tiffany Yong: The "out-of-the-world" UFO observations and the outlandish singings aside, the movie is a heartfelt piece of work (without comparing with the previous works). The insecurities, tiffs and disagreements were very relevant, and given that I am currently in a similar relationship as Jimmy and Cherie, it felt almost as if the director was forecasting a potential future I might be facing. The worries and self-doubts are all so real that I got sucked into Cherie's emotions in a short time.
Tiffany Yong: Audience familiar with the Hong Kong entertainment industry will see many interesting cameos, from taxi-driver, to hair stylist or even passer-by. The writer-director threw different obstacles in the way of the couple and it was introspective to watch how they viewed and dealt with each problem differently. At the same time, amidst their subliminal problems, I appreciate how the director took time to highlight moments when the couple noticed the little things their other half do for them.
What surprised me was the finale confession song, a slightly crude song which made some laughed, and made me cried my eyes out. It was undeniable that the veteran actors were great, for all it took was a simple line, a quick glance and the audience could get the message immediately. If you are in a relationship, this is a great opportunity to watch the movie with your partner and discuss how you would have reacted to the events. And no, you won't have to catch the first two to understand this film, as it's super relatable, but watching them will probably make you appreciate the movie so much more!
Do You Know?
The film uses and cast fans of the series as extras. The director wanted to give everyone a chance at a reunion for the third film, and decided to put together Cherie-Jimmy Fan Club for the fans to join the shoot. Pang received applications from fans in China, Taiwan and as far as Malaysia. These fans even traveled to the set on their own dime just to appear in a single scene. Organizing this took longer than just hiring extras, but it created a wonderful memory for everyone.
Love Off the Cuff is the third instalment, with Love in a Puff and Love in the Buff being the first and second. Like the previous two, the film begins with a frightening prologue. This is the first time that the trio has worked with the same characters three times.
Miriam Yeung was excited at the opportunity of working with Paul Chun because he also played her father in her first television series as lead actress. This film's style requires everyone to act naturalistic in front of the camera, but the script doesn't go into Cherie's relationship with her father. I was worried that I wouldn't know how to act it out. Once I learned that Paul is playing my father, it felt like a long overdue reunion after spending many years away.
The original dog that played Follow has passed away, so another dog had to be cast in the role. Director Pang Ho-Cheung was so pleased with the new Follow's performance that he added scenes for the canine. "He was amazing in that he could repeat the same action in the same spot multiple times," Pang says, "After every take, he would come to the monitor and watch the playback like a real professional. What I love the most about him is that he doesn't offer any comment and just quietly return to his spot afterwards. I think that's the kind of attitude that all actors should adapt."
Behind The Scenes and Interviews
Check out Love Off The Cuff (春娇救志明) Facebook Page!
Love Off The Cuff (春娇救志明) is out in cinemas on 4 May 2017.
Cheers,



Tiffany Yong: Facebook | Instagram | YouTube
Peps Goh: Facebook | Instagram | YouTube
The Epiphany Duplet: #TheEpiphanyDuplet
*Disclosure: Invitation from Clover Films. No monetary compensation was received for the movie review.
P.S. Noticed the different coloured text? Articles written by #TheEpiphanyDuplet will be colour-coded in future to let every reader know who say what! Hope you've enjoyed reading our insights!
Epiphany: / ɪˈpɪf(ə)ni,ɛˈpɪf(ə)ni / noun / A moment of sudden and great revelation.
Duplet: / ˈdjuːplɪt / noun / 2 electrons working together, forming a bond between atoms.
|| Derived from the anagram of the duo's name, whom met through a film project acting as lovers. After which as fate would have it, couples indeed they became. And now together they bring to you staycations & travelogues, beauty and relationship tips, your one-stop-shop to all the fun things you can do with your special someone. ||
@PepsGoh: Actor || Fight Choreographer || Free Running Athlete
@Tiffanyyongwt4242: Actor || Blogger || Consultant