Our Sister Mambo Movie Review | by tiffanyyong.com
Recommended Audience: Fans of Michelle Chong, Moses Lim, Audrey Luo, Ethel Yap, Oon Shu An, Joey Leong, Siti Khalijah Zainal, Jonathan Leong, Nelson Chia, Rani Singam, Muhammad Mahfuz Mazlan and Shankara Ebi and comedy movie fans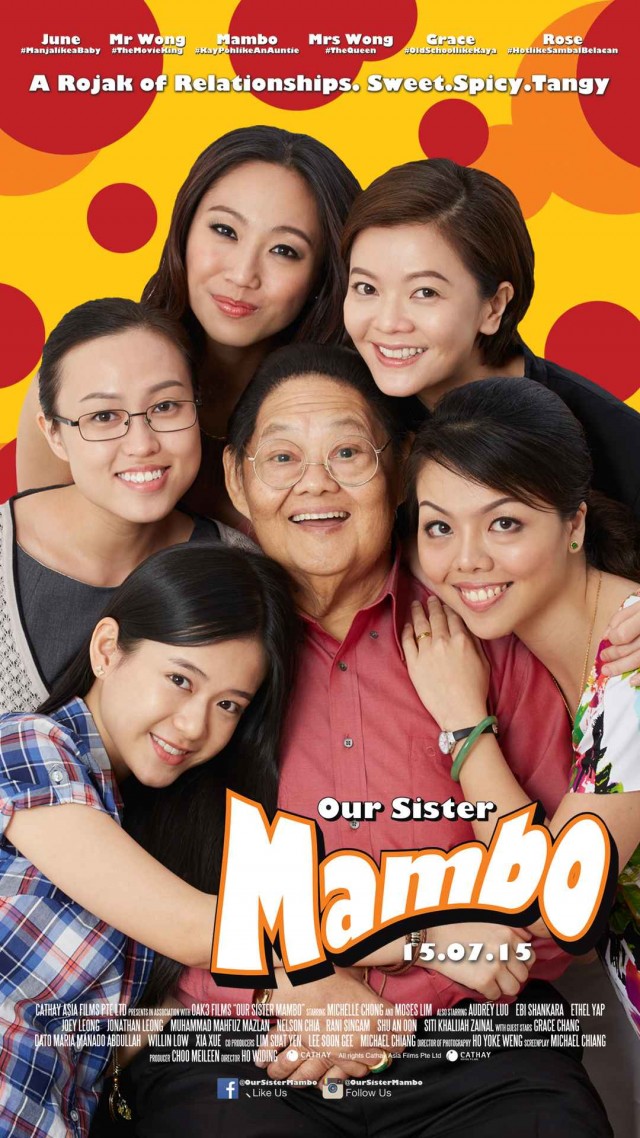 Our Sister Mambo Movie Synopsis
Set against the backdrop of modern Singapore, Our Sister Mambo follows the well-meaning efforts of the spritely second daughter, Mambo (Michelle Chong) to get her sisters – big sister Grace (Ethel Yap), third sister Rose (Oon Shun An) and baby sister June (Joey Leong) hitched, with hiccups and misunderstandings along the way. Find out how Mambo, with the help of her BFF Siti (Siti Khalijah) tries to steer things back on track.
Our Sister Mambo Viewer Rating: 3.5/5 ***
Our Sister Mambo Movie Review:
Singapore's local Our Sister Mambo is a sweet and straight-forward comedy, quite different from the typical Jack Neo films we often watch. I won't say that it is a must-watch, but this is definitely a film close to heart, where you can't help but laugh at the familiar antics common in typical Asian family.
It's fun to be seeing veteran comedian Moses Lim back on screen, and this time, he formed the Wong family with a group of fabulous ladies with his wife (Audrey Luo) and his four daughters (Ethel Yap, Michelle Chong, Oon Shu An and Joey Leong). I wasn't exactly looking forward to film, as I know that it was a film commissioned by Cathay, and it would most probably be boasting the achievements and milestones of the Cathay, something I was quite familiar with after joining the Cineleisure's Next Online Sensation few years back.
Well, I wasn't exactly wrong, Mr Wong (Moses Lim) plays an old employee of Cathay who loved to ramble about Cathay's past triumph (I nearly thought he was the boss himself!), but I was impressed how screenwriter Michael Chiang limits their branding story to Mr Wong, and prevent the film from developing into an "eye-rolling" corporate film.
Aside from that, I love how the characters were so relatable, dynamic yet amusing. Each sister has their own unique characteristic which I can go on and on about here. The eldest sister, Grace (Ethel Yap) with China boyfriend (Nelson Chia) make the oddest yet loveable couple. I like how Nelson was able to do his amusing china accent without being offensive. Third sister Rose (Oon Shu An) is the sexy and playful one who hops from one "ang moh" (Caucasian) boyfriend to another. While her love story ain't the most interesting, her "make-up tips" is definitely something everyone should learn (or not!).
The youngest sister June (Joey Leong) and her romantic encounter David (Shankara Ebi) has the most unexpected story revolving around them. Yes, I mean his mum, her mum etc. Surprisingly, my favourite character is deadpan Mrs Wong who loves Korean drama (like my mum), yells at her daughters (like my mum), likes to do selfies (like my mum, occasionally) and couldn't help but want to worry about her children's love life and career paths (TOTALLY like my mum!) She nailed the role and I can't help but find her likeable.
I guess what I enjoyed about this film was how it managed to capture a typical Singapore family who dared to make brave choices by choosing the unpopular path. When the second sister Mambo (Michelle Chong) quits her lawyer job to become a chef apprentice, her mother went crazy. But her friend was envious of her for doing what she love. This was almost deja vu~ something I recalled seeing when I chose to quit my full time job and went into full time acting and blogging.
I was so touched, when Siti (Siti Khalijah Zainal) who secretly wished to be a singer finally fulfilled her little dream of performing in front of an audience during the Cathay 80th Anniversary event. I like how Siti was so expressive and managed to talk with her expression! It wasn't just the nostalgic "Ja Jambo 說不出的快活" song originally by 葛蘭 Grace that she sang, but the happiness from both Siti and Mambo when they realised that they have both somehow took a step closer towards their dream. If you are feeling lost, or just hope for some laughter, Our Sister Mambo is definitely a good watch 🙂
Do You Know?
Our Sister Mambo is a project by Cathay Organisation marking the 80th anniversary of the film distributor and exhibitor, loosely adapted from the Cathay classics Our Sister Hedy, a 1957 Hong Kong production about a middle-class family with four unmarried daughters and The Greatest Civil War On Earth (1960). It is also Cathay's first big-screen production in 15 years starring Singaporean favorites Moses Lim and Michelle Chong as a father-daughter pair.
38-year-old Michelle Chong who stars the role of Mambo, second sister of the Wong family is 6 years older than her on-screen mother, Audrey Luo and 11 years older than the eldest sister Grace, played by actress Ethel Yap.
It wasn't the first time for Audrey Luo to play an older character, but the role of Mrs Wong is the oldest character she had played to date. The 32-year-old has to act as someone in her 50s. In order to play a character who is K-pop crazy, love selfies and a typical stern Asian mother, Audrey used her mother as inspiration who is also a Cantonese.
Singapore's famous blogger, Xiaxue cameoed in the movie as herself who appreciated Mambo's cooking and wanted to invite her to guest speak for her new show.
Behind The Scenes and Interviews
Check out Our Sister Mambo Facebook Page!
Our Sister Mambo is out in cinemas on 15 July 2015.
xoxo



Facebook | Instagram | Twitter | YouTube
*Disclosure: No monetary compensation was received for the movie review.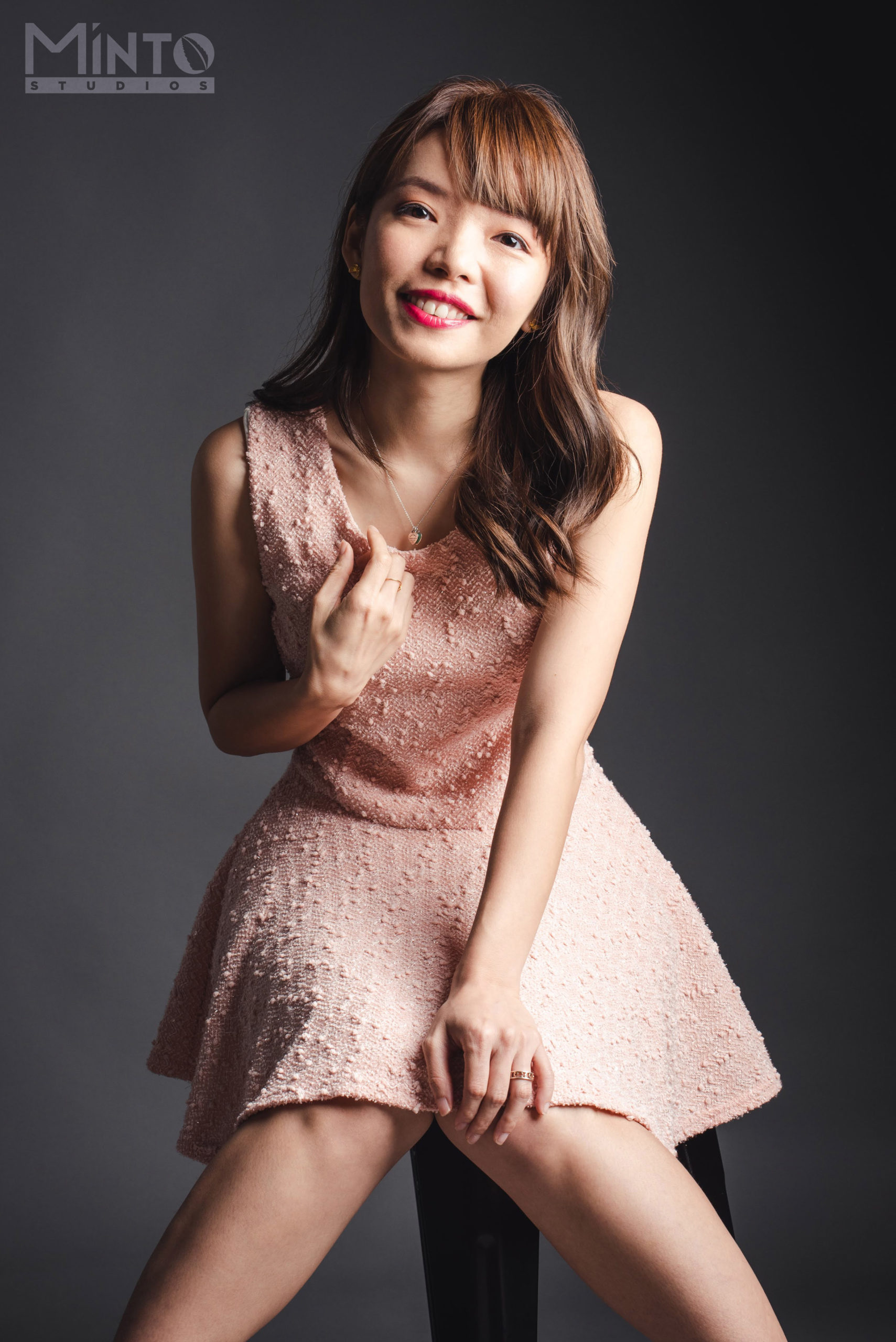 1/2 of #TheEpiphanyDuplet, Tiffany Yong juggles her ABCs – Acting, Blogging and Coaching/Consulting as she is fuelled by passion and drive to succeed.
It is not easy to make a living in Singapore just purely based on Acting, so with Blogging to help her with her online presence, and Coaching kids drama, private tutoring and freelance social media consulting to finance her life, she is currently leading the life most people hope to have: Living the Dream!