A Rendezvous affair with Nasi Padang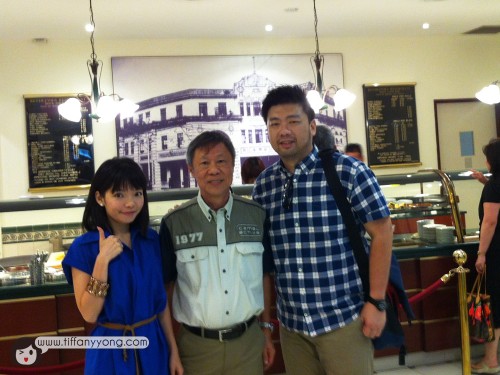 This is not a restaurant at Rendezvous Hotel (in case you are as blur as me :P) but a restaurant at The Central, Clarke Quay MRT Station. It was once at that hotel though… This wasn't my first time visiting the restaurant, I remembered visiting this place in 2011 around late August after a company photo shoot. Thanks to streetdirectory.com, I get another chance to taste the delicious dishes again!
I always wonder why is the restaurant called Rendezvous? and how is it linked to Nasi Padang?! So here's the story…
Rendezvous Restaurant Hock Lock Kee's history began more than 6 decades ago, when it started as a small coffee shop in Bras Basah Road which soon became a very popular meeting place for the thousands of British troops stationed in Singapore then. The name Rendezvous which was coined for the convenience of these patrons has become a household name that is synonymous with Nasi Padang. (Basically, Ang Moh cannot read/ pronounce Malay words well, so a cheeky word will definitely make them remember!)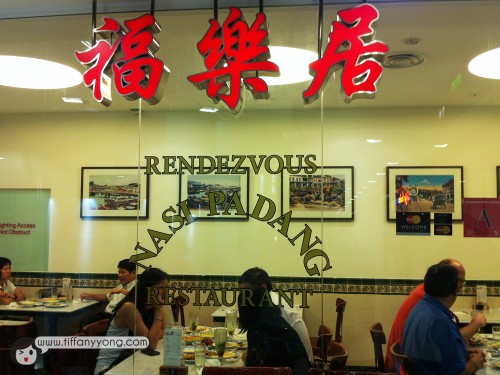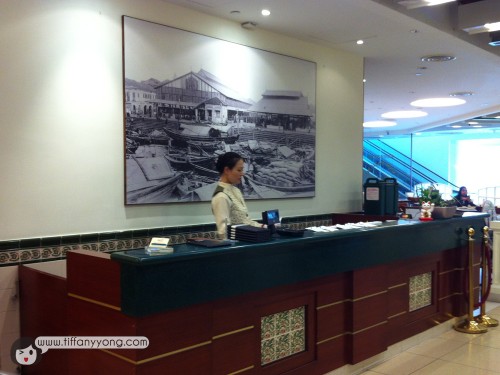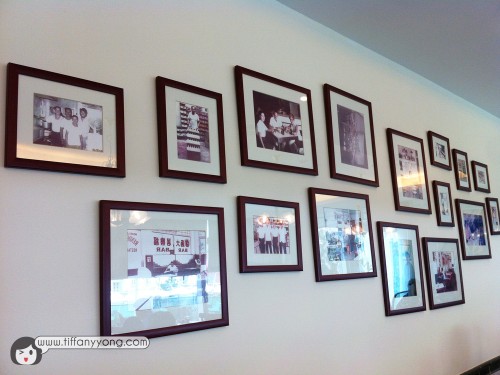 In the modern shopping mall, the setting of the restaurant sets a huge contrast with its old-school environment with the restaurant's Peranakan-style floral wall tiles, granite-top tables, heavy wooden chairs and monochrome photos. If you love taking photos, here's a place where you can click your shutter non-stop.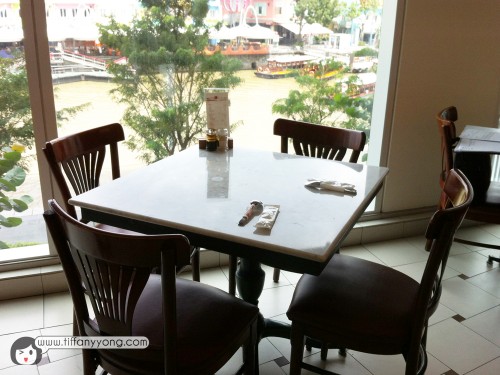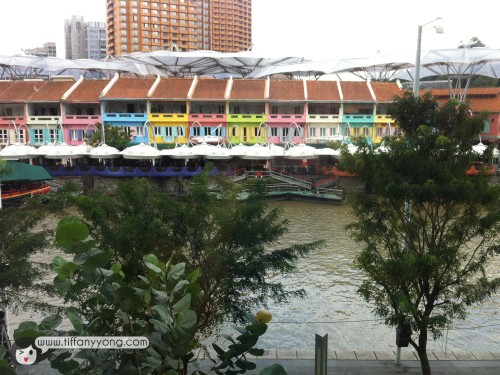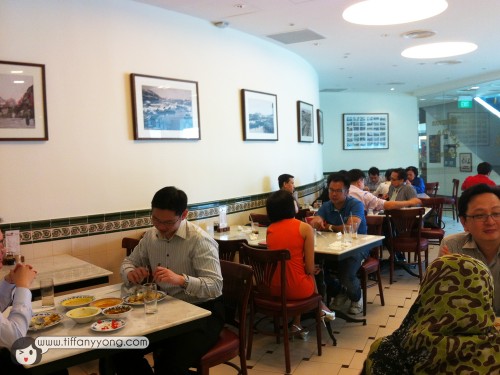 What's for lunch?
Famous for their authentic Indonesian style Nasi Padang, you will be spoilt for choice as the menu features an array of curry, rendang and sambal items to complement white rice. I was glad that I do not have to make any choices (I can have a bit of everything! Yea!)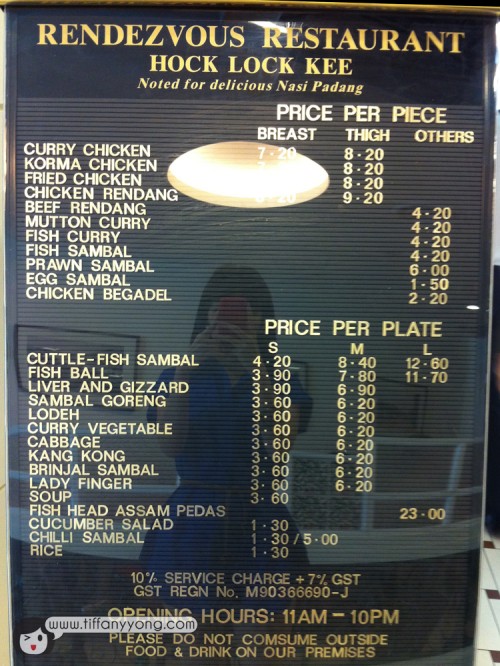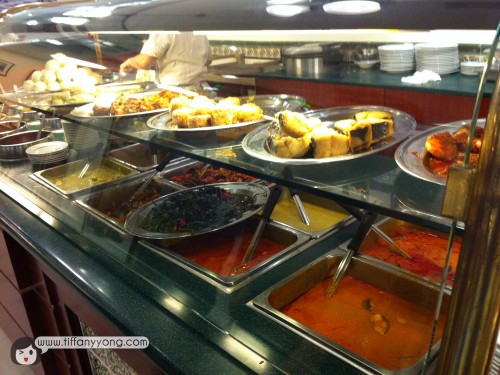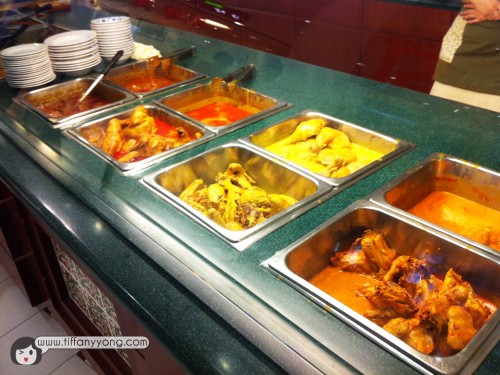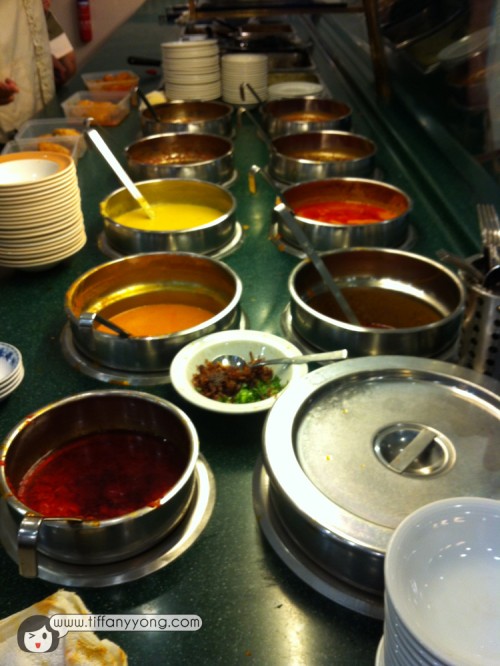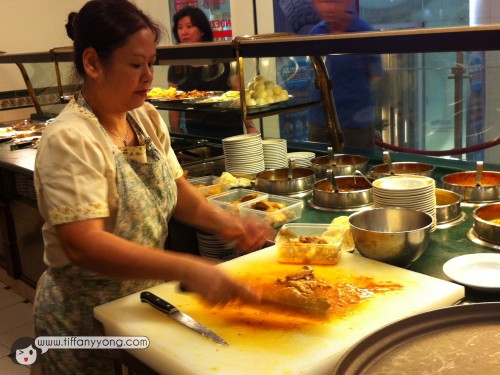 Here comes the food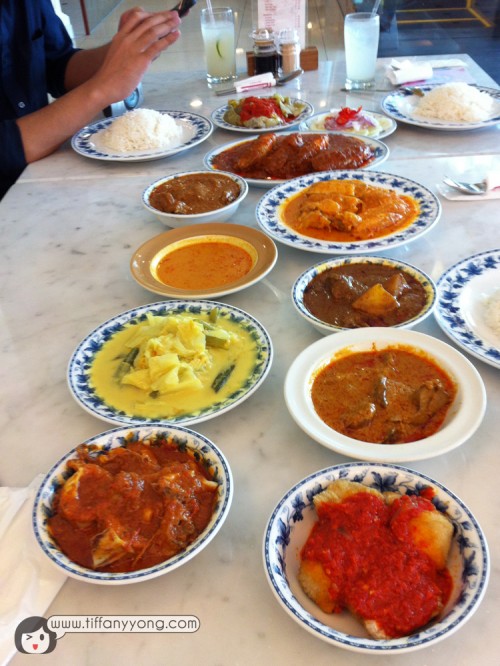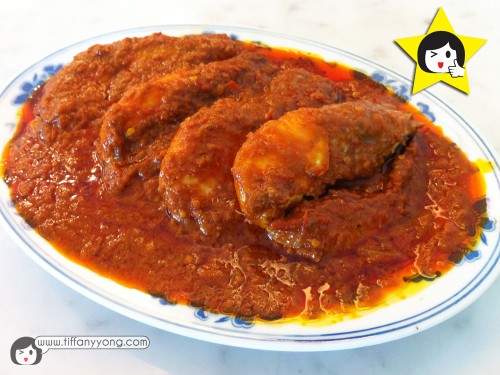 BIG, juicy, firm and fleshy! The prawn was astoundingly huge, and if you are thinking it's big just because of the food review, the photos about should prove it all. The dishes were all prepared beforehand, and the boss basically serve everything from the front counter. I usually avoid eating prawns if I have to de-shell them myself, because the prawn meat is left with almost nothing when I de-shell it. But for Rendezvous' prawns, we can all see that my worry was undue. The savoury sambal even made me feel like wanting another plate of rice!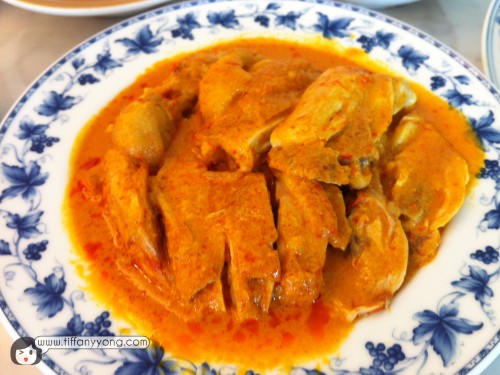 The chicken was tender and easy to separate from the bone, so if you are worried that you will need your fingers, fret not. The curry is a little more watery as compared to the others, but you won't have to worry about the spiciness!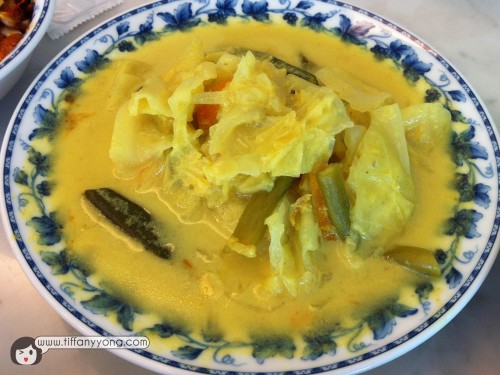 Vegetables to balance the meal! I'm quite particular about curry vegetables as I like the cabbage to be really soft and soak with curry, while the long beans can't be overly cooked. Well, it scored 9/10 for my tastebuds.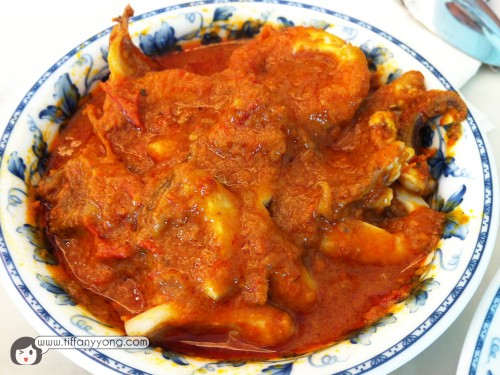 Yum yum! Seafood lovers, that's your dish! The cuttle fish is thick, big and fleshy. So it's definitely worth the money. What's more, the yummy sambal went perfectly well with my rice. Another plate of rice please!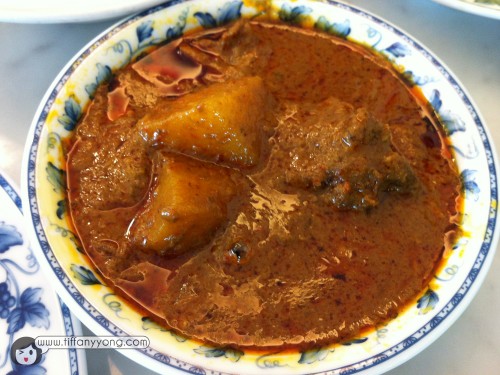 This is a popular dish in Rendezvous. Apparently, the beef was cooked for more than 3 hours in rendang and it was neither too soft nor too tough to be juicy and heavily suffused with the spicy gravy. I don't take beef, but the thick gravy looked irresistible, so I took a sip of it. It was a tad spicer than the rest, but I love it. If only the chef could cook it without beef. 🙁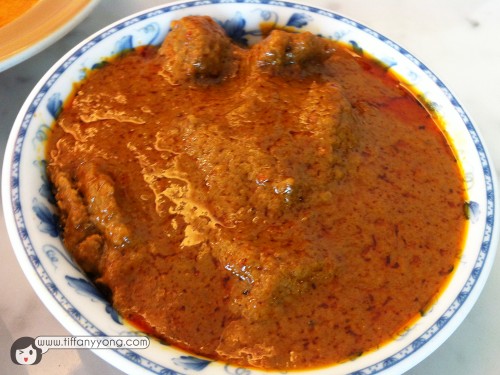 I rarely eat mutton curry as it's usually pricer, and I was unlucky enough to experience the weird mutton odour in my previous dishes. But for this dish, Rendezvous added a special blend of spices to mask the unpalatable smell. I was glad the meat was not chewy but soft and parts upon biting.
Boss's recommendation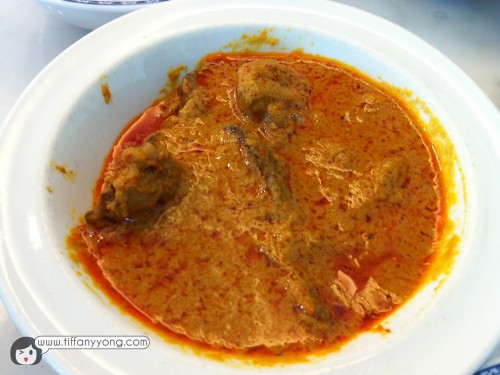 This is Mr Seah's personal favourite and he kept telling me how he love it despite it not being the public's favourite. So with its usual rich, thick and creamy curry, the chicken liver is a tad tougher and denser than a 3/4 cooked pork liver. But it doesn't have the weird bloody taste (like pork liver) in case you are wondering. I would recommend this if you want to try something out of the norm (that is chicken, beef, mutton and fish :P).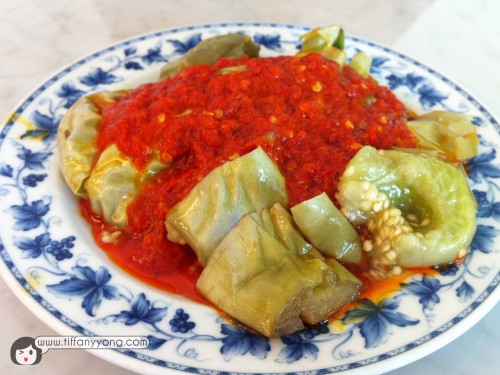 Looks spicy but not spicy. Many people don't like brinjal but I love it. So basically, pick what you like, and enjoy it!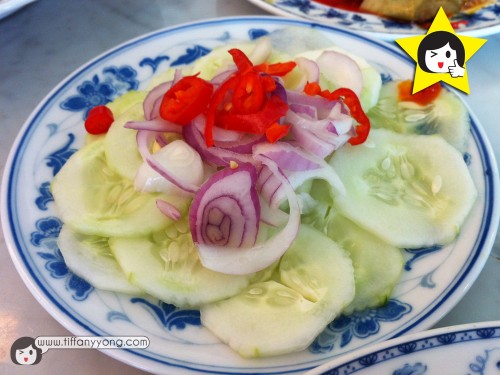 This is very much like an appetizer. I thought it was just cucumbers with some onions and red chilli on top initially, but when I tasted it, my eyes literally lit up! Lightly pickled, the crispy cucumber is a little sour, a little sweet and VERY delicious!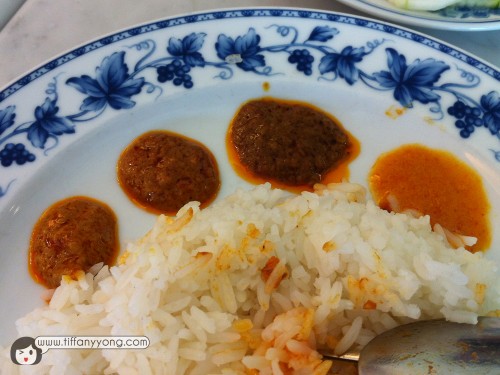 My Little Conclusion
I am a spice lover (which explains for my acne problems) and I think many people might be deterred by the looks of the photos (I think they look delicious and appetizing though). But trust me, these dishes are not spicy at all, I was a teeny weeny bit of disappointed, but it is really suitable for the young and old. So don't judge the curry by its colour!
What's Customers' Favourite?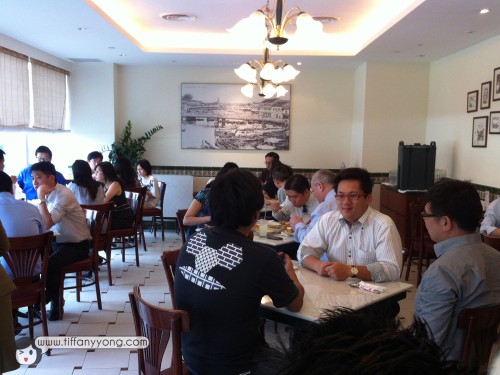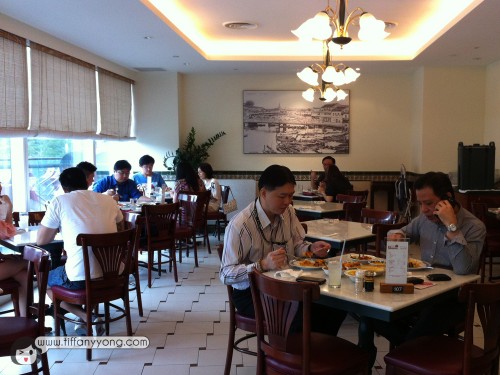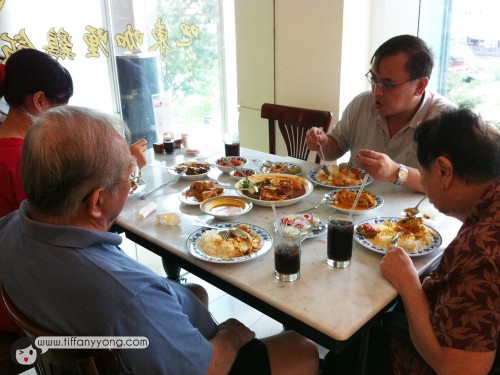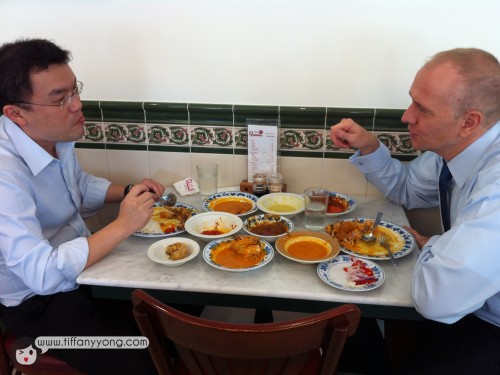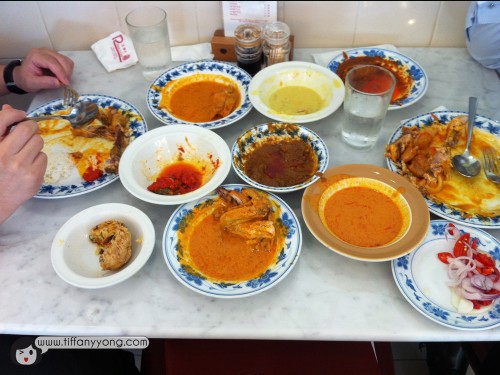 Everything's gone! Even the pickled cucumbers!
DO YOU KNOW?
There were many celebrities and famous politicians who loved Rendezvous' Nasi Padang. According to Mr Seah, Bruce Lee and Minister Mentor Lee Kuan Yew used to visit the restaurant before he became the minister. Even when he became the minister, his late wife would also buy take-aways for him. Others like Malaysia's former Prime Minister, Mahathir bin Mohamad and Indonesia's former president Megawati also dined at Rendezvous!
10% of your bill when you flash this picture at the Chengdu Restaurant @ 133 Tyrwhitt Road!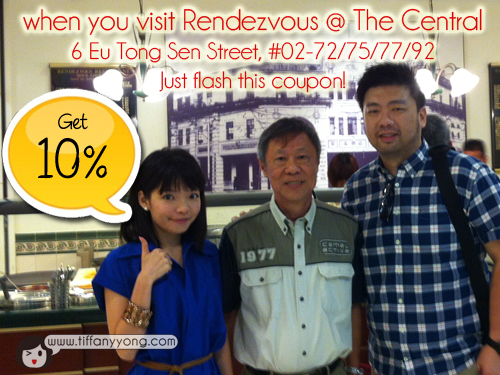 福乐居Rendezvous Restaurant Hock Lock Kee is at:
6 Eu Tong Sen Street
#02-72/75/77/92 Central
Tel: 63397508
Do visit Rendezvous Restaurant Hock Lock Kee's official website for more information!
xoxo




Disclaimer: Please be rest assured that even though the food were sponsored, it does not have any bearing on the content of this post. Opinions stated are genuine and honest.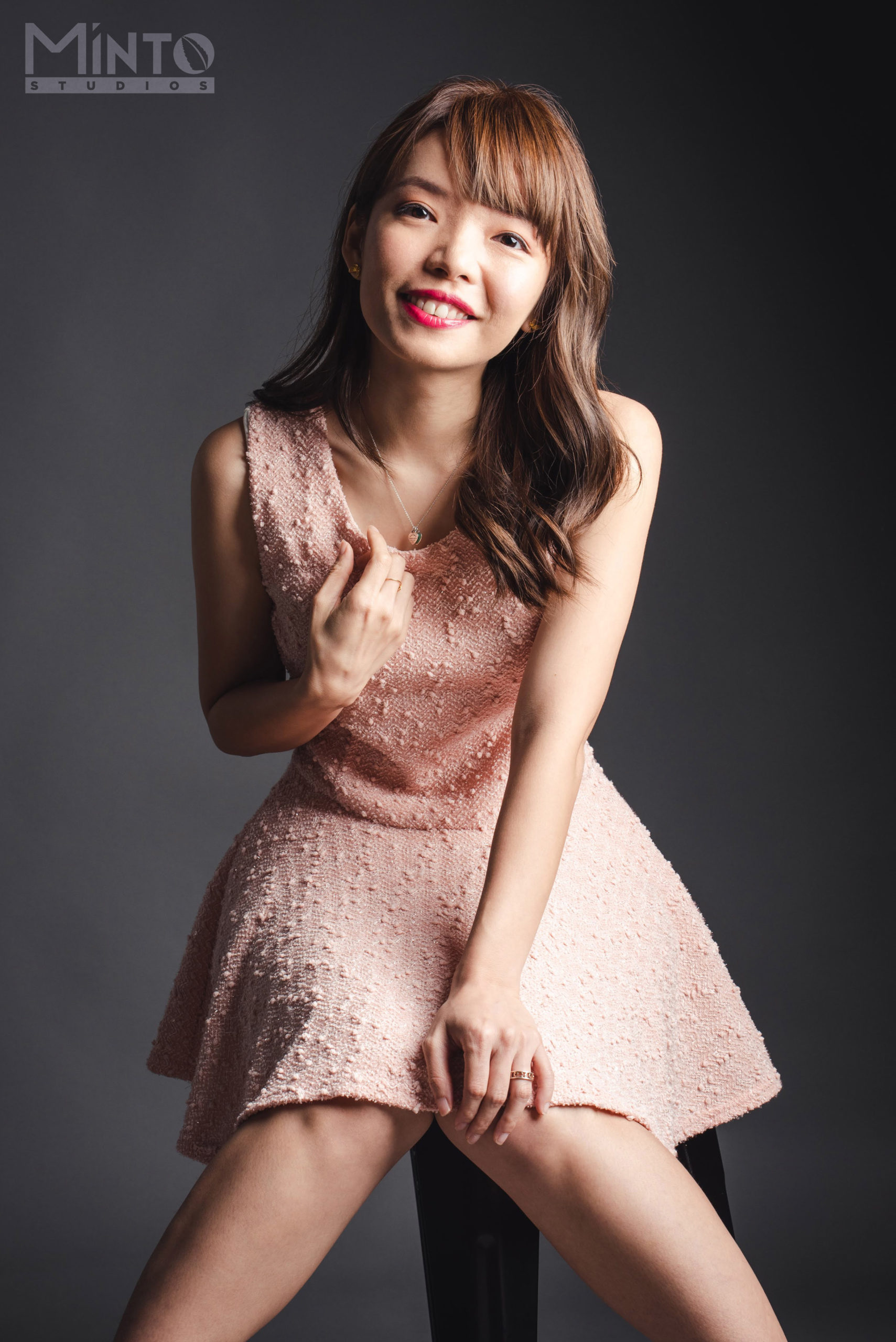 1/2 of #TheEpiphanyDuplet, Tiffany Yong juggles her ABCs – Acting, Blogging and Coaching/Consulting as she is fuelled by passion and drive to succeed.
It is not easy to make a living in Singapore just purely based on Acting, so with Blogging to help her with her online presence, and Coaching kids drama, private tutoring and freelance social media consulting to finance her life, she is currently leading the life most people hope to have: Living the Dream!