Experiencing Betrayal: When Love Gets Too Crowded
My bestie messaged me early this morning (with an angry or anxious tone) and ask me if I know someone by the name of Zoe Raymond, a supposedly very famous blogger. I say no (since I'm rather new in this blogging industry), and she wanted me to go google about Alvin & Yuki.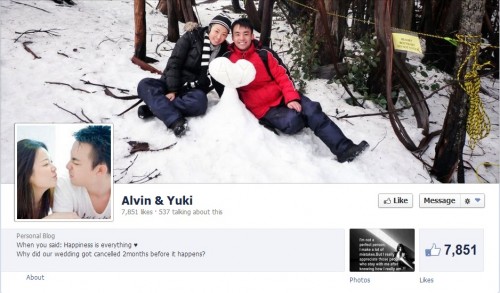 So I found their Facebook Page, and my heart went cold. So I'm not the only one. I guess I knew it all along that I was never the only one to be betrayed. But my heart went all the way out to Yuki. I shared the FB page without liking it, because… to me, it's not something to be "liked". I wrote: "一个让我感同身受却不能按"赞"的网页。
原本以为愈合的心再次又被撕开的感觉。同样的时期,同样的遭遇,同样很痛很痛。
虽然不认识你,但我相信,如果我们遇见彼此,应该会抱着大哭。
除了谢安真的"要勇敢!",还是要勇敢。"
Yuki is really brave… and she had sisters who are willing to go all the way out to help her, be it stalk ZR, or to help her during the confrontation. She is really brave… to share this all. I once thought I was brave… but she's braver, because she dare to do all the things I wanted to do but never had the courage to do.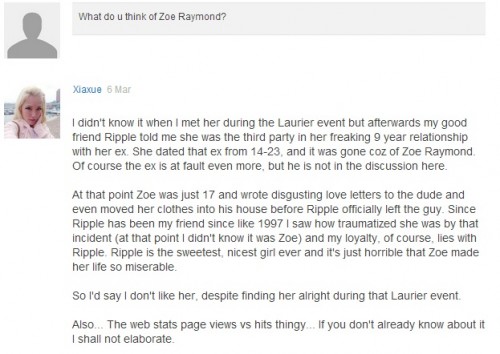 Many of my friends have heard of my story, especially those who asked me questions like, "How do you get so slim?" or even "How did you get to join all these MV filming and hosting stuff?" Some heard the gist of it, some heard a portion of it, some (the unlucky ones who had hours with me) get to hear the whole story…
I decided, that I should stand up for once, and share my story… hopefully, this is help whoever is in the same situation as Yuki or me to stand up. I also hope this story can help Yuki to stand up too…
Here's my little story
I was with him, shall call him G, for 4.5 years. On our third year, everything was still fine and sweet, occasionally squabbles like every couple, when one day, I start noticing him on the phone more and more frequently when we were working together (at roadshows). Then the sudden "disappearance" till late night without notification started. Call it sixth sense, but I was never the type to check his phones etc, but when he started not answering his calls, not at home when I call till 3-4am (which had NEVER ever happened before), I started getting suspicious.

So here comes the third party, whom he knew through gaming, whom KNOW about my existence. We finally broke up, when I saw an email notification saying he bought 2 tickets to Night Safari Halloween on the day we were going to the Spooktacular Sentosa under the invitation of OMY. I cried on my way there, and he insisted that it was a treat from the girl (when I asked him why was he spending $50 per ticket on someone else besides his gf) and that it was a group outing. (HA, do you think I'm idiotic enough to believe that?)

On the day he was going, I plead, cried for him not to go, but he said nothing was going to happen and they were really just friends. (In the end, I found out that they were actually friends with benefits from then on- Hotel bills came in, photos of gifts on beds etc). Even till the day he asked her to be his gf, (just 5 days after breaking up, and we were still working tgt), I couldn't sleep at night and went to his house at 6am in the morning, from Seng Kang to Clementi… he insisted they were still just friends, but the girl admitted that they were together. I saw messages describing their kisses and hugs and my whole world crashed. They had gotten together on our monthiversary date, and it was just 2 months after our 3rd year anniversary.

Skipping all the emo period… That girl dumped him after a few months, and he tried to come back to me. But the trust was gone. I gave him a chance, because I loved him. But I was shocked when I saw what he told his friends during the period of time when he was trying to salvage the relationship between the girl and him. He told the girl's friends, that I was forcing him to patch back, by slitting my wrist, and making a mess in his house. When I double-checked with our common male friends, and took a picture of my wrist as a proof, the male friend said, he managed to stop me from slitting. I might have love him a lot, but never enough to kill myself.

After 11 dramatic months, in 2012 January, just a day before my birthday, something told me something's not right. I checked his phone when he went for his shower, and I discover a brand new third party. Thunderstrucked. I confronted, he tried denying, followed by him apologizing, pleading, kneeling down, hitting himself, crying… my heart felt numb. I gave him another chance. again.

He went to the extent of buying a pair of tickets to Hong Kong to celebrate Valentine's Day.

He told me that girl was his colleague, and when I found out that he changed the girl's number to a male's name, I went hysterical again. This time, he threw his iphone down the HDB, saying that the phone is the cause of the trouble. I went down to pick it up, and it was surprisingly still working, with a cracked screen. But he changed his phone and we quarrelled over it. He was supposedly attending his company's BBQ and had invited me. But because of the quarrel, I did not go. I had the same image-less nightmare like 1 year ago, waking up in sweat… He was uncontactable for 18hours.

I went to his house again, his uncle answered the call and said he was sleeping. I was relieved and was planning to do the apologizing for throwing tantrum. But when I reached his house, his room was locked and he hadn't been home the whole night. His grandma said he went out late at night again the day before after coming home for dinner.

No answers fom 7am till 12noon, I was worried if he had met any accident, I went from threatening to call the girl to pleading him to answer. I did not have any of his colleagues' contact. I start searching for any contact list, and what I found was a thumbdrive full of a girl's fat but skimpy + near naked screenshots and messages. Same methods, flowers made into heartshape, messages promising till death do us part…Some of them were dated my birthday, after I went home.

He finally came home, reeking of alcohol. He said he got drunk at his colleague's place. To believe or not? I don't know. I wanted him to call the girl immediately to break it off if he still want to be with me. He hesitated. But in order to patch back, he did, switching the call to speaker mode.

Girl: "hello, G?"
Me:"Who are you?"
Girl: "Errr… his colleague?"
Me: "Don't you know he has a girlfriend?"
Girl:…
G: "Erm, we cannot meet anymore."
Girl:??? Ok…
Call ends.

After this drama, he went overseas for a business trip for a week. Over this one week, something made me call the girl.
Girl: "喂?是谁啊?怎么不说话啊?"
It was not the same girl at all. The third party was china girl, and the "colleague" who answered the phone was a Singaporean.

I really don't know what to say, but he returned a changed person. He couldn't be bothered with me, he didn't want to meet me. And 2 weeks later, after much pestering, he finally met me and said, he didn't love me all along.

He know later on that he was actually attached, and they got together just shortly after he got back from his trip. This girl, was the girl who sold him the hair loss treatment package, and I was the one who convinced him to sign up for it. What an irony.

When I got the news of him getting married, and saw the wedding photos, I broke down. I thought it was just a proposal like with the first girl. (He actually proposed to the first girl when they went to Taiwan, less than 3 months of being together) One week before his wedding, the girl added me on Facebook. I was shocked. I thought the girl was innocent. I didn't want to blame the girl for my relationship failure.

I was trying my best to let go, and God (be it Buddha, Allah, Jesus or whichever Angels protecting me) showed me a path. I was chosen as one of the contestant for Cheryl Wee's Happy Shiny People Contest, the winner gets to be the male/female lead of her MV. I won the contest, and acted in the MV. I was lucky. Really lucky.

Then, in September, just one day before our supposedly 5th year anniversary if we were still tgt, the wife came and followed me on weibo. Thinking I won't know it's her since she removed her display pic. But what an idiot. I decided to give her a message.

She got furious and messaged me about how she's the wife recognised by law, and how I am the one who cannot get over everything. Hmmm…
I called him, for the first time after 7 months… and asked him to stop his insecure wife from stalking me. He spluttered lamely, trying to find excuses of how my message "popped up" (Hey idiot, messages don't POP Up unless you follow them!)

And apparently, some of my friends told me that he lied to her about how he "settled" me, when it was the other way round. Sigh, I'm really glad I'm not the insecure one and not the one being lied to now.

Then I also found out, she's pregnant and it was a shotgun marriage hidden under wraps. G's best buddies since high school, supposedly his best mates if we got married weren't invited to his wedding. All of our common friends were blocked from his fb, and people who knew he was getting married, thought the bride was me.
I'm not saying that I'm completely fine, I don't think I will ever be, but I just hope to tell all the girls and guys who were betrayed by their partners, whatever religion you have, god or faith will open another door for you. I didn't believe it, until all these happened to me.
Never EVER take your own life, because there are so many people out there who can't live a second longer even when they want to.
As for those 小三, or in my case 小四, I know people keep saying how all these relationships won't last, I'm not sure how true that is, but I think karma will have its turn on you.
*Update: My answers and replies to the questions posted here
YOLO,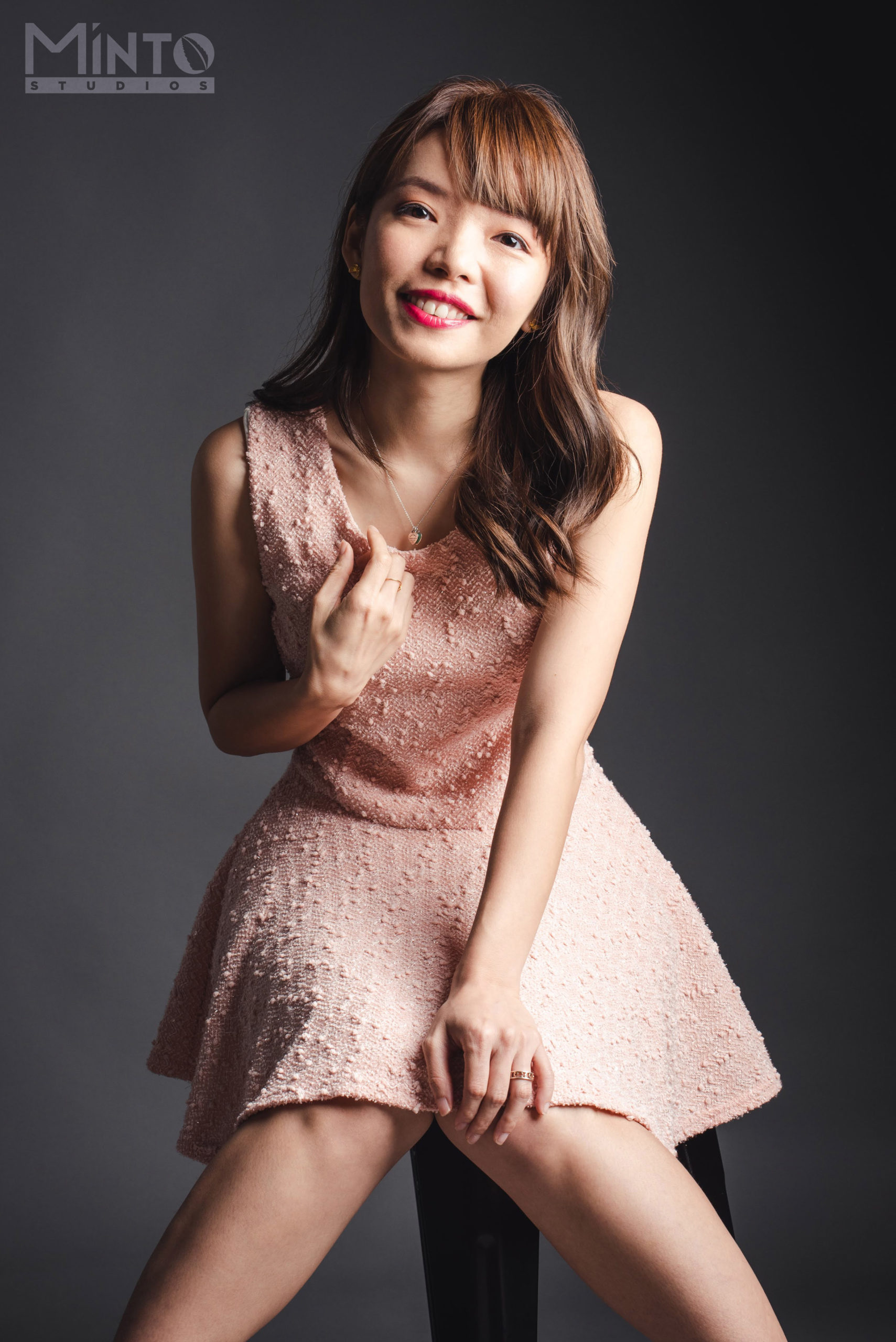 1/2 of #TheEpiphanyDuplet, Tiffany Yong juggles her ABCs – Acting, Blogging and Coaching/Consulting as she is fuelled by passion and drive to succeed.
It is not easy to make a living in Singapore just purely based on Acting, so with Blogging to help her with her online presence, and Coaching kids drama, private tutoring and freelance social media consulting to finance her life, she is currently leading the life most people hope to have: Living the Dream!