Tornado Girl (恋上疯狂女) Movie Review | by tiffanyyong.com
Recommended Audience: Fans of Kiko Mizuhara, Satoshi Tsumabuki, Suzuki Matsuo, Hirofumi Arai, Sakura Ando, Lily Franky, Yuki Amami, Hitoshi One and romantic comedy movie fans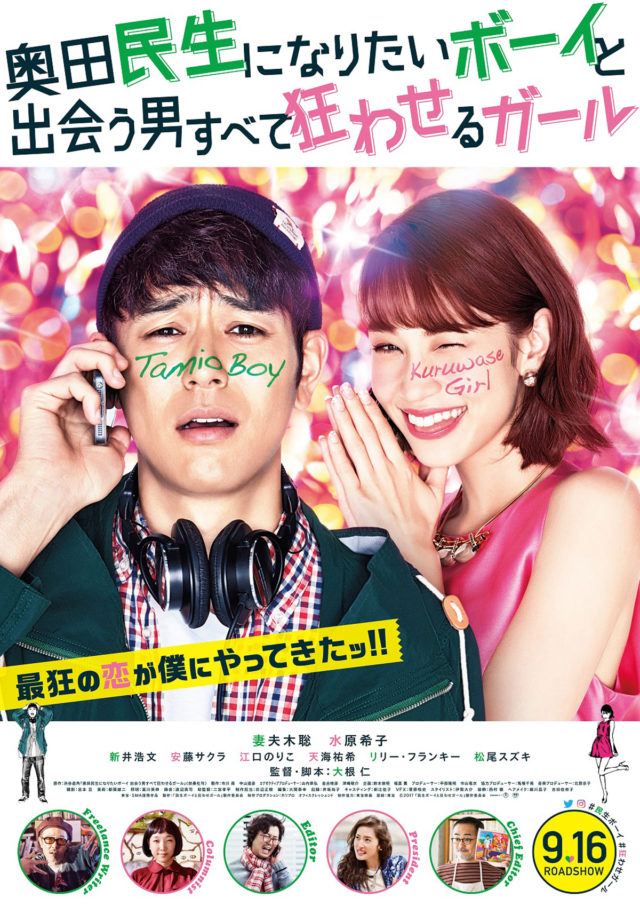 Tornado Girl (恋上疯狂女) Movie Synopsis
33-year-old magazine editor Koroki (Satoshi Tsumabuki) just started working at chic lifestyle magazine Malet, where he is adjusting slowly to the trendy office culture and blending in with his fashionable colleagues. Koroki resolves to emulate his idol, the ultra-cool rockstar Tamio Okuda. One day he meets Akari Amami (Kiko Mizuhara), a renowned beauty in the fashion PR circle, through work, and immediately falls for her. This crush, however, hails the beginning of a nightmare for Koroki, as the free-spirited Akari soon has him twisted around her little finger…
Tornado Girl (恋上疯狂女) Viewer Rating: 3.5/5 ***
Tornado Girl (恋上疯狂女) Movie Review:
Tiffany Yong: I had a hard time trying to find information about this film when I keyed in the english, until I realised that the Japanese name of this film is nothing like its English title. It's named "A Boy Who Wished to be Okuda Tamio And A Girl Who Drove All Men Crazy" aka 奥田民生になりたいボーイと出会う男すべて狂わせるガール, reminding me of "The Miracles of the Namiya General Store", making me wonder if it is a trend now to have ultra long movie titles. This is a comedy film that's a little too honest for it's good, if you happen to have a manipulative friend or girlfriend, or even a friend who is constantly on tip toes in his or her relationship, this is probably a film they have to watch to see how 'blinded' they are.

Peps Goh: This movie ventures many fresh and new ideas in methods of visual storytelling. Some of it are great, for instance the unusual use of music editing. The montage of dates and passionate scenes where all cut to one song for each moment as opposed to the typical overlaying of one single soundtrack whilst the visual play out to represent the passage of time. In this, every date feels different and almost memorable as every scene of an otherwise forgettable montage is sprinkled with the flavour of a different song.
And while there were many good ones, the one above in particular that didn't quite work all that well for me, it completely took me out of the opening act wondering when did the movie morph into some weird tv ad. But well, it WAS the lead up to the title slate, so I suppose it's acceptable somehow.
(Me on the other hand, thought the above was really interesting, displaying the different sides of Akari Amami)
Peps Goh: Satoshi Tsumabuki as Koroki is a charismatic face on screen, exuding a laid-back and likable persona. His performance is really what helped me empathize with the character.
I like how he did not really try to do the stereotypical Otaku, and had a little in-between, where he is both cute yet nerdy. We also discussed instances where his reaction towards his relationship with diva Akari Amami felt like an addiction to drugs, making it a revelation on how insecurity in relationships can be perceived as that too. 

Peps Goh: And as for the theme of the film, Tiffany and I discussed that perhaps Akari Amami (Kiko Mizuhara) represents not a person in particular, but a concept of a character that may have came and gone in most men's lives.
Tiffany Yong: He or she might be manipulative, temperamental or even overly-dependent on the partner. Regardless, Kiko Mizuhara had such a wide range of expression, from the cutesy and gentle girlfriend that every guy dreams of, to the deadly seductive look and the ability to twist every moment to guilt trip her partner, that it felt scary to be associated with such individual. 
The story wrapped up nicely, and predictably as a tough coming-of-age film from the point of view of a man-child, providing a hint of reminisce, making the audience leave the cinema with some wondering thoughts if we've ever been Koroki – the person in deadly infatuation with someone not suitable for him, or have been Akari – the ever-morphing partner who changes her personality as fast as changing clothes. 
Perhaps the title was an apparent metaphor of a girl who comes into our lives and completely sweeps us off out feet. Terrific and destructive like a tornado that leaves a wake of destruction behind them, and it's gone after without a trace. That one person, whom had at one point in our lives been important, and while it had left for good, for better or worse had forever left it's marks in us.
Do You Know?
The movie is based on the manga "Okuda Tamio ni Naritai Boy Deau Otoko Subete Kuruwaseru Girl" by Chokkaku Shibuya (published July 23, 2015 by Fusosha Publishing).
The film features a guy who idolised Tamio Okuda, hence uses Tamio Okuda's music throughout the soundtrack.
Behind The Scenes and Interviews
Check out the Singapore distributor of Tornado Girl (恋上疯狂女) | A Boy Who Wished to be Okuda Tamio And A Girl Who Drove All Men Crazy | 奥田民生になりたいボーイと出会う男すべて狂わせるガール – Encore Films' Facebook Page!
Tornado Girl (恋上疯狂女) is out in cinemas on 26 October 2017.
Cheers,



Tiffany Yong: Facebook | Instagram | YouTube
Peps Goh: Facebook | Instagram | YouTube
The Epiphany Duplet: #TheEpiphanyDuplet
*Disclosure: Invitation from Encore Films. No monetary compensation was received for the movie review.
P.S. Noticed the different coloured text? Articles written by #TheEpiphanyDuplet will be colour-coded in future to let every reader know who say what! Hope you've enjoyed reading our insights!
Epiphany: / ɪˈpɪf(ə)ni,ɛˈpɪf(ə)ni / noun / A moment of sudden and great revelation.
Duplet: / ˈdjuːplɪt / noun / 2 electrons working together, forming a bond between atoms.
|| Derived from the anagram of the duo's name, whom met through a film project acting as lovers. After which as fate would have it, couples indeed they became. And now together they bring to you staycations & travelogues, beauty and relationship tips, your one-stop-shop to all the fun things you can do with your special someone. ||
@PepsGoh: Actor || Fight Choreographer || Free Running Athlete
@Tiffanyyongwt4242: Actor || Blogger || Consultant