Golden Moments: Mao Shan Wang Durian Snow Skin Mooncake Review
As the first day of Lunar seventh month strikes, it seems not the start of the Ghost month but the month of Mid-Autumn as the news release of the various mooncakes by different companies are sent out. One particular invitation caught my eye with the charcoal black skin and golden sprinkles.

We all know most Singaporeans are crazy about durians. New in Singapore, Golden Moments, the Durian Artisan was created by three young Singaporeans who aim to bring families closer through these lovingly handcrafted durian delicacies.
Each glittery, gold dusted mooncake stars a rich and creamy pure Mao Shan Wang filling encased in a healthy bamboo charcoal snowskin. They contain no preservatives, no cream and no added sugar, which makes them perfect for wholesome indulgence with family and friends.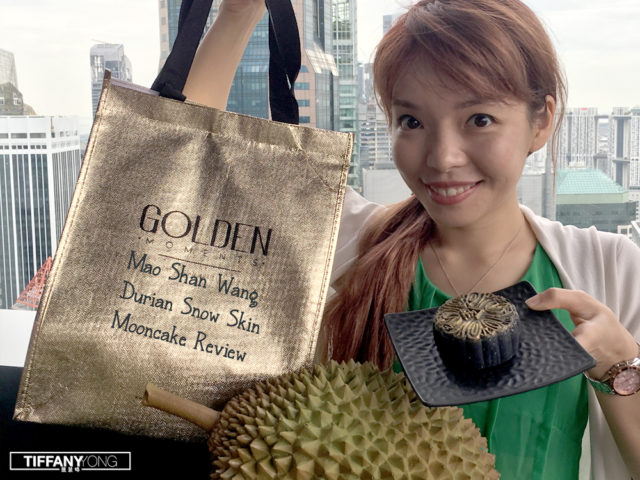 To be honest, I'm the only one in my family who avoids the king of fruits. But the golden cooler bag caught my attention and the thoughtful efforts was good enough for me to create a little stop-motion gif. I shared it with my family, Priscilla and Peps, and they were all surprised by the quality of the handcrafted mooncakes. So here is Peps' take on whether the new Golden Moments Signature Premium Durian Snow skin Mooncake is worth your dollars and cents~
Peps' Verdict: Right off the bat, the visuals are a plus point already. It's distinctive colour paired with a luxurious golden dust finish really sets it apart. On first bite, it's rich fragrance comes as a wonderful surprise, the heavy gushing flavours makes it a real treat for any durian lovers.
And as for non-durian lovers, this really isn't for you. This has none of those artificial snow skin type of imitation flavouring that people who aren't a fan of the fruit can still somehow stomach. Golden Moments is the real deal, every single bite seemingly as if I'm eating some of the best of durians.
If there are any bones i can pick with it, would be that perhaps in our local weather, it sometimes begins to melt in the heat pretty quickly. Be sure to eat it right away upon taking it out from the refrigerator!

The Golden Moments Signature Premium Durian Snowskin Mooncake is now available online at www.goldenmoments.sg and at Takashimaya, Nex and VivoCity. Get 30% off your purchase with promo code: TGFT30!
The Epiphany Duplet wishes everyone a Happy Mid-Autumn Festival in advance~
Cheers,



Tiffany Yong: Facebook | Instagram | YouTube
Peps Goh: Facebook | Instagram | YouTube
The Epiphany Duplet: #TheEpiphanyDuplet
*Disclosure: Invitation from weandme.sg. No monetary compensation was received for the review.
Epiphany: / ɪˈpɪf(ə)ni,ɛˈpɪf(ə)ni / noun / A moment of sudden and great revelation.
Duplet: / ˈdjuːplɪt / noun / 2 electrons working together, forming a bond between atoms.
|| Derived from the anagram of the duo's name, whom met through a film project acting as lovers. After which as fate would have it, couples indeed they became. And now together they bring to you staycations & travelogues, beauty and relationship tips, your one-stop-shop to all the fun things you can do with your special someone. ||
@PepsGoh: Actor || Fight Choreographer || Free Running Athlete
@Tiffanyyongwt4242: Actor || Blogger || Consultant