Kungfu Yoga (功夫瑜伽) Movie Review | by tiffanyyong.com
Recommended Audience: Fans of Jackie Chan 成龙, Aarif Rahman 李治廷, Zhang Yixing 张艺兴, Mu Qimiya 母其弥雅, Sonu Sood, Disha Patani, Amyra Dastur, Stanley Tong 唐季礼 and action comedy movie fans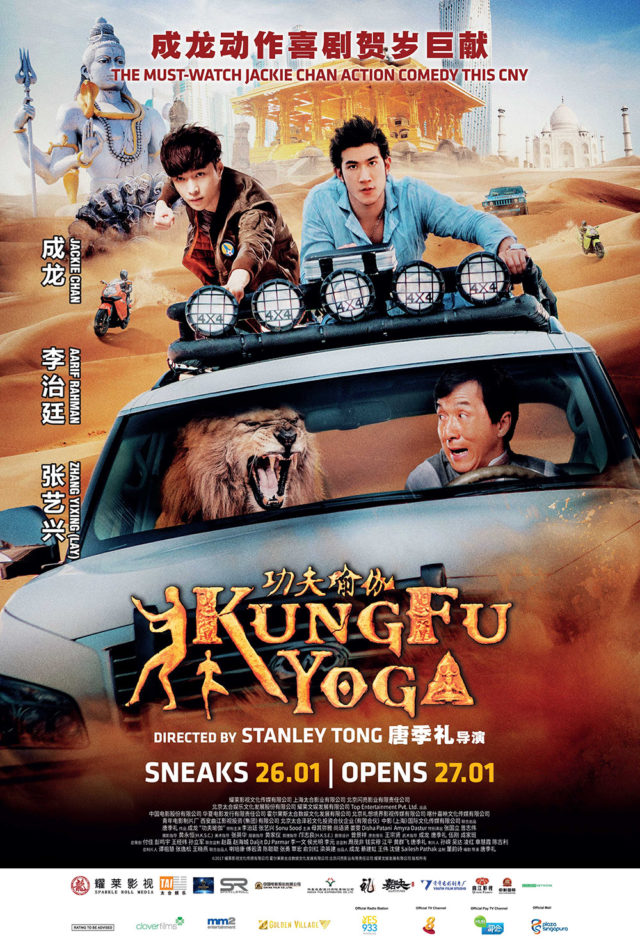 Kungfu Yoga (功夫瑜伽) Movie Synopsis
Chinese archeology professor Jack (Jackie Chan) teams up with beautiful Indian professor Ashmita and assistant Kyra to locate lost Magadha treasure. In a Tibetan ice cave, they find the remains of the royal army that had vanished together with the treasure, only to be ambushed by Randall (Sonu Sood), the descendent of a rebel army leader. When they free themselves, their next stop is Dubai where a diamond from the ice cave is to be auctioned. After a series of double-crosses and revelations about their past, Jack and his team travel to a mountain temple in India, using the diamond as a key to unlock the real treasure.
Kungfu Yoga (功夫瑜伽) Viewer Rating: 3.75/5 ****
Kungfu Yoga (功夫瑜伽) Movie Review:
Tiffany: Jackie Chan is back. Really. I wasn't too impressed with Jackie Chan's recent films (say, Skiptrace?) and was quite disappointed with the lacklustre comedy performance, making me wonder if I've lost interest in Jackie Chan's antics. But when I caught Kungfu Yoga, I was delighted to say that the Jackie Chan everyone loved is back. 
Peps Goh: Kungfu Yoga started with; in my opinion, a really ambitious sequence. It was a daring move to begin the entire prologue with a complete animated sequence. And not one of those stylistic silhouetted flat figures which would have been sufficient to tell the story, albeit a little passé, but definitely much easier and economic. Instead, it was done in a realistic 3D fashion – think Fan Bing Bing's L.O.R.D.: Legend of Ravaging Dynasties (爵迹), which is much more expensive, and way easier to go wrong with (look up "uncanny valley").
And it did pay off, establishing the premise of the film in a visually stunning manner with spectacular slightly fantastical combat sequences, whilst maintaining sufficient suspension of belief in the audience. And it was a good decision to have this sequence right at the beginning of the film and for it to not show up again for the rest of the film, because it would have been a jarring transition if they did otherwise.
One thing that I felt they did well here is the ensemble of likeable and charming characters that really carried the plot along in a nice mix of humour and charismatic chemistry.
Tiffany: The rich historical nature of the film was what set apart this CNY movie from the rest. Paying respect to both Chinese and Indian cultures, the movie was not just filmed in both Chinese and English language, it also added many indian local elements into the film. Indian market bazaars were used as filming set while famous Indian magic tricks such as the magic rope, fire-eating, snake-charming, sword- swallowing and levitation were featured.
Peps Goh: If there's anything that I felt was less than perfect about this film may be the overuse of wires and CG effects. To me at least, it really stretched at my suspension of belief and pulled me away from the action and plot on hand. As a result, it made me worry about the characters a lot less, which is one of the worse things you want to do in any genre, much less an action.
And in the final sequence, the golden shrine. I remember thinking that the CG team really needs to study their renaissance art, and observe how the great master painters brought gold into life upon a flat surface. There were many different techniques of shading/highlighting, and a great many ways of managing the gradients to bring out the illusion of gold, and any of them would have worked great should they have studied it. And I'm assuming they didn't, because the glowing yellow liquorice candy shrine that they've rendered is definitely not it.
Nitpicking aside, Kungfu Yoga really is an outstanding Chinese New Year Flick with a meaningful moral, captivating casts with endearing performance. And as it always is with Jackie Chan, packed with impressive and entertaining action sequences executed in his unique brand of Jackie Chan charisma. Kungfu Yoga also managed to create humour in the action sequences, as well as some nice throwback to the nostalgic classic of the 90s and early 2000s.
Tiffany: This is definitely a fun and enjoyable watch recommended for the festive season.
Do You Know?
This story is considered the second instalment of The Myth (神话), where Jackie Chan acted as Jack, the archaeologist (once Meng Yi's reincarnation). He's now the professor of archaeology at the Terracotta Warriors Museum in Xi'an, teams up with young Indian professor Ashmita and assistant Kyra to locate India's lost Magadha treasure in Tibet.
Kung Fu Yoga was inspired by a real historical event. It was based on the story of Wang Xuance, a Tang Dynasty diplomatic envoy sent to Tianzhu (India) by Chinese Emperor Tang Taizong. The legendary Chinese Buddhist monk Xuanzang was the first person to introduce Chinese culture to India, where he had become highly respected by Buddhist monks.
Tong sets The treasure trove was set in Amala Temple, based on the Nalanda Monastery, where its rare underground caves are still preserved in India. It has been the prestigious centre of Buddhist studies for over a thousand years. More than nine million scriptures are stored within; at its peak, it hosted more than 10,000 monks and scholars.
Jackie Chan and Disha Patani jumped into an icy river by a waterfall. The scene was taken immediately after Jackie Chan's 5 hour operation. The director initially thought it was lymphadenitis and dismissed it with pain killers, it was until when the pain was intolerable when Jackie Chan went to the hospital and found out there there was an infection and rotting, and his intestine had also shifted.
The film took place in extreme weathers and it was a challenge for both the cast and the production crew. In Dubai, the team spent more than a month under the temperature of 40°C while the filming took place in temperatures below -20°C when they were in Iceland.
In the Dubai car chase, the lion belonged to the Dubai princess. It was loaned from the royal family for 5-6 days just to allow the lion to get used to the environment as well as Jackie Chan, who will be left alone inside a car.
The film crew borrowed many cars, including Ferraris, Bentleys, Lamborghinis, and limited edition Bugatti Veyrons and McLarens; three of which are among the most expensive cars in the world from the royal family. Lamborghini and Aston Martin are used as police cars. Since the local government and royal family offered their full support to the film, the cars were on loan for free.
The cars are like actors, with their own stunt doubles. Two cars in one scene belonged to a sheikh; if one crashed, the other was its backup. Once, when the bumper of one of the McLaren cars was damaged, the crew were so worried, not only by the expense of replacing the bumper, but also because of the continuity. To their surprise, a new McLaren was delivered the next day, wrapped in a yellow paper coating to conceal its blue paint. The Dubai government even cordoned off streets for the shoot. The sincerity and support of the government and sheikh deeply moved the crew.
Behind The Scenes and Interviews
Check out Kungfu Yoga (功夫瑜伽) Official Weibo.
Kungfu Yoga (功夫瑜伽) is out in cinemas on 26th January 2017.
Cheers,



Tiffany Yong: Facebook | Instagram | YouTube
Peps Goh: Facebook | Instagram | YouTube
The Epiphany Duplet: #TheEpiphanyDuplet
*Disclosure: No monetary compensation was received for the movie review. Invitation from Clover Films.
Epiphany: / ɪˈpɪf(ə)ni,ɛˈpɪf(ə)ni / noun / A moment of sudden and great revelation.
Duplet: / ˈdjuːplɪt / noun / 2 electrons working together, forming a bond between atoms.
|| Derived from the anagram of the duo's name, whom met through a film project acting as lovers. After which as fate would have it, couples indeed they became. And now together they bring to you staycations & travelogues, beauty and relationship tips, your one-stop-shop to all the fun things you can do with your special someone. ||
@PepsGoh: Actor || Fight Choreographer || Free Running Athlete
@Tiffanyyongwt4242: Actor || Blogger || Consultant