Iron Ladies Roar! (人妖打排球 2015 ตัวอย่าง สตรีเหล็กตบโลกแตก) Movie Review | by tiffanyyong.com
Recommended Audience: Fans of Rattapoom Tokongsup (Film), Parunyu Rojanawatitham (Tak), Sudarat Budtporm (Tukky), Padung Songsang (Jazz), Chaiwat Thongsaeng (Tob), Weeradit Srimalai (Gus), Wongsapat Tangniyom (Zo), Patdanai Satesuwan (Koen), Kittipat Samantrakulchai (Biew), Worachai Sirikongsuwan (Tape), Arussaman Jittasiri (Toast), Chonnikan Arnamwat (Fai), Pasakorn Sanrattana (Oat), Surawit Ruangyod (Tong) and romantic comedy movie fans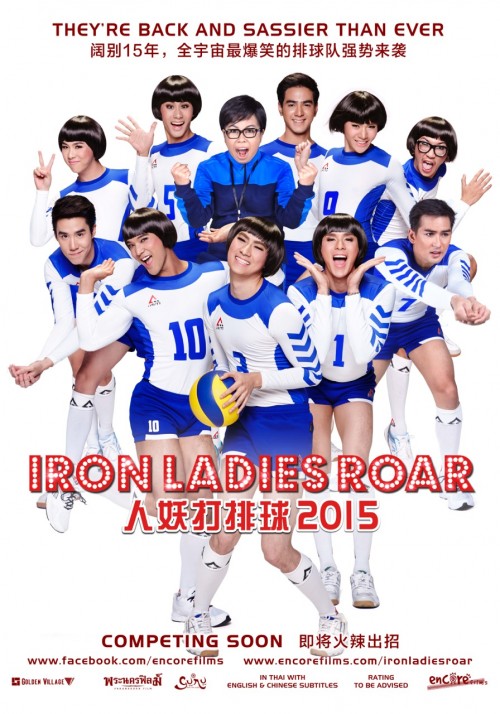 Iron Ladies Roar! (人妖打排球 2015 ตัวอย่าง สตรีเหล็กตบโลกแตก) Movie Synopsis
The Iron Ladies are back! The members are now in their forties and are watching an exciting international volleyball match between Thailand and Japan. The ladies cannot bear to compare it with their Iron Ladies playing style. They are now recalling their glorious past.
Coach Bee invited Mui to join Lampang team. However, Mui was hesitant to join the team because there were many members missing in the team. Jung and Parn volunteered to search and recruit the missing team members. After the team is complete, they undergo intensive training to get back in shape and consequently won the first place of Northern Thailand Volleyball Championship.
Nevertheless, an unexpected incident happened after their victory and miserably scattered their team. Coach Bee and Mui started to gather their team back for an upcoming Thailand National Volleyball Championship. Will they pick themselves up and bring back their glory days?
Iron Ladies Roar! (人妖打排球 2015 ตัวอย่าง สตรีเหล็กตบโลกแตก) Viewer Rating: 3/5 ***
Iron Ladies Roar! (人妖打排球 2015 ตัวอย่าง สตรีเหล็กตบโลกแตก) Movie Review:
With the last instalment more than 12 years ago, the Iron Ladies are back for us to reminisce the era where transsexuals and transvestites were trending rather than pretty Korean boys and girls. I had mixed feelings about the Iron ladies Roar! film, so rather than going in circles, I thought I will just list out my three favourites parts and you can judge whether it's worth the watch or not.
Fans of Thai films, if not, fans of "Crazy Little Things Called Love" (สิ่งเล็กเล็ก ที่เรียกว่า…รัก) -think Mario Maurer, will know Sudarat Budtporm as the hilarious Teacher Inn. Here, she plays Coach Bee, who is a tomboy lesbian, bringing the group of Iron Ladies together to represent Lampang in the volleyball tournament, despite the organizers' disapproval. Having her manly demeanour in contrast with the group of tall but feminine "ladies" brought the film plenty of slapstick humour.
While most people will be amused, if not disgusted, by some of the less pleasant-looking transvestities, the one redeeming factor was the only "straight" eye candy in the team, Toast Arussaman Jittasiri (see guy in number 1 shirt). He did not have many lines in the film, but perhaps because of the relevance to my social circle, I was able to relate to him most. He had to reject his childhood friend, yet maintain a friendly distance, something that a few of my male friends had experienced before too.
The wide variety of characters in the film can be considered both good and bad. The colourful ensemble brings out the different "types" of transgender, each with their personal problems but all working towards their common passion in volleyball. While their actions were over-dramatic most of the time, it isn't easy to resist their unique charm and want to be part of this cohesive yet quarrelsome bunch.
As this is a Thai film, the English/Chinese subtitles can either make or break the film. Somehow the weird subtitles made it difficult to understand some of their local jokes, which reduce the wit, humour and sentiment in numerous scenes. One of the jokes which was lost in translation was the "cow" joke, which I guess had the same pronunciation as some sexual actions/ body parts.
While there's no real need to understand the first two instalments' plot to watch this, the multiple subplots also made the film pretty unfocused. The volleyball matches, which were supposed to be the climax did not excite me as much as I thought it would (the ear-piercing volume during the spats and competition whistles from the cinema made the matter worse) and it kind of end up with three words: Transgender; Volleyball, Drama-mama. Fans of Thai film (like me) should still watch it regardless, because the bold Thai humour is simply priceless.
Do You Know?
Iron Ladies Roar! is the third instalment of the Iron ladies series, with the first being "The Iron Ladies" (2000) and second "The Iron Ladies 2" (2003).
It is made up of a different set of cast from the first two instalments.
Behind The Scenes and Interviews
Check out Iron Ladies Roar! (人妖打排球 2015 ตัวอย่าง สตรีเหล็กตบโลกแตก)Facebook Page!
Iron Ladies Roar! (人妖打排球 2015 ตัวอย่าง สตรีเหล็กตบโลกแตก) is out in cinemas on 9 April 2015.
xoxo



Facebook | Instagram | Twitter
*Disclosure: No monetary compensation was received for the movie review.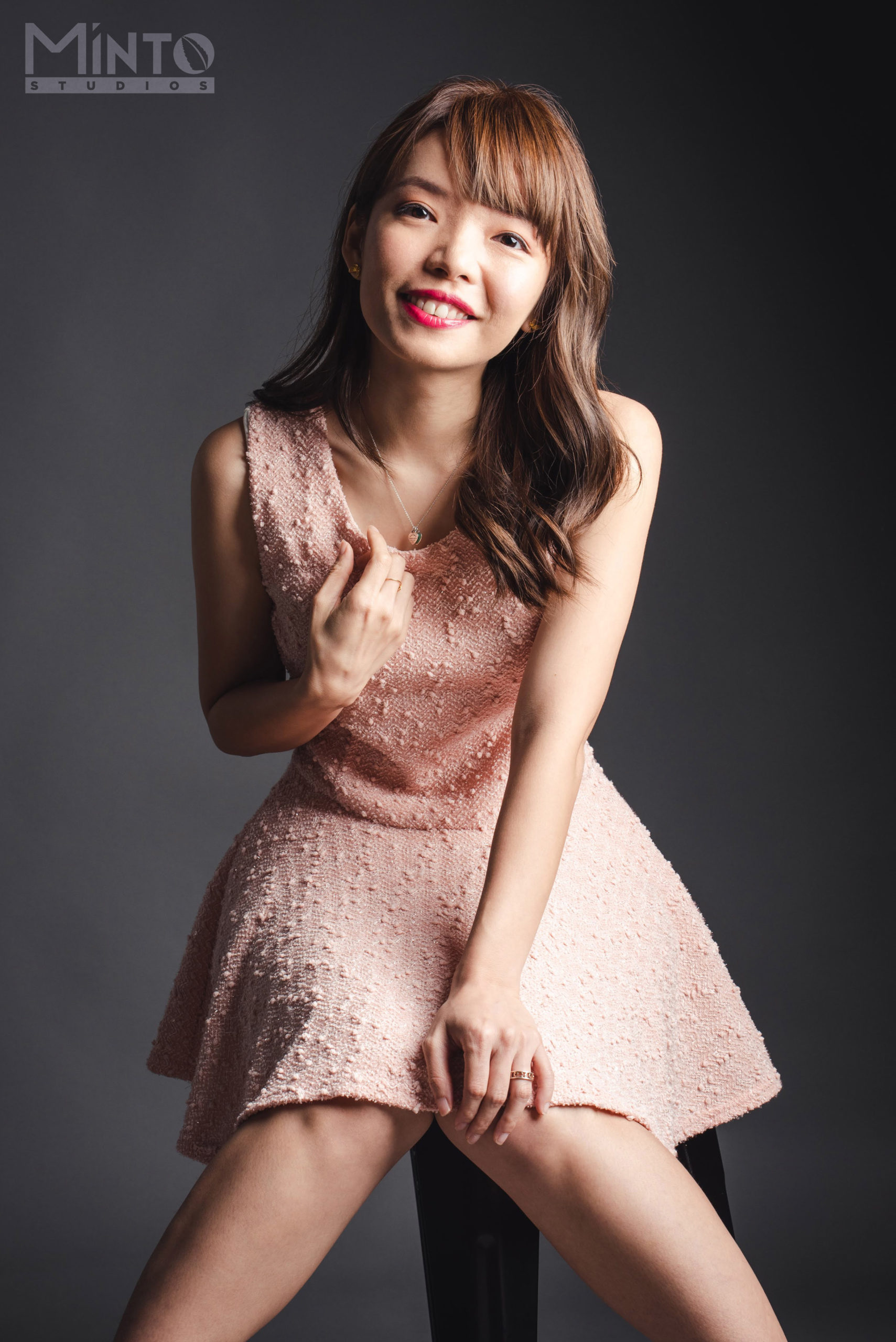 1/2 of #TheEpiphanyDuplet, Tiffany Yong juggles her ABCs – Acting, Blogging and Coaching/Consulting as she is fuelled by passion and drive to succeed.
It is not easy to make a living in Singapore just purely based on Acting, so with Blogging to help her with her online presence, and Coaching kids drama, private tutoring and freelance social media consulting to finance her life, she is currently leading the life most people hope to have: Living the Dream!