Alive Museum Singapore: Dos and Don'ts
I guess everyone will be seeing all the crazy photos taken at Alive Museum Singapore by many bloggers these few days, so rather than posting similar stuff, I thought I will come out with a list of Dos and Don'ts on what to do, what to wear and what to prepare for your visit to the amazing museum.
What's Inside Alive Museum Singapore?
I invited a friend along, and he was deterred by the word "museum". So here, I added in another short description of what this "Museum" has! You might also see this in many other blog reviews, that the Alive Museum uses special 3D painting techniques mechanical and digital technologies to create fun and engaging illusionary images. These include: Trick Art, Digital Art, Object Art and Experimental Art. A reader emailed me to ask how could he identify the different types. Here, thanks to the Crowd.com.sg and the staff at the Alive museum, I finally managed to differentiate one from another!
Trick Art
Trick Art was very popular during the Baroque era in the 16th century. Using 3D painting techniques, these art pieces trick the eyes and stimulate your mind into seeing both illusion and reality at the same time.

Examples: Kingfisher | Mother's Arms | Angel's Wings | Giant Baby | Save me, Superman | Heroes (Spiderman) and many more
Digital Art
Digital Art combines state-of-the-art technologies and art elements so as to let visitors experience art beyond what is seen, and enjoy art like never before.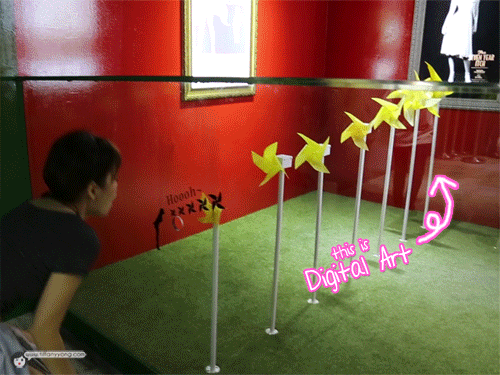 Examples: Mona Lisa | Marilyn Monroe | Powder Room
Object Art
Object Art features sculptures and installations that challenge our senses. Is seeing believing? Touch and be part of the art pieces for an immersive experience that you will talk about for a long time to come.

Examples: A paper boat | Mermaid's World | Break Dancing | Worship | Guillotine | Part Time Worker at a Zoo | Frozen Fridge and many more!
Experimental Art: aka The Camera Obscura exhibit
Experimental Art combines new technology with various digital art concepts for visitors to actively interact with one another. One visitor may become an artist, and the other, a masterpiece!

There's only one exhibit which is called the Camera Obscura, and it is often overlooked by visitors as there's only a chair outside. There is a dark room in front of the chair where you can enter and trace out the person sitting on the chair. The drawing is completed on a piece of tracing paper.
P.S. I took this photo on another day in a hurry with the help of the Alive Museum staff, as I did not take any photos for this exhibit. So yes, without makeup, I look as pale as a ghost. Even more so inside the room, under the lens!
Singapore Themed Art Pieces
These are the art installations which are uniquely Singapore!
If you're lost, wondering what exhibits I'm referring to, here's a map (available at the ticket counter) for your reference! (Click image to view full size)
Who I went With?
I have always wanted to visit a trick art museum after seeing so many photos going viral online. Thanks to omy.sg, I received the invitation to visit the museum. There are more than 80 masterpieces, of which 9 are locally themed and unique to Singapore. From what I learnt, 30% of these art pieces will be changed every 12- 18 months, and during special occasions like Christmas and Chinese New Year, there will be special exhibits too!

The first time round, I went with Rano, Yuki, Juliana and Bobby. We visited the museum the museum on a weekday evening. However, 1.5 hours was simply not enough if you were to take photos of every single exhibit! Read on to see what I did!
Thus I decided to go a second time, this time on a Sunday morning with Shi Xin and my Parkour Instructor, Chi Ying from A2 Movements! So gathering my experiences from both trips, I will share some useful tips so that you can have an enjoyable time at Alive Museum Singapore!
5 Groups of People You will Have Fun With:
If you are wondering who you should visit the Alive museum with, I've come up with 5 groups of people you can go with!
1a) Your Friends: The More The Merrier
I know most people will go with just a friend, but the more friends you go together with, the more variety of the photos you can take! I will definitely advise to go with 3 or more friends as there are quite a number of exhibits which requires 2 people in the photo and you can't do a selfie inside! However, there will be 1-2 staff wandering around in the museum. If you are lucky, you can get them to help you with the photos! (P.S. Higher chance on non-peak period)
1b) Your Friends: Crazier the better
Also, these friends should be people you are comfortable with, whom can go crazy posing weird photos with you, and most importantly, whom you don't mind looking weird and ugly with! (no crushes please!)
2) Photographers
Ok, I'm joking, you don't need to be a professional photographer to take nice pictures in the Museum. But to be honest, after visiting twice, there are a few exhibits which are not easy to get the correct angle even when you are following the instructions. So do get friends whom don't mind taking and retaking (many) photos for you!
3) Your loved Ones
Well, the sweetest thing will be visiting the museum with your partner/husband as there are quite a number of lovey-dovey photos you can take together! But again, get a side-kick or you might have to ask other visitors to help you with the photo-taking (like what my friend Susan did)! Might be awkward if you need to do any intimate pose! Click on above image to see how she went through the museum with her husband, Peter!
4) Your Family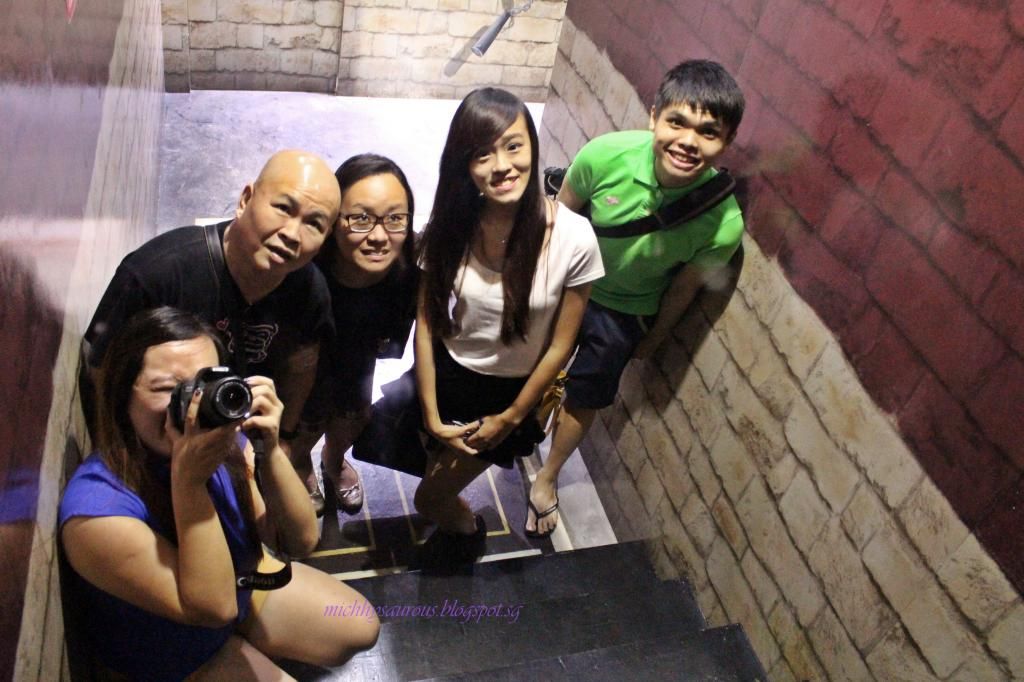 My initial plan was to bring my family to the museum, but my siblings couldn't make it for the (allocated) timings and my parents don't have the interest for such stuff. My fellow blogger friend, Michhysaurous visited the Alive Museum together with her parents, sister and boyfriend (Envy!) and had plenty of fun! Check out the nice photos she had (click on above image)!
5. Your Parkour/Pole Dance Instructor
The pole is too thick for me to do any Pole-Dancing pose, but climbing up the pole is a piece of cake for my Parkour instructor, Chi Ying. I was amused how other visitors were gasping (I photoshopped them out -.-) when he climbed up the pole like a monkey. The museum is a good chance for any dancers, gymnast (ahem, calling out to coach Alan Zhang), or athlete to show off showcase their talents and flexibility!
Attire- Dos and Don'ts:
Gathering the photos and experiences from my both trips, I have quite a few examples of WHY we shouldn't wear certain type of clothes!
1. Don't Wear Loose Shirts
Well, erm, if you don't mind revealing your assets (I have none la) to your photographer… (There's a few exhibits which will need you to do some bending forward) but anyway, I realize fitting clothes will look nicer on camera, especially when you are taking photos with certain exhibits.
2. Don't Wear Skirts or Dresses
My friend Shi Xin had an event to rush off to, thus she decided to wear a dress to the museum and it was a BIG mistake! She was unable to carry out quite a few actions properly (like jumping the trampoline) and the mirror room, which is one of the more fun part of the museum, has mirror on the ground too! No good for skirts and dresses!
3. Don't Wear Heels
Yuki decided join us at the very last-minute, and she was on heels that day. Halfway through the 10,000 square feet museum, she was already walking around bare-footed as there were many exhibits which require us to climb in and out, or even go on to the rope. When we were going home at 10pm, after the museum closed, she was on the verge of walking to the train station without wearing her heels. Yes, it was hell for her.
4. Do Wear outfits You are Comfortable Stretching in
If you are wondering what you should wear, I will suggest something basic, plain shirts or singlets without prints or cartoon characters so that it's easier to fit into the "paintings" without looking too out-of-place!
5. Do Bring Hoodies or Jackets
If you want to do something out of the box, you can use your jackets as props to "interact" with the pictures.
6. Do Let Your Hair Down (and Out!)
You will have an advantage in the museum if you have long hair as there are exhibits which look nicer and more realistic when you have your hair let down and out (of the exhibits)
The Little Mermaid is one of them, where there is actually a sensor which will let out a blast of wind when you lean forward. With long hair, Juliana look so pretty (and had that under the sea feel as compared to the rest of us). However, one thing to note that some exhibits might be under maintenance when you visit the place. The Little Mermaid "wind" sensor didn't work on the second time I went with Shi Xin and Chi Ying. 🙁
7. Do Bring Rubber bands
Duh, Rubber band to tie up your hair! While it's nice to have flow-y long hair, tying up your hair at certain exhibits might make the whole picture a little more interesting! Here, I tied up my hair to a high ponytail so that I looked like the little baby doll next to me.
Inside The Alive Museum Singapore
So now that we have gone through the list of people you can bring and the attire you should wear, here's some tips for you to survive the Alive Museum Singapore!
1. Do Stand on The Right Spot
The museum has provided plenty of "Photo Point" stickers on the floor to guide you. Try you best to copy the moves before trying something else. If not, you might end up like me (or some other bloggers) who took dozens of photos wrongly without knowing!

Next to the art pieces, there will also be signage and photo samples to tell you how you can pose. Some even come with explanations and directions!
2. Do Avoid the Crowd
I know it's easier said than done, but the crowd on weekdays are significantly lesser than that of the weekend. On weekdays, if you are like me (wanting to take photo with every single art pieces if possible), 1.5 hours will not be enough. Try to reach there by 7.30pm (with a full stomach) so that you can have at least 2 hours or so to take your photos! The museum will start closing at around 9.45pm.

The weekend morning crowd is horrendous! See the number of people behind Chi Ying? That's the difference between the crowd at 10.30am and 11.15am. Everywhere we go, we will be either blocking another art piece or be in the view of the camera. However, if weekend is the only time to go, a tip is to visit the place at around 1.30pm. On my second trip, after helping Shi Xin with all the photo-taking so that she can rush off to her event, we went back to the first zone (there were 5 zones) to re-take some of the photos. But we realized that there were so many people stuck at the mirror room that we gave up and just concentrate on the remaining 3 zones.
3. Do Take Your (Own Sweet) Time to Explore
As mentioned, it took us almost 2 hours before we are done taking photos (so I spent a total of 3 hours on my second trip to the museum!). So don't try to arrange a movie or another date just after the event. You won't like to rush off and miss the last few zones, as the art pieces only gets more and more interesting!
If you get to visit the museum when it is not crowded, try different poses at each exhibits and you will be surprised by the results.

I was surprised when saw what Rano tried to do, that's really cheeky but ingenious. If you are wondering why, he's actually touching "nothing". Illusion! If you still don't get it, visit the Alive Museum to check out yourself!
P.S. Oh ya, although I say "take your time, but toilet breaks are not allowed. So remember to go to the toilet (clear your bladder!) before entering!
4. Do Be Creative

Most people will try to imitate the move and do it in the same direction, however, me being me, wants to try something different, and decided to do a dance version! Haha, everyone were so inspired and attempted the move too! So be creative Ya!
This Michael Jackson piece is actually one of the most well-received masterpiece amongst my friends. We spent quite some time here trying to get the position right. You can only try this when there isn't much crowd, as the door to access another zone is just beside this piece of art!
5. Do Go Crazy
I observed a trend on both trips: the visitors like to take posed photos instead of candid shots. They want their faces to be in the camera. If you can fulfill the Rule 2 and 3, try taking crazy photos. You can have the butt facing camera even! I won't say I've managed to go "fully" crazy even on my second trip as there were only 2 of us (Chi Ying and I) in the end, and many actions + poses were limited to 1 person. We tried getting other visitors to take photos for us, but you know, you can't be too picky when others are helping you in kind!
6. Do Be Observant
This picture took me quite a number of tries before I got it right. I will say, to be observant because sometimes, the whole photo will look more realistic if you are "interacting" or looking at certain characters in the art pieces. Some might even tell a story! So here (left), I looked at my "competitor' who is on top of the mini waterfall to look like I'm trying to row ahead of her.
7. Do Be Expressive
If you are an aspiring actor, this is the best time to test your acting skills. There are many art pieces where you can do all sorts of quirky expressions! I do have so many photos, but I will just be sharing them on my Facebook! So if you wish to check out more photos, just visit my Facebook!
Hope this little guide will be able to help everyone to prepare for the visit! Enjoy and stay Alive!
Where is Alive Museum Singapore?
Location: Suntec City Mall #03-372 (Between Towers 3 and 4)
Ticket Prices: $25 (Adults), $20 (Children 3-12 yrs)
Operating Hours: 10am – 10pm Daily (Last Admission at 9pm)
Website: http://alivemuseum.sg/
Facebook: https://www.facebook.com/alivemuseumsingapore

Alive Museum Promotion + Contest!
Redeem free BK meals by simply click on the "Like" button on
Alive Museum Facebook
and purchase a full-priced ticket.
Meal includes: Choice of a Fish'N Crisp or Chick'N Crisp burger
1 small fries | 1 small coke | Worth $7.85!
Offer ends 30 September 2014! Simply upload a picture taken at Alive Museum Singapore to create a postcard (or create one with the templates) and add a caption. Share your postcard with your friends, ask them to vote your postcard and join the contest.
Read T & C here.
Participants of the contest will get the online booking promo code for 30% off Alive Museum Singapore Adult/Child tickets.
Contest period: 1 Aug 2014 to 14 Sept 2014
For chinese review, do visit Yuki Ng's blog by clicking here!
xoxo



*Disclosure:Event invitation from omy.sg and Alive Museum.
Special thanks to: Rano, Shi Xin, Yuki Ng, Chi Ying, Juliana and Bobby for the photos, fun and company!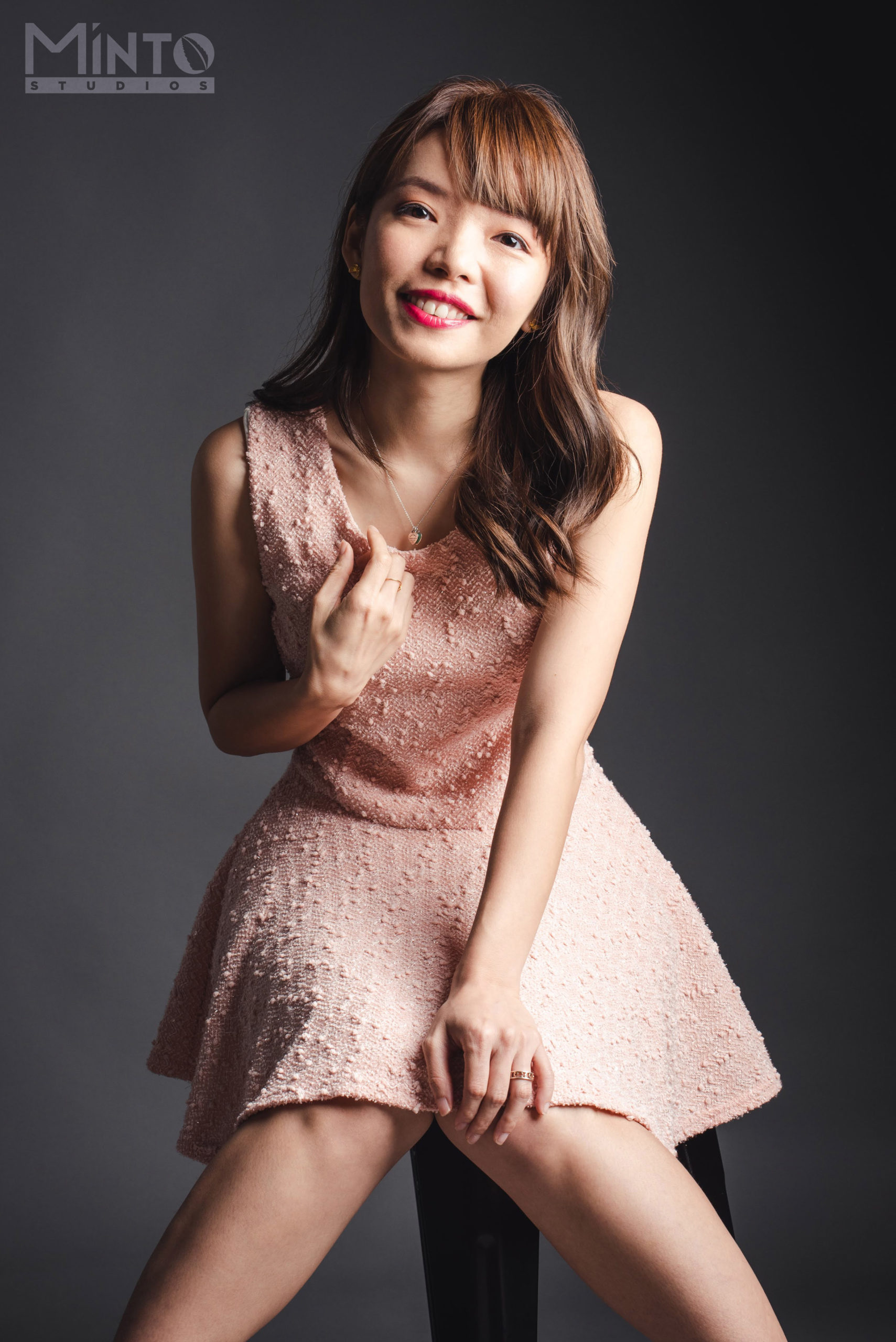 1/2 of #TheEpiphanyDuplet, Tiffany Yong juggles her ABCs – Acting, Blogging and Coaching/Consulting as she is fuelled by passion and drive to succeed.
It is not easy to make a living in Singapore just purely based on Acting, so with Blogging to help her with her online presence, and Coaching kids drama, private tutoring and freelance social media consulting to finance her life, she is currently leading the life most people hope to have: Living the Dream!