Tales From the Dark 2 奇幻夜 Movie Review | by tiffanyyong.com
Recommended Audience: 任陳法拉 Fala Chen's fans, 林家棟 Gordon Lam's fans, 李碧華 Lilian Lee's fans, Hong Kong movie fans, horror fans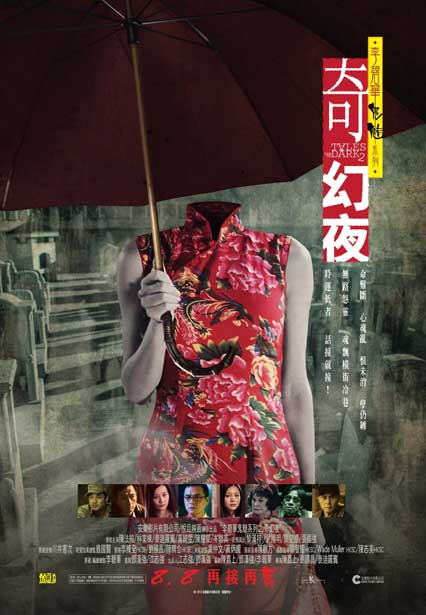 Tales From the Dark 2 奇幻夜 Movie Synopsis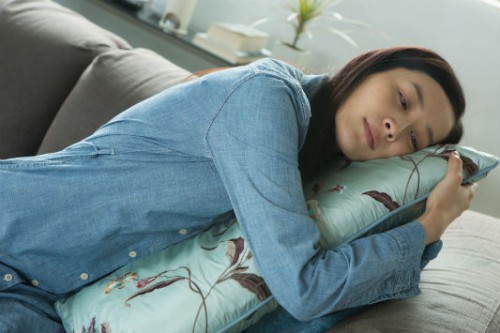 Bolster Phantom aka Pillow (directed by Gordon Chan)
How far would you go for a good night's sleep? Stricken by the disappearance of her boyfriend, Yee starts to develop insomnia. Countless sleeping pills couldn't treat the disorder, until one day when she comes across a small rundown bedding shop under an alley. "Finding a comfortable pillow is as difficult as finding Mr. Right." Yee is especially attracted by the exotic scent of a bolster and decides to buy it. It works like a charm, as if her boyfriend caresses her to sleep every night. But what she doesn't know is the secret behind the bolster and the nightmare she is getting herself into?
Tales From the Dark 2 奇幻夜 Bolster Phantom Viewer Rating: 3.5/5 ***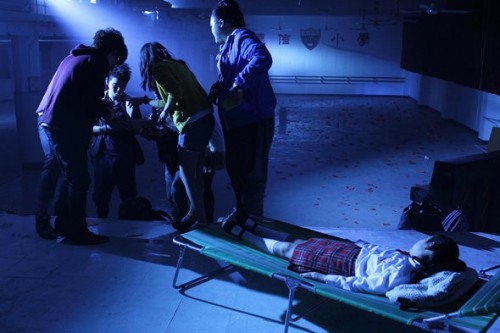 Hide and Seek (directed by Lawrence Lau Kwok Cheong)
A forsaken elementary school is scheduled to be torn down. Some alumni decide to pay a visit to the place they once called home, but few decide to call it home and reside there for good. 8 bold former classmates return to their schoolyard for old times' sake. Just when they think the gatekeeper is the only being in the abandoned site, they don't realize there are actually more "inhabitants" than they ever imagine. While they are juggling around and playing their own version of hide-and-seek, more and more "players" join in without their knowing. As the night falls, they will soon come face-to-face with the inhabitants that lurk behind and prevent them from leaving the site.
Tales From the Dark 2 奇幻夜 Hide and Seek Viewer Rating: 3.5/5 ***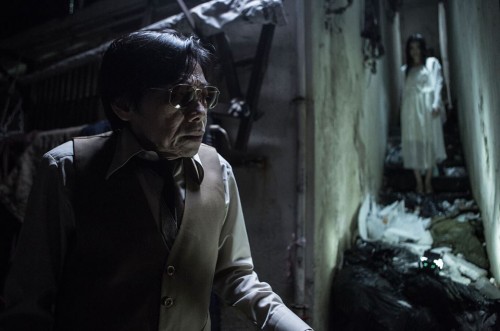 Black Umbrella (directed by Teddy Robin)
Wherever there is god, there is evil. Contrary to our usual perception, evil often presents itself in the most peculiar, unexpected disguise. Lam is a middle-aged, hobbit-sized man in a Tang outfit and black umbrella. Virtuous on the outlook and chivalrous on the inside, he feels like an outcast in this filthy city where the traditional value is plunged by the modern culture. When his ingenuousness is being exploited to the tolerance peak, his inner beast breaks loose and wrecks havoc on whoever took advantage of him.
Tales From the Dark 2 奇幻夜 Black Umbrella Viewer Rating: 1.5/5 *
Tales From the Dark 2 奇幻夜 Overall Viewer Rating: 2.8/5 **
Tales From the Dark 2 奇幻夜 Movie Review: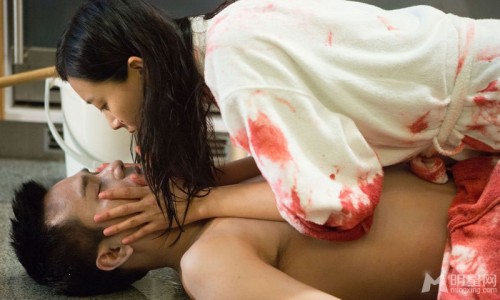 Pillow is one of the more hyped-up story out of the three (in the media), as it was acted out by Fala Chen and Gordon Lam, 2 of the more well-known actors in Hong Kong. The movie was also rated M18 because of the number of sexual and revealing scenes in the film. I would say this is more of a ghost -sensual film than a horror film. The plot was predictable and the flow of the movie was so slow that it took any scariness (if any)out of the film. If I was to rate the movies by the horror level, this film will get a 0.5 out of 5. But because of how simple yet relevant the story was (insomnia and relationship insecurity) and perhaps the contrast of the story from the rest, I would still say it's much better than the Black Umbrella (see third story)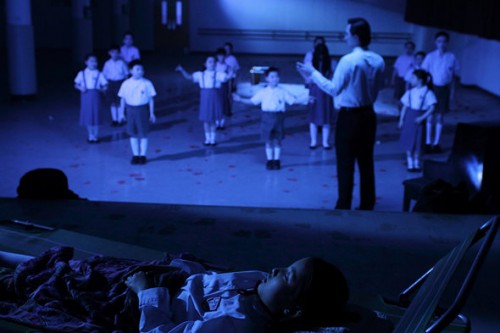 Hide and Seek had successfully scared the sh** out of me (surprisingly). It is an irony that the scariest or most successful film did not use any known celebrities. Using tried- and -tested horror filming techniques, I got to admit it still got me covering my eyes and screaming like a scared-y cat. After watching this film, my sister told me that she wouldn't want to play hide and seek ever again. Both of us found it ridiculous why would there be anyone who want to celebrate her birthday in a deserted school which was closed down due to too many SARS deaths in the school? Despite the no sense plot, or the plain foolish-ness of the kids, this was the scariest movie out of the three.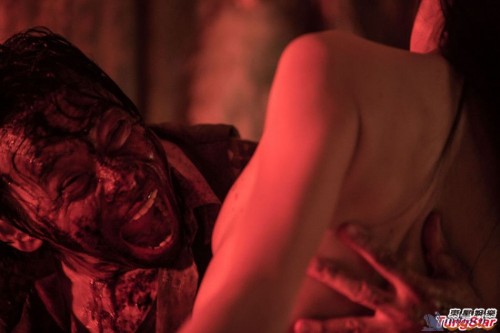 Black Umbrella is basically a joke. I don't understand why it was used as the last story. The story was about a hobbit-sized man Lam going around with a black umbrella, attempting to do good deeds. He bumped into an unreasonable prostitute who tried to extort money from him and the conflict brought out the demon in him. Teddy Robin acted as Lam and directed the film himself.
All the 3 stories did not really manage to do a satisfying closing (especially the last story) which left me and sister rolling our eyes. Compared to any thai, japanese or american horror films, this is almost a no-no. But I guess, guys will still go for Fala Chen.
For the review of (迷离夜) Tales from the Dark 1, click here.
Cast Interview
Check out more about Tales From the Dark 2 奇幻夜 on Encore Films' Facebook Page
Tales From the Dark 2 奇幻夜 will be in cinemas on 15 August 2013.
xoxo



*Disclosure:
Tickets from encorefilms. No monetary compensation was received for the movie review.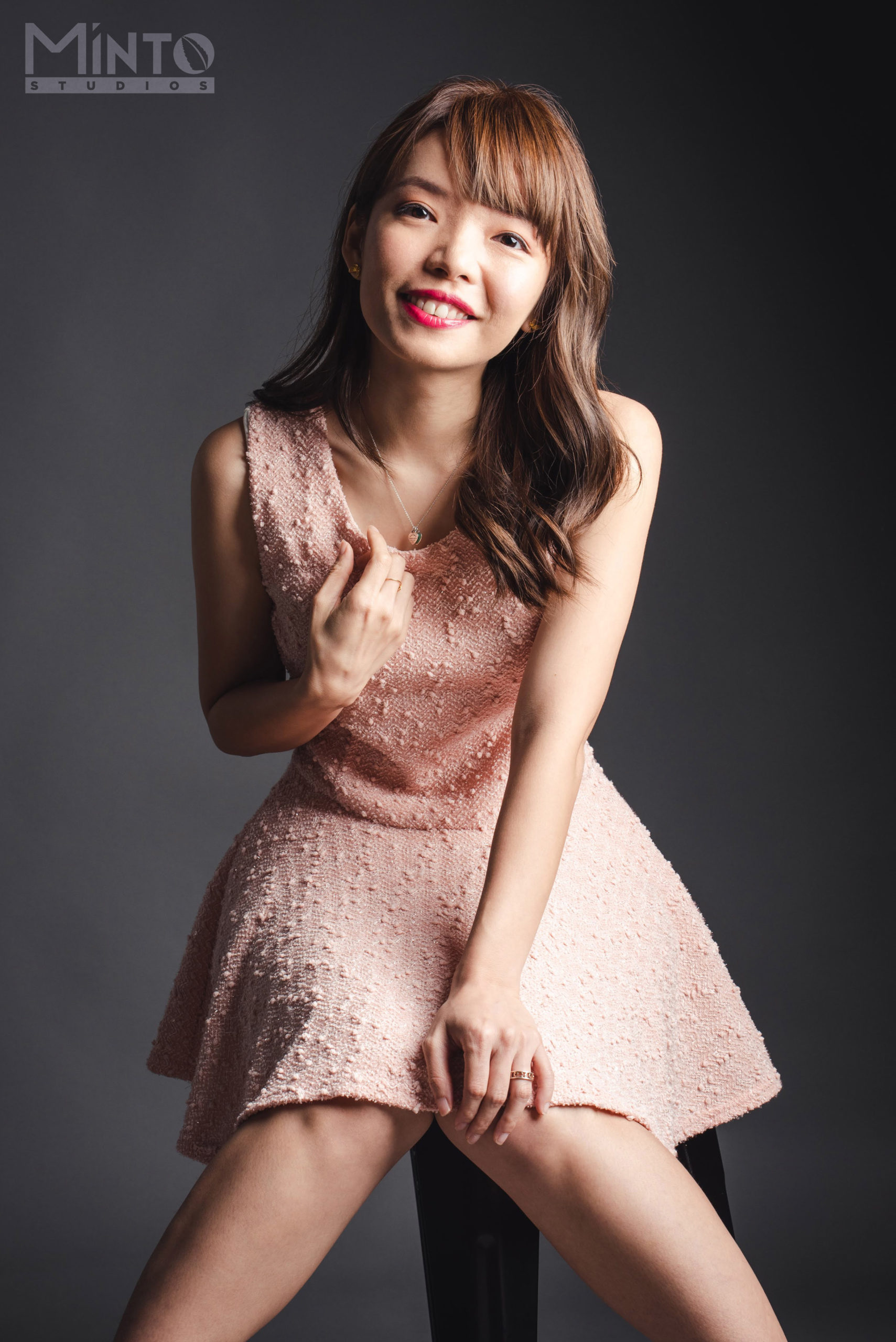 1/2 of #TheEpiphanyDuplet, Tiffany Yong juggles her ABCs – Acting, Blogging and Coaching/Consulting as she is fuelled by passion and drive to succeed.
It is not easy to make a living in Singapore just purely based on Acting, so with Blogging to help her with her online presence, and Coaching kids drama, private tutoring and freelance social media consulting to finance her life, she is currently leading the life most people hope to have: Living the Dream!