Tong Fu Ju Grilled Fish Restaurant Review (Sichuan)同福聚烤鱼(四川菜) | by tiffanyyong.com
A small restaurant easily missed and hidden by the roadside stalls, Tong Fu Ju is one of the many Sichuan restaurants along Smith Street (between Chinatown MRT and Tanjong Pagar MRT). With a traditional Chinese setting, the green walls, red curtains and lanterns it gave me a really festive (Chinese New Year) feeling.
位于游客小吃「圣殿」史密斯街(Smith Street)的同福聚(牛车水地铁站和丹戎巴葛地铁站之间),就好像是个被忽略的名画,光芒被许多的街边摊遮盖了。走进餐馆,绿色的墙壁,红色窗帘与灯笼,除了给我一种农历新年的感觉,也让我仿佛回到清末《茶馆》的年代。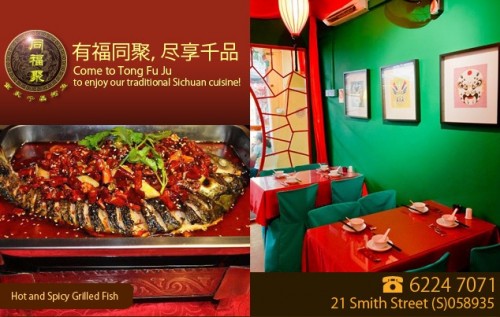 I was looking forward to this food tasting as I went Sichuan in 2011 on a school exchange program and love the food there (especially the fish!) So, it's a good chance for me to see if the restaurant is as "traditional" as they claimed. The first thing that caught my eye when I sat down was the story about Grilled Fish and the simple guide to using chopsticks.
因为在2011年,通过国大中新交流 到过四川,也爱上了川菜(尤其是水煮鱼),所以我特别向往这次的试吃,看看这家餐厅是否吃得到四川到底的菜肴。桌子上放着一个小漫画故事,写着烤鱼的故事,和一个简单的说明,叫客人怎么用筷子。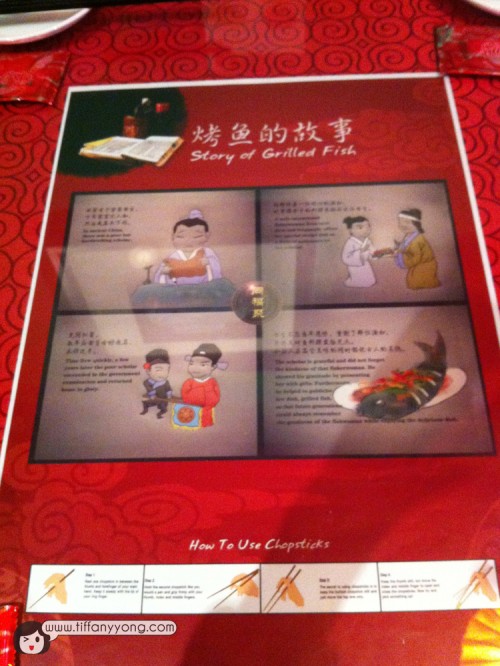 Here Comes the Food! 上菜咯!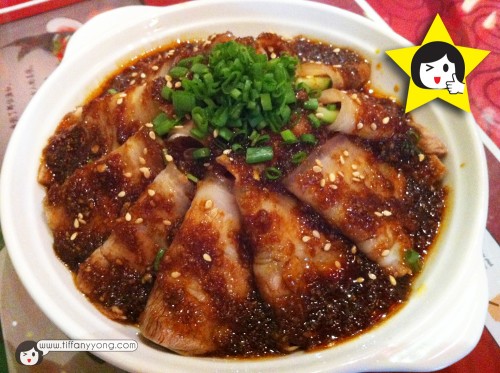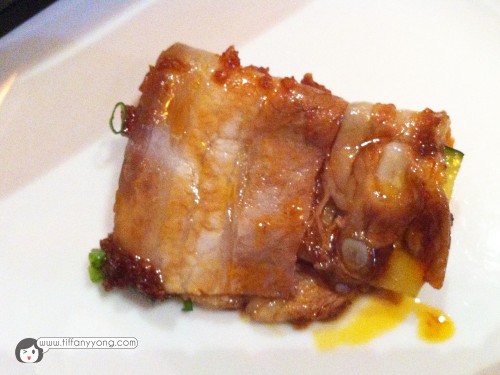 I usually try to avoid Pork Belly as I don't like eating the fats. But being a profession *ahem* food blogger, I decided to try it. I think you should know how the food taste with my BIG STAR on top. Together with the special garlic sauce, the thin slices of pork belly seems to melt in your mouth. For people who are afraid of the stench (ya know what I mean), the slightly salty sauce make you think of nothing but the soft meat. I would say this is a must try, especially for pork belly lovers!
虽然我平常不爱吃三层肉,但身为一位"专业"美食博客(哈哈),我还是硬着头皮试一试。看到图片上的星,应该就知道多好吃了吧?占了美味蒜泥的白肉,薄薄的,一口及化。那些怕会有猪腥味的人,大可不必担心,连我都忘了我不爱吃三层肉了!喜欢吃五花肉的人,这道菜一定要试试看哦!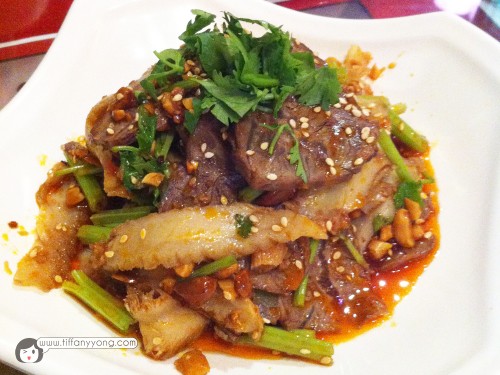 I have to confess that, I accidentally took a bite thinking it's pork when I'm not supposed to take beef (due to religious reason). And it's indeed delicious. I was going to take a second slice when the waiter served the REAL pork dish and told me it's beef. So I'm not going to rate this since I only had one slice, but you should get the hint when it is enough to make me go back for a second slice!
因为宗教信仰而不吃牛肉的我,把这道菜误以为是猪肉,没想太多就吃下去了(罪过罪过)。一句话,赞!但由于我只吃一口(虽然我心里还是想吃),我就不为这道菜评分了。牛肉最怕太硬,但同福聚的姜葱牛肉可是满嫩的哦!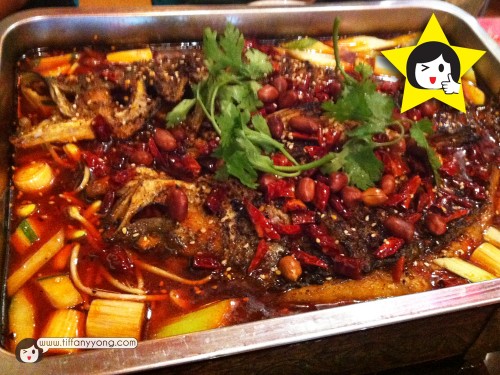 Here comes the signature dish: Charcoal Grilled Live Fish!
I can say, it's really impressive. The regular size can easily fit the stomach of 2 people if you are just ordering this along, 4 or more if you are ordering other dishes.
招牌菜来咯!服务生上这道招牌烤鱼时,我差一点把在四川吃过的水煮鱼忘得一干二净。如果单点这道菜,需要两个人才能吃完。但若要点其他的小菜,你可能就需要四个人才能吃完哦!(真得好大份!)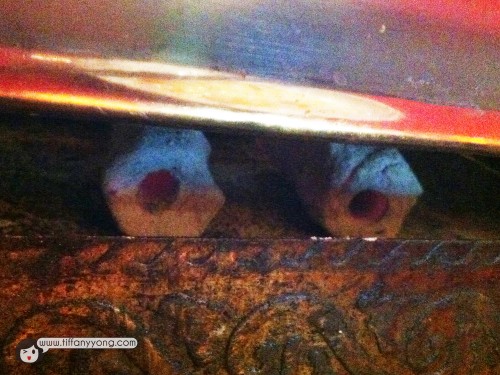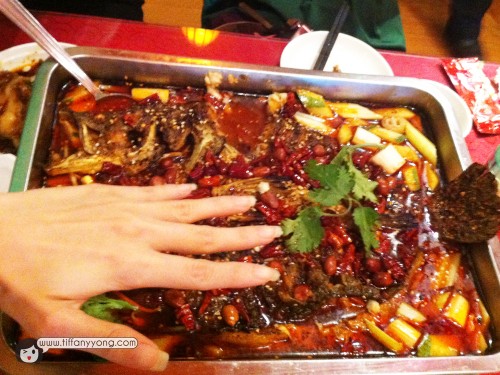 I used my small hand as a guide to show you how big is the regular fish! The fish is really tender, a little crispy on the outside because of the grilling. Dip in the chilli oil, you would think it would be VERY spicy, but it's just perfect. Besides the level of spiciness (Level 1-3) there are also 4 types of fish for you to choose from: Patin, Sea Bass, Besouga, Grouper (in the order of meat tenderness). Patin is the most tender while Grouper's meat is firmer.
我用我的小手来做个比较,看看这道(中份)的烤鱼多大!鱼肉鲜嫩,鱼皮有点脆脆的,看到这么多辣椒油,你可能会觉得很辣,其实对我来说刚好!除了烤鱼的辣度(小辣、中辣、大辣),这里还有四种鱼让你选择:巴丁鱼,金目鲈,红哥鲤,花斑 。巴丁鱼的肉最嫩,而花斑的最扎实。你能根据个人口味点着到烤鱼哦!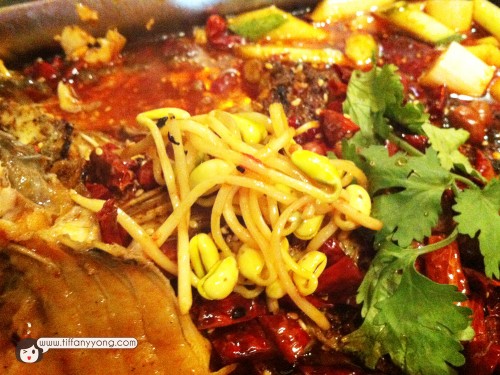 Below the fish, there are bean sprouts, onions etc. You need vegetables to balance your meal! It's my favourite dish, because I love eating the sprouts! They are those Korean Soy Bean Sprouts, not the normal ones we find in our bee hoon!
吃完烤鱼后,下面还有豆芽和煮的软软的葱。这是惊喜连连啊!这是我最喜欢的一道菜,有鱼有菜,让这餐变得很均衡。除此之外,这里的豆芽都是用黄豆芽(像韩国小菜一样),不是普通的小豆芽哦!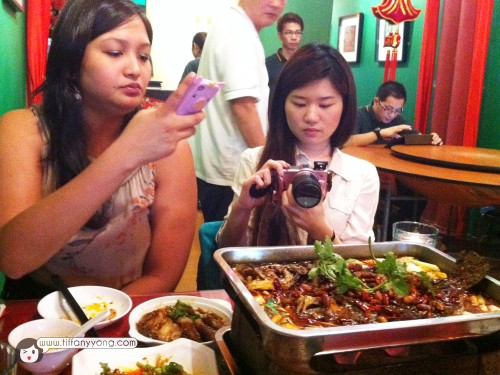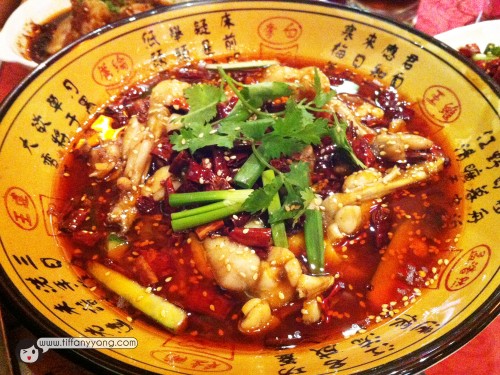 Bullfrog lovers, get ready to be numb by this dish! I didn't taste this dish as my chopsticks were already on next dish, but I heard from Juliana, the other blogger who was with me that the frog legs were really tender and sweet.
喜欢吃牛蛙的朋友们,你可能会吃得一直流口水哦!我没尝到这道菜(因为我眼睛已经在接下来的菜了!),但另一个博客,Juliana 告诉我这道馋嘴牛蛙的肉真的很嫩,很甜美。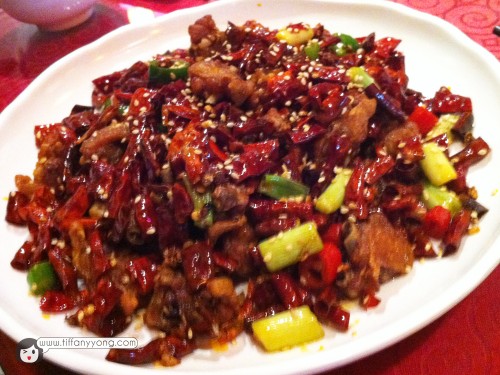 This is a "MUST-HAVE" for all Sichuan food lovers. It's also a dish I had daily (almost!) when I was in Sichuan. A bite into their chicken might numb your tongue! Haha, but it's really addictive! I guess this dish is also how people get the impression that Sichuan food are all spicy!
喜欢吃川菜的朋友,这可是一道"必吃"的重庆辣子鸡!在四川时,我几乎每天都会吃这道菜。如果一不留神,它的辣子鸡就会让你舌头发麻。虽说如此,但还真是会吃上瘾呢!我想,大家会想到川菜就想到辣味,应该是因为这道名菜吧!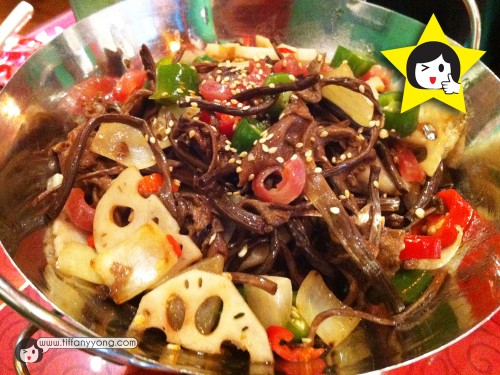 So if you are feeling all spiced up and numb from the spices, I would recommend this. This is a special type of mushroom (I didn't had this before, not even in Sichuan!) And it's called tea-tree mushroom! (I wonder if it helps with the acne like tea-tree oil :P) Together with the slightly crispy lotus roots, I ate 60% of the dish and even packed the rest home! It's a healthy (+ Delicious) alternative for people who can't take the chilli and spice!
吃完辣味和麻味十足的菜肴,这道千品茶树菇应该是我"解辣"的良菜吧!虽然没吃过这道菜,但他的蘑菇很特别,用了茶树菇(不知道会不会像茶树有一样帮助暗疮问题呢?哈哈)和脆脆莲藕。我一个人就把60%的菜吃完,还把剩下的打包回家呢!如果你不吃辣,又想要吃得健康,这道菜可是最佳选择哦!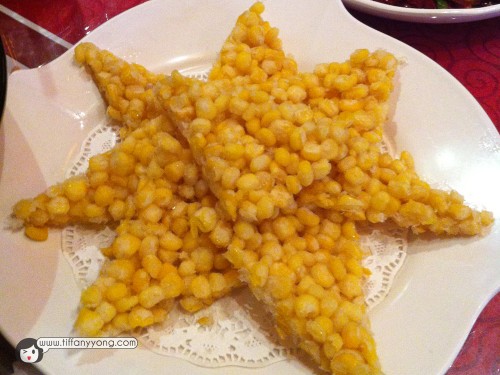 Here comes dessert! I had something similar in Sichuan, it's salted egg yolk with corn. But this come in the shape of pizza slice! Cute! If you are expecting something really sweet (like sweet corn), you might be disappointed. The corn cake is slightly sweet and crispy, something to sooth your tongue (if they are numb!)
在四川时,我爱上咸蛋黄玉米,跟这里的玉米烙有点相似。玉米烙做成比萨的形状,淡淡的甜味,脆脆的,如果你的舌头已被之前几道菜辣得麻掉的话,这可会帮你减轻舌头麻麻的感觉哦!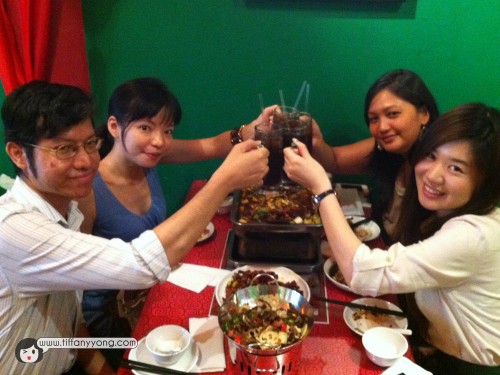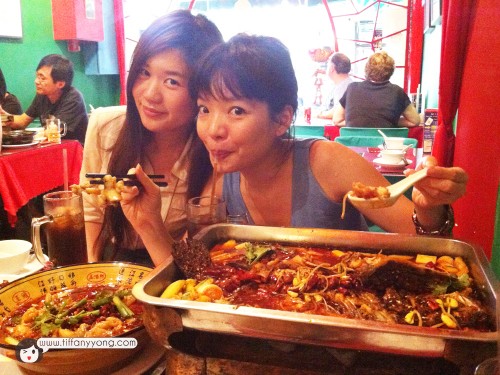 Find Tong Ju Fu Grilled Fish with Streetdirectory App
Now street directory has an app, and you can simple key in the name of the restaurant and it will show you where it is!

For more information about the restaurant, do visit the official website! Once again, thanks streetdirectory.com and Tong Fu Ju Grilled Fish Restaurant for the invite!
若想了解更多详情,请到同福聚的官网。再一次谢谢 Street Directory 和同福聚的邀请!
xoxo


Disclaimer: Please be rest assured that even though the food were sponsored, it does not have any bearing on the content of this post. Opinions stated are genuine and honest.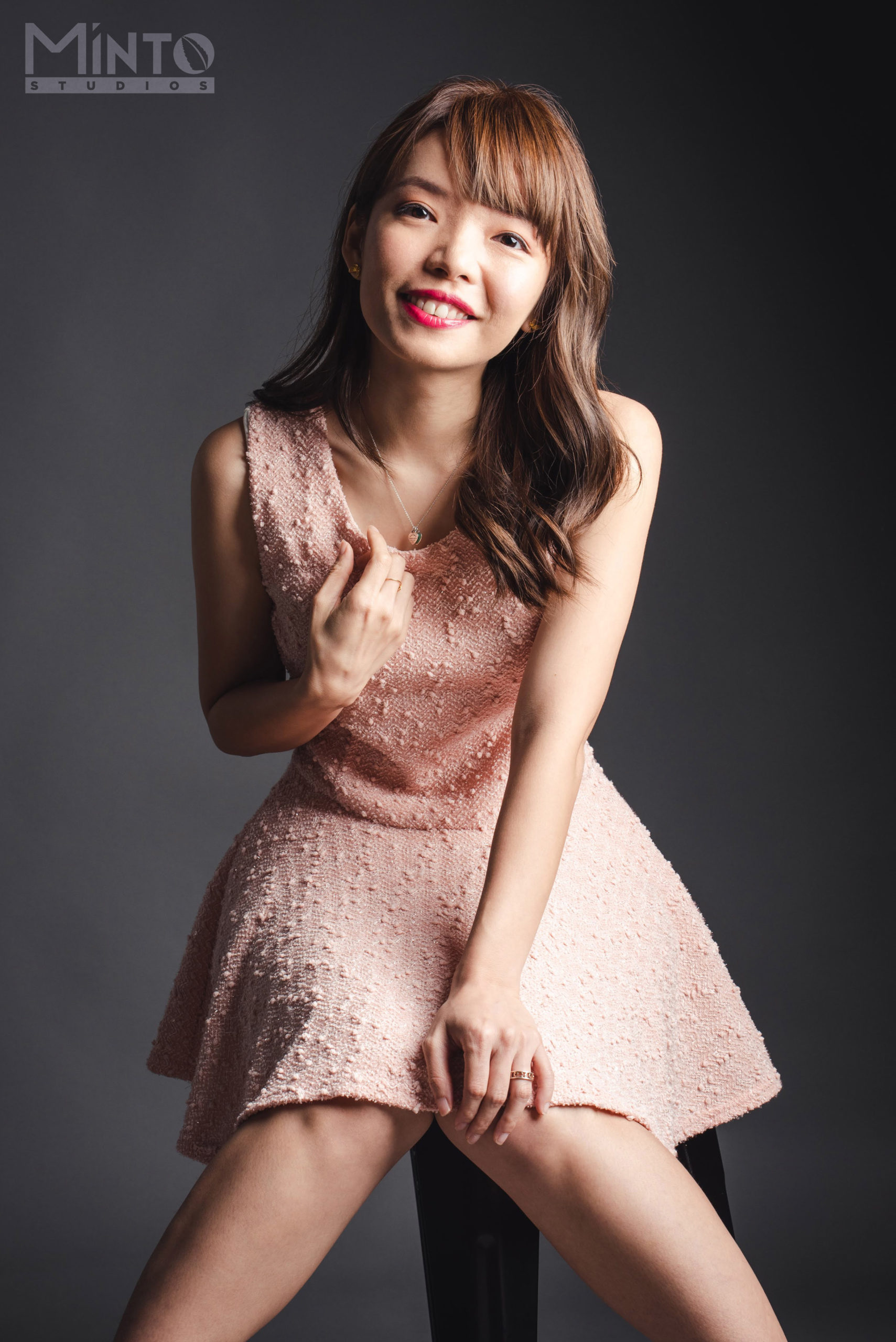 1/2 of #TheEpiphanyDuplet, Tiffany Yong juggles her ABCs – Acting, Blogging and Coaching/Consulting as she is fuelled by passion and drive to succeed.
It is not easy to make a living in Singapore just purely based on Acting, so with Blogging to help her with her online presence, and Coaching kids drama, private tutoring and freelance social media consulting to finance her life, she is currently leading the life most people hope to have: Living the Dream!