Cheryl Wee Happy Ever After MV BTS 1 (从今以后的每一天 ) | By tiffanyyong.com
I CAN FINALLY PUBLISH THIS POST! HAHA… This post actually contain quite a lot of spoilers, which was why I didn't post this till the release of the MV~ and Cheryl Wee is so pretty and sweet in the MV!
This filming experience is a really memorable and good one…. because I get to be a girl from secondary school to uni days to working adult… to marriage… just like a Taiwan idol drama!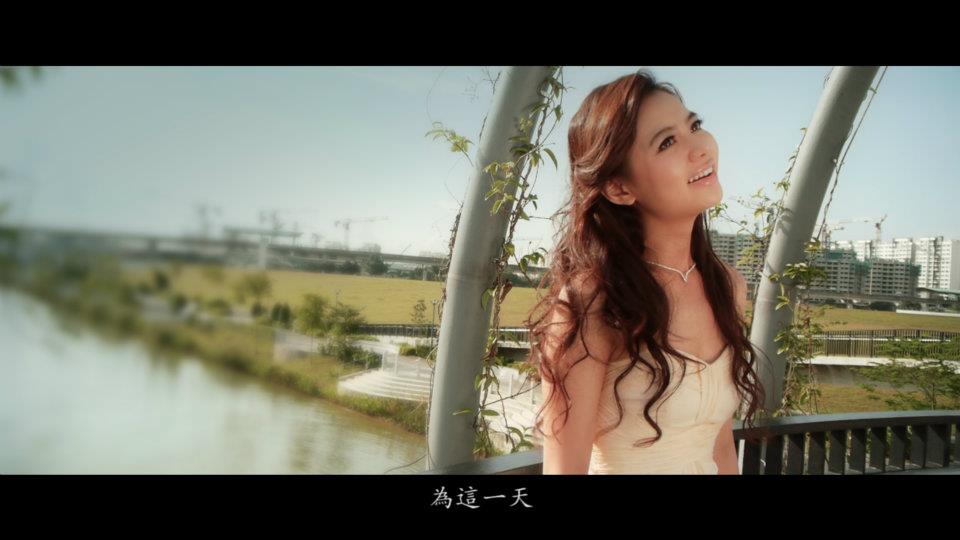 Down the Memory "Filming" Lane~
Scene 1: Marriage scene: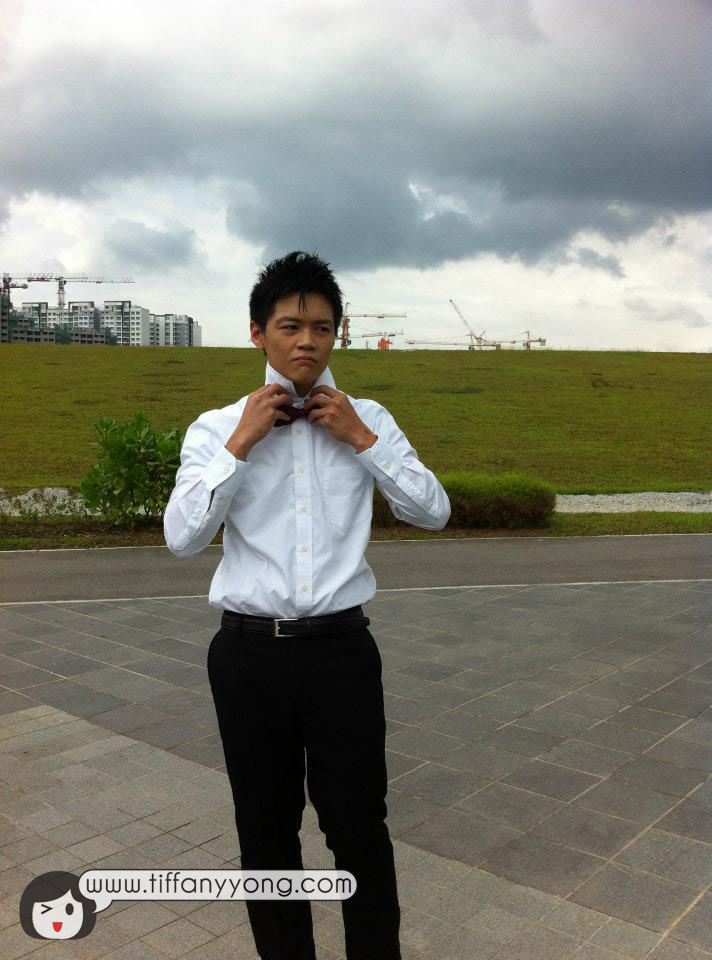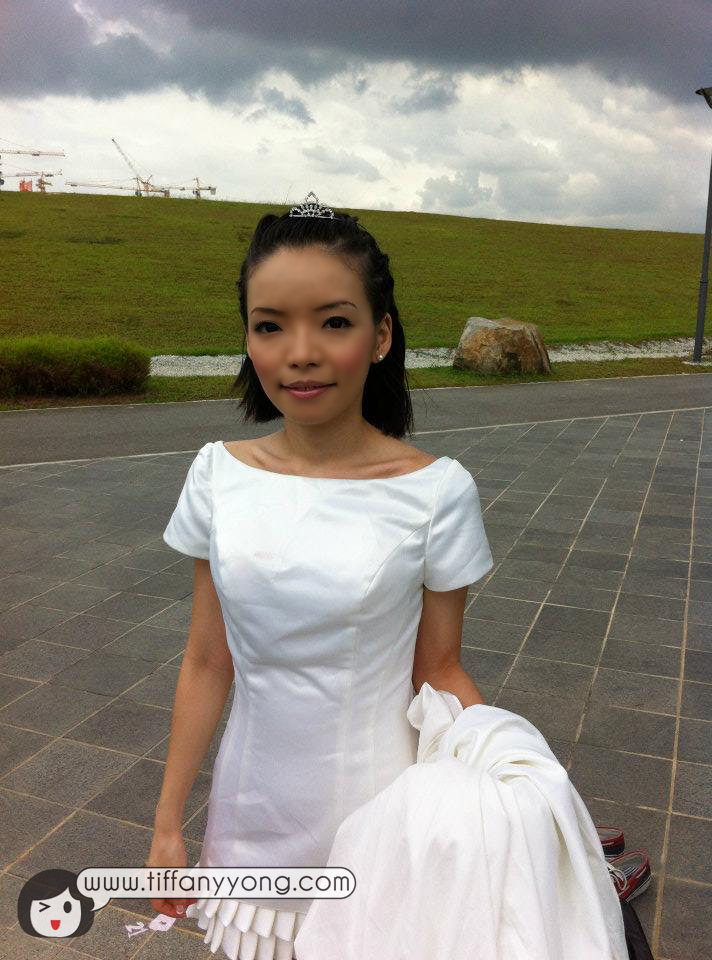 It's my first time wearing a wedding gown (duh) and it's from Cheryl… It's a simple and pretty gown… and the bride and groom had the makeup and hair done without any electricity! The makeup artists and hair stylist were so fast and cool!
And Yew, the groom who had contracted chicken pox 2 weeks before the filming, had to put loads of concealer on… poor Yew… But he still look good la~
I guess the most memorable part was when we saw the rings for the first time… @.@! Yew and I put the rings on excitedly, wondering which hand and finger it should be… The ring-exchanging action was repeated for like 20 times! haha… We had to do about 5 times, when they were filming our fairy singer- Cheryl Wee, and then many many more times for close up shots! Haha…  The kissing and hugging scene was a lil awkward la, afterall, it's the first scene of the day…
Lun (The director) didn't request for any close up of the hugging and kissing, but Vincent (from Music & Movement) was saying, "How come no kissing scene!" haha… everyone laughed awkwardly… Cheryl Wee left shortly after for other stuff, and once again, I didn't get to take photo with her AGAIN! Grrr…
Scene 2: Cry-baby + Comforting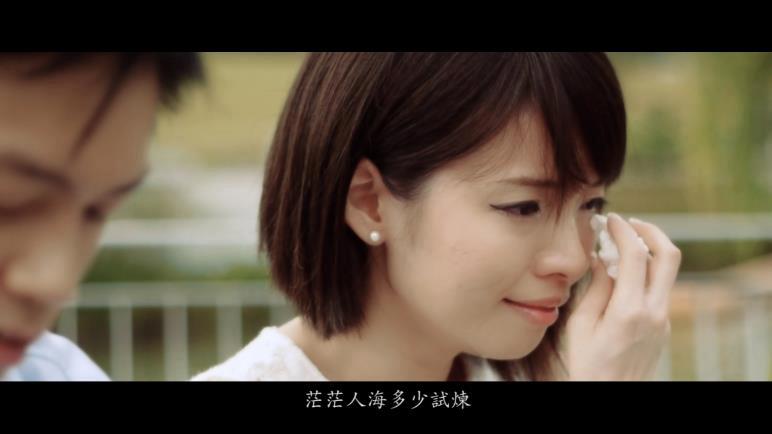 Some of my friends if I "真哭" or "假哭", I am actually a very emo person, so the day before the filming, I downloaded the final 2 episodes of my favourite drama 絕對達令 which ended just a week before. So when they told me to that I just have to cry and when Yew ask me what happen, I have to shake my head and continue crying, the truth is, I just watched the most touching part of the show, and the show was still running in my bag when the camera was rolling!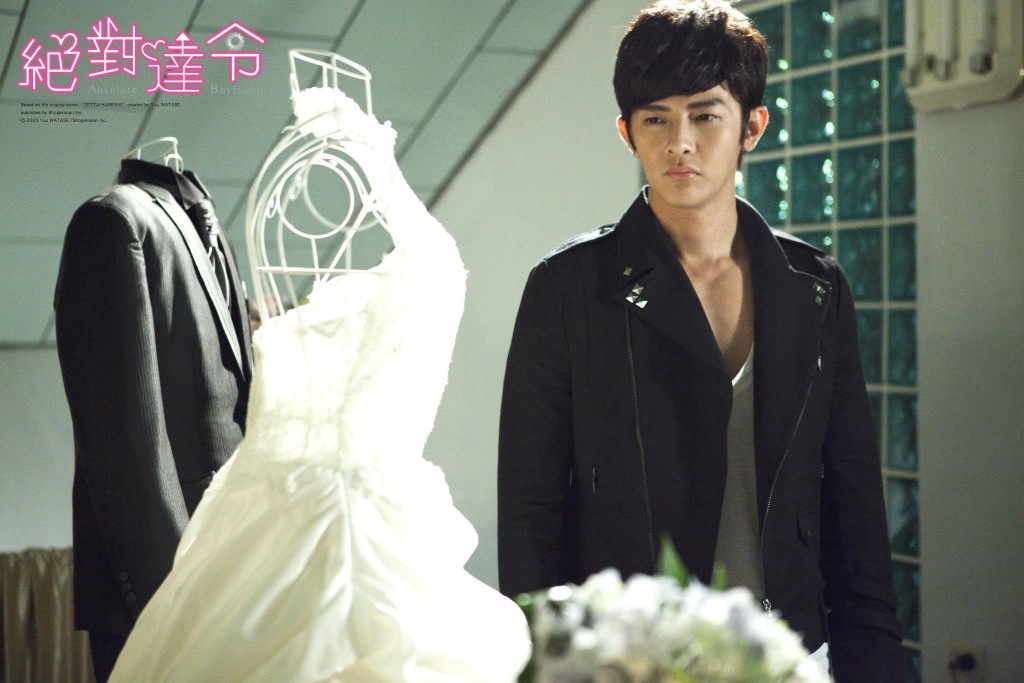 Muahaha… I'm not a professional actress, so no choice, have to use weapons to trigger the tears…
And poor yew, in order to comfort me, he has to stuff 6 HK egglet into his mouth! The filming crew were laughing so loudly when he did that (make me so hard to continue crying la!)
And Yong Hao (MV Bf and MV ex), who told me he is very scared to see girls cry, was trying not to peep at what's going on…
Scene 3: Quarrel quarrel until cry + BreakUp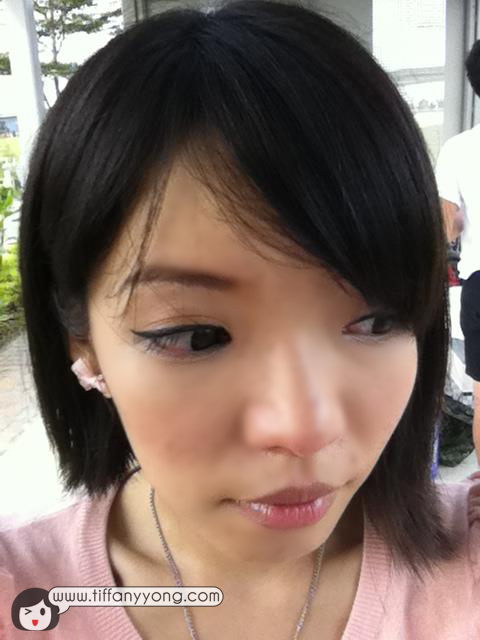 but this is the makeup for the breakup scene
This is one of the MOST difficult scene! I was so shock when Lun and Rachel told me, "both of you have to quarrel very Loudly, then you must quarrel until cry."
My response was, "Huh? But if I quarrel, I will become 野蛮女友 and hit the guy!" haha… We spent quite a lot of time trying to "quarrel", it will be hilarious if we ever show the sound recording of the filming… So this time, 絕對達令 don't really work, because when I start crying because of the drama, my tears stopped when we started quarrelling…
BUT, how did I manage to CRY in the end, thanks to Yong Hao, who accidentally hum a song "当我知道你们相爱" from Derrick He Wei Jian while waiting for me to try and watch 絕對達令 and cry. It actually trigger the memory of my ex who two-timed me, and the filming went super well from there… I cried non-stopped, even when the camera stopped filming… (well, the bubble tea the crew bought for me kinda stopped the tears…. haha)
BTS: While I was crying very pitifully, my MV husband Yew is happily resting… hmpf!
Scene 4: The Chase + Proposal Scene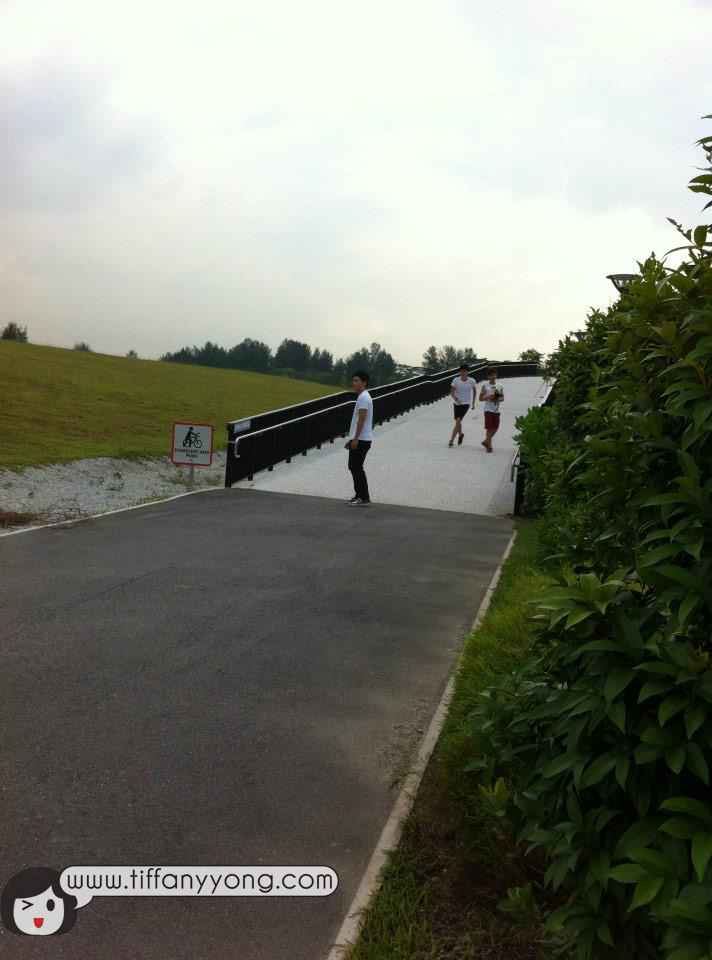 While I take my short break, it's now Yew's turn to do the work- he has to run to and fro "Looking for me" with HK egglet in his pocket… Haha… The sky was getting dark and it seems like it's gonna rain anytime soon, so we were quite worried…
In the end, it did rain, but we decided to "Just Do It" in the rain… haha… Just do what? Proposal with the Ultra big diamond ring la! Since many of the films were taken with cloudy sky, raining will be quite natural!
And because of the rain, I was let off from the crying scene (Lun wants tears of happiness- but I told him, I no more tears le!) Woohoo… so the expression came out to be $.$ because of the bling bling diamond… lol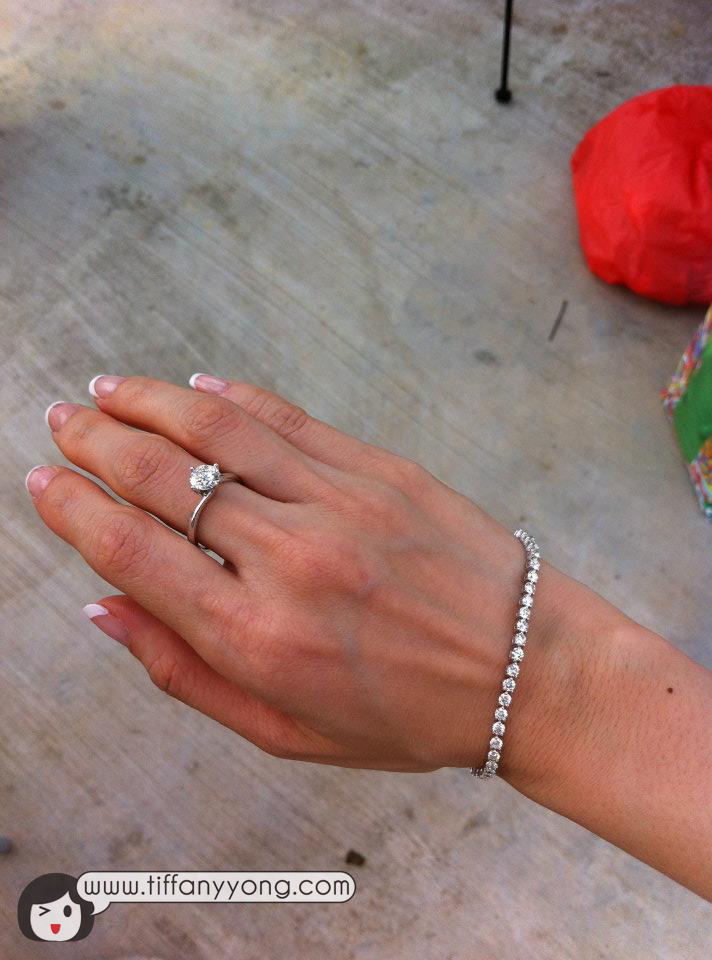 OMG! Big Diamond ring from SK Jewellery! <3 <3[/caption] xoxo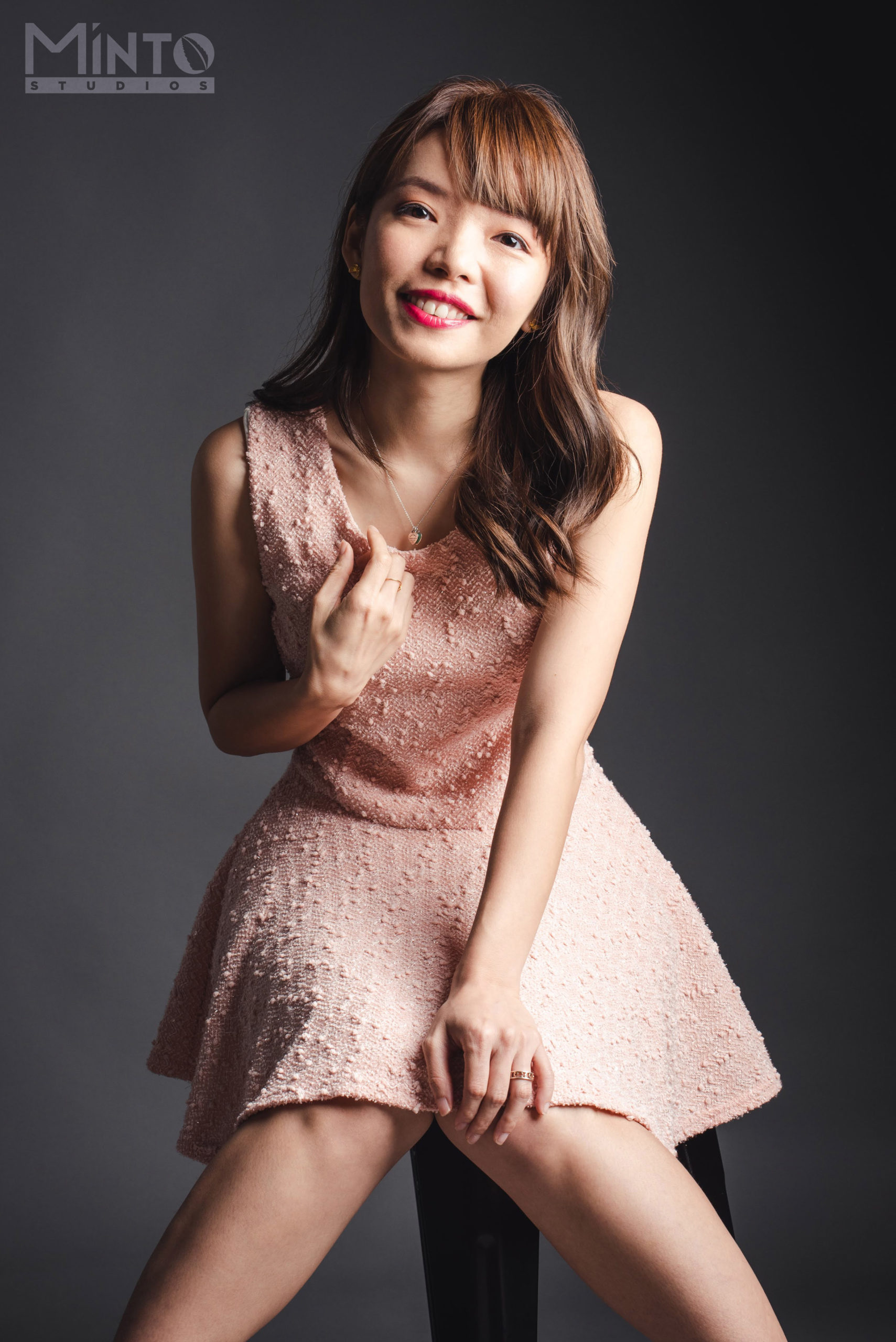 1/2 of #TheEpiphanyDuplet, Tiffany Yong juggles her ABCs – Acting, Blogging and Coaching/Consulting as she is fuelled by passion and drive to succeed.
It is not easy to make a living in Singapore just purely based on Acting, so with Blogging to help her with her online presence, and Coaching kids drama, private tutoring and freelance social media consulting to finance her life, she is currently leading the life most people hope to have: Living the Dream!