Don't Go Breaking My Heart 2 (单身男女2) Movie Review | by tiffanyyong.com
Recommended Audience: Fans of Louis Koo 古天乐, Miriam Yeung 杨千嬅, Gao Yuanyuan 高圆圆, Vic Chou 周渝民, Daniel Wu 吴彦祖 and romantic comedy movie fans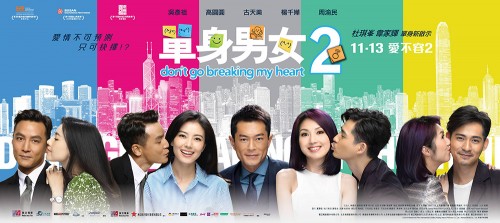 Don't Go Breaking My Heart 2 (单身男女2) Movie Synopsis
After the "Earthling" Cheung Shen Ren (Louis Koo) loses Chen Zixin (Gao Yuanyuan) to the "Martian" Fang Qihong, he decides to keep it cool and reverts to singlehood graciously. Cheng and Fang, meanwhile, live happily ever after…… That seems to be the fairytale ending from DON'T GO BREAKING MY HEART. In reality, the story is far from over: the three finds themselves once again entangled in an even more complicated relationship in DON'T GO BREAKING MY HEART 2.

After jilted by Chen, Cheung starts dating "Goddess of Stocks" Yang Yang Yang, who works in an opposite building. Yang has been turning a blind eye to Cheung's philandering until she meets Paul, a romantic returnee from France whose devotion has melted her heart.
Afraid to lose his lover again, Cheung determines to settle down and marry Yang, but fate works in mysterious ways. It turns out that Chen's wedding with Fang has been delayed and she is now directly working under Yang. A chance encounter with Chen again makes Cheung question his decision, because even though he appears to have emerged unscathed from their previous relationship, he was profoundly hurt and still hasn't fully recovered.

Paul is in love with Yang; Yang has accepted Cheung's proposal; Cheung is unable to get Cheng off his mind; and Chen is about to marry Fang. A quadrangular relationship among five people – who is really the love of their life?
Don't Go Breaking My Heart 2 (单身男女2) Viewer Rating: 4/5 ****
Don't Go Breaking My Heart 2 (单身男女2) Movie Review:
Spoiler Alert

I had difficulty rating this film, as my left and right brain have been squabbling for the past few days telling me what rating to give. The logical choice will be to give this a full mark, or almost full mark. The cast were BRILLIANT. Besides charming Louis Koo, and handsome Daniel Wu with the female lead Gao Yuanyuan from the first film in 2011, now there's Vic Chou (My first secondary school crush when he appeared in my life as Hua Ze Lei from Meteor Garden :P) and Miriam Yeung (my role model for acting after watching her Love Undercover in 2002). You know you can't go wrong when the cast are so good-looking and great with their acting!
Besides, this is one of the rare films where the CGI was pretty natural, especially the octopus, so much that me and my friend wonder if it's a CGI octopus or not! Moreover, the film played to its strength and made clever use of the first film for the flashbacks. No real worries for those who did not watch the first film, but of course, having watched that will always be advantageous to know the characters beforehand!
I like how the characters were introduced, showing how there is every reason for an identity mix-up, and well, just like the classic romance film "Turn Left Turn Right" (左走向右走), coincidentally by the same directors, this kind of situation is very possible in the real life! That's basically my left brain talking.
My right brain, on the other brain hand, was obsessively upset for many days after watching it. It actually took me some time to prepare myself (emotionally) to write this review. I love the first film. When Chen Zixin chose "Martian" Fang Qihong over "Earthling Cheung Shen Ren, I was overjoy. A man who two-times and sleeps around is definitely not someone a girl should marry. So when Part 2 is out, I kinda expected what's going to happen.
Yes, as usual, "true love"-or so they say, conquer everything (and Yes, I'm feeling sour, because my favourite Martian guy was dumped!) This made completely and utterly no-sense here, why any women could believe that Shen Ren would stop his philandering behaviour, especially when Chen Zixin witnessed everything across the building herself how Shen Ren continued his usual post-it notes and magic tricks with different women right after their breakup or even the riotous mass-"surprise" birthday celebrations all his girlfriends gave him. True love?
While some might find the first film simple, just like their theme song "Love is Simple" (爱很简单), the sequel's trailer got me totally confused yet excited. Together with two more classic songs, the film introduced Miriam Yeung who was one of my favourite Hong Kong actress for her numerous comedy-romance films, and Vic Chou! It's such an odd combination that I will never have imagined them together. Yet, their chemistry in the film was uniquely sweet. The handyman who's always there when the girl needs him, he's like the romantic-version of "Da Ren Ge" (大仁哥). The amazing quadrangular relationship made it super confusing to explain verbally, but it was definitely fun to watch.
I'm definitely disappointed when they keep Daniel Wu sidelined as a guest appearance. Please, if there's ever a Part 3, since the female lead has yet to marry, BRING DANIEL WU BACK! You will most probably walk out of the cinema discussing which guy would you choose. And I pondered over the question for days. Not because I don't know who to choose but because I don't know WHY ON EARTH will the female lead chose him (I'm not sure if by now, it's clear to you which guy the female lead has chosen, if it isn't clear to you, TOO BAD, go watch the film! If it is, yes, Martian's definitely my choice!)
So that's one mark is lost to the ending that I didn't like. So glad this is my personal film review and I get to write them in the way I want! Many thanks to mig.me and Clover Films for the tickets!
Do You Know?
The film was screened during the Busan International Film Festival 2014, Toronto International Film Festival Official Selection 2014 and the Hong Kong Asian Film Festival 2014 Opening film.
The three songs in the movie were David Tao's 1997 "Love is Simple"《爱很简单》、Faye Wong's 1994 "I'm Willing"《我愿意》、Huang Xiao Hu's 2009 "Love is Not So Simple"《没那么简单》.
Miriam Yeung grabbed the opportunity to join this film as "I love that I can still enjoy that 'superior' feeling of being pursued by handsome men, that feeling of being a single woman, because I can't have any of that in real life anymore. So acting is a way for me to go into my dream world."
The building that Fang Qihong designed for Chen Zixin in the first movie and climbed by Cheung Sheng Ren in the second film was a building in Guangzhou's Zhujiang New Town.
Although Daniel Wu and Miriam Yeung had almost no interaction and very little scenes together in this film, they were considered the golden couple for Hong Kong romance comedy film. They've acted as a couple for several films since 12 years ago in films such as Love Undercover 1 (2002) and 2 (2003) (新紮師妹 I/II)and Drink, Drank, Drunk 2005 (千杯不醉).
Miriam Yeung don't know how to swim and said that her water scenes with Vic Chou was almost as difficult as giving birth.
Behind The Scenes and Interviews
Check out Don't Go Breaking My Heart 2 (单身男女2)Facebook Page!
Don't Go Breaking My Heart 2 (单身男女2) is out in cinemas on 13 November 2014.
xoxo



Facebook | Instagram | Twitter
*Disclosure: No monetary compensation was received for the movie review.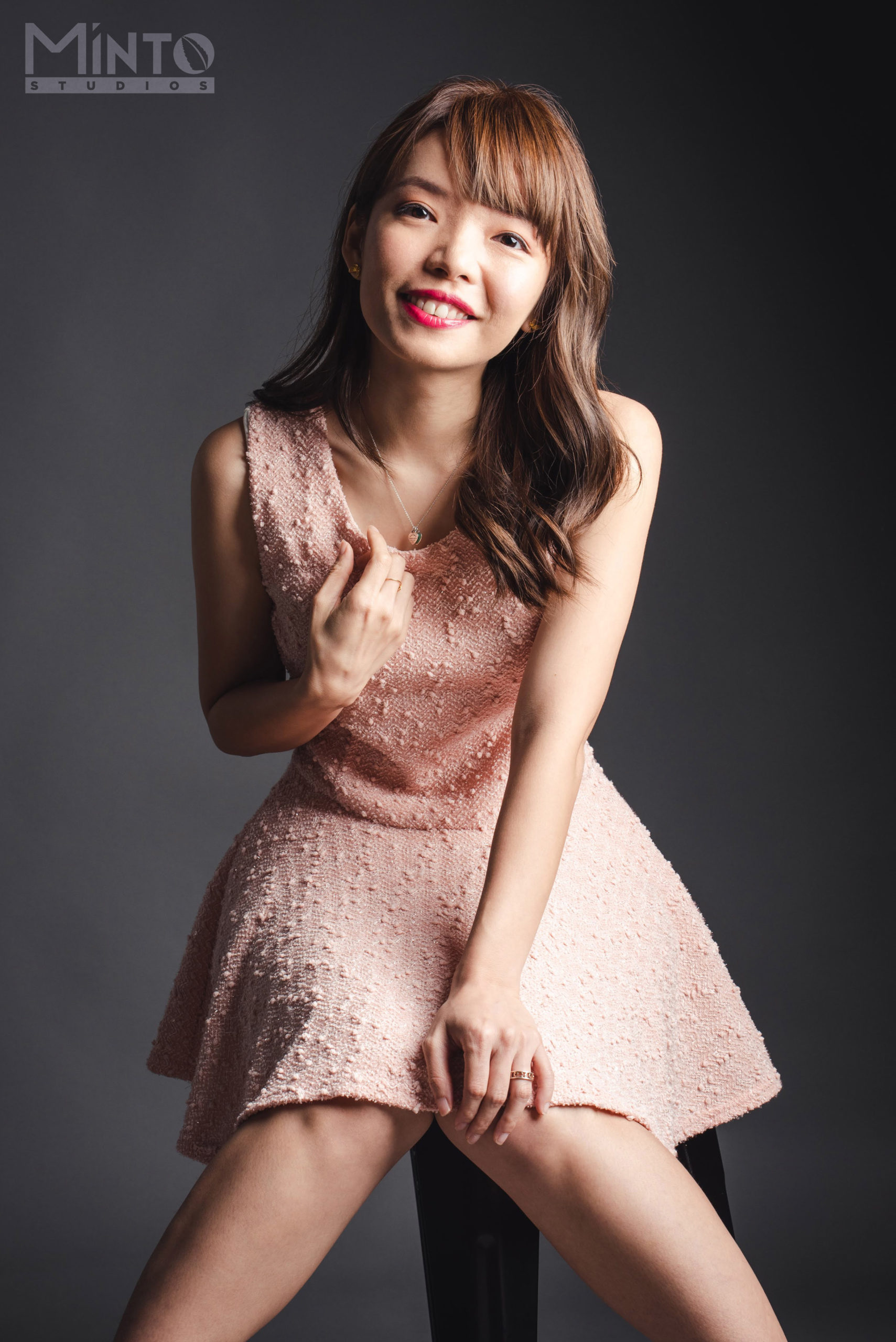 1/2 of #TheEpiphanyDuplet, Tiffany Yong juggles her ABCs – Acting, Blogging and Coaching/Consulting as she is fuelled by passion and drive to succeed.
It is not easy to make a living in Singapore just purely based on Acting, so with Blogging to help her with her online presence, and Coaching kids drama, private tutoring and freelance social media consulting to finance her life, she is currently leading the life most people hope to have: Living the Dream!