Having stayed in quite a number of 4-5 star hotels for the past 1-2 years due to my travel reviews, there were quite a few hotels which failed to impress me, either with their bad Wi-Fi or poor food (nope, I didn't have time to review those hotels so they are not in my blog!). Of course, there were a number great hotels, but none of them came close to my great experience at Forte Beitou Hot Spring Resort 北投福泰天玥泉會館.
When I was invited to Taipei to review this resort in Beitou, I was overjoyed that I finally had the excuse to fly back to Taiwan again (Yes, the list of night markets and things to buy + eat were appearing in my mind)! To me, it was the shopping that attracted me more than the resort itself. Well, silly me didn't know what a great treat I was in for!

It wasn't my first time going Beitou for Hot Spring, and I remembered that they had a long slope where countless hot spring hotels and resorts are located. Initially, I was apprehensive about climbing up the slope, lugging my heavy luggage under the hot sun. Luckily, upon looking up the map, Forte Beitou Hot Spring Resort is just a 2-3 minute walk from the Xin Beitou (新北投) MRT Station!

I had a bit of difficulty identifying the resort at first as the resort was just next to a high rise (hotel look-a-like) building with the same name which was actually an apartment. It took us a few moments before finding the name of the resort, camouflaged by the dark background (if you see the header, I had to use an outline to bring out the name!) My first impression of this wooden architecture, with wooden automatic doors was its resemblence to a wooden mansion house rather than a resort or hotel.
This resort started operation officially last year, in September 2013, and when I was there (7-9th September), there were still certain parts of the building undergoing renovation and improvements (as it was the off-peak season). Despite so, there was this serene ambience upon entering the lobby. The spacious and simple lobby even has a collection stone chairs of different shapes and sizes for sale (Interesting huh!).
When I reached the level where my room was, I was greeted and welcomed by two staff at the lift door. They helped me with my luggage and showed me to my room, and telling me where all the switches and facilities are. Impressed with the service. Totally.
My "Normal-Looking" Room with Hidden Treasures
According to the website, I got a Deluxe A room (29.8-33.1m²). First Look, it's a normal room, small but complete.  After taking a closer look, my jaw dropped. My travelling companion, Priscilla (aka pingerrain) and I decided to do an impromptu video as we love the room too much!
Now, take a closer look of the room. The photos are going to tell the story.

The exquisite Zen style room at a glance: mini-bar(twinings tea, coffee, 2 complimentary bottles of water), water boiler, free Wi-Fi internet access (strong and stable!), flat screen television, cable tv channels, laptop desk, electronic safe, bedside controls for lighting, mini-refrigerator (with another 2 bottles of plain water inside).
This queen-size bed (160cm x 200cm) looked welcoming after our long travel but what we saw next totally took our minds off the bed.
The Jaw-Dropping Corner: This small but complete corner was practically my dream come true. Compartmentalized into 5 sections: There's the shower room, the hot spring tub room, the toilet, the sauna room and the sink/mirror section. None of my previous experiences (Yes, including the 8-star Empire Hotel in Brunei -I'm sorry, my heart's won over by the in-room sauna/steam room facilities) could beat this. Now, a closer look at each section…
Toiletries include: Tian Yue Quan body lotion, bath gel, conditioner, shampoo and facial cleanser, as well as a pair of toothbrushes, cotton buds, shower cap and razor. I like how the mirrors had white back lights (for selfies!) as the area double up as our vanity table too. Hair dryer is available in the drawer under the TV.
For Deluxe A rooms, guests have a choice of either the balcony or the sauna room. So I got the one with the sauna room, which I'm glad because I love perspiring without working out under the sun (but my travel companion Priscilla prefer the rooms with Balcony as they make good photography corners!). There is a 30 minute timer to ensure that we don't use the electrically heated room for too long.
Benefits of Sauna: The heat from a sauna soothes your nerve endings and warms and relaxes muscles, in turn relieving the tension from your body and minimizing joint pain. This is especially beneficial for those who suffer from illnesses such as arthritis, painful migraines, and headaches. It also help induce sleep as it helps the body release endorphins, a feel-good chemical, reducing the effects of stress. When the body cool down after the sauna, it releases more melatonin, a hormone which helps control your sleep and wake cycles, allowing deeper sleep.
P.S. The sauna room actually doubled up as my towel dryer once or twice when it was too wet to dry anything. When it got too cold for me to sleep at night (as I got the colder side of the bed), I went to the sauna room to warm up for 10 minutes before sleeping!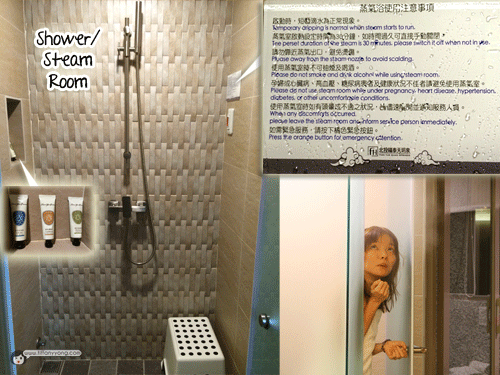 Similarly, the steam room also have a 30 minutes timer, but this time, the switch is a bit out of reach (all the way beside the mirror!). There is also an extra set of Tian Yue Quan bath gel, conditioner and shampoo in the bathroom.
Benefits of Steam Room: The steam room helps to open up airways which improves your breathing and alleviates congestion. The wet heat from the steam room thins and opens the mucous membranes in the body, which helps to relieve the pressure. This is highly beneficial for those that suffer from asthma and bronchitis, as it helps with sinus relief. It also increases metabolism and also help remove toxins and cleanses the body (through perspiration).
P.S. I like how there's a stool for us to sit when going through the steam bath. It is directly in front of the steam nozzle (bottom left) which some might find it a bit too hot. Priscilla mentioned how it will be better if there's a hook in the bathroom for clothes, but I guess it's too small to hang clothes without getting them wet (Plus it's a steam room!)
Now, here's the main attraction: The one and only smooth quality of white sulphur spring. Boiling up from the volcanic core of Mount Datun, these springs come in three types—"green," strongly sulfurous waters (50 – 75°C); "white," containing hydrogen sulfide (45°C); and reddish ferrous waters (40°C to 60°C). In Forte Beitou Hot Spring Resort, they use the white sulphur springs which is believed to treat chronic skin problems and articular cancer.
P.S. Sulfur, by itself, is not toxic to our bodies. However, some people are highly allergic to relatives of sulfur such as sulfites and sulfa drugs. Sulfites (often used as a food preservative) can trigger asthma and other allergic reactions in people who are sensitive. Sulfa drugs can cause hypoglycemia (low blood sugar), skin rashes, high fever, headache, fatigue, and gastric problems.
Summary: Deluxe A Room (29.8-33.1m²) | NT$7800 per night | Check in 3pm; Check out 12noon | Choice of Balcony OR Sauna Room  | Free Wi-Fi | Number of such rooms: 11
Overall Rating: 5/5 *****
Other Rooms: Superior Room (23.1-26.4m²) NT$6200 per night | Deluxe Room B (26.4-29.8m²) NT$7200 per night | Classic Room (33.1-43.0m²) NT$9800 per night
A More In-Depth Experiential Review:
André Tomes Balazs once said, "All good hotels tend to lead people to do things they wouldn't necessarily do at home."
In my case, it was absolutely true. Although I was staying in Forte Beitou Hot Spring Resort for 3 days 2 Nights, I spent most of the time out of the resort rather than inside. I totally regretted my decision, as I did not have time to use the other facilities or even explore the vicinity! So my advice to anyone who's planning to stay in Forte Beitout Hot Spring Resort to spend more time in the resort than out!
On our last night, we took a picture together in the Tian Yue Quan bathrobe which unlike the usual cotton material, was made thinner material. This is perhaps the only bone in the egg as I did not really like the material. On each night, I spent approximately 2 hours (11pm till 1 am) in my room, using the facilities and experimenting various ways of pampering myself, out of which were tips taught in Taiwan's top beauty show: Lady First (女人我最大).
But first, I thought it will be useful to let everyone know that not EVERYONE is suitable for the hot spring, sauna and steam bath. Travelling with Priscilla made me realised that I actually have a (Very) high tolerance for heat. While I can actually stay inside the steam room for 15 minutes, Priscilla had difficulty breathing in the steam room. Priscilla also developed an itch after using the hot spring, and had to take another bath, apply a lot of moisturizer before the itch stopped. According to the resort manager, it might be the open wounds Priscilla had on her legs and the sulphurous water was too drying for her sensitive skin. So whatever I am teaching next are just personal tips which you can try if you are comfortable going through them!
Drink plenty of water before entering to combat dehydration. It is always good to use the facilities with a clean and makeup-free + sunscreen-free skin, so I will bathe before using the steam bath.
After bathing, I used the steam room for 5 minutes, allowing the steam to open up the pores before applying the APIVITA Deep Cleansing Mask with green clay and continue to stay in the steam room for another 15 minutes (I gave my body and limbs a nice massage to speed up blood circulation while sitting down).
The steam helps to clear out any impurities from the skin which is especially good for those who have acne. There after, I washed away the mask with a cold bath.
*Additional Tip: You can do a hair treatment by applying conditioner or hair mask.
Sauna is good for muscle relaxation, lowering blood pressure and is said to help eradicate blackheads to give you clearer skin. I realize drink more water before entering the sauna will somehow help speed up perspiration too. I perspire really slow, sometimes, I don't even sweat after staying in the hot room for 15 minutes, so depending on your body and your tolerance, you can stay inside for up to half an hour as long as you don't feel dizzy or nausea. Sauna will dry up your skin, so do remember to take a bath to wash the toxin and perspiration on the skin, followed by moisturizer.
*Additional Tip: Most websites advise a clean and dry body within minimal clothing while using the sauna room. But some suggest do a hair treatment by applying conditioner or hair mask to protect your hair from over drying (from the dry heat). You may also try aromatherapy oils like eucalyptus and menthol to add fragrances to the air.
In the resort, all the facilities will have an emergency button to call for help in the case where you feel unwell. I thought it was very thoughtful of them to come up with safety messages to remind guests to climb out of the tub safely and correctly.
Many people thought a hot spring is similar to taking a bubble bath. But there are actually quite a few tedious steps to take note when using the hot spring tub. It is not advisable to enter a sauna directly after taking a hot spring bath.
Traditional Way to take a Hot Spring Bath:
1) A hot spring bath is supposed to be taken naked (not even swimwear is allowed) and the hair has to be tied up so that it does not touch the water.
2) Dip your leg in first and use the katateyuoke (scoop) to splash the hot water to thighs, then arms, and shoulders before soaking your whole body in.
3) After soaking for 15 minutes, go for a bath and wash off the sulphurous water from your skin with soap.
4) Re-enter the bath for another soak, this time, do not wash off the water and leave the minerals to have full effect on the body.
*You can do a 5 min soak, 5 min break for 8-10 repetitions, or a 15 min soak, 10 min break for 2-3 repetition.
According to the resort manager, the best time to do this ritual is in the morning (I thought it was night time!), as that is the time when our body's metabolism rate is the highest. Now you know why you should stay in the resort and not go shopping like I did? Lol.
*Additional Tip:  On my second set, I put on a hydrating Cucumber mask I purchased from Watsons in Taiwan to sooth and hydrate my skin! I realized that detoxification took place (for me) through urination instead of perspiration, so the effects vary from person to person. But one thing to guarantee, undisturbed deep sleep after the luxurious and pampering treat! Both Priscilla and I were knocked out on both days!
Breakfast With Tiffanyat Cafe Fusion 天飨食坊!
The cafe was half-filled with guests at 9.30am in the morning, there were families and couples, but somehow, unlike many other hotels where there would be screaming and cheeky kids running around, the guests here were all pretty quiet and relaxed. Perhaps it was the relaxation from the hot spring, or perhaps it was the whole atmosphere, the sunshine-filled cafe, with clear view of the greenery and streets of Beitou seem to calm me down. Quiet and peaceful, this space makes me want to just sit there with a laptop or book and just spend the day on the comfortable seats with a cup of coffee for hours.
Many of my friends don't get their breakfast from the hotel when they are in Taipei, but I usually rate a hotel by the quality of their breakfast. I was quite disappointed by the small and simple breakfast initially. Perhaps I was too pampered by my previous experiences, I expected a wider variety of choices. But here, there were only 5 dishes, and a basic breakfast spread.
We took a bit of each to sample, and surprisingly, I was quite satisfied with the quality of the food. Rather than quantity (which usually end up wasted), the resort served quality breakfast which most guests will be able to accept, with simple local delights.
My favourite part of the breakfast was the plain porridge with 4-5 side dishes (I had a bowl on both days!) and also the delicious vegetables!
Other Facilities
I enjoyed my stay so much that I decided to get the manager, Spencer (on my last morning) to show me around the resort, to check out if there were any parts of the resort I missed out. Guess what, I totally regretted doing so!

I was shown to the other section of the resort, the private Hot Spring Rooms where people can come for a short 90 minute relaxation break. There are 14 of such rooms, with individual hot spring pool, cold water pool, showers and resting area. If you are here with your loved one, and want to have a nap after your hot spring, opt for the one with beds instead (Gotta top up of course!)
Private Hot Spring Rooms: 2 pax per Room/ 90 minutes
Cost: Weekdays (Mon-Fri): NT$1100/ 2 pax | Weekends & Public Holidays: NT$1400/ 2 pax
In Forte Beitou Hot Spring Resort, there is a 413m² spacious ballroom (30-35 tables) with a panaroma wall for creative video display (think wedding?), as well as 6 multi-functional conference halls for smaller scale events! I like one of the rooms which has a beautiful overlooking view of the Beitou Park, and Spencer told me that the space was often used for big family birthday celebrations and gatherings.
To view for detailed event packages: click here
Event Request and Enquiry: fb-reservation@tyq.com.tw; fb-bt@fortehotels.com.tw
Service Hours: 11.30am- 7.30pm daily
Tel: +866-2-2898-8661
Did I explain why I regretted checking out the whole resort? Well, this was the reason why. There is a 1320m² public pool (@.@) separated by gender (duh!) for naked hot spring (Yeap, No swimming costume allowed!), including hot spring pool, jacuzzi, cold water pool, sauna, steam room, shower facilities, resting area and lockers. This is suitable for people who wants to experience and enjoy the hot spring with friends (2 or more, basically).
I really regret not trying this once, which is why I had to reiterate, that if you are to stay in this resort, try to spend at least 1 full day in the resort before running off to explore other parts of Taipei!
Service Hours: Sunday- Thursday: 9am-10pm | Friday, Saturday: 9am-11pm
Cost: Weekdays (Mon-Fri): NT$520/pax | Weekends & Public Holidas: NT$680/pax
Around and Out of the Resort
Another reason for loving this resort: It is near to many sightseeing destinations and this means plenty of activities to do for people who don't want to travel too far from their hotel. For example, the Beitou Hot Springs Park (Qinshui Park) (北投溫泉親水公園) is just opposite, within view from my room. The park was once featured in the popular Hong Kong movie Turn Left, Turn Right (向左走·向右走) , starring with Takeshi Kaneshiro and Gigi Leung.

The Beitou Library (3 min): Taiwan's first "green" library where one can spend the whole day chilling in the "tree-house" full of books. Upon entering the library, I could feel an instant peace and almost hope to join the users on their wooden tables and chairs, lean against the window, look out to the beautiful park and… take a selfie! Haha… Just joking, because… Photography is not allowed in library unless prior request made
Photo-worthy Spot: ** | Heritage/Historical Value: *** | Recommended!
Beitou Hot Spring Museum (5min): Next to the library, this museum used to be the largest bathhouse (Beitou Public Bathhouse) in East Asia when it was built in 1913. Now, the English country house (lookalike) displays the historical documents, relics about sulfur mining, as well as films to educate the public about Beitou's hot spring history. I did not have the time to enter the museum as I was doing last minute dashing around on my last day in the resort, taking photos and last minute research (Yes, I spent the other days shopping with Priscilla!)
Photo-worthy Spot: **** | Heritage/Historical Value: **** | Highly Recommended!
Ketagalan Culture Center (2 min): Just beside the resort, the culture center displays a wide array of Taiwanese Aboriginal (原住民) culture and art, as well as costumes, an interesting (and free!) way to spend your afternoon going through the ten-storey high building if you like reading up about cultural stuff. The only down side is that the exhibition are all in Chinese, so those who can't read Chinese will have to rent an audio guide from the reception. For those who are collecting stamp chops, there are 4-5 stamps (and free postcards!) available at the reception desk for you to do your stamping!
Photo-worthy Spot: *** | Heritage/Historical Value: **** | Recommended!
Free entry | Photography is not allowed in exhibition hall
Forte Beitou Hot Spring Resort – 北投福泰天玥泉會館
Address: 台北市北投區中山路3號
No.3, Zhongshan Road, Beitou District, Taipei City 112, Taiwan
Coordinates: 25°8'13.79″N 121°30'19.59″E
Directions:
By Taipei MRT:
Take Red-line MRT to Xinbeitou MRT Station -> Walk along Zhongshan Road to reach the resort (Take about a 3-minute walk)
Driving directions: Zhongshan National Highway -> Merge to Chongqing N. Road -> Turn left onto Chengde Road -> Turn Right onto Daye Road -> Guangming -> Zhongshan Road to reach the resort
Tel: +886 2-2898-8661
E-mail: reservation-bt@fortehotels.com.tw
English Website | Chinese Website | Alternate Website | Facebook Page
Many thanks to omy.sg, Forte Beitou Hot Spring Resort (especially Manager, Mr Spencer Tai) for the sponsorship and also Jetstar for flying us to Taiwan! This is one place I will love to go back again! My travel companion, Priscilla aka Pingerrain reviewed our stay at the Forte Orange Hotel in Taichung, so click here to check out her review!
xoxo



Disclaimer: This is a sponsored review by omy.sg. Please be rest assured that it does not have any bearing on the content of this post. Opinions stated are genuine and honest. Also note that all sources, information, content, links are valid to change at any time.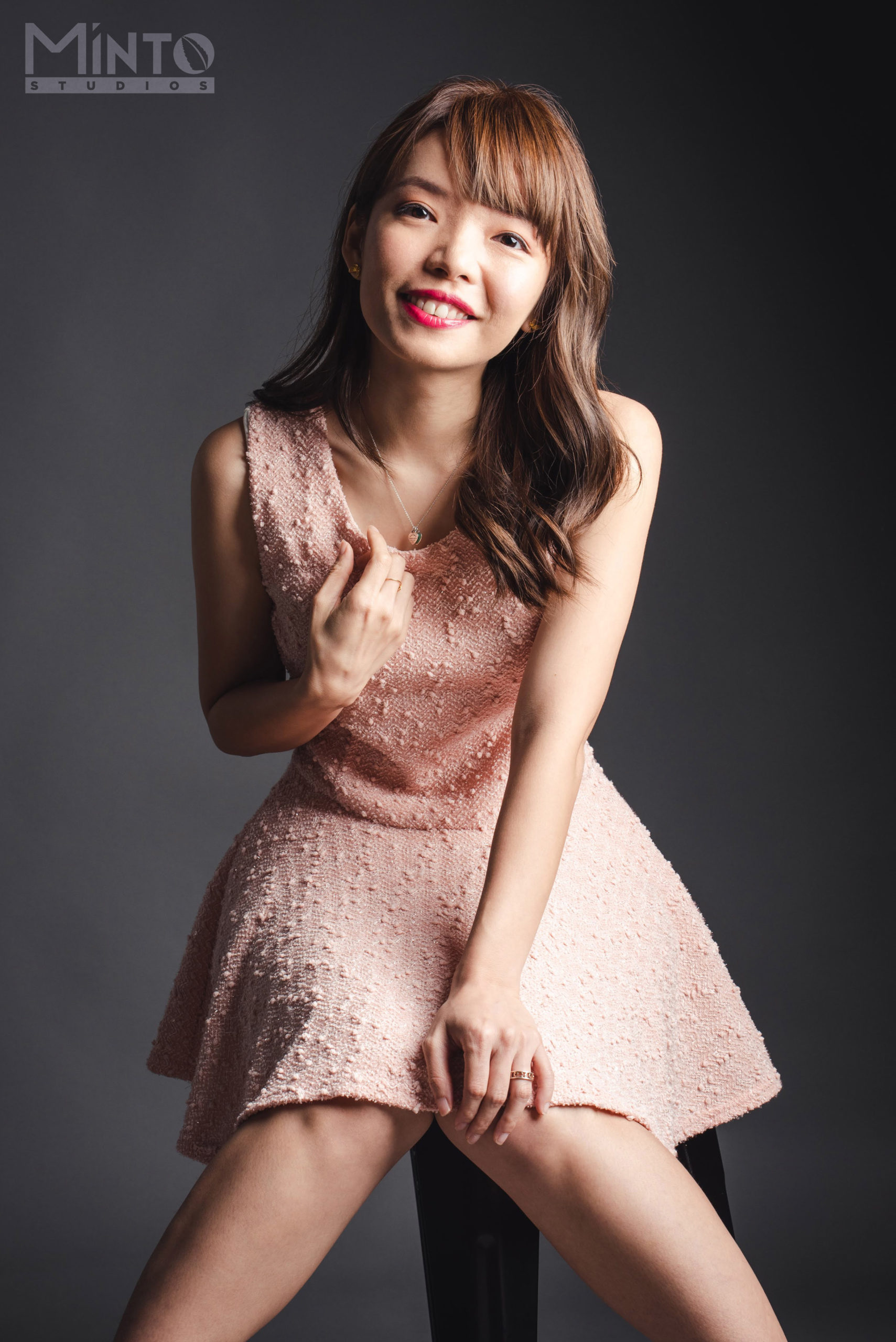 1/2 of #TheEpiphanyDuplet, Tiffany Yong juggles her ABCs – Acting, Blogging and Coaching/Consulting as she is fuelled by passion and drive to succeed.
It is not easy to make a living in Singapore just purely based on Acting, so with Blogging to help her with her online presence, and Coaching kids drama, private tutoring and freelance social media consulting to finance her life, she is currently leading the life most people hope to have: Living the Dream!