I Ching and Tarot? A divination by Lynzabel Lee
A little note from Tiffany: I always enjoy posting Lynzabel's article because it is always interesting and new (plus I get to read them first hand!) For those who hadn't heard of I Ching, it is an ancient Chinese manual of divination based on eight symbolic trigrams and sixty-four hexagrams, interpreted in terms of the principles of yin and yang. It was included as one of the 'five classics' of Confucianism.
For the month of March, Lynzabel has come up with a general reading that applies for everyone. This is interesting as the first question that came to my mind was: How can everyone's reading be the same? Well, read on to find out how to find out how!
P.S. Surprisingly, I find them pretty apt as 6 out of 9 is what I am experiencing currently, and the 3 more… I'm interested to see if it really happens!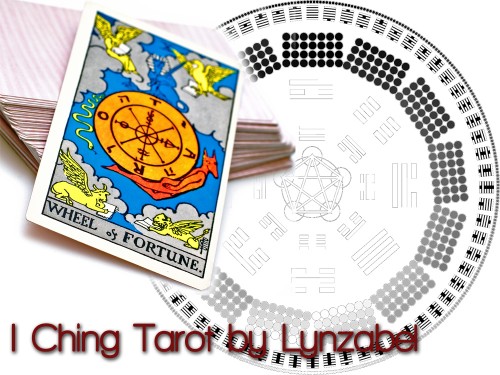 How to read each card:
Different cards may be interpreted differently by different tarot readers or even different people. Generally there are a few descriptions to each card. I did this reading with the general public in mind with the time frame of 15 February to end March, so the reading might be referring to things that are happening recently. (You may want to request for a personal reading if you have certain questions in mind). To really know more about your situation, I use intuition on each card; besides understanding its basic significance.
How to do this: Take a few deep breaths and empty your mind. Relax your eyes and stare at the images on the card. You will suddenly see things you had not notice, or certain images may jump up at you. What you perceive is trying to tell you something regarding your specific situation.
For example, looking at the card of Devil, you may notice the hair on the Devil's body, and it bothers you or makes you excited. This card falling on the Health position is trying to tell you something about your hair or roots!
March I Ching Tarot Forecast (clockwise direction):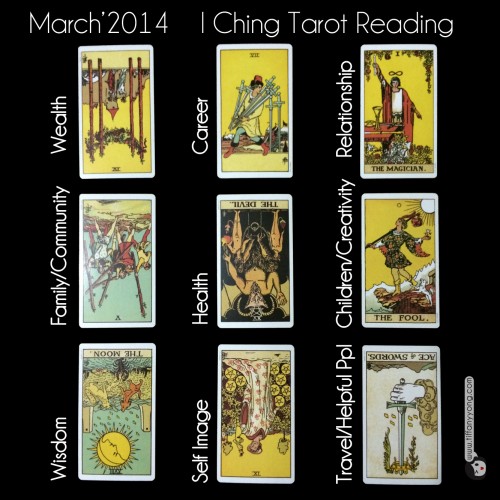 Wealth Position :- 4 of Wands Reversed
This card indicates the possibility of movement to a new environment which is quite different. Or it can mean less stability, or inability to settle in your current or new environment. This is a temporary situation. It can also mean your financial situation will have a temporary setback. Or, it can also describe a lack of consolidation plan.
Sometimes, this card suggest that you need to learn to appreciate what you have; in terms of a home or work environment. You may not be participating or contributing to the community around you. Find out the causes and center yourself so that you can achieve more.
=================================***=================================
Career Position :- 7 of Swords
This card is telling you not to give up mentally. Find other paths, different approaches, or solutions to the problems.
Very often, we have to be adaptable in order to survive. Think of different alternatives, examine other options.
Find previously unseen possibilities. Do something differently; different combination of actions can bring different results or rewards.
This card also signify secretiveness, hidden motives and dishonesty. If you are in a situation of business investments; examine your situation very closely, especially if it involves financial risks; there could be dishonesty or fraud involved.
=================================***=================================
Relationship Position :- Magician
This card describes a partnership that is grounded in reality. A dynamic relationship is suggested here. You have all the tools within you to make the relationship work, if you want to.
If you are single, have fun; all the tools are within yourself to manifest the ideal partner. Sometimes, our subconscious are traumatized by past relationships, and there is a tendency to send out wrong frequency waves (brain), thereby attracting all the wrong partners into our lives.
That is especially the case if you keep repeating almost the same issues with different partners. You may end up with 10 or even 100 partners, with all the same or most same issues.
If that is the case, you may want to try self-hypnosis for relationships. Just Google or YouTube for one or a few programs (relationship) area, that resonates with you. You can listen to it every night before sleeping. Sometimes it takes a period of time, could be few months, depending on individual. Chanting or meditation practices helps as well.
=================================***=================================
Children and Creativity Position :- The Fool
The fool is a card for spontaneous action. A time to leap out of a situation, and just be free like a child. If you are traveling, you will be living in the moment and feeling connected with life.
You may want to take a risk while others caution you against it. Go ahead, the fool suggest that road to fulfillment is through spontaneous action and long-term plans will be crystallized later on.
It could also mean the innocence of your child or children around you. If you have grown children, they are behaving like a child. This position is mainly in reference to your children. How they are feeling currently. If you have no children, it suggest the creative aspects of yourself currently.
=================================***=================================
Travel and Helpful People Position :- Ace of Swords Reversed
In regards to travel and or helpful people, there is confusion in thoughts, ideas, and plans. Center yourself so that you will not be carried away by chaos happening around you. If you have ideas in regard to travel or people around you, they are likely to be independent of reality and circumstances; not practical and not useful.
There will be delays in putting a plan into action if there is a lack of clear purpose and focus. Yours or their emotions may be clouding your thoughts. You need to stand your ground and be clear on thoughts.
=================================***=================================
Self Image Position :- 9 of Pentacle Reversed
A lack of success due to no self-discipline. It indicates inability to follow goals to completion. You need to examine this aspect of yourself: why do you view yourself this way? Is this true? If so, what are the causes and how can you change to be better, or discard unnecessary commitments to lighten your load.
It also indicates too much effort going into worthless projects and activities. Or starting new projects without completing past projects. Perhaps you are making too much effort for too little reward; or not enough money to enjoy the lifestyle you seek. Overall, it signifies waste of financial resources or potential.
=================================***=================================
Wisdom Position :- Moon Reversed
You may find yourself getting into arguments or disagreements in the physical world. The subconscious is trying to conquer fears within. It manifests these fears into the physical world, so that you can deal with them in a clear way.
It can also suggest unresolved issues and situations coming back to you. Meet these challenges within. The same pool which contain your fears also contain your strengths and the solutions to your problems.
==================================================================
Family and Community :- 5 of Wands reversed
This card indicates a realization that time and energy are being wasted, and that you have adopted a more broad-minded approach. You are prepared to compromise and try new approaches. People around you are also prepared to compromise and listen. Stability returns after a period of change.
==================================================================
Health Position :- Devil reversed
An indication for you to break free of your chains physically and psychologically. You are now seeking change or new alternatives for your health.
In the rush to accomplish, achieve, earn and acquire, the Devil reversed reminds you that coffins don't have luggage racks! Take care of your health! Start by drinking 2 to 3 litres of clean, filtered water daily, adding lime or lemon helps.
=================================***=================================
Hope this reading help provide some insight to your life!
By Lynzabel Lee
Lynzabel does tarot reading and numerology. During her free time, she also hand-paints dresses. For a detailed reading, you can contact her at Lynzabel@gmail.com or 8155 5692. She provides readings at a rate of $3/min. Check out dvnations.com for more information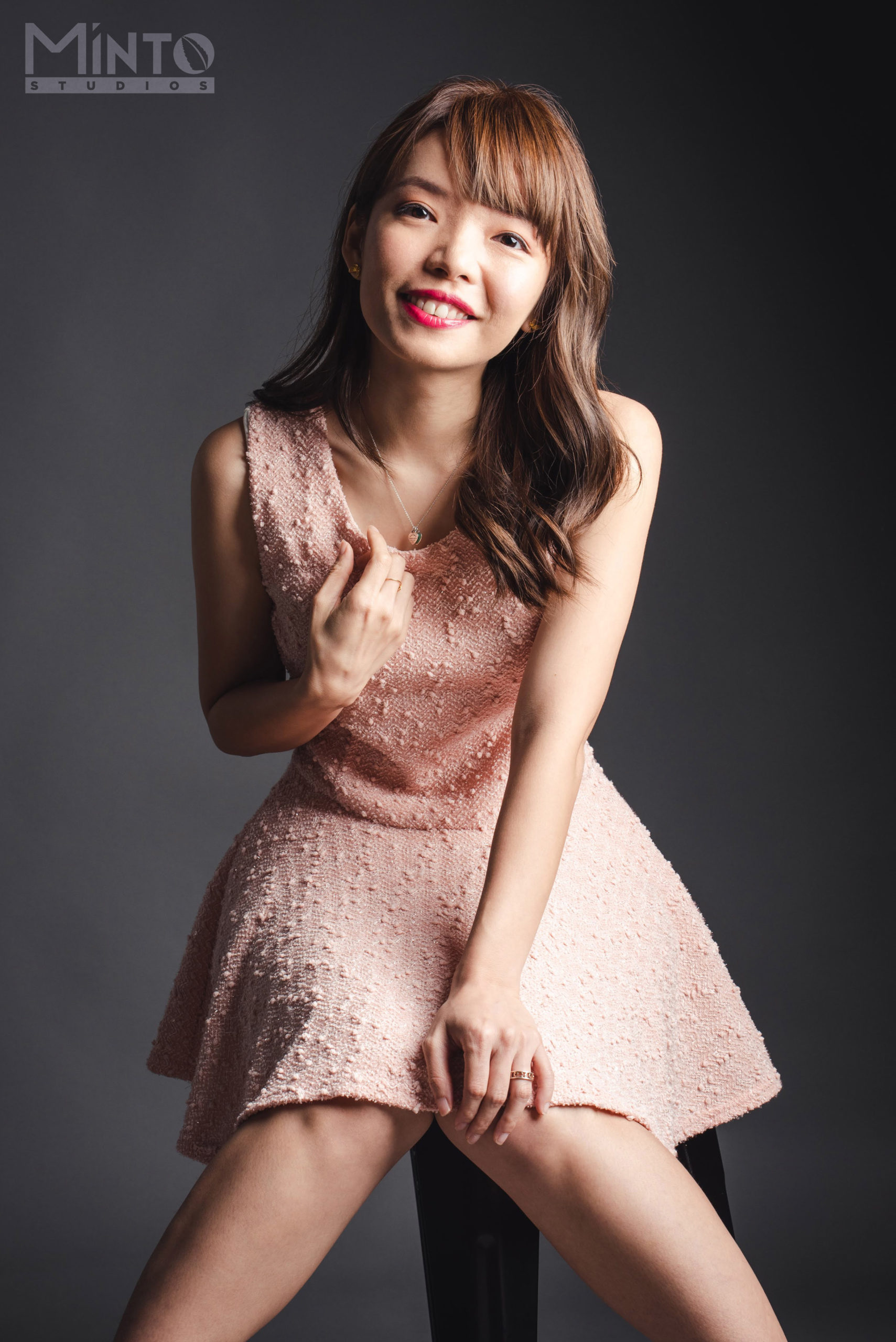 1/2 of #TheEpiphanyDuplet, Tiffany Yong juggles her ABCs – Acting, Blogging and Coaching/Consulting as she is fuelled by passion and drive to succeed.
It is not easy to make a living in Singapore just purely based on Acting, so with Blogging to help her with her online presence, and Coaching kids drama, private tutoring and freelance social media consulting to finance her life, she is currently leading the life most people hope to have: Living the Dream!