Ready Player One Movie Review | by tiffanyyong.com
Recommended Audience: Fans of Mark Rylance, Simon Pegg, Olivia Cooke, Ben Mendelsohn, T.J. Miller, Simon Pegg, Steven Spielberg and Action/ Adventure/ Sci-fi movie fans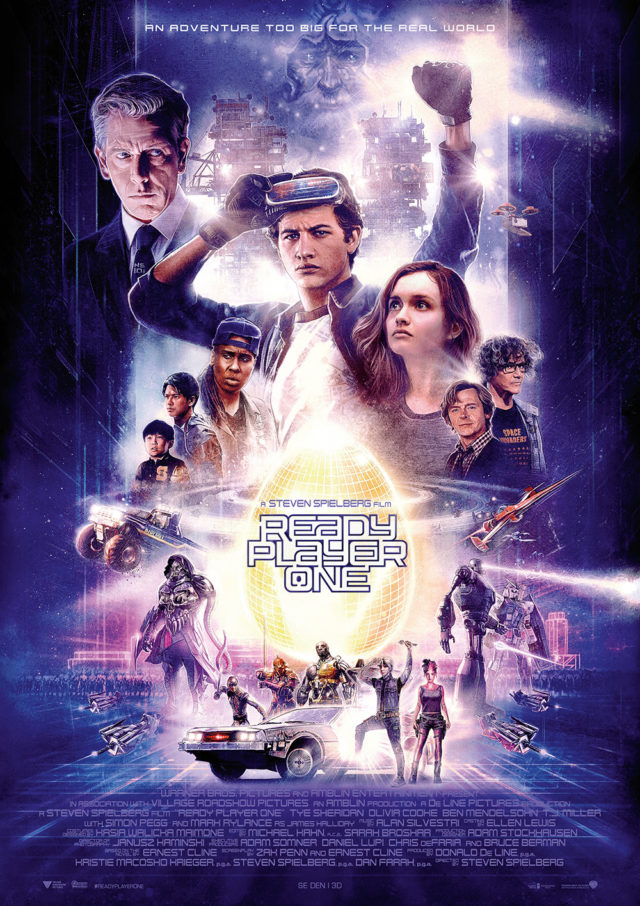 Ready Player One Movie Synopsis
In the year 2045, the real world is a harsh place. The only time Wade Watts (Tye Sheridan) truly feels alive is when he escapes to the OASIS – Ontologically Anthropocentric Sensory Immersive Simulation, an immersive virtual universe where most of humanity spends their days. In the OASIS, you can go anywhere, do anything, be anyone-the only limits are your own imagination.
The OASIS was created by the brilliant and eccentric James Halliday (Mark Rylance), who left his immense fortune and total control of the Oasis to the winner of a three-part contest he designed to find a worthy heir. When Wade conquers the first challenge of the reality-bending treasure hunt, he and his friends-aka the High Five-are hurled into a fantastical universe of discovery and danger to save the OASIS.
Ready Player One Viewer Rating: 4.25/5 ****
Ready Player One Movie Review:
Tiffany Yong: When Peps and I caught this trailer in the cinemas months ago, this was one of his DIE-DIE-MUST-WATCH movies. But because of his overseas filming, we did not manage to catch this on the release day. He was back for a short three days, and his schedules were so packed that we didn't think we have time to have this. By then, thanks to all the mixed online reviews, he had lost interest in the film. Luckily, more positive reviews came onto my feeds, and we decided to put on faith in Steven Spielberg for once and pay for the weekend ticket.

Peps Goh: Ready Player One is of the best films in my recent memory that integrate extensive CGI with live action. Most do it for the sake for doing.
Hey, Monster Hunt (捉妖记) was pretty good, but that's like 2015! I like the second one too~ I think Ready Player One is one of those films which audience are able to accept animated objects (easily + readily) in the real world due to the nature of the story.
Peps Goh: It has a solid story arch with a great resolution, making it possible for people who don't get the pop culture references. But noticing it makes it more fun. 
This is definitely a geeky film, which made me realised how un-geeky I was when I could barely spot the pool of easter eggs in my face. But it was pretty fun when I spotted Chun Li, Chucky and GUNDAM in the film, and more fun when I was watching the Mario-Kart car race. I love how the explosion or 'death' of an avatar turns into coins and gadgets, making it amazing relevant to the current game-play we are so familiar with.
Tiffany Yong: Mark Rylance was BRILLIANT as the eccentric James Halliday. While he never actually appeared as a real life human, the way he talked and carried himself just showed the audience how introverted he was. 
I enjoyed the diversity of the cast with what little live action sequences there are. They are all fun characters, Wade the dreamer, meeting Art3mis the cool chick and get a bunch of odd but cool friends. It's slightly cliché but it truly re-enforce the point on how you never know who is the person behind an avatar, in a good and bad way.
Shoutout out to Simon Pegg for that last part of emotional scene. His role was mostly a cameo, but you know a great actor when he can trigger the audiences' emotions with just an expression.
Do You Know?
Being his 33rd film, Steven Spielberg said this was the third most difficult movie he has made in his career, behind Jaws (1975) and Saving Private Ryan (1998). Steven Spielberg made The Post (2017) while he was waiting for Industrial Light & Magic to create close to 1,500 digital effect shots for this movie.
The spell cast to use the Orb Of Osuvox is from the movie Excalibur (1981). Art3mis recites Merlin's "charm of making": "Anál nathrach, orth' bháis's bethad, do chél dénmha." In modern Irish, it means,"Serpent's breath, charm of death and life, thy omen of making."
Besides the obvious Bigfoot, Delorean, and Akira vehicles, other notables in the race were the Mach 5, Batmobile, A Team van, V8 Interceptor and Christine. During the race sequence, the marquee of a theater reading "Schwarzenegger Jack Slater III" was a nod to Arnold Schwarzenegger's film Last Action Hero (1993), also written by Zak Penn. According to Penn, he didn't know about it before the release of the first trailer. It was included by ILM staff as suggestion by co-writer Ernest Cline.
The film includes characters from pop culture staples of the 1980s and 1990s, including The Iron Giant (1999), TRON (1982), Akira (1988), The Lord of the Rings: The Fellowship of the Ring (2001), Back to the Future (1985), A Nightmare on Elm Street (1984), Tomb Raider (1996), and Duke Nukem (1991).
At one point in the movie, the gang goes into a simulation of the hotel from The Shining. In real life, Steven Spielberg was close friends with The Shining's director Stanley Kubrick who passed away in 1999. Spielberg even once called the scene where Wendy finds Jack's novel as "a great example of counter intuitive direction".
Behind The Scenes and Interviews
Check out Ready Player One Official Website and Facebook Page!
Ready Player One is out in cinemas on 29 March 2018.
Cheers,



Tiffany Yong: Facebook | Instagram | YouTube
Peps Goh: Facebook | Instagram | YouTube
The Epiphany Duplet: #TheEpiphanyDuplet
*Disclosure: No monetary compensation was received for the movie review.
Epiphany: / ɪˈpɪf(ə)ni,ɛˈpɪf(ə)ni / noun / A moment of sudden and great revelation.
Duplet: / ˈdjuːplɪt / noun / 2 electrons working together, forming a bond between atoms.
|| Derived from the anagram of the duo's name, whom met through a film project acting as lovers. After which as fate would have it, couples indeed they became. And now together they bring to you staycations & travelogues, beauty and relationship tips, your one-stop-shop to all the fun things you can do with your special someone. ||
@PepsGoh: Actor || Fight Choreographer || Free Running Athlete
@Tiffanyyongwt4242: Actor || Blogger || Consultant