The Greatest Showman (大娱乐家) Movie Review | by The Epiphany Duplet
Recommended Audience: Fans of Hugh Jackman, Zac Efron, Michelle Williams, Rebecca Ferguson, Zendaya, Keala Settle, Michael Gracey and musical movie fans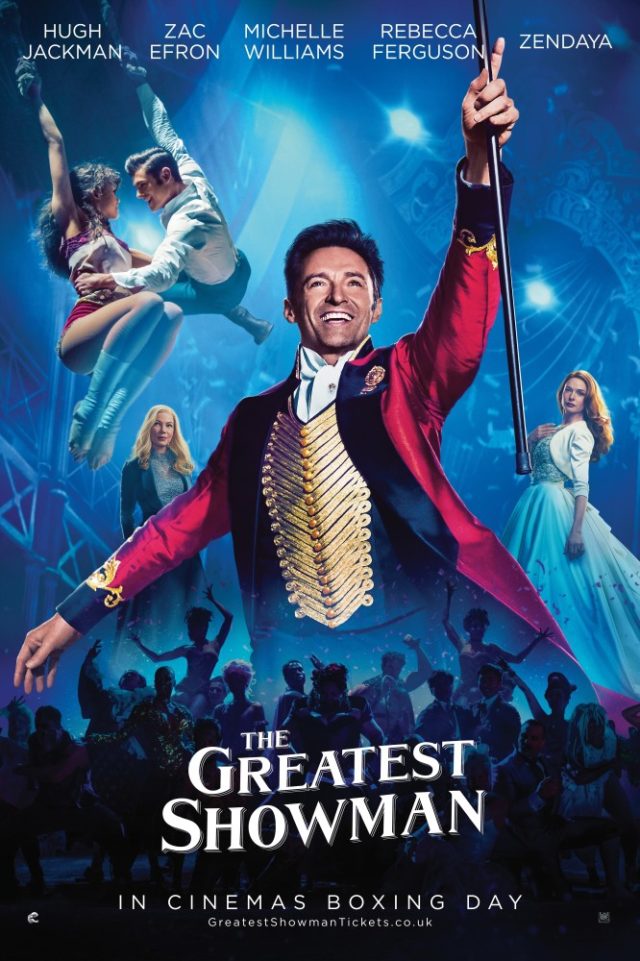 The Greatest Showman Movie Synopsis
Inspired by the imagination of P.T. Barnum, The Greatest Showman is an original musical that celebrates the birth of show business & tells of a visionary who rose from nothing to create a spectacle that became a worldwide sensation.
The Greatest Showman (大娱乐家) Viewer Rating: 4.75/5 *****
The Greatest Showman (大娱乐家) Movie Review:
Tiffany Yong: When this was first promoted as "from the lyricists of Lalaland", I got a little apprehensive. I mean, yes, the 6 Oscars and 7 Golden Globes Award winner might have been celebrated as the best musical of 2017 by both critics and public, but we felt that 'The Greatest Showman' is better. At least, I didn't doze off halfway watching the Hugh Jackman dancing like Troy Bolton. 

Peps Goh: First of all, The Greatest Showman had one of the best trailers of this couple of years. The last time a trailer had made me emotional was the one from Hacksaw Ridge. And the movie trailer promised a high energy feel-good film that this year-end sorely needed. The film actually successfully delivered on that promise and so much more (We were both surprised, as we half expected the trailer to be better than the movie). It goes without saying that I'm absolutely in love with the music of this movie, I doubt many people can manage not to be moved by it.
The composers had more than stepped up their game scoring this since their last masterpieces on Lalaland. And in contrast, The Greatest Showman's score managed to be catchier, with super satisfying harmonies, and much much more heart. (Bravo, Benj Pasek and Justin Paul!)
I imagine their songs would end up becoming one of their viral soundtracks that online musicians will do covers of everywhere. As for myself, the first thing i did reaching home after the film was to look up the soundtracks, for their lyrics and chords.

Tiffany Yong: I gotta admit that I'm looking forward to watch Zac Efron sing again, as I grew to love musical films after watching High School Musical. While the story circles around P.T. Barnum (Hugh Jackman), I was pretty amazed how each character (oddity or not) managed to shine and have their moment of fame. Zac Efron was astounding as playwright Phillip Carlyle and the chemistry with trapeze Anne Wheeler (Zendaya), or should I say acrobatic dance along with the number "Rewrite the Stars" was beautiful.
Peps Goh: The writing is really tightly done, without an ounce of untrimmed fat. Every scene did plenty to establish the scars of each character, and they had plenty, and pushed the plot forward with its memorably choreographed musical numbers.
My favorite number is "A Million Dreams" where the Barnum couple danced on the roof and the eventual solo dance when Charity Barnum (Michelle Williams) longs for her husband when he was on his tour with Jenny Lind (Rebecca Ferguson), both those were choreographed to be nothing short of enthralling.

Peps Goh: Another surprising favorite is the number "The Other Side" between Hugh and Zac dancing around and upon the bar, when PT. Barnum attempts to recruit playwright Phillip Carlyle (Zac Efron) by appealing to his desire for a way out of his perfectly manicured but boring life.
Tiffany Yong: It invigorates me when I listen to how Barnum tries his very best to convince Philip to join 'the other side', the side which is deemed cheap and lowly by the upper class but free and happy by the rest!
Loren Allred as Jenny Lind's voice singing "Never Enough" gave me goosebumps (oddly). I love how the plot was well foreshadowed during this number, bringing forth the relationship changes between 3 pairs, Phillip Carlyle and Anne Wheeler, Charity Barnum towards her husband, as well as Jenny Lind towards P.T. Barnum. But of course, the killer number will still be Keala Settle's "This is Me". It drove tears to my eyes, as she evoked the emotions of those who had ever been bullied before. 
Peps Goh: The writing delivered more than a feel-good-pursuit-for-glory-and-success film. It discussed themes of self-worth and how the scars of societal and hierarchical judgement from a young age carves itself deep into hearts and follows long into adulthood, and rears its ugly head even in one's success. It talks about knowing one's self-worth despite anyone else's words and approval. It's a film about inclusion and the celebration of life, and the remembering of what is truly important in our lives.
Spoiler alert: it's not wealth or glory.
Do You Know?
The Greatest Showman (2017) marks the directorial debut of Michael Gracey, after having spent twenty years as an animator, digital compositor, and visual effects supervisor. It features eleven new songs written by Benj Pasek and Justin Paul, the Academy Award winning lyricists of La La Land (2016). From early on in pre-production on the film, the decision was made to have the musical style to evoke more that of contemporary musical genres like pop and hip hop rather than that of a traditional, classical musical style that would accurately evoke the film's 1800s setting.
This has been a dream project for Hugh Jackman since 2009. He read some 3 dozen books on PT Barnum to prepare for the title role. The project was first announced in 2009, with Jackman in the title role. In August 2011, Michael Gracey was chosen to direct. In 2013, Fox hired songwriters Pasek and Paul to write the songs. According to Jackman, the seven year development was, in part, due to studios not willing to take a risk on an original musical.
Zac Efron began negotiations with the studio to star in the film on June 15, 2016. In July 2016, Michelle Williams was cast.
Rebecca Ferguson's voice was dubbed by Loren Allred. Ferguson had studied music and admitted that she can carry a tune but since Jenny Lind, her character, is considered the best singer in the world, dubbing her voice would be in service of the movie. However, Ferguson insisted to sing the song in front of the extras while filming, in order to get into the role. Rebecca Ferguson admitted in an interview that she was extremely nervous when she had to perform a song in the film because she had to sing in front of a full audience plus all the crew. She commented that it was Hugh Jackman and his encouraging response to her performance that really helped her at the time.
Zendaya did all of her own trapeze stunts in the film.
This is Zac Efron's fifth musical since the High School Musical trilogy and Hairspray (2007).
In January 2017, the Ringling Brothers and Barnum & Bailey Circus, the circus founded by P.T. Barnum, announced they would be closing their doors forever, due to decreased attendance and protests by animal rights activists. Their last shows were in May 2017.
Behind The Scenes and Interviews
Check out The Greatest Showman (大娱乐家) Official Website and Facebook Page!
The Greatest Showman is out in cinemas on 28 December 2017. Sneaks are out 23-25th December 2017.
Cheers,



Tiffany Yong: Facebook | Instagram | YouTube
Peps Goh: Facebook | Instagram | YouTube
The Epiphany Duplet: #TheEpiphanyDuplet
*Disclosure: Invitation from Twentieth Century Fox Singapore. No monetary compensation was received for the movie review.
P.S. Noticed the different coloured text? Articles written by #TheEpiphanyDuplet will be colour-coded in future to let every reader know who say what! Hope you've enjoyed reading our insights!
Epiphany: / ɪˈpɪf(ə)ni,ɛˈpɪf(ə)ni / noun / A moment of sudden and great revelation.
Duplet: / ˈdjuːplɪt / noun / 2 electrons working together, forming a bond between atoms.
|| Derived from the anagram of the duo's name, whom met through a film project acting as lovers. After which as fate would have it, couples indeed they became. And now together they bring to you staycations & travelogues, beauty and relationship tips, your one-stop-shop to all the fun things you can do with your special someone. ||
@PepsGoh: Actor || Fight Choreographer || Free Running Athlete
@Tiffanyyongwt4242: Actor || Blogger || Consultant