Justice League Movie Review | by tiffanyyong.com
Recommended Audience: Fans of Ben Affleck, Henry Cavill, Gal Gadot, Ezra Miller, Ray Fisher, Jason Momoa, Zack Snyder and action/ DC comic movie fans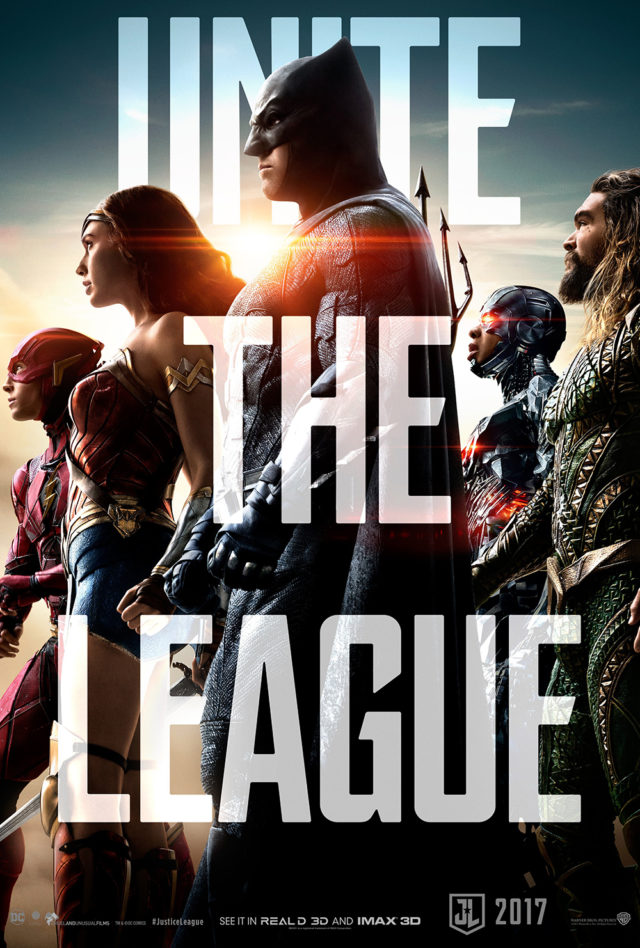 Justice League Movie Synopsis
Fueled by his restored faith in humanity and inspired by Superman's selfless act, Bruce Wayne enlists the help of his newfound ally, Diana Prince, to face an even greater enemy. Together, Batman and Wonder Woman work quickly to find and recruit a team of metahumans to stand against this newly awakened threat. But despite the formation of this unprecedented league of heroes-Batman, Wonder Woman, Aquaman, Cyborg and The Flash–it may already be too late to save the planet from an assault of catastrophic proportions.
Justice League Viewer Rating: 3.25/5 ***
Justice League Movie Review:
Tiffany Yong: Disclaimer: I gotta admit that I'm not exactly a fan of DC, but Green Lantern was one of the first Superhero movies I've watched back then, and I love it, or so I thought, until I saw all the bashing. Smallville was one of my first English series back then too, but as I became a film reviewer and started watching more and more Marvel films, I just gotta say Marvel does do fun Superhero films. Thor: Ragnarok was out just a week or so back, so that's a film most people will compare with directly. However, I think it would be fairer if the film is compared with Avengers instead. On the other hand, Peps is reviewing from another perspective, so let me know if it's too confusing! 
As far as regular movies go, it's pretty solid. But as it is after all a movie about frigging "JUSTICE LEAGUE", one can't help but have to score it on a higher pedestal than one would to other films. So while it is pretty decent all around, it fails to live up to fans' hopes and dreams. 

Peps Goh: Unrealistic expectations aside, it is the simple fact that it had failed to surprise that I all but had to score it at a meager 3/5. It had seemed to just tick all the boxes of what it had have to achieve at least, and then left it at that.The superhero genre has already been worn pretty old by the back to back releases (cough Marvel franchises) in the past decade. I can't speak for everyone else, but at least for myself I have already been severely pampered by several great superhero films, and furthermore, with the influence of Japanese anime's take on the genre, I can't help but hope for more than the face value of a hero's narrative.
And at this point, for a superhero flick to go from "Good" to "Great", it needs to do more. It has to build and then completely subvert expectations (the way Thor: Ragnarok had for me), or at the very least it has to have it's action sequences be so completely insane that even the straight-forward approach doesn't bore the audience.
I see some shadow of Marvel's dry humour in Justice League, and I had to give it to the actors for fitting those lines into their dark personalities, specifically Batman (Ben Affleck). If I were to compare it to Marvel's The Avengers, I gotta say that Justice League pretty ok. Both are alien invasions – Stepphenwolf scored slightly higher in terms of scare factor, but Marvel win when it comes to the dynamics of the super heroes and their personalities. But that being said, this also means Justice League is 5 years too late. 
(Anime: One-Punch Man and Mob Psycho 100 from Madhouse Studios; did this exceptionally well just off the top of my head for specifically the genre of insanely super-powered characters. I understand the limitation of the medium, in that with animation you can do a lot more with less. But frankly with the amount of money they have thrown into special effects for this film, I think there is absolutely no excuse. I think there is a huge room for exploration in the area of action choreography of the super-powered that the western is really lacking behind as compared to the Japanese Animations, even in terms of at the level of the purely conceptual.)
Peps Goh: But that might just be me. Perhaps a large amount of people feels that the action sequences are really good. Especially the group fight where the league works hand in hand against a common enemy with the efficacy of a well-worn team, or the high flying combat scenes. Even the one scene where the strength of superman is demonstrated against the team on first meeting. If this movie came out 10 years ago it would have blown me out of my seat.

Peps Goh: But it is not 10 years ago. And in my opinion, the action sequences in this film too had only done the bare minimum. I understand that it is difficult to choreograph for people that cannot easily get hurt or die, and has the strength to send people into the stratosphere with a single hit. And when you put half a dozen of these characters into one scene, I understand that it is of a difficulty of insane levels, trying to make sense of all their different abilities, to make a coherent sequence out of all that, plus plan it in a rhythm that elevates in it's pacing, and then to make the audience worry about these characters that are nothing short of gods is crazy crazy tough.
Gal Gadot's Wonderwoman is as inspiring as always, the Flash (Ezra Miller) was entertaining enough, at least, the director didn't try to use the same effects as Marvel's Quicksilver. And you gotta admit, Jason Momoa make mer-man, I mean Aquaman look sexy, and Clark Kent's (Henry Cavill) chest look hairy.
Peps Goh: And to make audiences worry and feel for the pain of the characters involved is the very basic criteria of what makes action-sequences engaging in the first place. Without that connection, and without the sequences putting them through some sort of character development at the end of the struggle, and action sequence is boring, or worst, pointless. Action sequences aren't there just to put some boom boom pow into a film and keep the audience entertained. It's boring. Deathly boring, to see a few bodies fly around the screen and smash into crumbling buildings, if at no point are we worried about anyone involved. The audiences eventually detach themselves from the scene, and treat it as some kind of visual diarrhea. It's a waste of special effects. If at the end of a 20 minute beatdown scene, all one can say to describe that point of the movie to another who hadn't watch it is, "Oh, and they fought for 20 minutes." Then the scene design has failed. If you can cut out half of the fight sequences of a movie and watching it, the narrative wouldn't be affected much, then the writing and choreography has failed. FAILED.

Peps Goh: Now how does one design a complex and well paced action sequence amongst a few super-powered characters of vastly different abilities, while at the same time make the audience worry about their wellbeing, on top of that making the action absolutely vital to growth of the characters involved and the fight imperative in moving the overarching plot forward, all at the same time? Sounds impossible doesn't it. I haven't yet seen this in ANY western live-action Superhero (Note: it says Superhero live-action, not action) yet thus far truth be told. But if you would open up your mind to a new medium, one need to look no further than the anime: My Hero Acadamia, which had flawlessly demonstrated multiple times over the span of 2 short seasons that this is not impossible. That these kind of action sequences is what should be EXPECTED. Nothing less.
All in all, my verdict for TL;DR is this: Entertaining enough, but thoroughly disappointing to me.
In the unlikely scenerio where anyone is keen to know: this definitely wins Batman v Superman: Dawn of Justice (good improvement DC!) but still loses to Thor: Ragnarok. 
Do You Know?
Director Zack Snyder and his wife producer Deborah Snyder stepped down from finishing the film, after the suicide of Zack Snyder's daughter in March 2017. They tried to remain on the film as a way to work through the difficulty, but decided after two months to step away from the project to spend time with their family.
Joss Whedon, who had signed on for Batgirl, took over as director, managing additional scenes that need to be included in the final cut. Warner Bothers have stated that Joss will direct and write in the same style as Zack so there won't be any tonal shifts or obvious changes in style.
However, Joss Whedon controversially fired Zack Snyder's composer Junkie XL, and replaced him with Danny Elfman. Whedon was hired to oversee the remainder of post-production, including directing additional scenes written by himself. Snyder received sole director credit for the film, with Whedon receiving a screenplay credit in post. With an estimated production budget of $300 million, it is one of the most expensive films ever made.
Extensive reshoots in London and Los Angeless in mid-2017 added a cost of approximately $25 million to the film's budget. Henry Cavill worked on the reshoots and M:I 6 – Mission Impossible (2018) at the same time. He had to sport a mustache for his role in the latter project, however Paramount refused to let the actor shave it off for the time he played Superman again. This meant that Cavill's facial hair had to be digitally removed in post-production.
When Gal Gadot was asked by a reporter about how she would get Wonder Woman's breasts from the comics, she answered, "Wonder Woman is Amazonian, and historically accurate Amazonian women actually had only one breast. So, if I'd really go 'by the book,' it'd be problematic." Gadot practiced Kung Fu, Kick Boxing, sword fight, Brazilian Jiu-Jitsu and Capoeira as part of her physical preparation for the role.
This film took one decade to come to fruition. A Justice League film entitled "Mortal" was scheduled to be released in 2007, but it got shelved. In October 2007, George Miller had cast the Justice League completely, with D.J. Cotrona as Superman, Armie Hammer as Batman, model Megan Gale as Wonder Woman, rapper Common as Green Lantern/John Stewart, Adam Brody as the Flash/Barry Allen, Santiago Cabrera as Aquaman/Arthur Curry, Hugh Keays-Byrne as the Martian Manhunter (J'onn J'onzz) Tereasa Palmer as Talia al Ghul, and Jay Baruchel as Maxwell Lord.
Behind The Scenes and Interviews
Check out Justice League Official Website and Facebook Page!
Justice League is out in cinemas on 16 November 2017.
Cheers,



Tiffany Yong: Facebook | Instagram | YouTube
Peps Goh: Facebook | Instagram | YouTube
The Epiphany Duplet: #TheEpiphanyDuplet
*Disclosure: No monetary compensation was received for the movie review.
P.S. Noticed the different coloured text? Articles written by #TheEpiphanyDuplet will be colour-coded in future to let every reader know who say what! Hope you've enjoyed reading our insights!
Epiphany: / ɪˈpɪf(ə)ni,ɛˈpɪf(ə)ni / noun / A moment of sudden and great revelation.
Duplet: / ˈdjuːplɪt / noun / 2 electrons working together, forming a bond between atoms.
|| Derived from the anagram of the duo's name, whom met through a film project acting as lovers. After which as fate would have it, couples indeed they became. And now together they bring to you staycations & travelogues, beauty and relationship tips, your one-stop-shop to all the fun things you can do with your special someone. ||
@PepsGoh: Actor || Fight Choreographer || Free Running Athlete
@Tiffanyyongwt4242: Actor || Blogger || Consultant