Bad Genius (ฉลาดเกมส์โกง | 模犯生) Movie Review | by tiffanyyong.com
Recommended Audience: Fans of Chutimon Chuengcharoensukying, Chanon Santinatornkul, Teeradon Supapunpinyo, Eisaya Hosuwan, Nattawut Poonpiriya and Thai comedy/thriller movie fans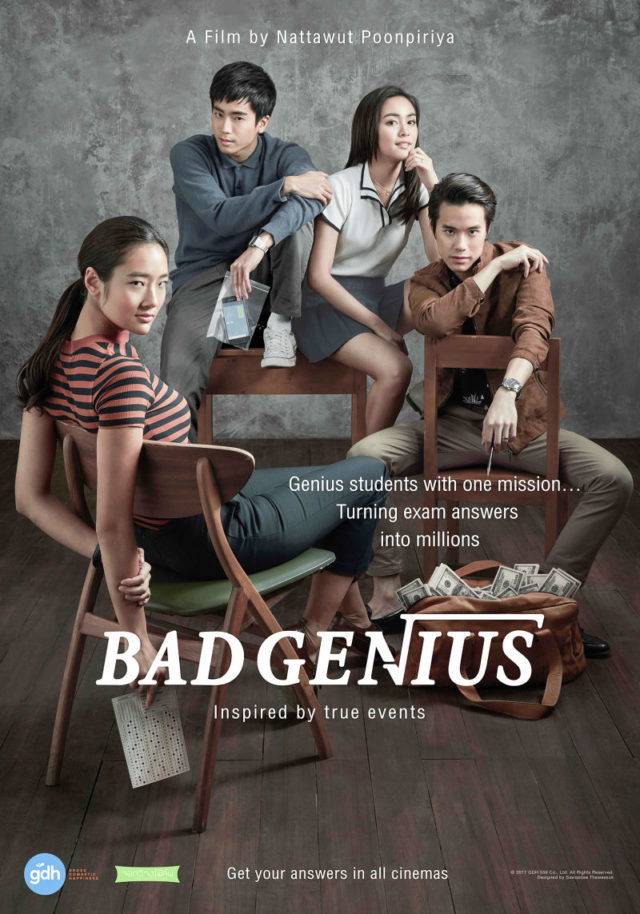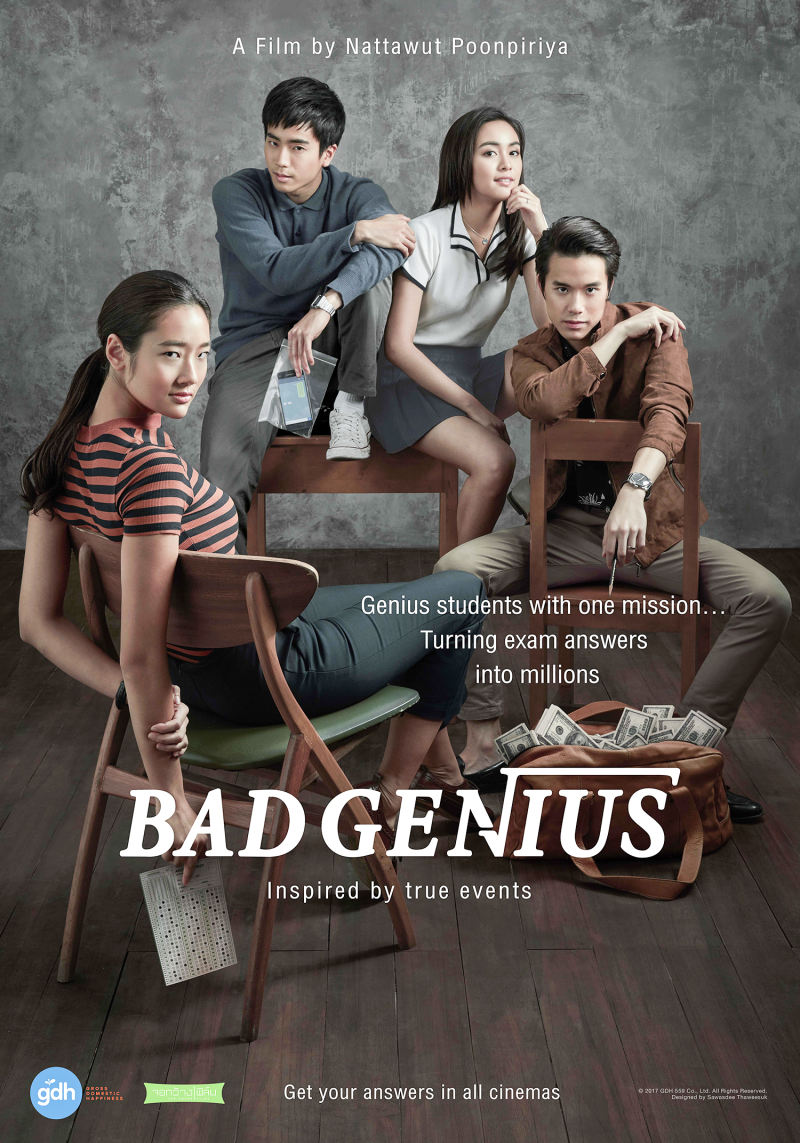 Bad Genius (ฉลาดเกมส์โกง | 模犯生) Movie Synopsis
Welcome to an exam-cheating business run by 'Lynn' (Chutimon Chuengcharoensukying), a straight-A student who gets the idea for her business after helping 'Grace' (Eisaya Hosuwan) and 'Pat', (Teeradon Supapunpinyo). Grace is a prominent school activist who can't get the grades she needs and Pat is a filthy-rich boy who believes money can buy anything. Lynn's business skyrockets as scores of students offer her cash in exchange for exam answers. One day, Pat and Grace offered Lynn an opportunity to make millions of Baht.
They want Lynn to pre-take the STIC test, an international standardised test for students wanting to enrol in the world's leading universities. The test is scheduled to take place on the same date and same time at locations all over the world. Their plan is for Lynn to fly to a country in a time zone that's ahead of Thailand and then send the answers back to her customers. For that to happen, they need the help of another genius scholar and the only one suitable is 'Bank' (Chanon Santinatornkul), Lynn's scholarship-student rival who detests cheating of any kind. What will Lynn do to convince Bank to overcome his moral dilemma and help them? How BAD will this GENIUS become?
Bad Genius (ฉลาดเกมส์โกง | 模犯生) Viewer Rating: 4.75/5 *****
Bad Genius (ฉลาดเกมส์โกง | 模犯生) Movie Review:
Tiffany Yong: I've been wanting to watch this since its release but le boyfriend has been preoccupied with work and timing never seem to fit. Luckily, the sales have been so good that it is still showing at selected cinemas, and the several check-ins from common friends encouraged le Mr Busy to take some time out to watch with me.
Strolling out the theatre after the film's end, i can truly understand why Bad Genius had managed to remain on the big screen since the 8th of June. That's 3 frigging months since it's released (article is written in September and backdated), and the theatre was still at least half filled tonight, quite frankly insane.

Peps Goh: Just the opening scene had impressed me. In a single scene and dialogue that spanned likely no more than 3 minutes, they had managed to establish; the theme and tone of the movie, the heroine's character, abilities and her driving motivation, her father's unconditional support for his daughter's pursuit if education and his financial struggles.
The efficiency of the screenplay in establishing all of the supporting characters too were brief and concise, and frankly one of the best and most economical I've seen in a long time. The fresh faces of the casts performed really well. All exuding charisma and a proficiency in their craft expected of veterans. 

Tiffany Yong: I am really impressed by how the different dynamics between the characters were played out. Be it between the slightly lesbian-ish friendship between math prodigy Lynn (Chutimon Chuengcharoensukying) and Grace (Eisaya Hosuwan), the business-barter relationship between rich kid Pat (Teeradon Supapunpinyo) and Lynn, or the frenemy relationship between the other straight-A poor student Bank (Chanon Santinatornkul) and Lynn, it was ingenious how the director brought out the social status differences through their character's interrelation as well as the individual character motives and corrupted school system.
Peps Goh: The way the film-makers handled the cinematography demonstrated their mastery over the visual medium, a mix of tastefully paced fast-cuts paired with creative framing. All contributing to a storytelling flavor that I struggle to think of anyway they could have done it better. They've made exams, essentially the most boring thing that exists, into a heart-pounding thriller that kept me on the edge of my seat (figuratively speaking. I was in actuality, slouched far back into my theatre seat, huddled in a ball in fear of the examiner catching them, i suppose i had related to the film a little too much) 
Tiffany Yong: It was a total joy to watch the examination process being dramatized and there were moments I wondered if I would have the guts to even execute or be involved in such a cheating scheme. And yes, this is definitely one of those few films which managed to keep the audience on the edge without any action choreography. Special mentions to the nerve-wracking subway escape from the crazy Australian invigilator.  Given the box-office success, I won't be surprised if this film is being remade and reproduced by China or Hollywood.
This is easily the top of my list in my favorite movies this year.
Do You Know?
The film's premise was set when the producers heard on the news that SAT scores were being cancelled in China due to a cheating scandal. The project was developed under the working title "2B Come Won" (a reference to the 2B pencils used to fill in test choices) and the script took 1.5 years to complete.

Thai writer-director Nattawut Poonpiriya has a master's degree in stage directing from Srinakharinwirot University's fine arts faculty. Bad Genius was his second feature after the thriller Countdown (2012) and it has won multiple awards, including Best Feature at the New York Asian Film Festival and Best Director at the Fantasia International Film Festival.
Lynn, the straight-As student is played by Chutimon Chuengcharoensukying, 21, a model who had no experience in acting.
The actors were allowed considerable room for improvisation during filming. The chemistry underlying Lynn and Bank's relationship, for example, was unscripted, and part of Pat's sales pitch speech was ad-libbed by Teeradon. Special preparations by the actors include Chutimon having to practice writing with her left hand, as her character is left-handed, and Chanon memorising the value of pi (π) to over the 30th digit.
Chanon Santinatornkul, who plays Bank in the film, previously worked on Thai's sitcom called "Bang Rak Soi 9/1"
Most of the filming took place in Thailand, while about 30 percent was shot on location in Sydney, Australia. About ten crew members flew to Australia from Thailand, while most of the Sydney filming unit was sourced locally. Filming in Sydney was subject to many more restrictions than in Thailand, including strictly limited shooting times. A particularly challenging scene to film was a chase scene which took place at the underground Redfern railway station, which had to be fitted into the trains' normal running schedule.
Bad Genius is the first ever film from an ASEAN nation to open the New York Asian Film Festival.
The father character of Lynn was played by the long lost Thai singer – Thaneth Warakulnukroh. Thaneth had been absent from acting for over thirty years when Nattawut came across a magazine interview of him, and invited him to cast for the role. Thaneth brought a special warmth to the character, leading Nattawut to modify the script and make the father less controlling, resulting in a more profound father-daughter relationship.
Behind The Scenes and Interviews
Check out Bad Genius (ฉลาดเกมส์โกง | 模犯生) Facebook Page!
Bad Genius (ฉลาดเกมส์โกง | 模犯生) was out in cinemas on 8 June 2017.
Cheers,



Tiffany Yong: Facebook | Instagram | YouTube
Peps Goh: Facebook | Instagram | YouTube
The Epiphany Duplet: #TheEpiphanyDuplet
*Disclosure: No monetary compensation was received for the movie review.
P.S. Noticed the different coloured text? Articles written by #TheEpiphanyDuplet will be colour-coded in future to let every reader know who say what! Hope you've enjoyed reading our insights!
Epiphany: / ɪˈpɪf(ə)ni,ɛˈpɪf(ə)ni / noun / A moment of sudden and great revelation.
Duplet: / ˈdjuːplɪt / noun / 2 electrons working together, forming a bond between atoms.
|| Derived from the anagram of the duo's name, whom met through a film project acting as lovers. After which as fate would have it, couples indeed they became. And now together they bring to you staycations & travelogues, beauty and relationship tips, your one-stop-shop to all the fun things you can do with your special someone. ||
@PepsGoh: Actor || Fight Choreographer || Free Running Athlete
@Tiffanyyongwt4242: Actor || Blogger || Consultant