Baby Driver (2017) Movie Review | by The Epiphany Duplet
Recommended Audience: Fans of Ansel Elgort, Kevin Spacey, Lily James, Jon Bernthal, Eiza González, Jon Hamm, Jamie Foxx, Edgar Wright and action/thriller movie fans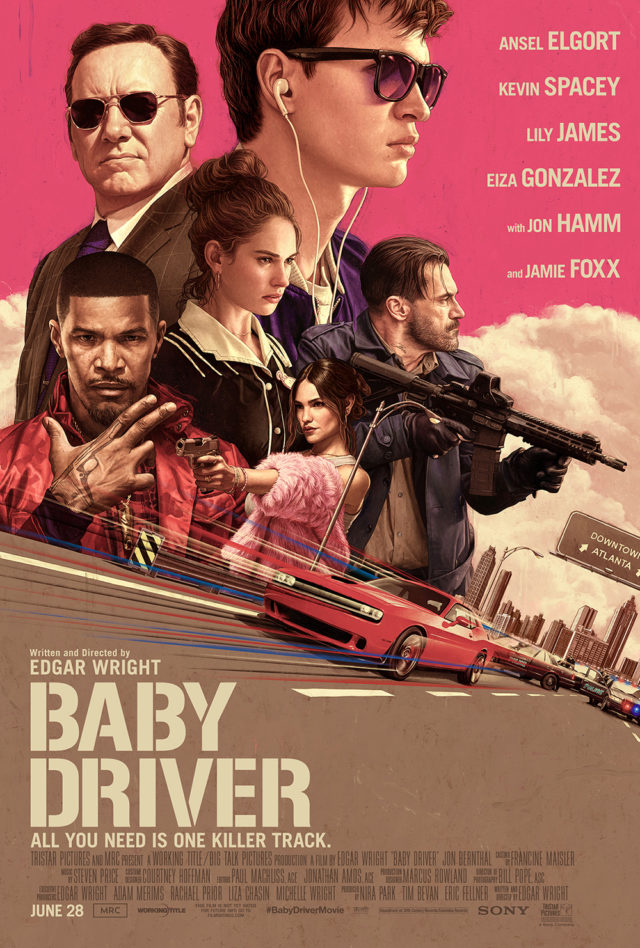 Baby Driver (2017) Movie Synopsis
A talented, young getaway driver (Ansel Elgort) relies on the beat of his personal soundtrack to be the best in the game. When he meets the girl of his dreams (Lily James), Baby sees a chance to ditch his criminal life and make a clean getaway. But after being coerced into working for a crime boss (Kevin Spacey), he must face the music when a doomed heist threatens his life, love and freedom.
Baby Driver (2017) Viewer Rating: 4.25/5 ****
Baby Driver (2017) Movie Review:
Peps Goh: I've always been a big fan of Edgar Wright's directing, a couple of favorites right off the top of my head would be "At World's End", "Shaun Of The Dead", and "Scott Pilgrims". And when the trailer for Baby Driver showed up in my Facebook feed, oh man was I thrilled. The trailer is a frickin' piece of art, with it's snappy rhythm and fun vibes, the cutting was so on point it gave me an editor's boner. And entering the theater with sky-high expectations, the film somehow still managed to deliver!

Tiffany Yong: Peps' excitement was evident. I learnt about his favourite director through videos from 'Every Frame A Painting' and looked forward to see what was it that made Peps turn into a fanboy upon hearing about the release. I had to admit that with the oversaturated amount of action films in the cinemas these days, this musical-themed action film is indeed unique and enjoyable.
Peps Goh: The opening long one-take was quite a flashy way to start the film. The one long take gimmick is a fancy way for director's to parade and flex their abilities, and I don't usually enjoy them as much as I did this one. (I enjoyed this more than La La Land. Dozed off near the end when they have their 52358th long take)
Probably because the trailer left me expecting the entire film to be shot the same way. And plus, it IS Edgar's usual staple style too, hence it really was a pleasant surprise. Even if it WAS a little self-indulgent, Ansel Elgort's endearing performance paired with the tasteful music really sold the sequences. I. Like. It.
Peps Goh: The pacing is amazing as expected, both in the overall flow of the story, and in the individual sequences too. Knowing how the editing was on set as the filming was being carried out made this even more impressive. I loved the little naunces like inserting a slight ringing into the background when there's no music playing or well the ear-piece was off to represent the Baby's tinnitus, because it's something I experience myself too. This is definitely one of those rare films where you can watch it over and over and enjoy it more each time.
Peps Goh: The characters are lovable. Not all. Not Jamie Foxx. He's not lovable at all. Even the villains are lovably detestable. Jamie Foxx is crazy evil. But Jon Hamm is good. He's one kind of villain I will love to try out one day. One who's not exactly bad, but driven by circumstances. 
The general vibe of the film is so much fun, even amongst all the crime and violence. It is probably in no small part in credit to the music and the way the visuals are snappily cut to it. I imagine I would pull this film out again many times over the years when I want to be cheered up after a bad day.
Tiffany Yong: For me, the love interest, Lily James as Debora is perhaps the only letdown in the film. The spark went off as fast as Baby's driving. It just made no sense to me how someone can say the word LOVE to someone they know little about. Perhaps Debora was so desperate to leave the town that she couldn't care less what kind of person Baby is, as long as he's bringing her with him. A perfect song to put into this moment will probably be Carly Rae Jepsen's Call Me Maybe because it bloomed almost within the time of a music video.
But I particularly enjoyed the ending. Maybe it's just me, but it kinda expected them to end up on the run or in a Bonnie and Clyde scenario as clichéd as they come. But thank goodness, the ending is so much more enjoyable and conclusive. Standing ovation.
Do You Know?
The character Joseph was originally written to be much older at around the mid-80s. CJ Jones (who plays Joseph, a deaf character) was discovered and recommended by casting director Francine Maisler. Jones is deaf in real life, thus Ansel Elgort had to learn sign language to communicate with him .
Jon Hamm's role was written for him, and is the only actor from the first table read to be in the final film.
Ansel Elgort beat Logan Lerman and John Boyega for the title role when Edgar Wright found out during audition that Easy by The Commodores was one of the songs that Elgort knows very well and could sing / lip sync. The song was included after Elgort was cast.
The extensive collection of sunglasses and iPods that Baby owns were not bought by him, they were taken from cars he stole. In an interview, Edgar Wright said: 'If he has been stealing cars since he was 12, the main thing he would have inherited from these stolen cars are people's sunglasses and iPods.'
When Edgar Wright wanted Ansel Elgort to be more stern in a shot he used the code words: "Man Driver!" He taught him the "Kubrick look" by showing Ansel a picture on his phone of Malcolm McDowell in character in A Clockwork Orange (1971).
Worried he would lose communications link with his actors or cameras, Edgar Wright had himself strapped to the shooting car, rather than being in a follow car. Jon Hamm joked that he had to perform while looking at a "sunburnt muppet" flopping about – referring to Edgar. Edgar Wright revealed that there was little to no CGI or green screen used to film the car chase sequences. The driving is all practically done.
In keeping with the musical theme of the film, singers and musicians make appearances throughout. In the restaurant scene, Kevin Spacey's character is seen talking to Big Boi (of Outkast) and Killer Mike (of Run the Jewels), both Atlanta-based rappers. Blues rock singer Jon Spencer, whose song "Bellbottoms" is used in the first robbery, plays a jail guard. Flea of the Red Hot Chili Peppers and Academy Award-winning songwriter Paul Williams appear in small roles. Jamie Foxx plays a major role.
Even during the casting process, the actors were sent a playlist of songs and were asked to play the music while reading the script.
The opening credits use a one take shot of Baby walking to buy coffee and then walking back, reminiscent of the famous opening of Shaun of the Dead (2004), where Shaun walks to the shop and then back home in one shot (which is later repeated once the zombie outbreak has begun). It took 28 takes and the 21st take is the one used in the movie.
SPOILER ALERT!
When Baby is flipping through the channels near the beginning of the film, several lines dialogue from different movies can be heard ("You are so beautiful" or "We're partners. There's nothing that matters to me more than our friendship.") Each one of these lines appears later in the film as a line of dialogue.
The dialogue from each channel teases what happens in the final heist. Heavy amounts of foreshadowing shown in the scene where Baby is flipping through channels on Joe's TV. "You are so beautiful" being his first meeting with Debbie, "They grow up so freakin fast" being the post office scout with Doc's nephew, "How's that workin out for ya?" being his first meeting with JD, the Monsters Inc scene being a line he uses on Doc twice, and the bull fighting documentary ("The bull sees nothing but red, Gaston is running out of options. He began this on horseback and must now finish it on foot.") foreshadows his final confrontation with Buddy in the parking garage. Darling also refers to buddy as "relentless" and "sees red" in the diner while speaking to Bats.
Behind The Scenes and Interviews
Check out Baby Driver (2017) Official Website and Facebook Page!
Baby Driver (2017) is out in cinemas on 20 July 2017.
Cheers,



Tiffany Yong: Facebook | Instagram | YouTube
Peps Goh: Facebook | Instagram | YouTube
The Epiphany Duplet: #TheEpiphanyDuplet
*Disclosure: No monetary compensation was received for the movie review.
P.S. Noticed the different coloured text? Articles written by #TheEpiphanyDuplet will be colour-coded in future to let every reader know who say what! Hope you've enjoyed reading our insights!
Epiphany: / ɪˈpɪf(ə)ni,ɛˈpɪf(ə)ni / noun / A moment of sudden and great revelation.
Duplet: / ˈdjuːplɪt / noun / 2 electrons working together, forming a bond between atoms.
|| Derived from the anagram of the duo's name, whom met through a film project acting as lovers. After which as fate would have it, couples indeed they became. And now together they bring to you staycations & travelogues, beauty and relationship tips, your one-stop-shop to all the fun things you can do with your special someone. ||
@PepsGoh: Actor || Fight Choreographer || Free Running Athlete
@Tiffanyyongwt4242: Actor || Blogger || Consultant