Diary of a Wimpy Kid: The Long Haul Movie Review | by tiffanyyong.com
Recommended Audience: Fans of Jason Ian Drucker, Charlie Wright, Owen Asztalos, Tom Everett Scott, Alicia Silverstone, David Bowers, Diary of a Wimpy Kid and comedy movie fans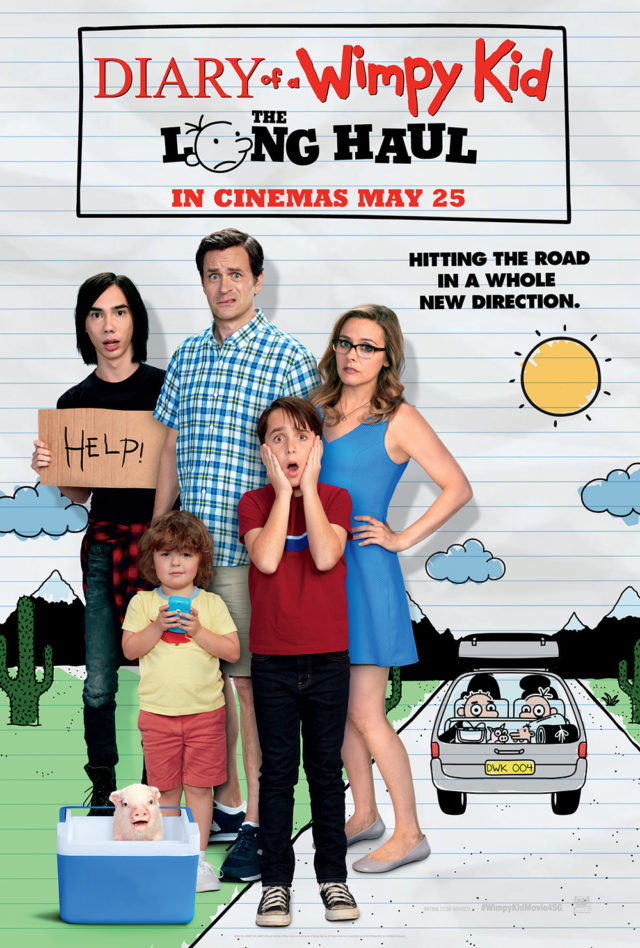 Diary of a Wimpy Kid: The Long Haul Movie Synopsis
In "Diary of a Wimpy Kid: The Long Haul," a Heffley family road trip to attend Meemaw's 90th birthday party goes hilariously off course thanks to Greg's newest scheme to get to a video gaming convention. Based on one of the best-selling book series of all time, this family cross-country adventure turns into an experience the Heffleys will never forget.
Diary of a Wimpy Kid: The Long Haul Viewer Rating: 3.75/5 ***
Diary of a Wimpy Kid: The Long Haul Movie Review:
Tiffany Yong: CONFESSION! I should probably save myself some embarrassment by not saying this, but to be honest, despite having watched Diary of a Wimpy Kid: Dog Days Movie, I had absolutely no idea that the Heffley family is replaced by a completely new cast!
The cast actually bear similar physical resemblances with the original cast (perhaps Charlie Wright was indeed a little more different), and I had no difficulty accepting them as the Heffleys.
Peps Goh: I think that in the genre of a child-friendly family oriented film, The Long Haul has done a great job at making it an entertaining piece across the board, without making it too cringe-y the way that many of these genres do. (I don't really agree, I actually find some jokes quite lame and not-so-funny, say the diaper hands? But yet again, it takes a lot to make me laugh)

Tiffany Yong: I was quite surprised by the harsh judgement the netizens had on Charlie Wright when I did my research. While Devon Bostick was indeed cute, Charlie did his interpretation of dumb Rodrick Heffley pretty well too. (I feel that he really nailed his performance in this particular film's tone and spirit. Some of his facial expressions and beats really got me in a giggling fit. )

Peps Goh: But amongst all the casts, I think the MVP goes to Alicia Silverstone! In a genre that is largely caricature comedy, she did great in the more emotionally intense moments in addition to the comedic scenes. (especially all the relatable roll-eye mum moments)
Something that had really caught me off guard however are what I'll call the 'Homage Moments', where they inserted scenes that are shot-to-shot tributes and parodies to some really classic scenes that still managed to fit smoothly into the main narrative.
 I didn't notice they were doing it until the bathroom scene between Greg and Mr. Beardo. It was clear to me that the director was recreating moments from the famous 'Shower murder scene' from the 1960 thriller 'Psycho. And having the grim context of the original scene placed in contrast to the silliness of the recreated scene in this film made it that much funnier. (Ok, I didn't know about all these, so 10 points to Peps for spotting this!)
It's almost a rare genre of comedy that requires the audience to have had seen many old classics in order to get the joke, and in terms of artistic quality, that definitely adds some point to The Long Haul in my books!

Tiffany Yong: We've managed to spot another 2 classic "homage moment" scenes, but forgot where they were from. One is where the boat flying over the house into the swimming pool, and another one is where Manny Heffley and the piglet run towards one another in slow motion! Anyone know which classics were they from? 
Peps Goh: I'll leave it up to you guys to find the rest of the 'Homage Moments'!
P.S. Please comment below to share with me the ones you've found! I'm sure I've missed a couple!
Do You Know?
Because the release dates of this film and the previous Diary of a Wimpy Kid film are so spaced apart, child actors such as Zachary Gordon (now 19 year old) from the previous films will not be reprising their roles as they would be too old for their characters. Hence, the decision to have the film with an entirely new cast.
Rachael Harris, who played the mother of Greg in the past three movies, played the mother of the new Greg, Jason Drucker, in the movie Barely Lethal.
Behind The Scenes and Interviews
Check out Diary of a Wimpy Kid: The Long Haul Official Website and Facebook Page!
Diary of a Wimpy Kid: The Long Haul is out in cinemas on 25 May 2017.
Cheers,



Tiffany Yong: Facebook | Instagram | YouTube
Peps Goh: Facebook | Instagram | YouTube
The Epiphany Duplet: #TheEpiphanyDuplet
*Disclosure: Invitation from Twentieth Century Fox Singapore. No monetary compensation was received for the movie review.
P.S. Noticed the different coloured text? Articles written by #TheEpiphanyDuplet will be colour-coded in future to let every reader know who say what! Hope you've enjoyed reading our insights!
Epiphany: / ɪˈpɪf(ə)ni,ɛˈpɪf(ə)ni / noun / A moment of sudden and great revelation.
Duplet: / ˈdjuːplɪt / noun / 2 electrons working together, forming a bond between atoms.
|| Derived from the anagram of the duo's name, whom met through a film project acting as lovers. After which as fate would have it, couples indeed they became. And now together they bring to you staycations & travelogues, beauty and relationship tips, your one-stop-shop to all the fun things you can do with your special someone. ||
@PepsGoh: Actor || Fight Choreographer || Free Running Athlete
@Tiffanyyongwt4242: Actor || Blogger || Consultant