A Silent Voice Anime (聲の形) Movie Review | by tiffanyyong.com
Recommended Audience: Fans of Miyu Irino, Saori Hayami, Aoi Yūki, Kenshō Ono, Yūki Kaneko, Yui Ishikawa, Megumi Han, Toshiyuki Toyonaga, Mayu Matsuoka, Naoko Yamada and Japanese anime fans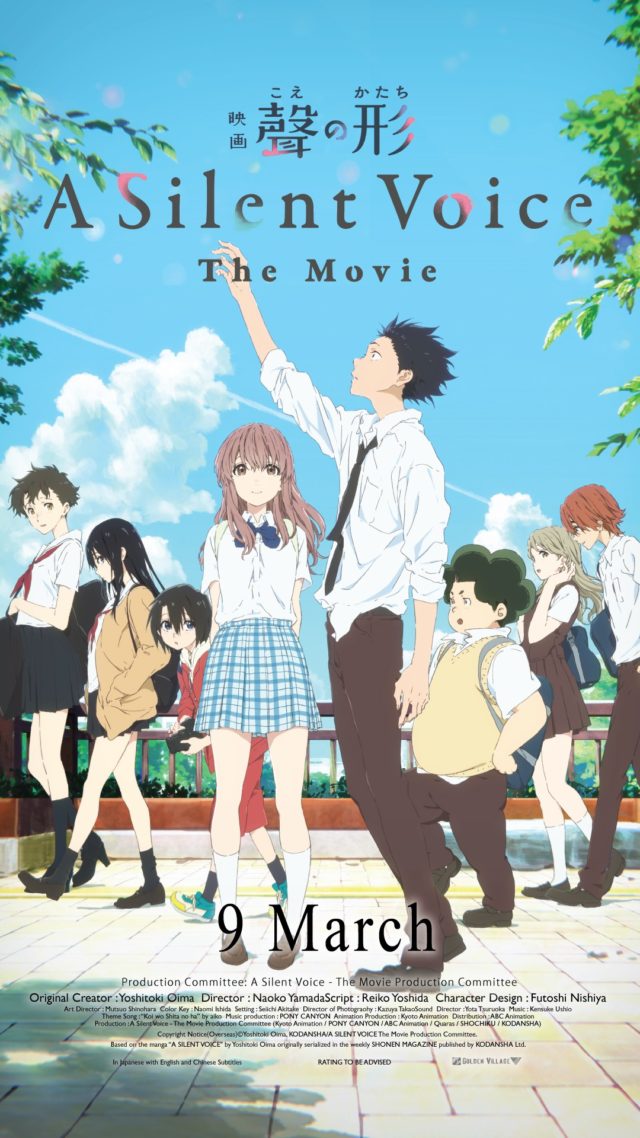 A Silent Voice Anime (聲の形) Movie Synopsis
A deaf elementary school girl, Shoko Nishimiya, upon transferring, meets a boy named Shoya Ishida in her new class. Shoya, who is not deaf, leads the class in bullying Shoko, because she is deaf. As the bullying continues, the class starts to bully Shoya for bullying Shoko. After graduating from elementary school, Shoko and Shoya do not speak to each other… until later, when Shoya, tormented over his past, decides he must see Shoko once more. Shoya wants to make amends for what he did in elementary school and be Shoko's friend.
A Silent Voice Anime (聲の形) Viewer Rating: 4.5/5 ****
A Silent Voice Anime (聲の形) Movie Review:
Many of you may enter the theatres unwittingly comparing this film with "Your Name", I may have done this unconsciously too. But this is nothing like the surreal romance across time that is "Kimi No Nawa" with jaw-dropping visuals that is the signature of Makoto Shinkai.  A Silent Voice is a very different genre, but make no mistakes, it is in no way any less. Koe No Kotachi by Kyoto Animation is a painfully close-to-heart coming-of-age piece grounded in the pains of learning how to navigate through the confusions of teenage social acceptance.

And all aboard the train, because we are departing on a feels trip that will thug the ugly memories of your own school days. Prepare for a glass full of guilt, a large beaker of shame, and into the blender goes the rest of your heart.
Something that really stood out to me is how powerful their visual storytelling is. With subtle symbolism and clever use of framing, more that what is said is being conveyed. And it's more than the clever use of X upon the faces of his schoolmates to visually show his isolation. Which was brilliant by the way, I can't think of a better visual representation.
One technique that was used a few times throughout the film would be where the characters are caught up in their own inner turmoil. The shot would be composed in a medium close-up, cropping off everyone else. And although there could be several characters in the conversation, the shots are insistent upon showing a single character at a time, cutting from one face shot to another, but always excluding them to themselves. And only in moments when the situation brings them together, or when they have reconciled, does the screen pull out to included everybody in a single shot.
The frame puts you in the character's head space, and forces you to empathise with the teen's feelings of being alone and social claustrophobia. The film also draws parallel between Shōko Nishimiya, the girl who cannot hear, and Shōya Ishida, the boy who refuses to listen. The way that the various acts brings each character into the shoes of the other, I can only understand that the message of the writer is; to be kind, as we all go through the same battles.
And another moment that stood out to me, was the scene in the ferris wheel, with Shōko being unable to meet the eyes of Naoka Ueno. The director had no reservations with simply holding the shot at her knees, allowing us to immerse ourselves into her shoes, cowering in the face of the confrontation. And again in the shot that was angled towards the ground when the protagonist was unable to meet the eyes of his friends. And it made perfect sense too, since the camera was slung around her neck and so would naturally be that that level. It makes both metaphoric and practical sense. aggressively clapping
The film is unapologetic in forcing you look at the ground as well, once again putting you into the position of the character. Except this time there is a symbolic representation, I could be over-interpreting. But in that shot, the reflected mirror image upon the polished floor tiles are clear to see. Because for the first time since the beginning, the troubled teens are finally coming to admit their mistakes. For once instead of being caught up in their feelings of shame and blame, they are finally reflecting upon themselves.
The use of water ripples and fireworks as transitions are paced in beautifully. And I believe that they are also symbolic representations of the chain effects of words and actions have on the people around us. It seems nothing is wasted in this film, from visuals to the sounds, and also the lack of sounds. Their bold use of silent moments are applaudable.
On the other hand, I have to admit that the OST isn't particularly memorable to me.
In addition, there was a moment in the first quarter that didn't transit as perfectly. From the match-cut from the bully being the bullied, to the time-skip between elementary and high-school, there was a transition that lost me for a second. Perhaps there was a hidden meaning that I'd missed.
Finally comes the confession, where both of them are for the first time held in a single shot together for more than just a fleeting instant. For once, looking at each other on the same level, literally and metaphorically. I suspect that the character design made their heights so different for that very reason. The film's use of the movements of the eye, and eye-line is subtle and superb, building tensions that goes unnoticed until it is released.
And when this moment finally arrives, it comes with a sense of relief, almost like an exhalation from a build up pressure.
That in my opinion, is great screenplay and directing. standing ovation
Do You Know?
The film opened at #2 at the Japanese box office behind Makoto Shinkai's Your Name, and grossed a total of ¥283 million from 200,000 admissions within two days of its premiere across 120 theaters.
The film's theme song, titled "Koi wo Shita no wa" (恋をしたのは), was performed by Aiko, a Japanese pop singer and song writer.
A Silent Voice is steered by three women. This is quite rare in the predominantly male industry. Directed by Naoko Yamada and the anime was adapted by Reiko Yoshida from the manga written and illustrated by Yoshitoki Ōima.
Behind The Scenes and Interviews
Check out A Silent Voice Anime (聲の形) Official Website and Facebook Page!
A Silent Voice Anime (聲の形) is out in cinemas on 9 March 2017.
Cheers



Facebook | Instagram | YouTube
*Disclosure: No monetary compensation was received for the review.
Peps Goh is a bilingual Actor based in Singapore, focusing primarily in screen-work, but also dabbles in both theatre and online media .
Peps first entered the stunt industry in 2014, accumulating experience with various stunt companies working from the ground up and eventually running his own fight-design & coordination service.
Besides acting, he also holds occasional seminars and masterclasses in screen fighting for Actors and provides personal coaching services.
Official Website: https://www.pepsgoh.com