Nerve Movie Review | by tiffanyyong.com
Recommended Audience: Emma Roberts, Dave Franco, Emily Meade, Miles Heizer, Juliette Lewis, Kimiko Glenn, Henry Joost, Ariel Schulman and thriller movie fans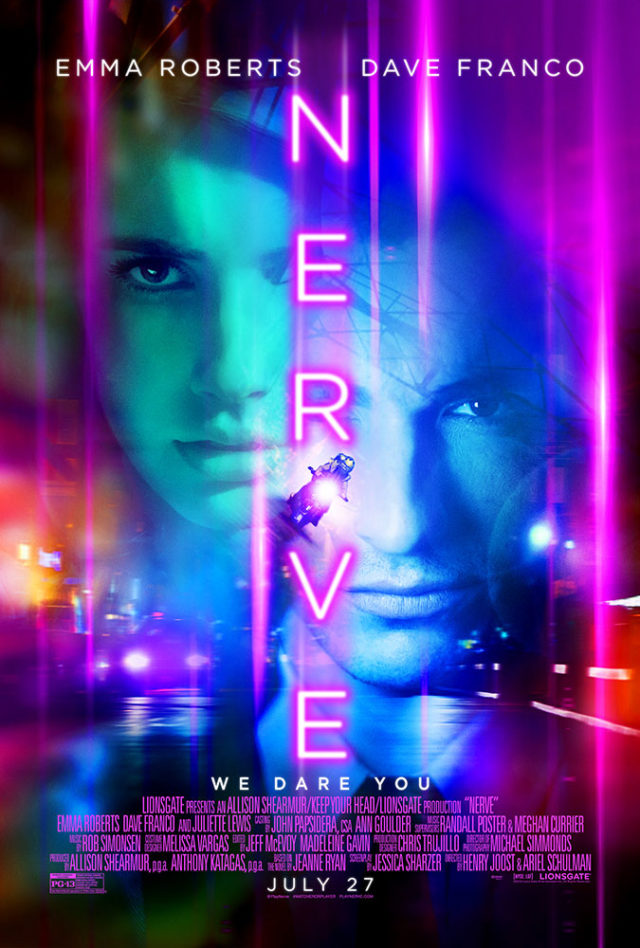 Nerve Movie Synopsis
Industrious high school senior Vee Delmonico (Emma Roberts) has had it with living life on the sidelines. When pressured by friends to join the popular online game Nerve, Vee decides to sign up for just one dare in what seems like harmless fun.
But as she finds herself caught up in the thrill of the adrenaline-fueled competition partnered with a mysterious stranger (Dave Franco), the game begins to take a sinister turn with increasingly dangerous acts, leading her into a high-stakes finale that will determine her entire future.
Nerve Viewer Rating: 4/5 ****
Nerve Movie Review:
This film was released at a perfect timing. Any sooner, this might seem as an over the top film. But with the release of the location-based augmented reality game Pokémon Go and it becoming a worldwide phenomenon , the excitement and the nerve-wrecking dangers of Nerve had become real and relevant. In fact, there are many real apps such as 17 App, Periscope which encourages live streaming and has popularity charts.

I love the storyline. Some might find it predictable, with the difficulty of a dare increasing tremendously and the one night romance progression, I found it immersive and intelligently relevant. Why are we able to foresee what happens? Because whatever took place in the film is happening exactly in the real world right now. The film talks about how users turn a game into something lethal, which is just exactly like how criminals are using Pokémon Go to rob players.
In many ways, the neon colour theme, single night story concept and tricks like riding a motorbike blindfolded were pretty similar to Taiwan-China film One Night Only (天亮之前), but the inclusion of social media and digital technology made this eay more relevant and perhaps a little closer to heart for the teen audience. Emma Roberts and Dave Franco were natural in the film. Their great chemistry keeps not just the Nerve watchers, but also the audience rooting for them.
The supporting cast were pretty strong too. You might find them stereotypical in many ways, but honestly, I totally see parts of their characters in myself, my friends and family. A mum (Juliette Lewis) who's a little too over-protective, friends – Emily Meade's Sydney who's addicted and obsessed about the statistics and popularity on Nerve and of course, the computer geek Tommy (Miles Heizer) who saved the world with his hacking skills (I could do with a friend like him). They addressed the serious issue of privacy as well as the society's reverence to online fame and viral media.

What fascinated me was the use of a variety of camera angles for this film. Besides the usual camera angles, there were many shaky cell phone video angle views, in-app live video views, player's point-of-views, watcher's views as well as the mirror image views. These all heighten the danger and excitement of the dares. I had to admit that there were many obvious conti issues during the editing process, such as scenes cutting from Vee's Nerve video to a mid-shot of her not holding up the phone in a similar angle, however, the mistakes were made acceptable and could be overlooked as the story progresses (showing many watchers filming the players on the streets).

With the interesting final twist which might leave some audience bewildered if you aren't careful enough, this is definitely a fun film to watch. Yes, slightly preachy, but definitely on-point!
Do You Know?
This was the second time Emma Roberts and Dave Franco acted together. Their first collaboration was for music video "Go Outside" by Cults.
In order to attain a PG-13 rating so that younger teenagers could see it, Directors Ariel Schulman and Henry Joost axed a "sex dare" that "was ultimately just too dark and weird". They weren't interested in making a gross torture movie.
The fast-changing nature of the internet made it a tough subject to make a narrative feature. During the film development, the app Periscope came out and it was half-way to being Nerve. When the film was released, the popular augmented reality game Pokémon Go was often mentioned by critics.
While the movie is scripted, the dares are still being done. Dave Franco talked about how the dance sequence wasn't being choreographed and the scene where they were running through Bergdorf Goodman in underwear was shot over the course of two days in front of hundreds of crew members. As most of the scenes were night scenes, the film was shot from 5pm to 6am for over 2 months.
Keeping with the Apple Products theme, when Vee finds herself as a Prisoner, she was contacted via a 1st generation iMac. The translucent body cover fits right in with the colorful environment the film has.
Behind The Scenes and Interviews
Check out Nerve Movie Official Website and Facebook Page!
Nerve Movie is out in (Singapore) cinemas on 11 August 2016.
xoxo



Facebook | Instagram | Twitter | YouTube
*Disclosure: No monetary compensation was received for the movie review.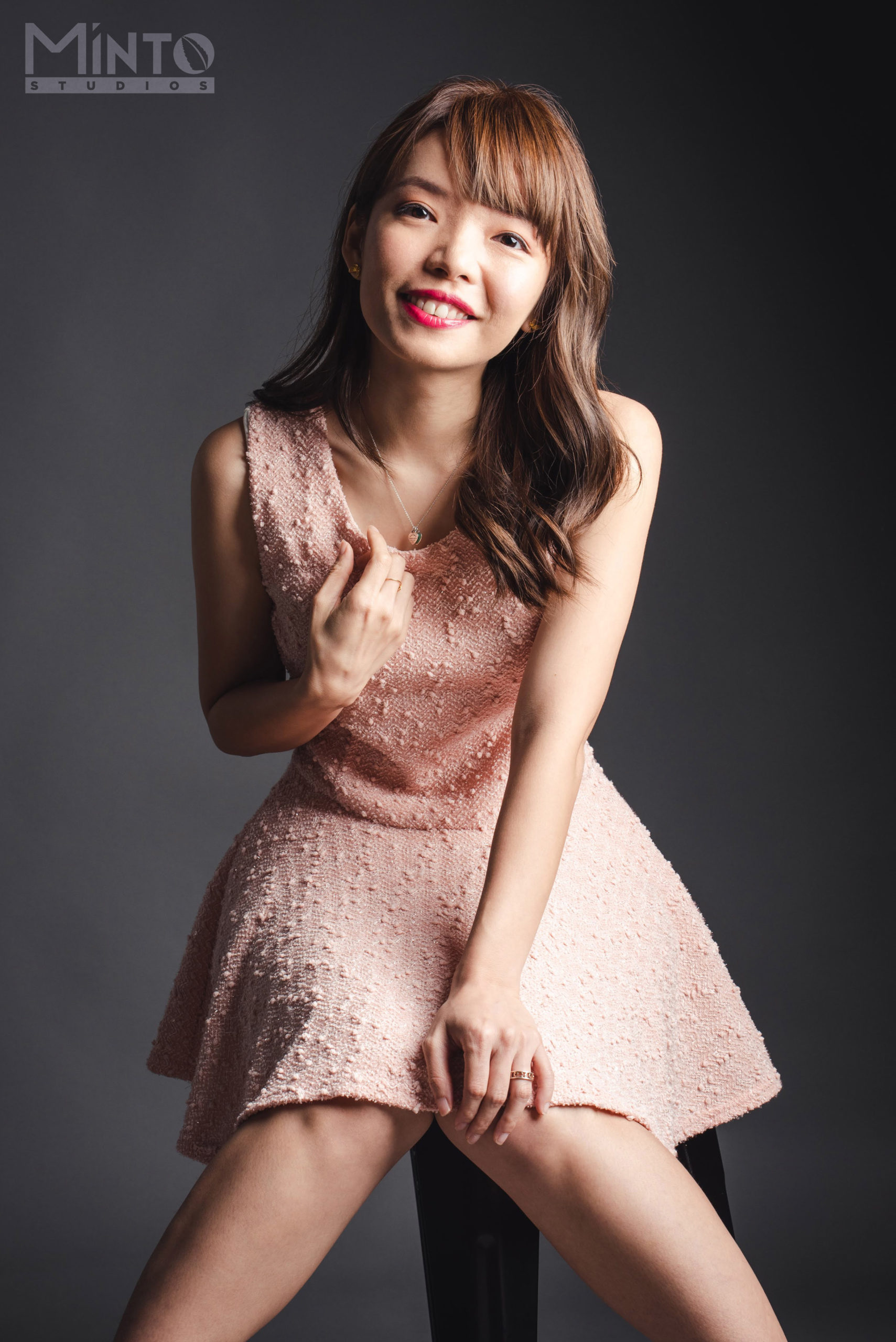 1/2 of #TheEpiphanyDuplet, Tiffany Yong juggles her ABCs – Acting, Blogging and Coaching/Consulting as she is fuelled by passion and drive to succeed.
It is not easy to make a living in Singapore just purely based on Acting, so with Blogging to help her with her online presence, and Coaching kids drama, private tutoring and freelance social media consulting to finance her life, she is currently leading the life most people hope to have: Living the Dream!