For A Few Bullets (快手枪手快枪手) Movie Review | by tiffanyyong.com
Recommended Audience: Fans of Lin Gengxin 林更新, Zhang Jingchu 张静初, Liu Xiaoqing 刘晓庆, Tengger 腾格尔, Vivian Dawson and romantic action comedy movie fans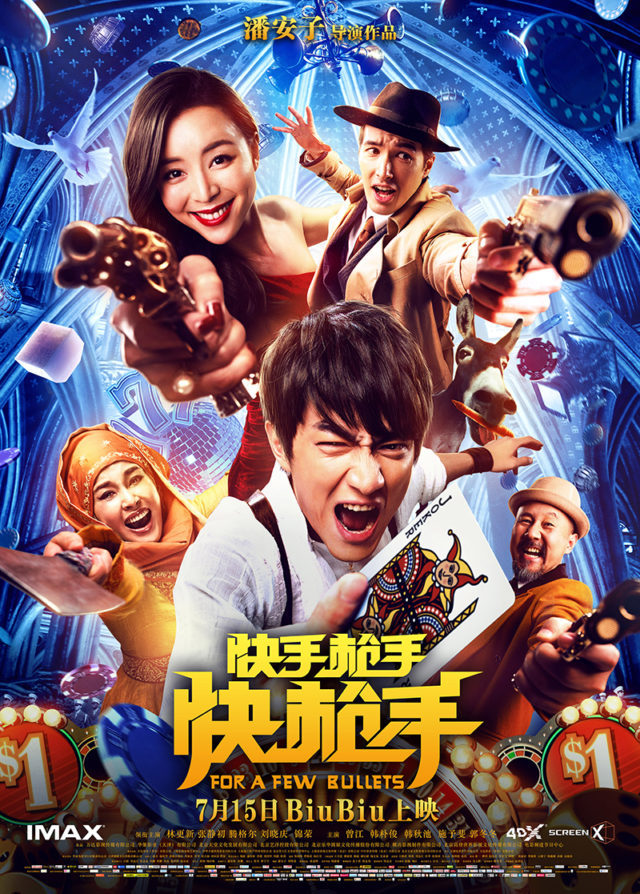 For A Few Bullets (快手枪手快枪手) Movie Synopsis
Con man (Kenny Lin Gengxin) pairs up with a beautiful gunfighter (Zhang Jingchu) to stop the Japanese military from stealing a Chinese national treasure. Along their quest, they cross paths with a couple (Tengger and Liu Xiaoqing) who turn out to be infamous treasure thieves. Together, the four form an unlikely alliance and race against time in search for the coveted national treasure.
For A Few Bullets (快手枪手快枪手) Viewer Rating: 3.5/5 ***
For A Few Bullets (快手枪手快枪手) Movie Review:
I got interested in this film because of the time (1940s) period the film was set in. It was set in the post Manchu period when Japanese invaded China. I was intrigued to see what kind of treasure and how the director would portray China during the occupation. If you are in for that as well, you will be disappointed. The film lacks logic. But it was perfectly silly and hilarious.

One thing smart about the film, it had a good opening sequence. With the backstory set with a mixture of illustrations and actions, the film set the tone to inform that this film is not to be taken too seriously. Audience who have been watching China's period dramas or variety show will be familiar with Lin Gengxin. Familiar with his serious and heroic image, him as a con-man was refreshing. He seem to be able to slip in and out of ANY situation. The thick-skin, witty character fits him, making him likeable despite the character's sly personality.

It's my first time watching Jolin Tsai's boyfriend, Vivian Dawson's acting on screen. I'm glad he didn't have much screen time, because he was pretty much an actor saying his lines. Or perhaps, he's selected because he is better looking than Lin Gengxin and taller than him as it was required in the script. He had a pretty interesting character with plot twists to work with, but sadly, he couldn't really maximise the potential.

The adorable couple who was abruptly inserted into the story is possibly the role model of many married couples. Jin Sanniang (Liu Xiaoqing) was loud, fierce but she adore her husband. Shifo (Tengger) was cheeky, sly and fears his wife on the outside. The bantering added some normality to the otherwise odd couple. While I can see what Shifo was good with (pickpocketing skills), it was unclear what his wife was good in. Her fluctuating behaviour, being smart at times, and bimbotic for the rest made it difficult for audience to relate to her.
There were several jarring plot holes. The blood stain on Li Ruo Yun's (Zhang Jing Chu) white shirt remained freshly red throughout the whole show (the above photo had a filter). Shi Fo (Tengger) and Xiao Zhuang (Lin Geng Xin) could actually achieve that insane plane stunt Tom Cruise did for Mission: Impossible – Rogue Nation and the scene was obviously CGI. People don't die when plane crash. A pressure mine could actually create an atomic bomb mushroom cloud. These loopholes had me shaking my head in disbelief every time…
Plot holes aside, the film managed to entertain me more than Jackie Chan's Skiptrace and Zhang Jing Chu actually awed me with her elegance and action. She's smart, she sexy and her beauty over shined Tiffany Tang in Bounty Hunters (I initially thought they looked similar!) Overlook the mistakes, you might just enjoy the slightly crude slapstick comedy. Great for people who needs a laugh after a bad day/week!
Do You Know?
The script for this film was edited 15 times over a span of 2 years.
The elderly look Lin Gengxin had in the opening sequence took 9 hours to be completed and as he need to have it on for a day, his face had an allergic reaction and was swollen by the time he removed the make up.
Zhang Jing Chu received professional training for more than 10 days to perform the stunts. For the final scene, the long red dress she was in weighed more than 10kg after being soaked in water and she had to do stunts with the additional weight. Also she had to roll about in a fight scene and the ground was filled with glass shreds, hence suffered many cuts and injuries all over.
When filming in Dunhuang (敦煌), the harsh conditions made filming very challenging. The strong sand storm featured in the film was real (and unplanned).
Behind The Scenes and Interviews
Check out For A Few Bullets (快手枪手快枪手) Official Microsite!
For A Few Bullets (快手枪手快枪手) is out in cinemas on 21 July 2016.
xoxo



Facebook | Instagram | Twitter | YouTube
*Disclosure: No monetary compensation was received for the movie review.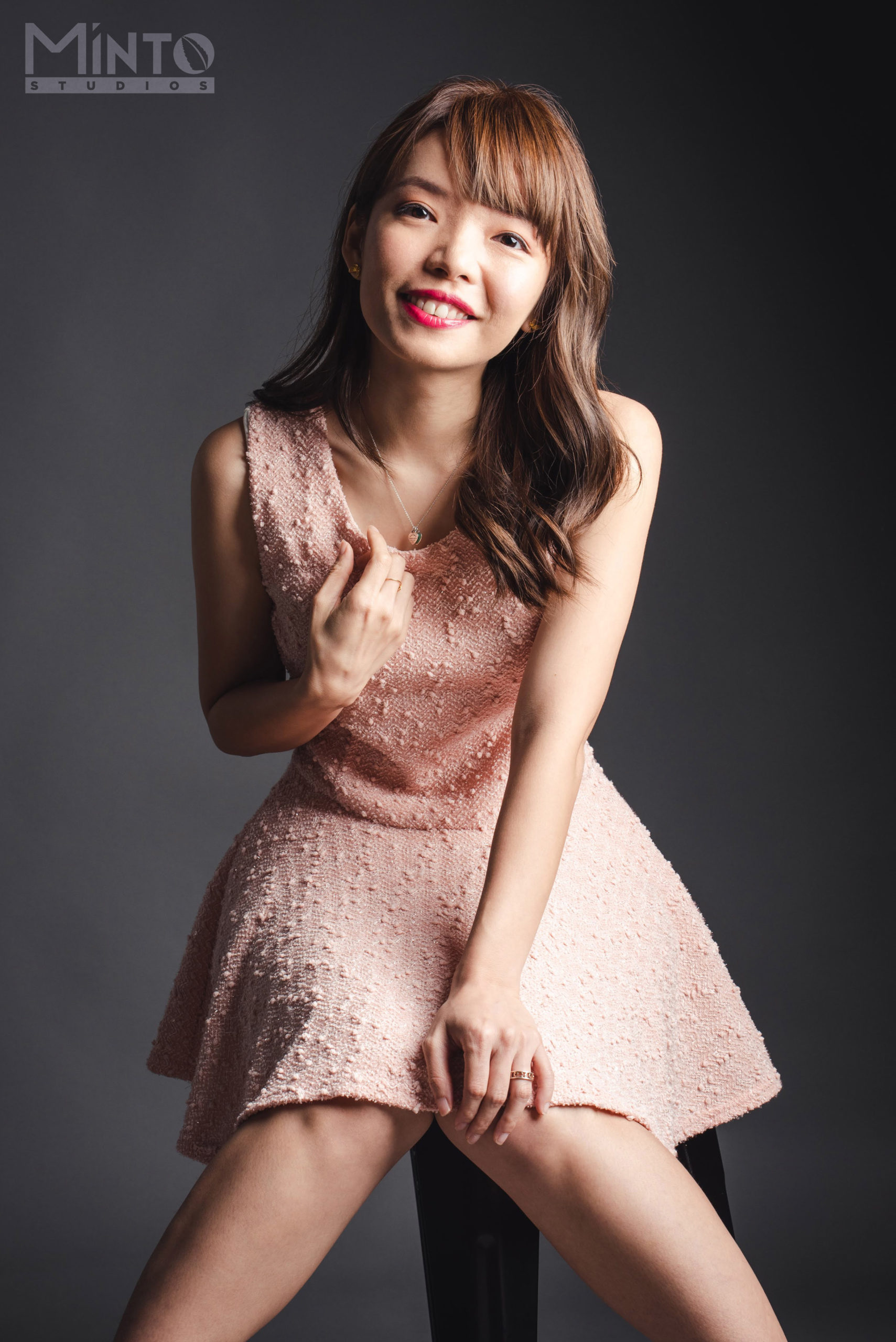 1/2 of #TheEpiphanyDuplet, Tiffany Yong juggles her ABCs – Acting, Blogging and Coaching/Consulting as she is fuelled by passion and drive to succeed.
It is not easy to make a living in Singapore just purely based on Acting, so with Blogging to help her with her online presence, and Coaching kids drama, private tutoring and freelance social media consulting to finance her life, she is currently leading the life most people hope to have: Living the Dream!