Hotel Review: Grand Millennium KL Hotel
I stayed in Grand Millennium Kuala Lumpur Hotel for 5D4N during my trip to KL for the Tourism Malaysia's Mega Familiarisation Programme 2015 (aka MyFest 2015) together with several Singapore bloggers and I had to admit, the hotel is indeed a strategically located 5-star hotel! You can practically get to almost all the big shopping malls just by walking!
The 2-floor lobby (24 hour reception) has strong wifi and became a place for all of us to gather and do our social media postings while waiting for one another. I didn't get myself a SIM card during my trip there, and you can easily imagine how much I hate to leave the hotel!
Inside Deluxe Room
I was given a Deluxe Room which is the most basic room out of the 7 types of rooms and suites in Grand Millennium Kuala Lumpur. And guess what? The basic room is luxurious enough for me to enjoy and unwind alone. From what I understand, it is considered one of the best hotels in Kuala Lumpur and I can say it is indeed so!
In a glance, (the bed looks a bit squashed in this panorama photo) the Deluxe Room is spacious and with floor-to-ceiling windows and offer the nice city skyline of Kuala Lumpur. The room uses a neutral colour palette of soft browns and creams, which have this grounding effect on a room making it feel secure (Colour Therapy).
Besides the Queen-size comfortable bed, the air-conditioned room provides in-room dining menu for room service, mini snack bar with complimentary water (not the Evian la!) and refrigerator filled with canned drinks. From what I understand, you can even request for custom-made linens and bedding Pillow menu!
In the cabinet, the plush terry bathrobes, hair dryer, laundry bag, bedroom slippers, iron + ironing board and safety box are all available for use in the room. Housekeeping service is also available twice daily. 
This is one of few hotels where I got to stay so many days in as a blogger. Previously, my stay in each hotel were at most 3D2N or even 1 night and we got to move on to the next destination. I had the chance to explore and enjoy the facilities and also take loads of selfies! 
The bathroom is also elegant and comfortable. With a separate bathtub (Yeah!) and walk-in shower, I like how the bathroom has this simple build-in compartment for tissue box. This might seem trivial for most guests, but for me, it's all this little convenience that made my stay enjoyable.
For toiletries, the hotel provides 2 x toothbrush kit, shower cap, vanity kit, shaving kit, soap bar, shower gel, shampoo, conditioner and body lotion. 
Unwinding in the bathtub while watching some Hong Kong drama online became my favourite past time for that few days. >.<
Other Rooms in Grand Millennium Hotel
Besides the Deluxe Room, there are 6 other types of rooms which total up to 468 rooms in Grand Millennium Hotel KL – Grand Deluxe Room, Executive Club Room, Executive Club Plus, Executive Suite, Imperial Suite and Presidential Suite. I requested for a little inspection tour to check out the features of other rooms and facilities. 
I'm not going to make myself jealous by including too many photos of other rooms, but here are some of the rooms in a glance. This Grand Deluxe Room has double beds and a slightly different design (checkered walls) from the Deluxe Room.
If you stay in the Executive Club Room, you will get to enjoy the Club benefits and get to check in /out privately at the Club Lounge.  
As the rest of the rooms were occupied, the Executive Suite was the "highest level" room that I got to tour. It took me three panorama photos to cover the features. So it's easy to see how big it is. With its own dining table, coffee maker, office table and sofa, guest can hold meetings with clients here.
The Executive Suite uses a lot of red in their decoration which increases enthusiasm and stimulate energy. 
The Executive Suite Bathroom was jaw-dropping beautiful with the white marble design. The mirrors made the bathroom bigger and grander.
Breakfast @ The Mill Café
Breakfast buffet is available on Level 1 (Lobby is Level L) at The Mill Café, which serves contemporary western and Asian cuisine. 
Decorated in a chic, contemporary style, The Mill Café's breakfast offers a choice of international and regional favourites, while for lunch or dinner enjoy either an à la carte menu or a indulging buffet. The Mill offers an imaginative dining experience showcasing chefs at work in show kitchens to provide a multi-cultural culinary feast.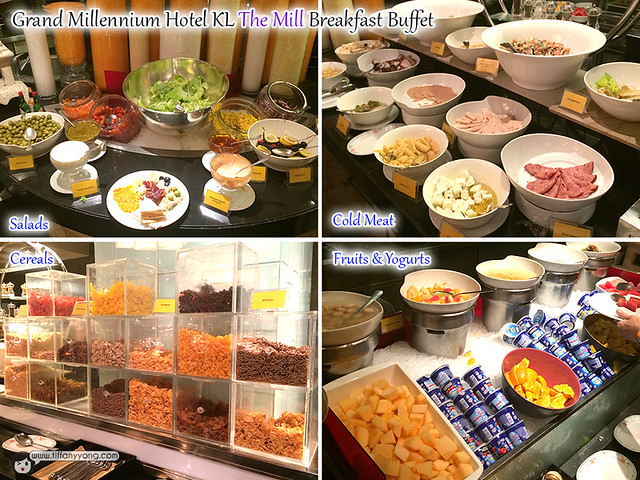 I was spoilt for choice at The Mill Café. With just the cereals, there's almost a dozen types, same for salad ingredients, fruits and cold meats.
There's also pastries and breads with assorted jams for those who prefer an American breakfast. If not, you can choose to make your own noodle at the Noodle Station.
There's also egg station and pasta, Chinese Dim Sum, Chinese porridge with salted egg and century egg, western niblles like sausages etc.
I realised that I tend to prefer the local food when I'm staying in that country. So when I'm in Kuala Lumpur, I had more of their Nasi Lemak, Fried rice, curries and Pratas for breakfast.
I tried to have a bit of everything. But the one I went back for a second serving was still the prata with curry and dahl!
Operating Hours:
(Breakfast ) 6:00am – 10:30am Weekdays | 6:00am – 11:00am Weekends and Public Holidays
(Lunch) 12:00pm – 2:30pm Weekdays | 12:00pm – 3:00pm Weekends (High Tea)
(Dinner)7:00pm – 10:00pm Daily
For reservations / enquiries, please call The Mill Cafe at +603 2117 4163 or email to mill.gmkl@millenniumhotels.com
Other Dining Options
Besides the Mill Cafe, just next door, there is the Lai Ching Yuen (荔晶圆) serving Cantonese food. 
One of the most popular Chinese Restaurants in KL, Lai Ching Yuen offer delicious signature dishes such as roast suckling pig, assorted meat, delicate dim sum, exotic live seafood and abalone for lunch and dinner.
Opening Hours:
(Lunch) Monday to Friday : 12:00pm – 2:30pm | Weekends & Public Holiday : 11:00am – 2:30pm
(Dinner) Opens daily from 6:30pm – 10:30pm
For more information or reservation, please contact Lai Ching Yuen 荔晶圆 at +60 3 2117 4180  or email lcy@millenniumhotels.com.
One level down beside the main lobby, there is also the Bistro 160 which serves afternoon tea and cocktails. It is a quiet and relaxed lounge with dainty nibbles such as sandwiches, scones and sweets. At night, Bistro 160 becomes a chic, contemporary bar where you can sip a glass of champagne, a smooth cocktail or try a light tapas bite before retreating to your bedroom.
Operating Hours: 8:00am to 00:00 midnight
Next to the bistro is the Hanaya Japanese Restaurant which serves an eclectic menu of traditional Japanese cuisine. You can go for grilled teppanyaki meats, fresh sashimi, delicate handcrafted sushi or delectable tempura.
Operating Hours:
(Lunch) 11:30am – 2:30 pm
(Dinner) 6:00pm -11:00 pm
For more information or reservation, please contact Hanaya Japanese Restaurant at +60 3 2110 5499 or email hanaya@sushitrain.com.my
Grand Millennium KL Hotel Facilities
Dining aside, the Grand Millennium Kuala Lumpur Hotel is often used as a event venue for social gatherings, thanks to its strategic location. Now let's the lift up the hotel virtually and have a peek at what the hotel offers: 
On the same level as the Hotel Lobby, besides the two dining options (Bistro 160 and Hanaya Japanese Restaurant), the Business Centre offering business-related service such as photo copying, printing, secretarial service are available there. Also there is a Souvenir/Gift Shop and Hair Salon if you require any last minute gift purchase or hair trimming.
On Level 2 and 3, the hotel has 11 flexible function rooms and the Grand Ballroom, which accommodates up to 250. Guest can hold different types of events, from annual dinners to business seminars or intimate family occasions.
The extensive business services complemented by an all-encompassing event venue – multi-functional space with natural daylight, computerised lighting, sound system, Wi-Fi access and well-equipped amenities make it convenient and ideal for people to hold their convention there.
For more information and personalised service, please dial +603 2117 4888 or email events.gmkl@millenniumhotels.com
On level 2A, there is the Health Club and Beauty Salon which is a luxurious place for guest to relax there. When I first enter the Health Club, I was in awe by the service available. This is actually the first time that I had the opportunity to try out the service without rushing! Previously, my schedules were all packed with activities and events that by the time I was back, the service had already close for the day.  🙁
I was actually not allowed to take any photos of the Jacuzzi area, but luckily, as there weren't any other guest, I secretly snapped a shot to share with you guys. 😛
There is no Wi-Fi in that area, so I had a short digital detox by alternating myself between the hot and cold jacuzzi. The jacuzzi is separated by gender, so this is the ladies' section! There is also the sauna room and massage room if you want to treat yourself to one of the indulgent signature body and face treatments or traditional massages and be pampered by skilled spa therapists.
Level 3 is where the Surau (worship room), Gym and Swimming Pool are. I did not bring any sports shoes along for my trip, so I did not really take notice of the Fitness Centre. It is pretty big and well-equipped at a glance, so guest who wish to keep up with their fitness regime can definitely do so there.
Operation Hours: 6am – 11pm (For guest 16 years old and above with proper attire)
The hotel also has a outdoor Swimming Pool and a Child Pool surrounded by greenery. 
Moving up to the 18th floor, the Club Lounge is exclusive to the guests (aged 12 years and above) from the Club Room/Suite. Here, it offers business guest a more relaxed ambience (as compared to The Mill Café) as well as a range of complimentary benefits. Besides complimentary high speed internat access, guest can use the meeting room with teleconferencing facilities on the Club Floor.
The Club Lounge also serves breakfast and afternoon tea daily, along with all-day soft beverages, evening cocktails and hors d'oeuvres.
Guests also get to enjoy the serene garden view, as well as services like Private Check-in and Check-out, Dry Cleaning, Babysitting / Child Services, and complimentary pressing of three garments per day.
Where's Grand Millennium Kuala Lumpur?
Address: 160 Jalan Bukit Bintang, Kuala Lumpur, 55100 Malaysia
Telephone: +60 3 2117 4888
Email: enquiry.gmkl@millenniumhotels.com
For more information: Visit Grand Millennium Kuala Lumpur Hotel Website | Facebook Page OR book your room via Agoda now!
Cost: ✓ (SGD$136++) | Location/Convenience: **** | Ambience: **
Getting To Grand Millennium Kuala Lumpur
Strategically located in the heart of downtown Kuala Lumpur's Golden Triangle, the city's premier business and shopping districts, you should not have any problem getting to the Grand Millennium Hotel KL if you are getting here via taxi. I was chauffeured here thanks to Tourism Malaysia, thus the guide below is taken from the official website!
(1) via Hotel Limousine and Taxis
The hotel is a 45-minute drive from Kuala Lumpur International Airport. If you require the service, the Concierge Desk will require three hours in advance to ensure availability of limousine service.
For more information or to make a limousine reservation, please e-mail: concierge@millenniumhotels.com
** An additional midnight charge of 50% will be applicable for transfers between 12.00 midnight to 7.00am.
(2) Trains (Express Rail Link)
KLIA Express Rail Link takes 30 minutes from the airport to Kuala Lumpur Sentral. Guests are able to board the feeder bus to the nearest light rail transit station from Kuala Lumpur Sentral.
Via rail or subway, the KTM Train Station is located 5km southeast of the hotel and the KL Light Rail Transit (Hang Tuah Station) is located 2km northwest from the hotel. The Bukit Bintang Monorail Station is 16m south from the hotel.
Around Grand Millennium KL
Tourist Attractions: Kuala Lumpur Tower (1KM – NE) | Petronas Twin Towers (2KM – NE) | National Mosque (2KM – NW) | Central Market/ Chinatown (2KM – NW) | National Art Gallery (2KM – NW) | Butterfly Farm / Bird Park (3KM – N)
Shopping Options: Suria KLCC Shopping Mall (2KM – NE) | Pavilion Shopping Mall (0.02KM – E) | Starhill Shopping Gallery (0.015KM – SE) | Fahrenheit 88 (0.01KM – S) | Bintang Walk (0.01 – S) | Lot 10 Shopping Centre (0.015KM – S)
xoxo



Facebook | Instagram | Twitter | YouTube

Disclaimer: Please be rest assured that even though the accommodation was sponsored, it does not have any bearing on the content of this post. Opinions stated are genuine and honest. Also note that all sources, information, content, links are valid to change at any time.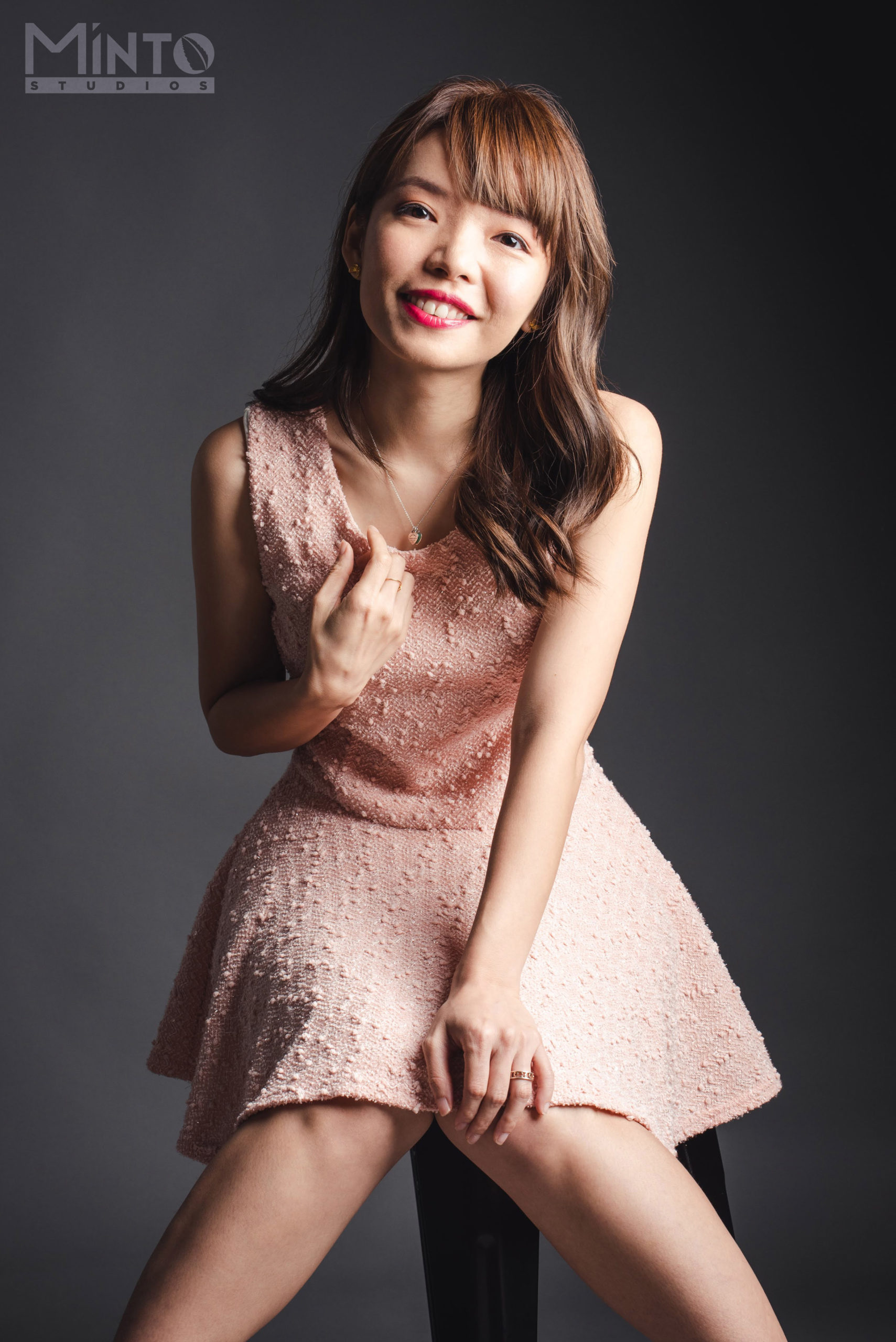 1/2 of #TheEpiphanyDuplet, Tiffany Yong juggles her ABCs – Acting, Blogging and Coaching/Consulting as she is fuelled by passion and drive to succeed.
It is not easy to make a living in Singapore just purely based on Acting, so with Blogging to help her with her online presence, and Coaching kids drama, private tutoring and freelance social media consulting to finance her life, she is currently leading the life most people hope to have: Living the Dream!