Experiencing the "Ginza Calla" Japanese Hair Removal Treatment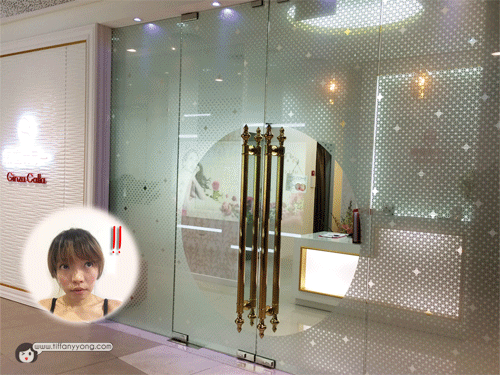 When I first heard about Ginza Calla, my first thought was "???", and when I first visited Ginza Calla just few days back at the new wing in Plaza Singapura, it was still "???". On the outside, you won't be able to tell what Ginza Calla specialised in. It looked like a small section of the Princess's vanity department instead of the usual Japanese clean "clinical" look. And according to the manager, this is the impression the founder hope to give customers.
When I got the staff to take a picture for me at the entrance, it made me look and feel like a princess with the glamourous and twinkling door! Appearance aside, Ginza Calla is actually an established Japanese Hair Removal Specialist with over 21 years of experience in the industry, with 35 stores that span across Japan, Shanghai and Hong Kong.
I was kinda skeptical about the service when my friend, Hui Ting, first introduced me the brand. I have tried quite a few IPL services, from beauty salons to specialised hair removal store, and so far, there were almost none that could convince me to purchase their packaged services. I even have friends who purchased packages from other Japanese Hair Removal Salons and had bad service + post-treatment experiences with them. So with the few giant competing Japanese Hair Removal Store in Singapore, what makes the new-kid-in-town "Ginza Calla" so special or different from the other salons?
My Ginza Calla Experience
I had a detailed consultation with the specialist, and was prepared to go for a full body IPL session when I was informed that it will take more than 4 hours for the whole body! I was shocked as ALL my previous experiences had been "chop-chop-done", a underarm session shouldn't take more than 10 minutes! As I was rushing off to see my ALL-TIME favourite idol, I decided to go for underarm, lower legs and Hollywood Brazilian IPL (meaning everything!).
The Ginza Calla Difference
After changing into the robe, I was asked to put on this ultraman-green eye shield to protect my eyes against the light waves, which I thought made me look like Ultra-woman!
Many of the IPL treatments I've experienced previously are usually done within a very short time. I did a quick step-chart to tell you the difference between Ginza Calla's IPL session as compared to the other beauty salons and Japanese Hair Removal Salons I've been to. Besides the difference in the number of steps taken for the IPL treatment, there are three main differentiating factors, out of which two of them are my favourite part of the treatment!
1. Ginza Calla IPL Machine
The IPL Machine is developed in-house and sends out 5 pulses of light each time, as compared to the usual 3 pulses of light. Besides that, as our hair thickness varies at different parts of the body, the specialist uses different strength so that the optimal results can be achieved without harming the skin. Well, I won't say this is my favourite right now, as it takes a few weeks or months to see the results, however, the contact point of the machine is much smaller compared to competitor's machine, and the treatment was so…. painless that I fell asleep by then time the specialist started working on the second part.
2. Moisture-Retaining Programme: Bihada Junbi
美肌潤美 Baby skin is something every women hope to achieve, and the secret to that is hydration. IPL will dry up our skin, it is very important to keep our skin nourished. Ginza Calla has this moisture retaining programme which is my favourite part of the treatment.
The secret behind this programme is the product called the Bihada Junbi 美肌潤美 Lotion co-developed with dermatologist. As seen above, this Ginza Calla's special liquid has ingredients which retains moisture and locks them in. This lotion is applied on to our skin in two ways. One in the form of Mist Shower and another in the normal liquid application.
As compared to other hair removal companies which only apply after-skin care product(s) to the surface layer of the treated skin, the Mist Shower is a high pressured jet spray which will deliver the Bihada Junbi 美肌潤美 Lotion to the deeper layers of the skin (moisture retention of 95 percent). It also help settle the temperature of my skin and keep them baby soft!
3. Bihada Junbi 美肌潤美 Lotion
As the last step of every IPL treatment, the Bihada Junbi 美肌潤美 Lotion is applied once more on the surface to keep the skin moisturised. The lotion cost $25 per bottle, but if you sign up on the day of your consultation, you will get one complimentary bottle (good deal right?)
Do You Know? IPL does not work on all hair colours or all skin types. Customers with very tan or dark skin, or with very light-coloured hair, or red hair, are usually not suitable for IPL as fair hair may not respond to the light, and darker skin is prone to absorbing too much light due to the high concentration of pigment, making it unsuitable.
Does the Bihada Junbi 美肌潤美 Lotion Really Work?
If you have read till this part, and are wondering if the Ginza Calla's lotion can be replaced by any other moisturisers found in the local drug store (since they all moisturizes and there shouldn't be anything special right?).
Well, I thought so too, until what happened next… So after my treatment, I quickly rush off to the filming set where Jimmy Lin Zhi Ying 林志颖 was filming a short film for Singapore Tourism Board. He is my idol for more than 14 years, and this being the first time that I finally get to meet him in person, I was super duper excited!
How is this related to the IPL treatment?
Well, I had to wait under the hot sun for nearly 5 hours before finally meeting him, and look at what I was wearing? Long sleeve stop in jeans! It was a total torture. I was drench in perspiration and by the time I reached home, I've almost forgotten about my IPL treatment! The parts where I received treatment (such as underarms and bikini line) will usually itch after shaving, especially when I perspire. But I didn't have a teeny weeny bit of itchy sensation after so long. I thought my sweat would have "washed off" all the lotion by the time I reached my third hour or so. Yes, I'm very impressed by then!
The Very Reason Why YOU Should Choose Ginza Calla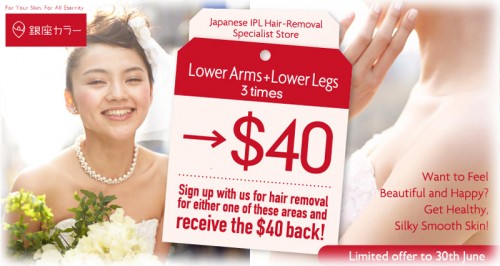 This IPL treatment was truly something different and what's more, there's an opening special for everyone! To celebrate the launch of Ginza Calla in Singapore, a special limited-time promotion for 3 sessions of lower arm and lower leg hair removal now cost only $40! That's 2 prominent Large parts! Other hair removal courses are also offering up to a massive 35 percent discount.
The special promotion ends on 30th June 2014 (1 month left)! Besides that, Unlimited sessions for underarm treatment or v line (bikini) area now cost $40 ONLY! (limited time)
Remember! If you sign up on the day you come in for your consultation, you will receive a free "美肌潤美 BIHADA-JUNBI" lotion (worth $25) that will moisturize your skin from within by Ginza Calla!
Where's Ginza Calla
PLAZA SINGAPURA (New Wing!)
68 ORCHARD ROAD #04-55 SINGAPORE 238839
Nearest Train Station: Dhoby Ghaut
Tel: +65-6238-8850
Email: inquiry@ginza-calla.biz
Website: http://www.ginza-calla.com.sg/
Facebook: Ginza Calla Singapore
Opening Hour: 11:00 ~ 21:00 (日本語のお問い合わせも受け付けております。)
xoxo


*Disclosure: Please be rest assured that even though the products and services were sponsored, it does not have any bearing on the content of this post. Opinions stated are genuine and honest. Also note that all sources, information, content, links are valid to change at any time.
I've shared my IPL experience, now it's your turn! Share with me your hairy problems or your best/worst IPL experience in the comment section below. (Mystery Prize for the best Commenter!)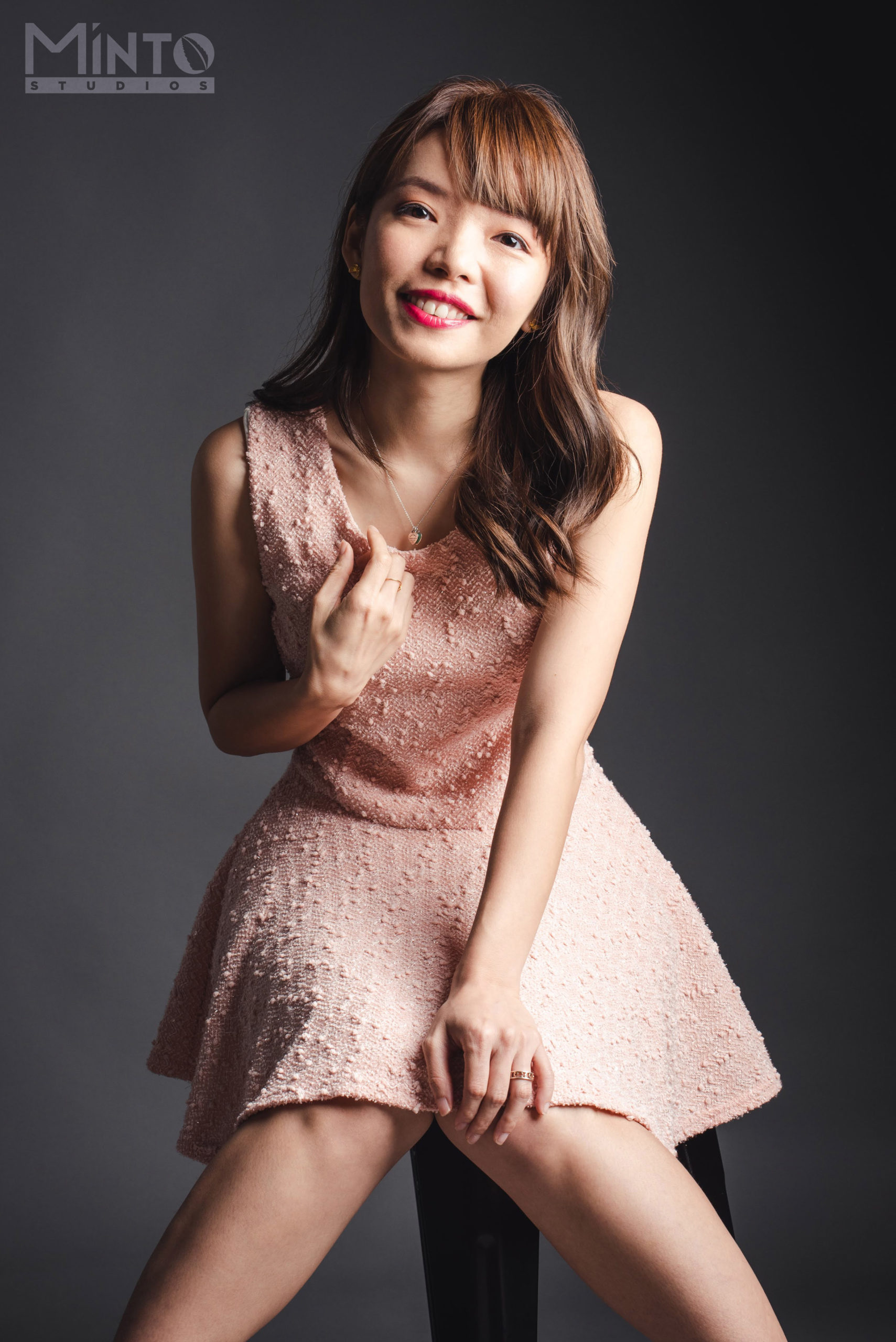 1/2 of #TheEpiphanyDuplet, Tiffany Yong juggles her ABCs – Acting, Blogging and Coaching/Consulting as she is fuelled by passion and drive to succeed.
It is not easy to make a living in Singapore just purely based on Acting, so with Blogging to help her with her online presence, and Coaching kids drama, private tutoring and freelance social media consulting to finance her life, she is currently leading the life most people hope to have: Living the Dream!