Give Back to the Community This Christmas
Finally, I am working on this post which has been on pending mode since one month ago. Many things had happened around us recently, besides the Typhoon Haiyan, the Little India Riot, one particular incident had affected me a lot: the passing of Paul Walker. Well, for those who have been following my post on twitter or Facebook, I mentioned how I was never crazy about him, but his sudden death affected me a lot. News about his philanthropic efforts sadden me further, why take away someone who is making efforts to help the society?
Walker founded a charity in 2010 called Reach Out World Wide (ROWW), which is designed to provide relief for victims of natural disasters. Most people don't even know he spent a lot of his time dedicated to ROWW (Well, now people do, since he got in a car accident during a ROWW charity event.)
Help to Buy, Buy to Help
Christmas is the season of giving, so since we are going to spend the money buying gifts for our family, friends and colleagues, why not help give back to the community while we are doing our shopping? Here's a list of Christmas gift ideas which can help contribute to the communities in need during the festive season.
The Body Shop
Besides their great products, I guess most people know that the Body Shop is also famous for their Community Fair Trade programme. By investing in the building of schools and provision of teaching materials, they help give the children a better future.
So buying a gift from The Body Shop means that you are helping to contribute to the society as proceeds (approximately S$395, 215) from the sales of their Christmas gifts go to help build schools in Ghana, Honduras, Nepal, Northern and Southern India.
The Coffee Bean & Tea Leaf® Christmas Charity Campaign
Recently, I met up with a few friends at Coffee Bean and discovered this Christmas campaign which will help the Singapore Children's Society when you purchase their Deck the Tree Cards and The Coffee Bean Card (Holiday Design).
You can purchase "Deck the Tree Card" ($3) to decorate the trees at CBTL stores and all sales proceeds will be donated to Singapore Children's Society. For the CBTL lovers, if you get the Coffee Bean Card (Holiday Design) at $28 each, $2 will be contributed to Singapore Children's Society for every card sold. (Check out the official website for more festive promotion!)
Watsons' Limited Edition Tissue Boxes
Well, this isn't exactly a Christmas gift, but these limited edition tissue boxes and tissue sets are the illustration artworks of children from the Chen Su Lan Methodist Children's Home. Buying them (for your office or house) may not make much of a difference to you, but it will add a touch of Christmas magic to the lives of needy children. Watsons will donate 10% of the proceeds to the Home, and they aim to pledge $20,000.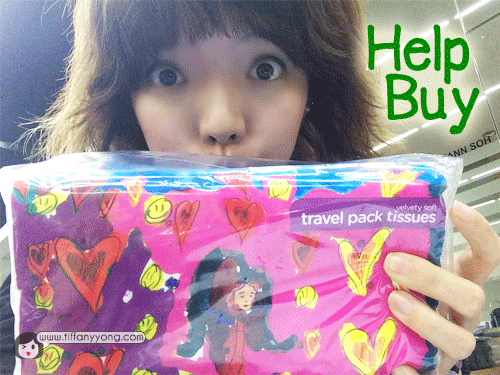 Box tissues retails at $4.50, mini hankies at $2 and travel packs at $2
World Vision Singapore: Trees of Life
World Vision is a Christian relief, development and advocacy organisation dedicated to working with children, families and communities worldwide to reach their full potential by tackling the causes of poverty and injustice.
I'm not a Christian, but I feel that helping people shouldn't be based their religion, race, ethnicity or gender. This Christmas, World Vision Singapore has a special life-giving tree that will warm the hearts of vulnerable children and families. It holds photo cards of needy children across the world, and many meaningful gifts that will transform them and their families.


At each Tree of Life, you can either sponsor a child or give gifts to needy children and families in the form of food, clean water, clothing, education, medical help and tools for livelihood. Through these gifts, you offer hope and joy to the poor and needy children – for life!
Where can I find the Tree of Life?
WEST COAST PLAZA: 10 – 22 Dec 2013
LIANG COURT: 15 – 31 Dec 2013
WHITE SANDS: 16 – 31 Dec 2013
CENTURY SQUARE: 16 – 31 Dec 2013
TIONG BAHRU PLAZA: 16 – 31 Dec 2013
HOUGANG MALL: 16 – 31 Dec 2013
If you've missed the location or dates above, you can check out the World Vision Gift Catalogue, where you can find out how you can dedicate gifts in honour of your friends. Getting a Life-Changing Gift that can help impact the poor in the name of your loved one will definitely be more meaningful than getting them expensive gifts (which will end up tucked away or unused!)
An Auction Sales for those in Need
So this Christmas, I thought I will do something different. I know many bloggers have been doing giveaways, and seriously, I have a whole trolley of products to give away. But instead of just giving them away, I decided to auction the products I have away. The profits received will be donated to Typhoon Haiyan Fund or any Charities requested by the buyer.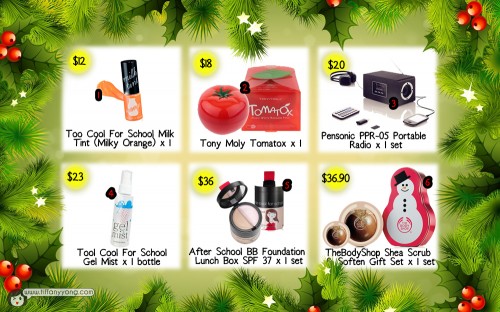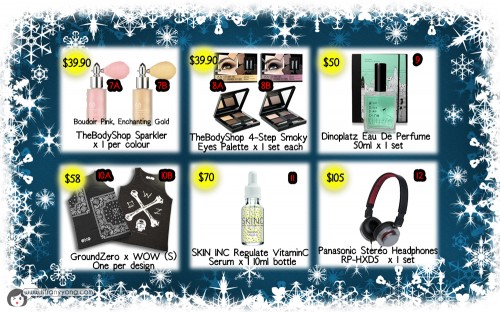 What to Do:
Just like an auction, you can bid for the item, or buy it straight away with the stated selling price. The profits earned will be donated to the Typhoon Haiyan Fund (or any Charity that you wish to donate to.)
Do help share and like the post so that more people will know about the
1. Comment below with the gift set number, amount you are willing to pay for the gift, the charity you wish to donate to, the name you want to put on the donation receipt (if any), contact number (which will be removed upon announcement to protect bidder's privacy)
FOR BIDDING: Set 10A, $40, Typhoon Haiyan Fund, Tiffany, 91234567(number will be filtered).
FOR PURCHASE: Set 8A, $39.90, World Vision, Tiffany, 91234567(number will be filtered).
P.S. Do select "Notify me of follow-up comments via email" and enter a valid email when commenting so that you will be informed of successful OR unsuccessful bidding
2. People who purchase the gift sets at selling price will be announced and updated ASAP, while the highest bidder by the end of the day will be announced then.
3. Successful bidders will be informed of the collection point through SMS.
First Deadline of the Auction: 23/12/2013 23:59 (Collection on Next Day)
I know this isn't the usual free giveaway bloggers do, but I sincerely hope everyone will help support this meaningful cause. 🙂
Have a Merry Christmas!
xoxo



*Disclosure: I am not representing any of the above mentioned charities or brand products. They are the products I have received and are brand new.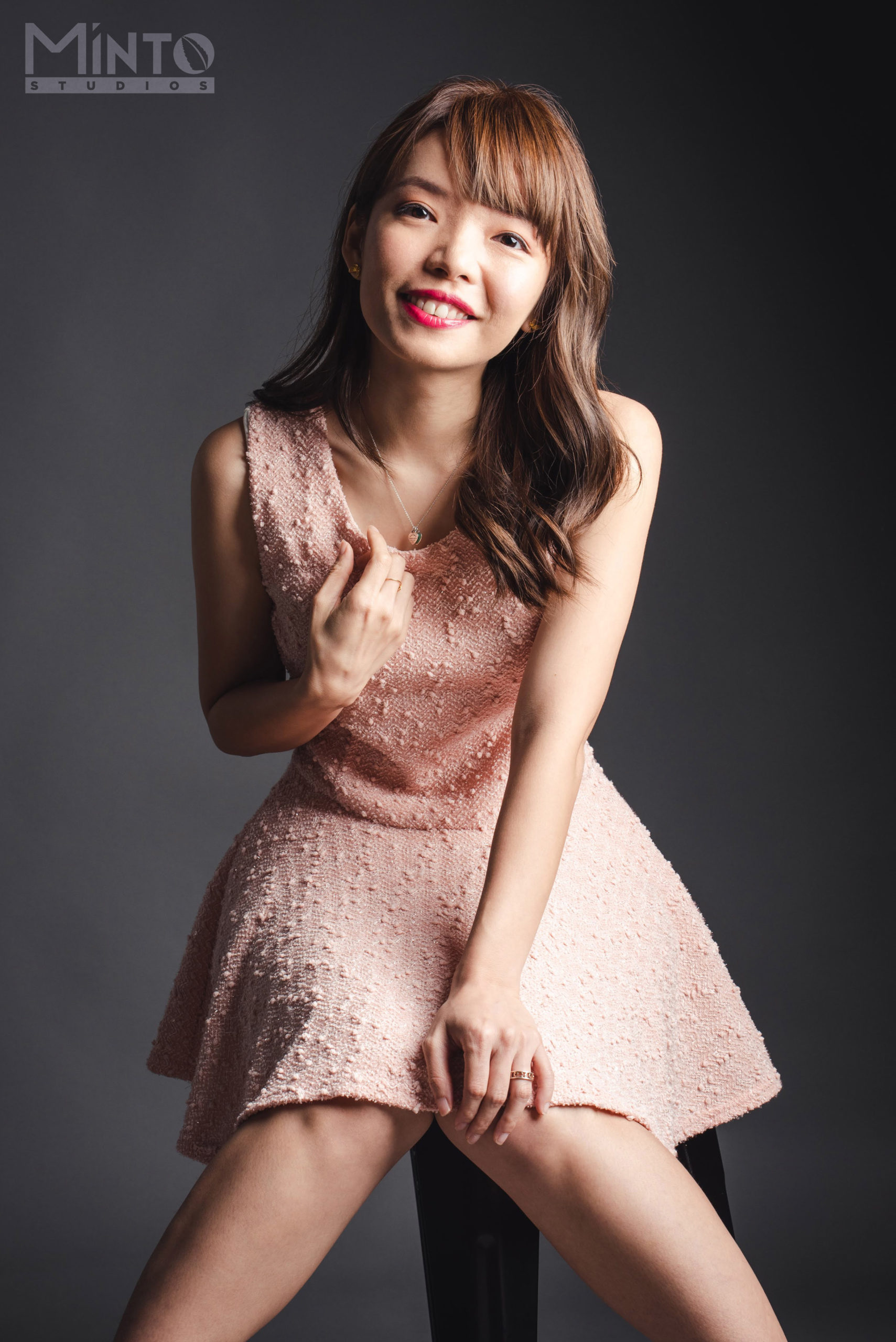 1/2 of #TheEpiphanyDuplet, Tiffany Yong juggles her ABCs – Acting, Blogging and Coaching/Consulting as she is fuelled by passion and drive to succeed.
It is not easy to make a living in Singapore just purely based on Acting, so with Blogging to help her with her online presence, and Coaching kids drama, private tutoring and freelance social media consulting to finance her life, she is currently leading the life most people hope to have: Living the Dream!